Salafi hate preacher Dr Farhat Hashmi's forgery against Muharram rituals in the name of Allama Iqbal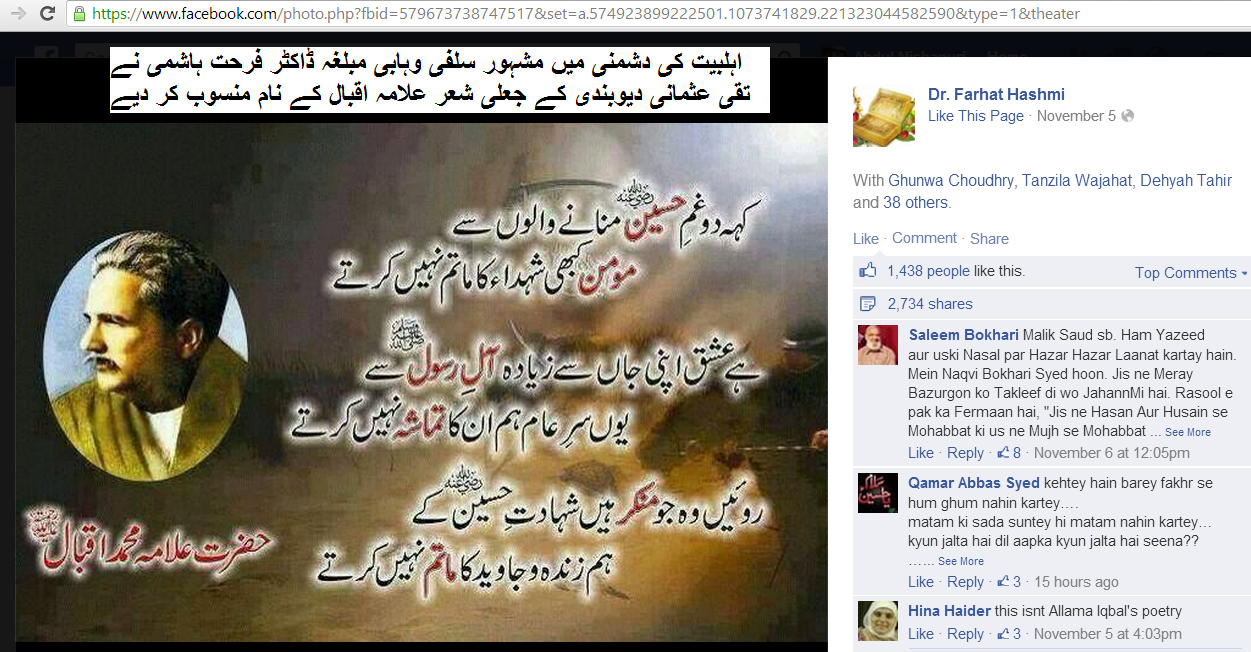 Notorious Salafi Wahhabi hate preacher Dr Farhat Hashmi has published a piece of forgery in the name of famous poet Allama Iqbal. The anti-Shia poetry published by Dr Farhat Hashmi Salafi on her facebook page has been written by notorious pro-Taliban hate cleric Taqi Usmani Deobandi in order to malign sacred Muharram rituals of Shia and Sunni Muslims.
Here's an archive of resources on how Dr Farhat Hashmi, Dr Zakir Naik and other Salafi Wahhabi and Deobandi clerics are radicalizing peaceful Sunni Muslims converting them into potential terrorists of Al Qaeda, Taliban and Sipah-e-Sahaba ASWJ-LeJ: https://lubpak.com/archives/tag/farhat-hashmi
It may be noted that Deobandi and Salafi Wahhabi clerics and militants are enemies of Sunni Sufi (Barelvi) and Shia Muslims, and are known for bughz (animosity) towards holy family (Ahlul Bayt) of Prophet Muhammad (peace be upon him).
Threfore, Deobandi and Salafi Wahhabi followers of Yazid, led by Dr Farhat Hashmi, Ahmed Ludhyanvi Deobandi and Dr Zakir Naik are circulating some verses attributed to Allama Iqbal in which he condemns Shia Muslims rituals of Matam (mourning of Imam Hussain). Such verses are a piece of forgery and remind us of the forged traditions of Abu Hurairah who was punished by Hazrat Umar Farooq (r.a.) due to his false and numerous traditions. Iqbal himself was a lover and mourner of Imam Hussain. His genuine poetry in appreciation of Imam Hussain and other members of the Ahl-e-Bait (the Prophet's family) may be read here: https://lubpak.com/archives/688
The forged verses attributed by Farhat Hashmi Salafi to Allama Iqbal were in fact written by Mufti Taqi Usmani Deobandi (who is a below-average poet himself, Junaid Jamshed Deobandi promotes him by reciting his poetry). Taqi Usmani Deobandi is a known Nasibi (lover of Muawiya and Yazid, enemy of Ali and Hussain) and is a spiritual forefather of Deobandi militants of Taliban (TTP) and Lashkar-e-Jhangvi (ASWJ-SSP-LeJ). It is apt to recall here that Darul Uloom Deoband, the pioneer seminary of Deobandi sub-sect of Wahhabis, has issued a fatwa in which they have allowed to describe Yazid as Ameer-ul-Momineen and Rehmatullah Alaih. https://lubpak.com/archives/233495
Farhat Hashmi Salafi is known for her hate speech against moderate Sunni Muslims (Suuni Sufis and Barelvis), Shias and Ahmadis. Usually she spreads hatred against Sunni Barelvis and Shias bey describing them as Biddati (innovators) and mushrik (polytheists) by ridiculing the Sunni Barelvi and Shia rituals of Islam. A Canadian newspaper criticized her for being Saudi-funded elitist and observed that the "moderate Muslims of Canada call her Wahhabi because of her unbending doctrines." Raheel Raza, writing in American Thinker on 8 November 2008, stated that she "is known for promoting a very conservative Islamic ideology that is based on Wahhabism. She, like other Islamists is in favor of Salafi Wahhabi Sharia in Canada."
Comments
comments