Allama Iqbal, Matam of Imam Hussain and Deobandi propaganda – علامہ اقبال، ماتم حسین اور دیوبندیوں کا جھوٹ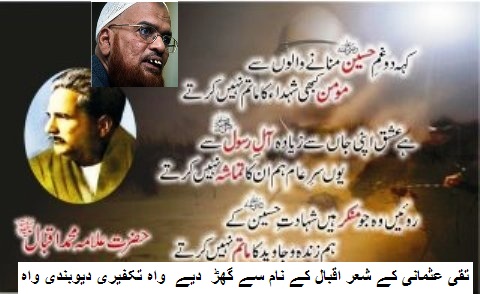 Summary: These days Deobandi (Naasibi, takfiri) followers of Yazid are circulating some verses attributed to Allama Iqbal in which Shia Muslims' rituals of Matam (mourning of Imam Hussain) have been condemned. Such verses are a piece of forgery and remind us of of the fact that Abu Hurairah was punished by Hazrat Umar Farooq (r.a.) due to his numerous and false traditions.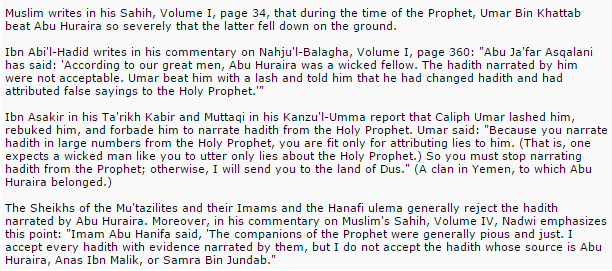 It is a known fact that Deobandis, who claim to be Sunni and Hanafi are in fact a South Asian version of Wahhabi Salafi cult. Deobandis are takfiri, nasibi and khariji in their sectarian and violent approach to fellow Muslims (Sunni Sufis, Barelvis, Shias etc). They hate the family (Ahle Bait) of the Prophet Muhammad (peace be upon him) and worship tyrant Caliph Yazid who killed Propht Muhammad's beloved grandson Imam Hussain (a.s.) and other member of Ahle Bait.
Darul Uloom Deoband's fatwa in support of Hazrat Yazid – by Abdur Rahim Kandhalvi – See more at: https://lubpak.com/archives/231807
Allama Iqbal himself was a lover and mourner of Imam Hussain. His genuine poetry in appreciation of Imam Hussain and other members of the Ahl-e-Bait (the Prophet's family) may be read here: https://lubpak.com/archives/688
The forged verses attributed to Iqbal were in fact written by Mufti Taqi Usmani Deobandi, who is a below-average poet, Junaid Jamshed Deobandi promotes him by reciting his poetry.
Taqi Usmani Deobandi is a known Nasibi (lover of Muawiya and Yazid, enemy of Ali and Hussain) and is a spiritual forefather of Deobandi militants of Sipah Sahaba (ASWJ) and Taliban (TTP).
Taqi Usmani Deobandi is also notorous for financial embezzlement and fatwas for sale in the name of Islamic financing and muz
It is apt to recall here that Darul Uloom Deoband, the pioneer seminary of Deobandi sub-sect of Wahhabis, has issued a fatwa in which they have allowed to describe Yazid as Ameer-ul-Momineen and Rehmatullah Alaih. https://lubpak.com/archives/231807
علامہ اقبال اور ماتم حسین
آج کل یزید کو امیر المومنین کہنے والے مکتب دیوبند کے کچھ ناصبی پیروکار علامہ اقبال کے نام سے شعر گھڑ کر نواسہ رسول حضرت امام حسین کی عزاداری اور ماتم کے خلاف پروپیگنڈا کر رہے ہیں
جھوٹی روایتیں گھڑ کر کے رسول الله سے منسوب کرنا ابو ہریرہ کی سنت ہے
ابو هریره کے ذریعه بڑی تعداد میں روایتیں نقل کر نے پر حضرت عمر بن خطاب رضی اللہ تعالی عنہ  نے اس کو کوڑے مارے اور کہا : اے ابو هریره حد سے زیاده روایتیں نقل کرتے هو، مجهے ڈر لگتا هے که کهیں رسول خدا صلی الله علیه وآله وسلم پر جھوٹ اور افترا باندهو گے ، اس کے بعد اس کو انتباه کیا که اگر رسول خدا صلی الله علیه وآله وسلم سے روایتیں نقل کر نے کو ترک نه کیا تو اسے اپنے وطن لوٹا دے گا
صحیح بخاری ، ج٢، کتاب بدی الخلق ص ١٧١; مسلم بن حجاج نیشا بوری ، صحیح مسلم ، ج١،ص٣٤; ابن ابی الحدید معتزلی ، شرح نهج البلاغه ، ص٣٦٠; ذهبی ، سیر اعلام النبلاء ، ج٢، ص ٤٣٣و ٤٣٤; متقی هندی ، کنز العمال ، ج٥، ص٢٣٩ ;ح ٤٨٥٧;امام ابو جعفر اسکافی ، به نقل از شرح نهج الحمیدی ، ج١،ص٣٦٠-
الشیخ محمود ابو ریه ، شیخ المضیره ابو هریره ، ص١٠٣; الشیخ محمود ابوریه ، اضواء علی السنۃ المحمدیۃ ، ص١٩٥; سید شرف الدین موسوی عاملی ،ابوهریره ،ص١٣٦-
ابو ہریرہ اور اس جیسے دوسروں کو معاویہ نے بہت مال انعام دیا تاکہ معاویہ اور بنو امیہ کے حق میں اور حضرت علی و اہلبیت رضی اللہ تعالی عنہم  کے خلاف جھوٹی روایتیں گھڑے
پاکستان میں ایسے لوگوں میں اوریا مقبول جان ،جاوید چودھری ، ڈاکٹر صفدر محمود اور نسیم حجازی شامل ہیں جو تاریخ کو مسخ کرنے میں کمال رکھتے ہیں
اسی سنت کو آج کے دور میں ناصبی تکفیریوں نے زندہ کیا ہے سنی اور شیعہ کا اتفاق ہے کہ ناصبی وہ مردود ہے جو حضرت علی اور آل محمد رضی اللہ تعالی عنہم سے بغض رکھتا ہو جیسا کہ ابن خلدون، ابن تیمیہ، و یزید یا آج کے دور میں امین احسن اصلاحی، جاوید غامدی، ذاکر نائیک ، فرحت ہاشمی، رفیع عثمانی، تقی عثمانی، دار العلوم دیوبند، سپاہ صحابہ، طالبان، اسرار احمد وغیرہ
حال ہی میں ہندوستان میں دیوبند کے سب سے بڑے اور قدیم ادارے دار العلوم دیوبند نے فتویٰ جاری کیا ہے جس میں یزید کو امیر المومنین اور رحمہ الله کہنے کو جائز قرار دیا گیا ہے
یہی وجہ ہے کہ آج کل پاکستان میں موجود دیوبندی دہشتگرد امام حسین کے پیروکار سنی بریلوی اور شیعہ مسلمانوں کا قتل عام کر رہے ہیں تحقیق کے مطابق پاکستان میں ہونے والی تمام تر دہشت گردی میں ہونے والے ہر دس میں سے نو واقعات میں دیوبندی دہشت گرد ملوث ہیں تکفیری دیوبندی دہشت گردوں کی دو بڑی جماعتیں ہیں یعنی طالبان اور سپاہ صحابہ جو در حقیقت ایک ہی دیوبندی تنظیم کے دو نام ہیں
تقی عثمانی کے شعر اقبال کے نام سے گھڑ دیے واہ تکفیری دیوبندی واہ
آج کل یزیدی ناصبی دیوبندی گروہ سپاہ صحابہ طالبان کے کچھ حامی سنت ابو ہریرہ کو زندہ کرتے ہوۓ اقبال سے مندرجہ ذیل شعر منسوب کر کے پھیلا رہے ہیں
نہ عشق حسین نہ ذوق شہادت / غافل سمجھ بیٹھا ہے ماتم کو عبادت
روئیں وہ جو منکر ہیں شہدات حسسیں کے / ہم زندہ و جاوید کا ماتم نہیں کیا کرتے
اوپر دیے گئے دونوں اشعار اصل میں مفتی تقی عثمانی دیوبندی نے اقبال کے نام سے مشہور کر دیے تھے جن کو بعد میں سپاہ صحابہ کے تکفیری دیوبندیوں نے خوب پھیلایا – یہ دونوں اشعار اصل میں اقبال کے نام سے منسوب جھوٹ کا پلندہ ہیں لیکن سنت ابو ہریرہ کے مطابق سب چلتا ہے
جواب غزل کے طور پر ھمارے ایک دوست اقبال فاروقی نے ہمیں کراچی سے کچھ شعر ارسال کیے ہیں ان کو نوٹ کر لیں اور بوقت ضرورت یزیدیوں پر استعمال کریں
موسیٰ و فرعون ، علی و معاویہ / حق و باطل کی پرانی جنگ ہے
( اقبال)
سفیان و معاویہ و یزید / کرگئے اسلام کی مٹی پلید
( اقبال)
ماتم حسین افضل عبادت ہے / اس کی مخالفت یزیدیوں کی شرارت ہے
( اقبال)
تکفیری و دیوبندی و ناصبی / کاذبی و کاذبی و کاذبی
( اقبال)
ہم مخالف نہیں ماتم حسین کے اے اقبال / بو ہریرہ والوں کی شرارت ہے
( اقبال)
تکفیری دیوبندیوں کے لئے نوٹ : جس کتاب میں اقبال نے ماتم حسین کے خلاف شعر لکھا ہے اسی میں اگلے صفحے پر یہ شعر بھی موجود ہیں کتاب کھول کر دیکھ لیں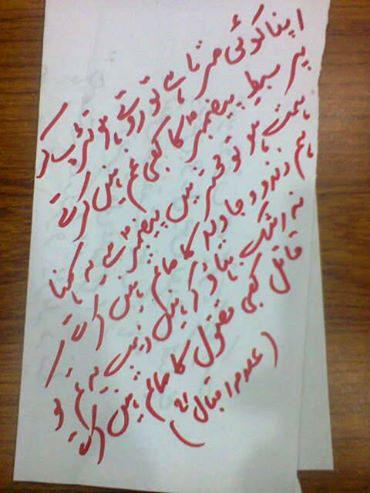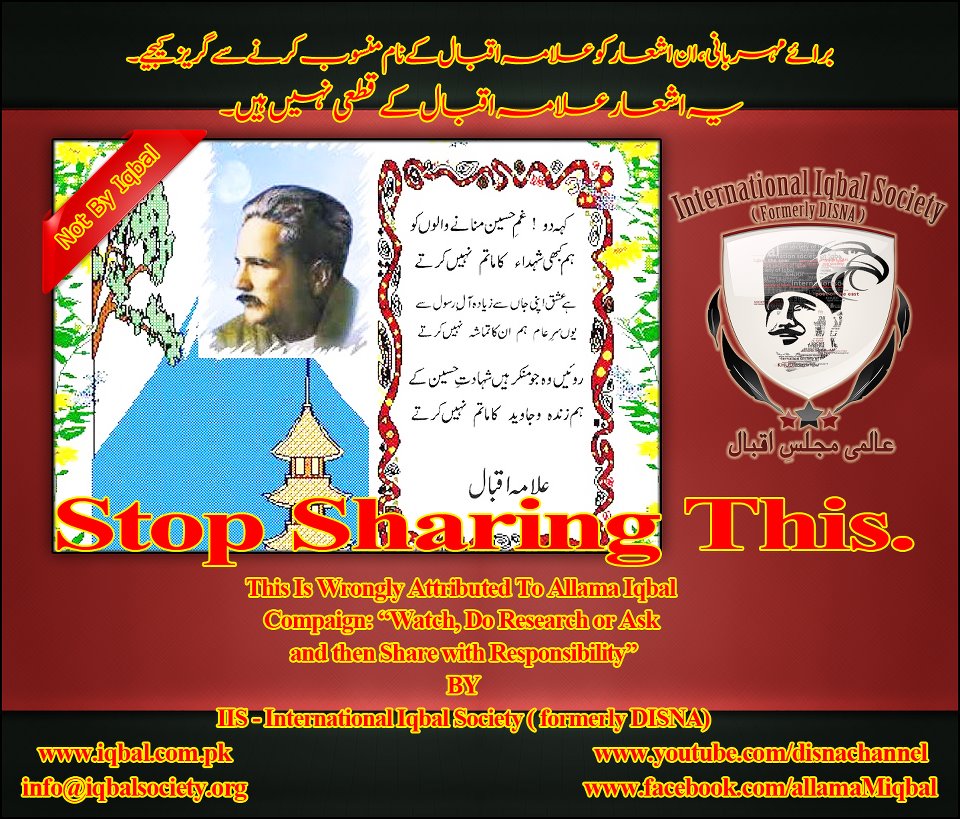 ======
Allama Iqbal rejects Deobandi mullahs of Darul Uloom Deoband including Hussain Ahmed Madani and Manzoor Nomani who opposed Pakistan, Quaid-e-Azam and all Sunni and Shia Muslims.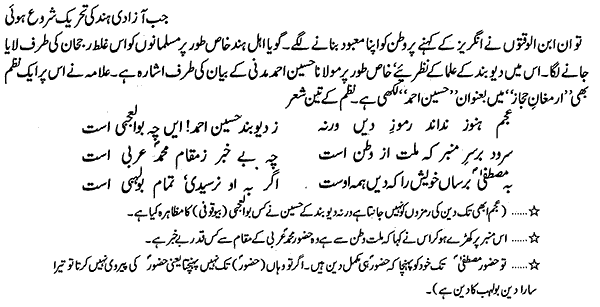 Comments
comments