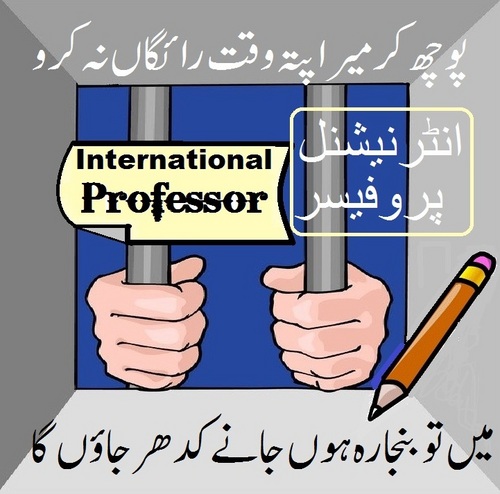 Editor's note: We are publishing yet another toxic and misleading article by our long-time friend Earthman International Professor. Presently a concerted campaign has been launched against LUBP on Twitter and also via email groups to misrepresent LUBP's editors and authors as agents of multiple countries and intelligence agnencies. We are being threatened with baseless legal consequences in reprisal of our pro-rights and anti-extremism posts. In some instances, relatives of our former authors and editors too have been located and threatened. As always, we refuse to bow down in front of such fascist tactics and reiterate our commitment to a secular, liberal and progressive Pakistan. End note.
Real culprits behind LUBP liberal fascist hate site exposed
– by Earthman Journalist International Professor
Barey Shah of Stockholm is the main culprit.
Some time ago, I wrote on Iranian ISI Shia Qadiani website LUBP exposing its foundation and members. I wrote:
"Notorious secular liberal fascist website LUBP www.lubpak.com is in direct control of pro-Iranian vigilantes and operating as Mahdi Army under direct command of Ministry of Defense and DG, ISPR. Website also poses as argon of Gay movement of Bilawal Zardari. LUBP website spreads lies and propaganda against PML-N, PTI and Taliban. It is a sectarian website which is funded by Iran, Israel, CIA and ISI. A pseudo name Ali Nishapuri, believed to be operating from Mashhad, Iran who is publicized as editor of the website, falsely showing operating from Ankarah Turkey. Amir Mughal is believed to be commander of defunct Sipah e Mohammed or Tehreek e Jaffria, Mahdi Army, Pasdaran e Inqilab Pakistan, Hizbullah or Mukhtar Force involved in terrorism and at least 22 terrorists of those groups are on blue book, according to daily Ummat, Karachi many are operating from Iran. Same Shia peoples brainwashed by LUBP are involved in suicide attacks on their own Shia community at Quetta, according to Express news one suicide bomber involved in killings of Hazara community was son of Shia Mullah of Quetta, later his dead body was recognized by his father and from the balloon Hazara killings propaganda was released, moreover one Hazara PPP's MNA that remained protesting against killings of Hazara Brothers disappeared from the scene. We have no doubt that some peoples from Zardari House are involved to operate LUBP and other liberal fashist websites. Their political target is to create rift between Imran Khan and Mian Nawaz Shariff, and bring bad name to Taliban. During Iraq invasion large shia groups were hired by agencies and billions of dollar were paid, there are big names on record who received cash, even one Shia Mullah Khoi was sent to Iraq and when he was killed media confirmed that he was paid millions of dollar. In all such game Pakistan's Husain Haqani and Farahnaz Isfahani were also beneficiary of Iraq Invasion and later war of terror, their statements and Videos are available on this website www.makepakistanbetter.com, that is why for entire NRO sponsored PPP Government of Pakistan shook when same army generals that rectified NRO turned their back from Husain Haqani in Memogate."
Now more information comes to light and it is being shared here.
Ali Taaj Kazmi is publicized as chief editor. All three Ali Taaj Kazmi, Ali Nishapuri and Aamir Mughal are puppets who work for the main man behind the scene. The main founder and puppeteer of LUBP website is Muhammad Safdar Shah (known as Barey Shah) who is residing in Stockholm since 1990. He is the actual founder of LUBP Rafzi Shia Qadiani brigade and after one brigade is exposed and members removed, he forms another brigade. Shia Hazara activist Irfan Khudi Ali of Quetta and Dr. Haider of Punjab used to support LUBP. Barey Shah's chief supporter is Yasin Ahmad s/o Salim Chaudhary. Yasin comes from a rich Qadiani family of Narowal. Yasin's family maintains links with secular liberal fascist wing of PPP and their goal is to overturn 2nd Amendment and blasphemy law.
Safdar Shah (known as Barey Shah in Stockholm Shia temple circle) is from a landlord family from Bahawalpur and life time supporter of corrupt PPP mafia of Zardari. His chief coordinator in Pakistan is Manzoor Ahmad, a Barelvi from Burewala who also get funding from Tahir Padri Canadvi and grave-worshipping terrorist Sarwar Ejaz Qadri from Karachi.
Both Manzoor and Yasin are sub-agents and assistants of Barey Shah and their chief aim is to make new teams of secular liberal fascists for CIA, ISI and RAW.
After Nishapuri number 3 ran away from Maulana Tahir Ashrafi, Barey Shah (big terrorist) created another puppet with name of Ali Taaj Kazmi, a news reporter who was fired from Geo TV four years ago. There are two other other puppets of Barey Shah who use Nishapuri handle and operate from Mashahd Iran and ISI HQ Aabpara. It was revealed by a writer Yasir Hamdani that Ali Nishapuri (Number 2) was a member of Hizbut-Tahrir's wing. He visited Pakistan on a few occasions and was arrested by the police for inciting violence in the name of Khilafah. This was in 2004. After getting funding from Iran and CIA, he became champion of Shias and Balochs.
In Lahore, LUBP gets funding from Aasma Jahangir (RAW agent) and in Sindh it gets money from Talpur family as Barey Shah's elder brother is married to Talpur famiy and related to Zardari. LUBP gets free legal advice from Aasma Jehangir and Aitzaz Ahsan, both RAW agents. Aasma Jahangir is a known Qadiani supporter.
I told before that LUBP gets support from Mahdi Army in Iran, Israel and also from India and USA. In Stockholm, Barey Shah maintains three accounts with each having amounts of five million Euros in Nordea Bank AB. Details of these accounts are available with two senior journalists of Geo TV but they don't publish it due to LUBP's links with ISI.
LUBP has now developed a large network of other liberal secular fascists like Dr. Taqi Mazdaki of Peshawar, Dr. Shazia Nawaz (gay activist), Beena Sarwar (RAW), Nadeem Paracha (secular fashist) and Nusrat Javed (sectarian Shia facist). Taqi is a Shia terrorist and is Zardari footlicker. LUBP tactic is sometimes to publish articles against some of its main backers and financiers to create false impression of distance. That is typical Sabai Shia tactic.
The main goal of LUBP is to convert Pakistan to secular liberal fascist State and give more power to Qadiani and Rafzi Shia and grave worshippers Barelvis of Sunni Tehreek. These liberal fashists are anti-Taliban, anti-religion and publish hate speech against Deobandi and Salafi groups and also against Punjabis. The Shia, Qadiani, Barelvi terrorists and criminals that have reached Sweden, America, Iran, Turkey are using the venue for cyber terrorism, propaganda for making room for newcomers. Since war against Iran and Syria is knocking on the door, so, all pro-Iranian, Iraqi, Alawites, Lebanese and Pakistani terrorists must be watched carefully for cyber terrorism. Particularly some Pakistan's ex Intelligence agents ISI working at USA or posing living there.
Agents of agencies LUBP, ISI and Aman Ki Asha are still trying to beat drum of Taliban and Deobandi and Wahabi, now time has changed and world is in danger from Shia Cyber Terrorists, Iranian state terrorism and export of Khomeinism. As such Syria, Bahrain, Saudi Arab, Lebanon, Pakistan, Afghanistan, Azerbaijan and Central Asia are burning in fire by agents and exported Iranian state terrorism.
The real brains behind LUBP is Zardari and Kayani and other PPP-MQM-ANP top guns. Baloch terrorists also support LUBP.
Barey Shah is also collecting lot of money from pro-secular Swedish NGOs that also fund Aman ki Asha of Beena Sarwar and Kayani. Barey Shah's brother based in Sindh recruits new teams for LUBP website and their Mahdi Jamaat.
To save Pakistan from liberal fascists, a case must be prepared against Barey Shah, Manzoor and Yasin. They are the real brains behind LUBP. All others are Sabai Qadiani somkescreen puppets.