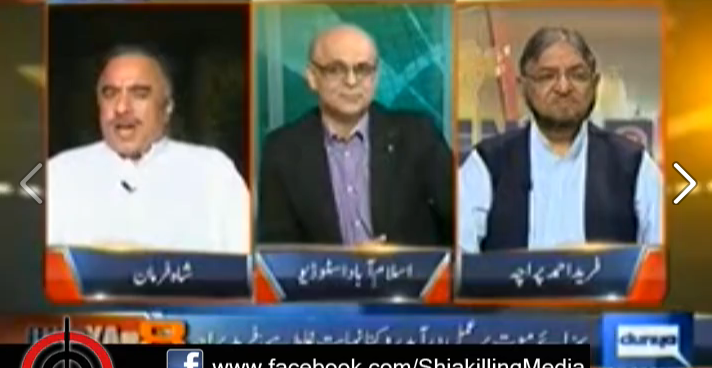 C1:-From the responses of the participants, I have very little hope that anything good will come out of these negotiations. I fully agree with the concluding remarks that in the eventuality of the negotiations to fail, the full force of the state should be used to crush these mass murderers!!
C2:- The half measures that have been taken so far, have brought us to this day.
C3:- The criminal and pleader of criminals & Killers Fareed Paracha is now projected in media…thanks to N-league.
C1:-  Who is this nut case saying that LeJ is killing Shias in response?
C2:- A demented creep. I wish somebody would ask him when have the Shias God forbid cut the throats of people having different faith and belief? The only times when there have been any killings are in self defense as in Bhakkar recently or few years back in Parachinar. How we can compare it to throat cutting barbarians is beyond understanding.
C1:- Tragedy of our nation is that such demented creeps are projected on media as leaders, Fareed Paracha is another one of that ilk.
C2:- When the leaders seek protection from these creeps how would they convict them? One solution or a part of it is smaller provinces which should be easier to rule, especially in Punjab. Instead of nabbing the MNAs from opposition it would be a good thing if NS takes care of the mosques and madressas which are armed to teeth. A mosque that stops being the house of peace and protection loses its identity and becomes 'Masid e Zarar; which the Prophet P.B.U.H ordered to be demolished.
C3:- He is a great criminal who has formed a society for release of prisoners (NGO_ to save murderers of LeJ, Sipah-i-Sahaba, Al-qaida, Jaish Mohammadi…) , gets funds from Saudi Arabia, Qatar…darling of ISI.

Javed Ibrahim Paracha ….. Ex MNA Muslim League (N), declares Malik Ishaq and Sipa e Sihaba part of Talibaans and Shia killing is mere defensive killing.