#ShiaGenocide: We condemn ASWJ terrorists and their humanizers on murder of 5 Shia Muslims in Quetta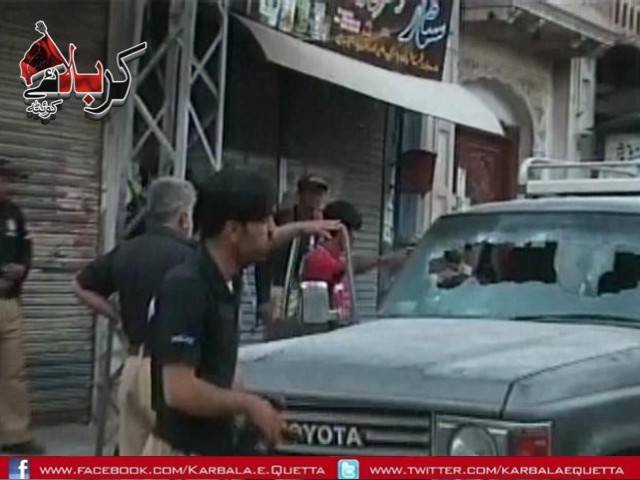 QUETTA (15 July 2013): At least four Shia Muslims were killed Monday evening when Takfiri Deobandi terrorists of banned militant oufit Sipah Sahaba (currently operating as Ahle Sunnat Wal Jamaat-Deobandi ASWJ-D) opened fire at a vehicle in Quetta.
Fayyaz Sumbal, the Deputy Inspector General Police, said four militants opened fire at the vehicle on Masjid road area of Quetta. All four men sitting in the vehicle were seriously wounded and succumbed to their injuries on their way to the Combined Military Hospital, he said. The attackers managed to escape after the attack, he added. Police said the victims belonged to the Shia Hazara community and were attacked when they were shutting down their shop.
Target killing of Shia doctors, engineers and businessmen has become a routine in Pakistan. Lists of Shia professionals are prepared for ASWJ-LeJ target killers who then murder them with impunity. In recent past, Shia blogger Irfan Khudi Ali was target killed in Quetta while Shia professionals Dr. Ali Haider and Professor Sibte Jafar were respectively target killed in Lahore and Karachi.
The Shia professional target killed in Quetta today was Mr. Raza Hussain who owned Ali Traders in Liaquat Bazar. Other martyrs included boxer Muhammad Idrees, Ali Akbar and Ali Raza. Muhammad Idrees, was a renown boxer of Quetta. Previously Pakistan's thrice Olympian boxer Abrar, a Shia Muslim had been killed by ASWJ terrorists in the same city.
Also today in Quetta, Deobandi terrorists of ASWJ beheaded Hafiz Abdul Wahid, Shia covert who had been kidnapped by ASWJ terrorists three days ago.
It may be noted that only 24 hours before this incident, an article was published in Najam Sethi's The Friday Times blog, edited by his employee Raza Rumi, in which Takfiri Deobandi terrorists of ASWJ-D and their leader Aurangzeb Farooqi Deobandi were humanized and promoted as peaceful citizens. When Shia activists on Twitter objected to humanizing and promotion of ASWJ (aka Lahskar-e-Jhangvi LeJ) terrorists by TFT blog, Raza Rumi and his Capital TV employee Farhad Jarral threatened Shia activists and their family members publishing their private information (names, addresses, family members) thus enabling their target killing by ASWJ-LeJ terrorists.
It may be noted that only a few weeks ago, Najam Sethi (TFT owner and Raza Rumi's employer) had released at least 112 ASWJ-LeJ terrorists in his capacity as caretaker CM of Punjab province.
In Pakistan's social media, dozens of Sunni and Shia Muslims condemned latest inciden of Shia genocide by ASWJ Deoabdni terrorists. They also condemned how pro-establishment liberals Najam Sethi, Raza Rumi and Farhad Jarral were helping ASWJ terrorists in carrying out Shia genocide.
The target killing of 4 Shias in Quetta today comes exactly two weeks after a deadly suicide bombing at a Quetta Imambargah killed 30 members of the Shia Hazara community. The Lashkar-i-Jhangvi (currently freely operating as ASWJ under leadership of Ahmed Ludhyanvi and Aurangzeb Farooqi, both of them routinely promoted by TFT blog) claimed responsibility for the bombing, one of a series of attacks this year by the sectarian outfit targeting the majority-Shia Hazaras.
Meanwhile in a statement issued Monday evening, Prime Minister Nawaz Sharif strongly condemned the firing incident and expressed his condolences to the bereaved families. Governor Mohammad Khan Achakzai also condemned the attack.
http://dawn.com/news/1029223/four-shia-hazaras-gunned-down-in-quetta-police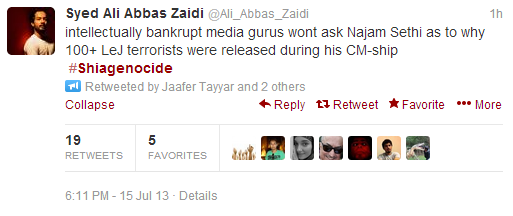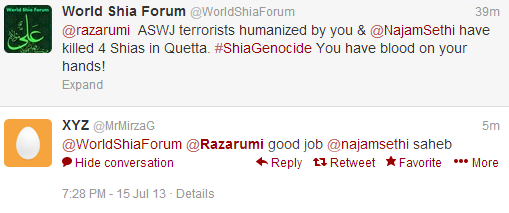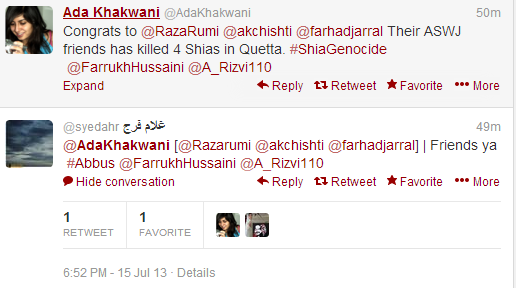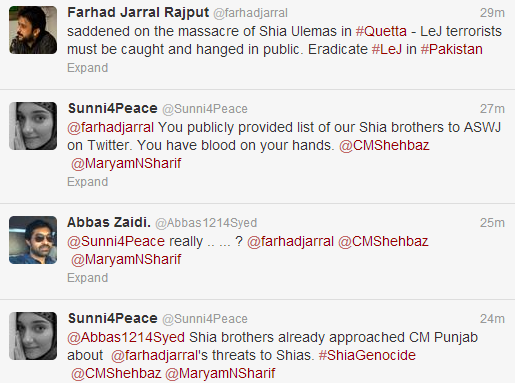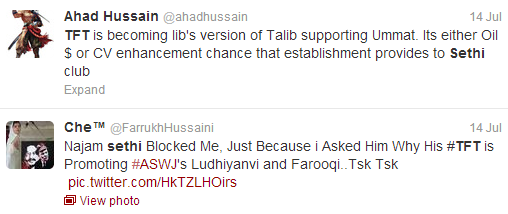 Comments
comments