PPP's central leadership has denied that it has appointed anyone as social medial coordinator of the party.
On 13 July 2013, Bakhtawar Bhutto Zardari clarified on Twitter that she was "not aware of any 'official' social media posts."
In response to Ms Hira Akbar's charges of false claims and abuse by Farhad Jarral (who claimed to be officially appointed as social media coordinator of PPP), Bakhtawar Bhutto Zardari clarified that "PPP does NOT tolerate any form of abuse!! Also no official "media" appointment has been made." A similar comment was made by Aseefa Bhutto Zardari who said that "The Bilawal House @MediaCellPPP is directly monitored by @BBhuttoZardari .If posts are given BBZ, @BakhtawarBZ or myself".
Bakhtawar also retweeted a statement by PPP_InfoCell that "there is no appointment been made regarding any social media position for PPP. We respect all workers working voluntarily."
It may be noted that only three days ago on 10 July 2013, Farhad Jarral and Raza Rumi (of Najam Sethi's The Friday Times blog) claimed on Twitter that Farhad Jarral had been appointed as official Social Media Coordinator of the PPP. A few days ago, PPP Punjab leader Raja Riaz Ahmed stated that PPP regretted proposing Najam Sethi's name for caretaker CM Punjab and condemned his role in rigging in elections. In March 2013, PPP issued a press release strongly rejecting a false rumour published by The Friday Times blog about Bilawal Bhutto Zardari's differences with his father President Asif Zardari.
Large number of PPP workers and social media activists thanked Bakhtawar BZ and Aseefa BZ on PPP's clear stance against abuse. In particular they appreciated Bakhtawar's comment that "Grateful 2every1 who contributes. Need every1 2get along-we all have the same goal."
False Claim: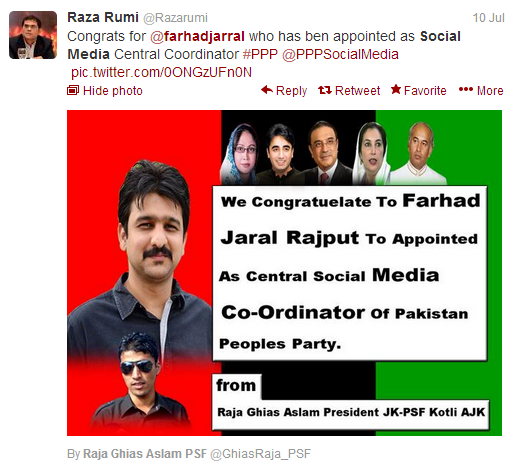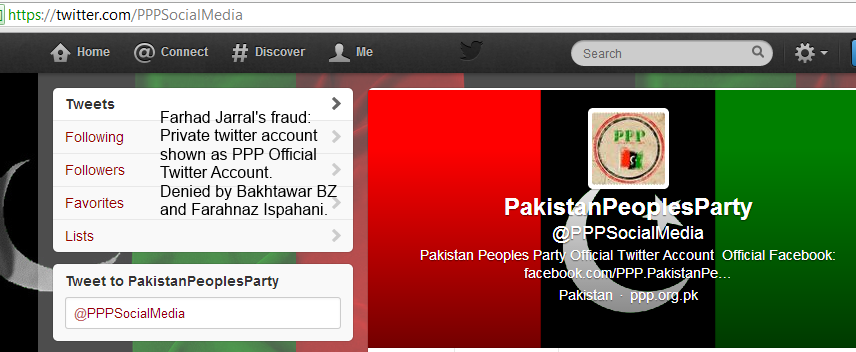 Denial by PPP's leadership: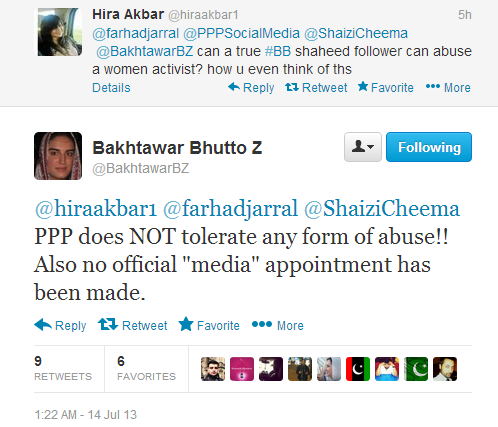 Charges of abuse and fraudulent claim: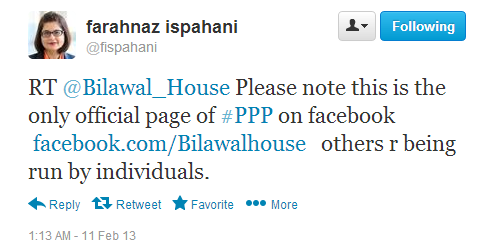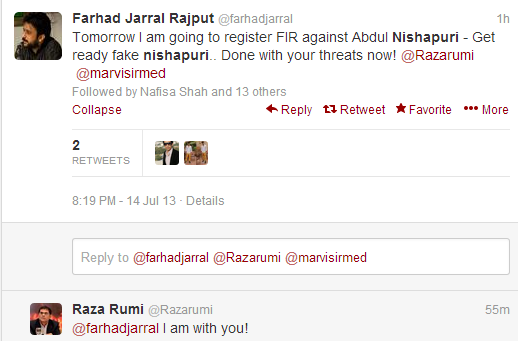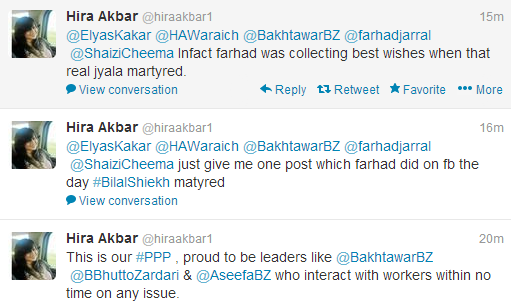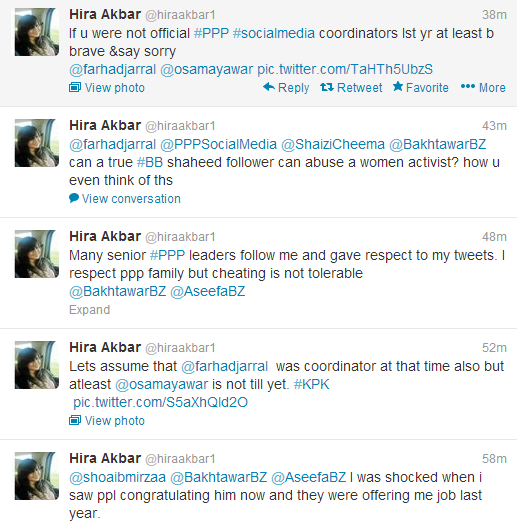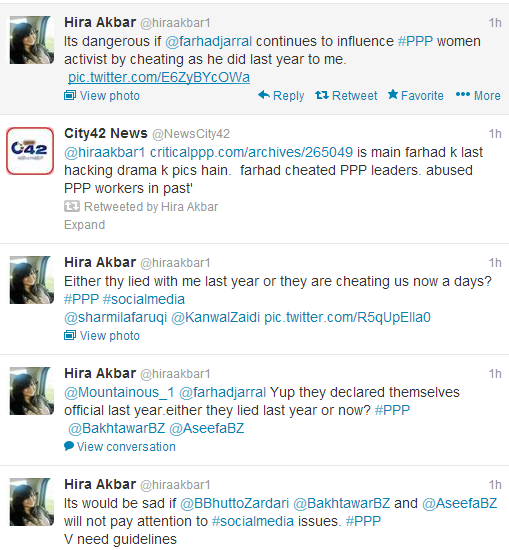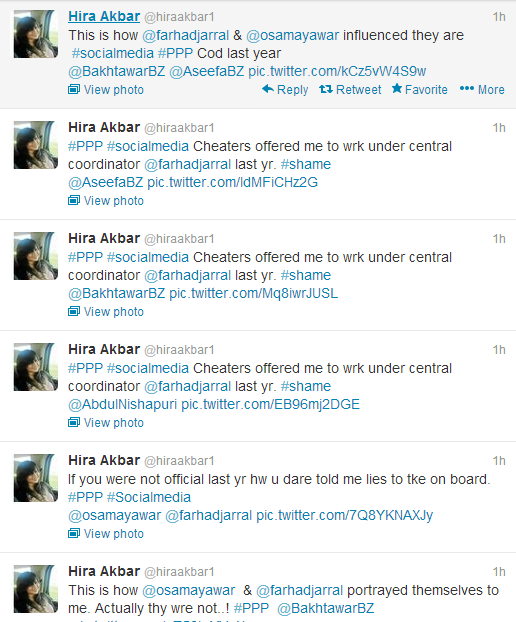 —-
According to PPP leaders, the party has not nominated Farhad Jarral or anyone else as social media coordinator. PPP doesn't run any social media cell nor it has nominated anyone as its social media coordinator. On Twitter, @MediaCellPPP is the only official account operated by the PPP, else are being operated by individuals. It may be noted that Farhad Jarral (supported by Najam Sethi's TFT blog editor Najam Sethi) tried to hijack PPP's social media and falsely claimed that his Twitter account @PPPSocialMedia and facebook page https://www.facebook.com/PPP.PakistanPeoplesParty were official twitter account and official facebook page of PPP.
PPP leaders have clarified that only following are the official Twitter and facebook accounts of the party:
Official
Official Facebook: https://www.facebook.com/BilawalHouse
Offical Twitter: @MediaCellPPP
Official Web site: http://www.ppp.org.pk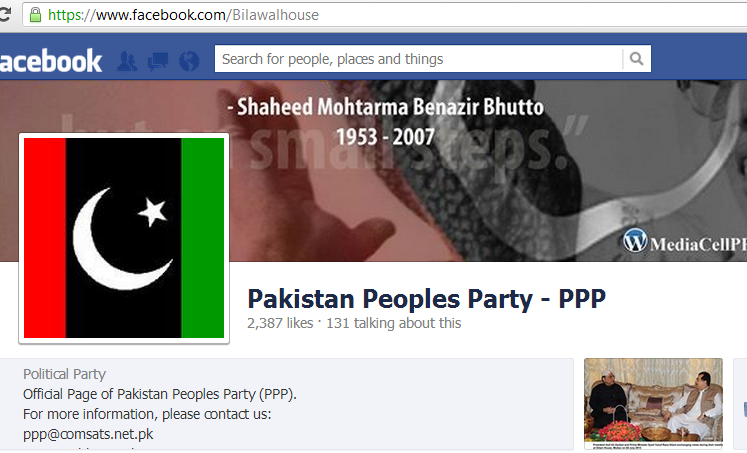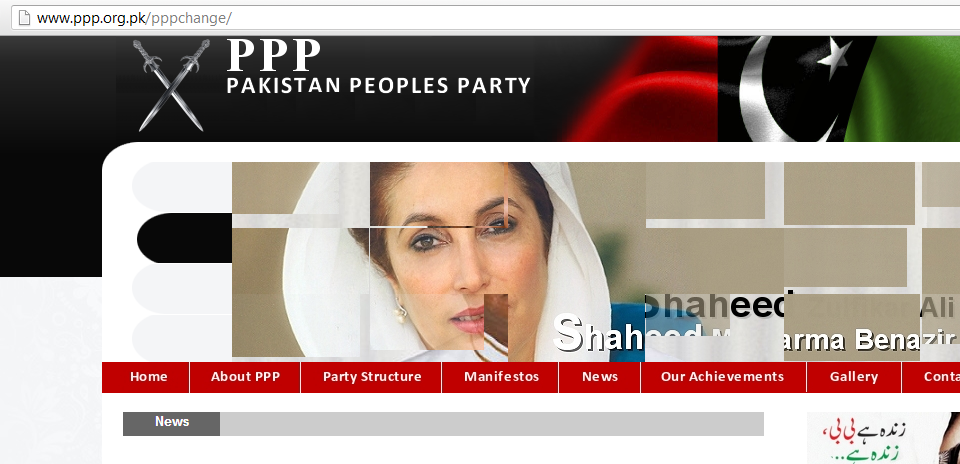 Fake
Fake facebook page: https://www.facebook.com/PPP.PakistanPeoplesParty
Fake Twitter account: @PPPSocialMedia