Accomplished moderate Judge barely survives terrorist attack by ASWJ-TTP nexus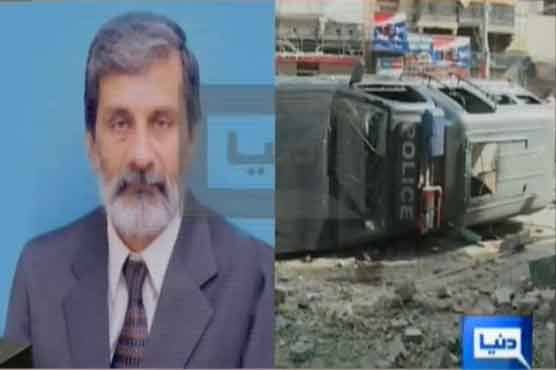 Justice Maqbool Baqar, one of Pakistan's few moderate and non-compromised High Court judges was targeted in a suicide attack that claimed 7 lives and left more than 15 people injured in Karachi today. His attack was a direct result of the Supreme Court's deliberate policy of releasing self-confessed Takfiri terrorists. Compared to his other compromised and politicized peers in the higher judiciary, Justice Baqar is a dedicated judge and his judgments reflect a legal mind that is untainted with political ambition or Jamaati ideology – as opposed to Chief Justice Iftikhar Chaudhary. He is probably the most respected judge in the Sindh High Court for his ability to grasp legal minutae and deliver judgements on the merits of the arguments presented. Again, this quality separates him from many of his lesser qualified but more promoted peers in the Higher Judiciary.
Justice Baqar is also a Shia – a death sentence in Pakistan today.
The ASWJ-TTP terrorists who attacked him share the same ideology – Takfiri Deobandi which is closely linked with global Salafist-Wabahist movements. As global events have clearly shown, this mindset cannot tolerate the Other. This mindset hates Christains, Buddhists, Hindus, Jews, Sufis, Sikhs, Sunnis and atheists. However Shias top their hate list. The Takfiris enjoy the continual support of Pakistan's security establishment. They also enjoy the support of the current party in power in Pakistan which is the PML N. The Judiciary and media, with few exceptions, are also inclined in favour of the murderous ideology of these Takfiri terrorists. This is clear from their public support. Along with the media, Pakistan's fake civil society and fake liberals have played an especially dirty role.
For a long time, they continued to deny or deliberately confuse the reality of the ongoing Shia Genocide in Pakistan. They described in in misleading ethnic terms (Hazara) or generalizing terms (Sunni-Shia) with the clear intention to obscure the specific faith identity of the terrorists which is Takfiri Deobandi/Salafi. The most most dangerous and powerful fake liberals who twist this debate both belong to The Friday Times. They are Raza Rumi and Ali Chishti. Those anti-establishment twitter activists who dare to disagree with them are openly threatened with legal actions and FIRs.
The justifications of Ali Chisti for the attack on Justice Maqbool Baqar are eerily similar to a deleted tweet by Lidhanvi of Sipah Sahaba. It seems almost as if the two had discussed this matter before putting out their spin. Clearly they know each other well as Ali Chisti has been known to advocate the expansion of blasphemy laws in Pakistan while praising "Shia Kafir" propagator Lidhanvi.
https://lubpak.com/archives/231304


After justifying the attack on Justice Maqbool Baqar, Ali Chishti and his partner Raza Rumi then threaten LUBP and other Shia activists. Not only that, after their public advocacy and apologist activism for ASWJ-Taliban, they accuse LUBP and other anti-establishment bloggers of "inciting violence". Unbelievable. All this time, their friends and mentors like Beena Sarwar and Nadeem Paracha maintain a cautious silence refusing to call out the social media bully tactics of Raza Rumi and Ali K. Chishti.
In their selective activism, Pakistan's fake liberals are far more dangerous than the public supporters of the Taliban-ASWJ like Ansar Abbasi and Hamid Mir. In their case, their pro-Taliban inclinations are obvious and clear. In the case of this dangerous and interconnected group of fake liberals, their silence and refusal to confront the ASWJ apologists/activists/advocates within them points to the disturbing trend that when push comes to shove, these fake liberals will align with ASWJ.
After shameless advocating for expanding the blasphemy law to criminalize any criticism of Yazid Ibne Muawiya and after promoting hate slogans for eg Kafir, Kafir, Shia, Kafir as political slogans in their Friday Times, these social media bullies like Rumi and Chishti then turn around and call themselves the beleaguered liberals. For them, LUBP Abdul Nishapuri is every account that dares to disagree with them and LUBP is a conspiracy to "defame" those liberals who seek common cause with ASWJ!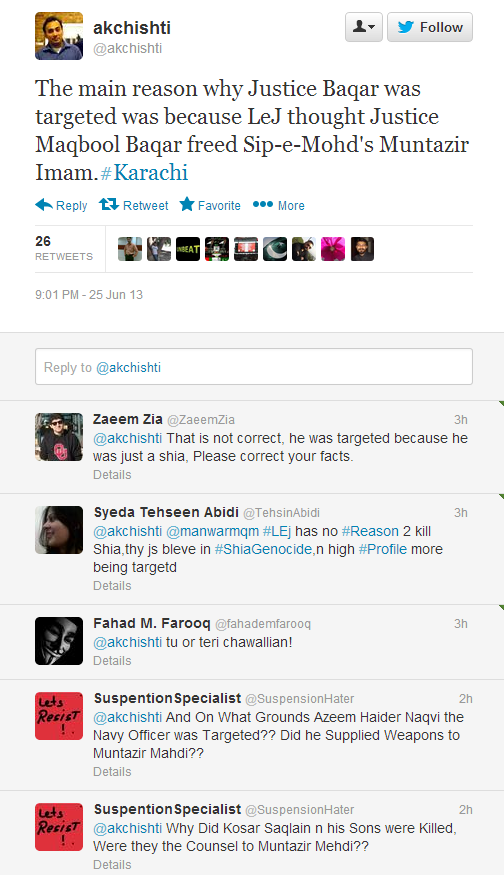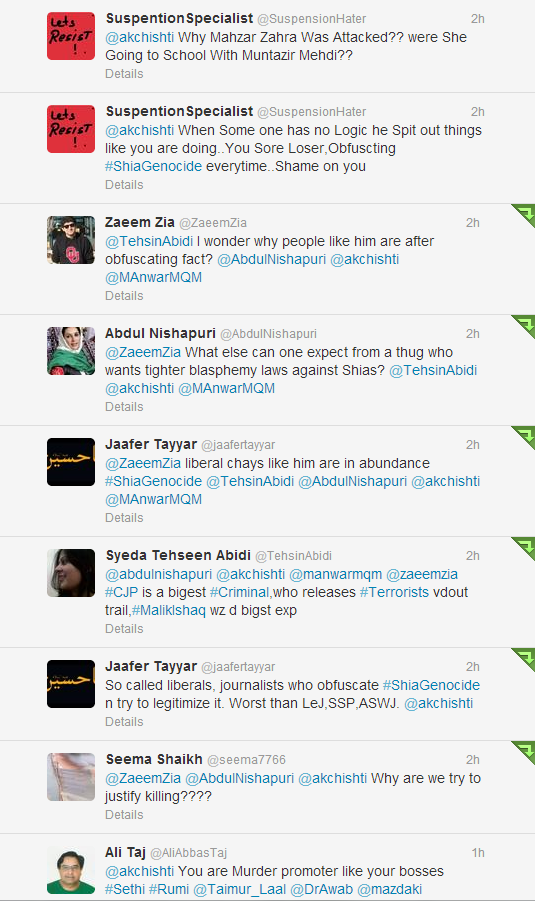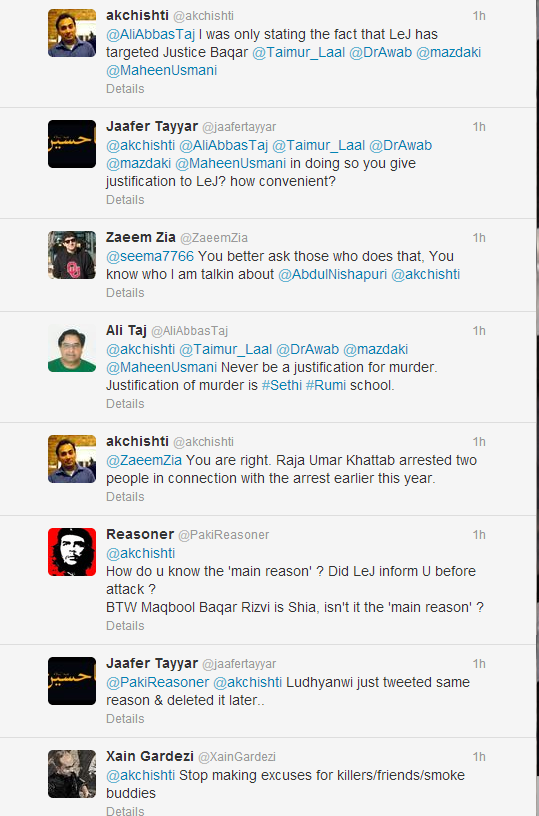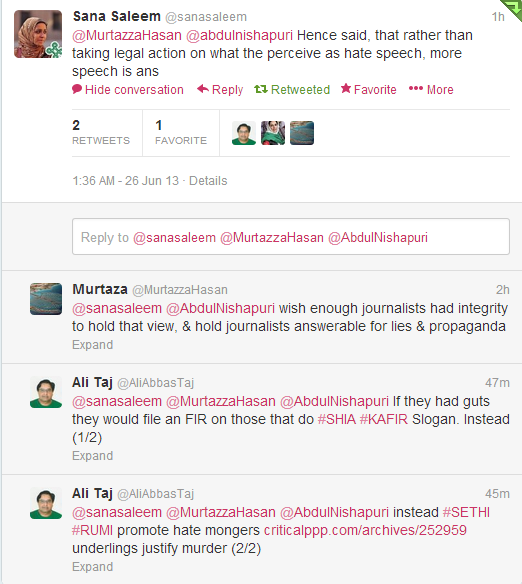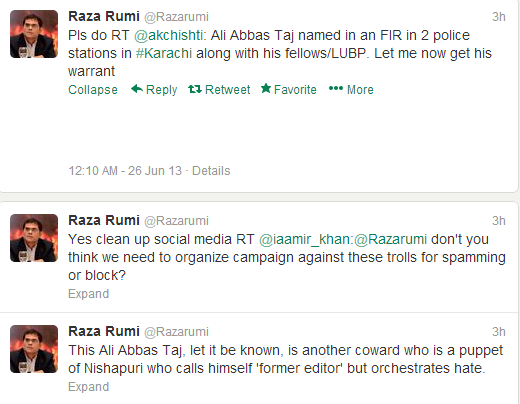 Related:
https://lubpak.com/archives/252959
Comments
comments