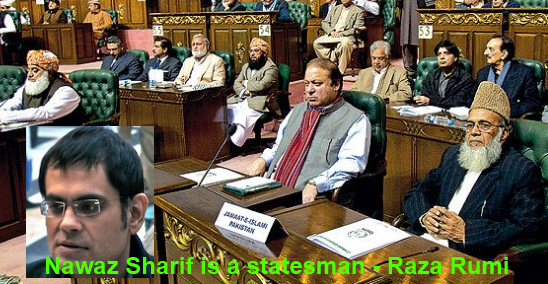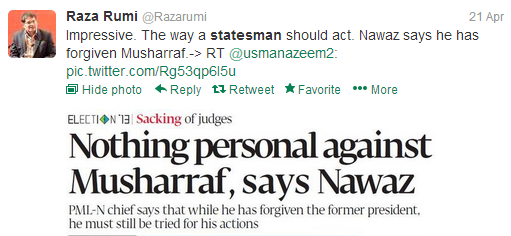 The media sycophancy and servility for Pro-Taliban politicians knows no bounds. Whether it is the Islamist dominated Urdu media or the pseudo-liberal dominated English Babu types, the trend is the same in the last few months – suck up to the Islamo-fascist PMLN-ASWJ alliance as much as you can. It does not matter whether in this process, the sycophant is losing his own credibility with the lies that are conjured to present the PML N in good light.
For example, calling Nawaz Sharif "a statesman" as Raza Rumi (editor of Najam Sethi's The Friday Times and Director of Sherry Rehman's Jinnah Institute) did on Twitter yesterday certainly took the cake.
Are we talking about the same Nawaz Sharif who used to visit General Zia ul Haq's grave on his death anniversary? On such occasions surrounded by Sipah Sahaba and other Takfiri Jihadis, he declared his intentions of completing Zia's mission.
Or that Nawaz Sharif who bankrupted the country with half-baked, in-efficient schemes that lined his pockets at the expense of the tax payer – like Yellow Taxi, Sasti Roti, Laptop Giveaway, Lahore Metro etc.
This is the same Raza Rumi who continuously sucks up to Nawaz Sharif's brother, Shahbaz Sharif – the former multiple CM of Punjab and the key architect of banned terrorist group Sipah-e-Sahaba's alliance with PML-N. A couple of months ago this same blogger/journalist Raza Rumi praised CM Shehbaz Sharif in his selective and poorly researched column (refer to http://www.dailytimes.com.pk/default.asp?page=2012%5C12%5C17%5Cstory_17-12-2012_pg3_5, https://lubpak.com/archives/233275 )
Aside from Rumi's pathetic attempts to dilute the role of the PMLN government's full support to ASWJ-LeJ (Sipah Sahaba terrorists) and the Taliban, even his arguments for the so-called good governance and economic management by the same PML N government do not tally up. The previous Punjab provincial government under Chaudhry Pervez Elahi had left a budget surplus. Even though I am not a PML Q supporter, I still consider Pervez Elahi a far better administrator than the corrupt to the core Sharif brothers. Punjab now has a deficit.
Rumi should know that Model Town and a few other upper class districts of Lahore do not equal Punjab. In Southern Punjab, Federal funds had to be used by former PPP Prime Minister Gillani for development work. In Northern Punjab, another former PPP PM, Raja Pervaiz Ashraf did most of the development work.
Basically the Sharif brothers embezzled Pakistan's most prosperous province and lined their pockets with trillions of rupees with their various schemes. The pro-Taliban, pro-Lal Masjid Judiciary is in their pocket and Transparency International Chief, Adil Shafi Gilani is yet another PML N and Jamaat Islami supporter with corruption allegations against his son and himself.
Is this Raza Rumi's idea of a "Stateman"?
This is the same Nawaz Sharif who calls himself anti-establishment and hides between the frocks of other corrupt Jihadi judges who are doing their best to swing the elections in his favour. This is the same "statesman" who is handing out party tickets to banned terrorist organizations like ASWJ.
In the past, it was the same Nawaz Sharif who continued to flirt with Osama bin Laden and Lashkar-e-Taiba and who unsuccessfully tried to become a life-long rule of Pakistan by installing himself as an Islamic Caliph.
These are the (paper) tigers of Punjab who plead and bow down to the Taliban assuring that they are the same. When the time came to stand against a dictator, they did their NRO and ran away to a Jeddah palace. Nawaz Sharif and Shahbaz Sharif are as anti-establishment as Raza Rumi is a liberal.
[youtube id="-xmGIH5JBp4″ width="600″ height="340″ position="left"]
My jiyala friends in Lahore often tell me how Raza Rumi blackmails them to stay away from pro-PPP and other secular bloggers of LUBP and other working class activists of diverse faith and ethnic backgrounds. My advice to my fellow Jiyalas is to stay away from Raza Rumi and his Takfiri Deobandi sectarian bigot associates (e.g. Ali K. Chishti and Mohammad Shehazad, both of The Friday Times, known for links with Sipah-e-Sahaba and military agencies). This advice is particularly important if you are Shia, Ahmadi or Sunni Barelvi.
Anyone who can consider a coward like Nawaz Sharif a "statesman" is a cancer to Pakistan Peoples Party. I request all party workers to forward this post to Chairman Bilawal Bhutto Zardari and request him to maintain safe distance from this Rumi – the chief of the Pakistan Peoples Party (Shhabaz Sharif Group).
After all, this is the same Raza Rumi whose The Friday Times started this fake rumour of Chairman Bilawal trashing his own party, father and aunt. https://lubpak.com/archives/254313
Same Raza Rumi also provided platform to another TFT editor (Jugnu Mohsin, wife of Najam Sethi) to mock and misrepresent the life of Mohtarma Shaheed Benazir Bhutto. https://lubpak.com/archives/247277
Just recently, the same Raza Rumi and his boss could not weasel their way out of questioning on why their Friday Times paper gave full freedom to hate-monger Ludhianvi Deobandi, head of banned terrorist group Sipah Sahaba, during his interview with them. https://lubpak.com/archives/251583
https://lubpak.com/archives/252959
According to international law, it is a crime to humanize and glorify terrorists. By humanizing and promoting pro-ASWJ pro-Taliban Deobandi clerics as prophets of peace, Raza Rumi is complicit to acts of terror and may be prosecuted in many countries including in Pakistan.
Whenever Raza Rumi is questioned about his dubious tactics, his favourite tactic is harassment and intimidation. Private messages and phones calls are quickly made to Sipah Sahaba columnists of the Friday Times to threaten his critics on social media. These are the same tactics of General Zia ul Haq and his progeny, the Sharif brothers who have ruined and radicalized Punjab in the last few decades.
Those who consider them "statesmen" like Raza Rumi are only engaging in the tactics learned from their alleged paymasters in Raiwand (and Aabpara?). Today, Raza Rumi and his Sipah Sahaba comrades like Ali Chishti and Mohammad Shehzad can get away with their hate speech and bullying tactics. A time will come when the law will no longer be in the hands of the corrupt, pro-Takfiri judges of Chaudhary courts. That day will be the day of reckoning for not just the Sharif brothers but also their promoters and internet hate bullies like Raza Rumi.