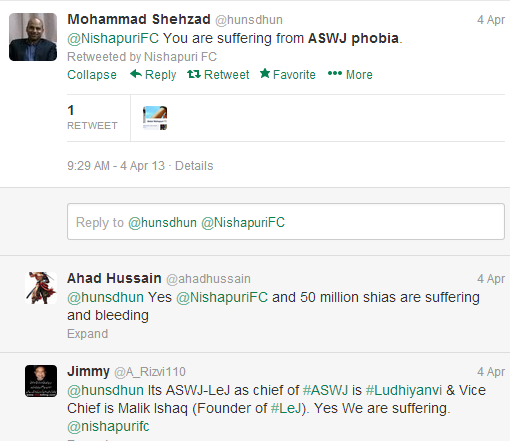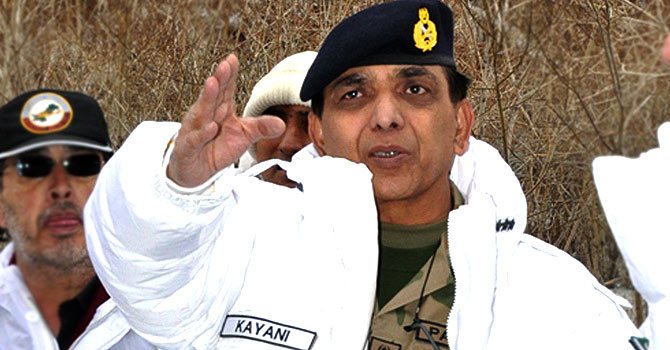 In Army dominated Pakistan, intelligence agencies and their affiliates play a major role during election times.
As general elections 2013 are scheduled to be held on May 11, these dark forces have once again started using all their resources and instruments to get favorable result. A favorable result means an reduced size of liberal, democratic and anti establishment voices in the upcoming assembly and an increased volume of the right wing political parties like Pakistan Tehreek-e-Insaf, Pakistan Muslim League Nawaz, Jamiat-e-Ulema Islam (F).
Moreover, Pakistan's pro-jihadist security establishment also wishes to give some seats to anti-Shiite terrorists like Maulana Ahmed Ludhianvi, head of ASWJ – terrorist organization, in future assembly. Keeping this scenario in mind and obeying the orders of Jihadi Generals, the so-called independent and free Election Commission rejected former prime minister Raja Pervaz Ashraf's nomination papers and disqualified him while on the other hand paved way for Ludhianvi and other Islamofascist terrorists.
It would appears that both Taliban and ECP (Election Commission of Pakistan) and SCP (Supreme Court of Pakistan) are working in tandem to fulfil Pakistan army's dream of a Jihadist security state. While Taliban kill liberal politicians, both ECP/SCP are disqualifying liberal candidates from contesting elections. The net effect is to pave way for an artificial victory of right-wing parties e.g., PML-N, JUI, JI and PTI.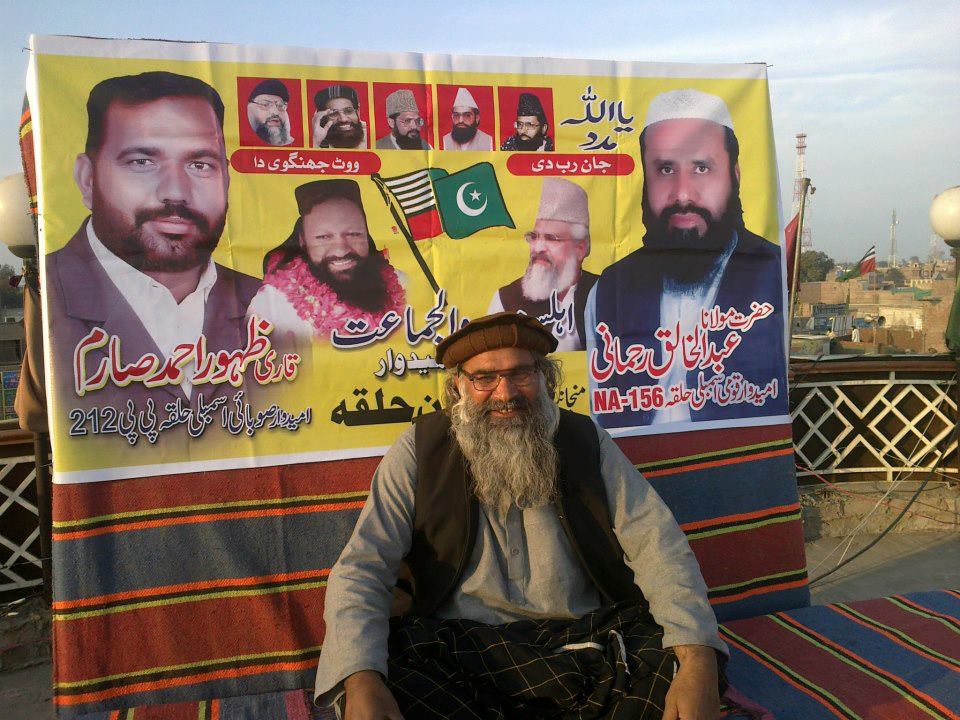 .
Here's a list of Takfiri terrorists contesting elections in Pakistan, on the ticket of Muttahida Deeni Mahaz MDM.
Lashkar-e-Jhangvi is collecting data of all Shia candidates.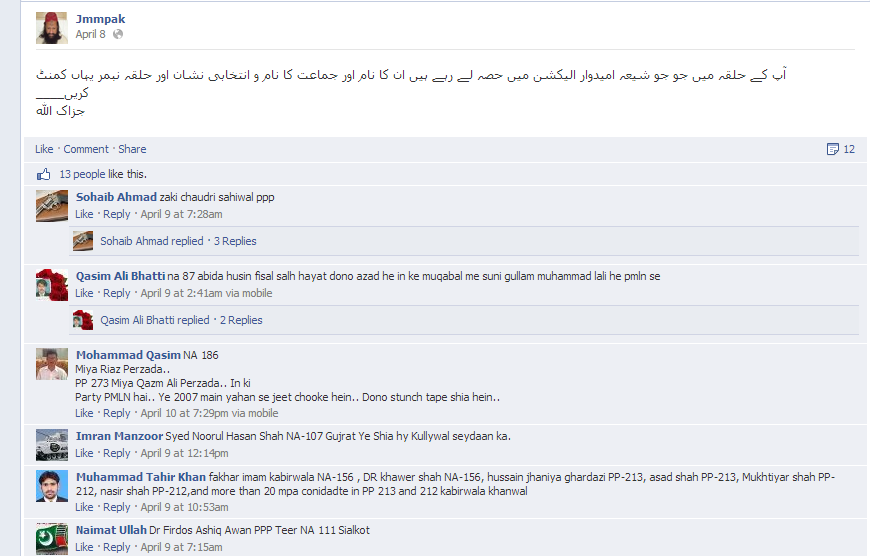 The ISI affiliates TTP and other jihadi groups have threatened and intimidated secular, liberal and progressive candidates and their voters. Taliban has vowed to target liberal politicians from the Awami National Party (ANP), Pakistan Peoples Party(PPP) and Muttahida Qaumi Movement (MQM) during the electoral campaign period to fulfil the dreams of the Army generals.
According to a report published in DAWN:
Workers and supporters of Awami National Party and Pakistan People's Party will not hoist their parties' flags on their offices and houses in Wana of South Waziristan Agency and its surrounding villages due to militant threats.
However, activists of other political parties, including Jamiat Ulema-i-Islam-Fazl, Pakistan Tehrik-i-Insaf and Jamaat-i-Islami, are exceptions, it is learnt.
Sources said local Taliban Shura led by commander Salahuddin Ayubi had feared threat to ANP and PPP supporters from proscribed Tehrik-i-Taliban Pakistan (TTP) and asked local leaders of the two parties not to hoist flags on their offices, shops and houses.
A leader of ANP in Wana told Dawn over the telephone that party workers and supporters would follow the suggestion of Taliban Shura.
Army chief General Ashfaq Parvez Kayani is fulfilling his dream to see Pakistan the citadel of Islam, where his good Taliban are contesting and wining the elections and controlling Pakistan. He was coined the term Good Taliban to fulfill his dream, and now his good Taliban have unleashed terror on the liberal, nationalist and progressive leaders and workers of anti establishment political parties. On Tuesday, they have launched another assault on a political rally of Awami National Party (ANP) in the Yakatoot area of Peshawar.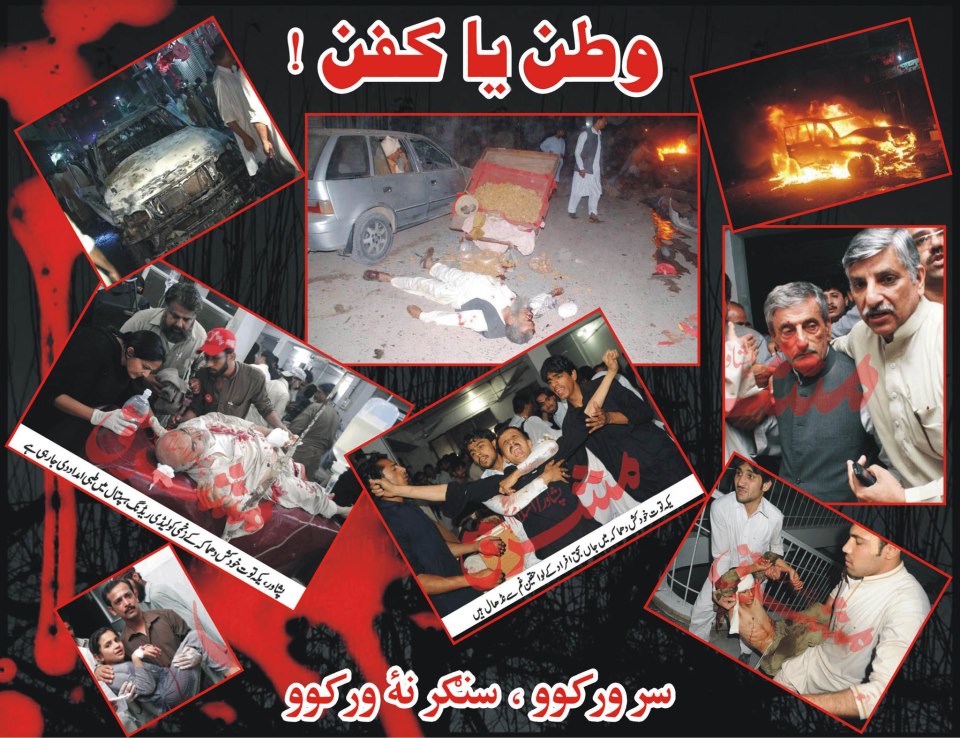 According to the update news, Awami National Party leader Ghulam Ahmed Bilour was injured while 9 party supporters were killed in a blast targeting an election rally in the Yakatoot area of Peshawar.

Ghulam Ahmed Bilour and his nephew Haroon Bilour, the son of the late Bashir Bilour, were leaving the rally venue when a bomb struck near Haroon's vehicle, injuring his uncle Ghulam Bilour. Haroon Bilour escaped the attack. At least 9 supporters of the party are reported dead while 40 others are being treated at the Lady Reading Hospital.

Blaming the Election Commission of Pakistan for the continuing spate of attacks against the ANP, the party's leader Asfandyar Wali Khan said they would register a case against the ECP and the city's police officials. "They have taken away the security of our leaders, rendering them vulnerable to a section of society which wants to eliminate liberals like the ANP from the country. But we will not back down as we are the followers of Bacha Khan," he said.

Wali said that the elections must take place on time or else the situation would further deteriorate. "I have written to the ECP and the caretaker chief minister for security to the ANP leaders but none of them have responded to me request so far," he added.
A former minister and a senior leader of the ANP, Ghulam Ahmad Bilour said while talking to media if we are attacked again we will register FIR against the army chief of Pakistan.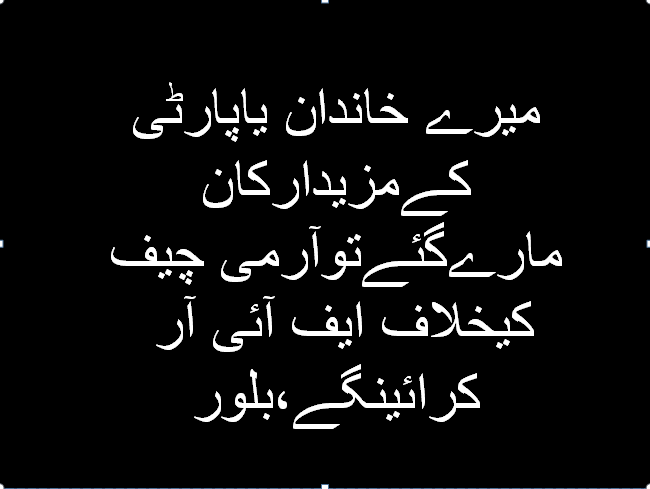 Off course, Right-wing religious pro Army parties not being targeted by the Taliban have been holding their election campaign rallies without fear. That's a new Pakistan, Imran Khan and the Taliban's Pakistan. Recently, TTP target ANP leaders during election campaign.
The difficulties and challenges faced by the Pakistani security and intelligence establishment the last five years has made the Army and Inter-Services Intelligence (ISI) all the more determined to snatch the political control back from liberal democratic parties mainly PPP and ANP in the upcoming 2013 general election. During the last five years the Army and ISI generals faced lots of challenges and problems due to independent character of these bloody civilians parties. The PPP tried to design independent foreign policy and contact directly with other states especially United States of America, India and Afghanistan. In this new relationship between Pakistan's civilian rulers and US, the Kerry-Lugar bill was introduced to Congress on September 24, 2009. The Enhanced Partnership with Pakistan Act of 2009 s.1707(also known as the Kerry-Lugar-Bergman Act) was an Act of Congress passed into law on October 15, 2010. It authorizes the release of 1.5 billion USD per year to the Government of Pakistan as non-military aid from the period of 2010 to 2014. It was proposed by Senators John Kerry (D-Massachusetts) and Richard Lugar (R-Indiana). It is considered a major shift in foreign aid to Pakistan, as it significantly increases the civil aid given to the country as compared to previous aid given.
U.S. President Barack Obama signed the bill into law on October 15 as Public Law. President Asif Ali Zardari and The PPP endorsed the legislation, as the Pakistani government seriously needed new democratic relationship with U.S. civilian aid and check on Army adventurists generals.
Pakistan Generals were agitated by the terms of the Act. The military and intelligence services were furious at the observations made on Pakistan's security establishment in the Kerry-Lugar Bill.
The Army's strong reaction to the Kerry-Lugar Bill was shared in detail with the civilian government when General Kayani met Prime Minister Yousuf Raza Gilani and President Asif Ali Zardari. The Talbanic Army and ISI got angry when Afghan President Hamid Karzai was invited to attend the oath-taking ceremony of president Asif Ali Zardari. They showed their anger by bombing Islamabad Marriott Hotel.
The most embarrassing and disturbing event for the Army and ISI was when Pak Army's special guest Osama Bin Laden was killed by a team of U.S. SEALS on May 2, inside a private residential compound in Abbottabad. President Asif Ali Zardari, writing in a Washington Post op-ed column, said that "And we in Pakistan take some satisfaction that our early assistance in identifying an al Qaeda courier ultimately led to this day," Zardari said, referring to the trusted bin Laden aide whose movements helped the United States find the al Qaeda leader. President Zardari defended Pakistan's anti-terror activities, saying there has been "a decade of cooperation and partnership between the United States" and his country that ultimately led to bin Laden's death. The Op-Ed sparked widespread anger in the Army and ISI leadership. After that they used Memogate, conspiracy against PPP to dislodge President Asif Ali Zardari, but this ploy failed.
During this period The Army and ISI allow affiliates group the Lashkar-e-Jhangvi (LeJ) & the Taliban to slaughter Shiite Muslim to damage PPP govt and its vote bank.
Well, keeping the above incidents in mind, and the disgrace and embarrassment the PPP govt has brought to the Army. Now, the patriot generals have decided they are going to get rid of these liberal parties and give chance to real pro jihadi parties PML-N, PTI, JUI-F and Ludhanvi to make Pakistan the citadel of Islam. They are using all tools from PCO Chief justice Iftikhar Ch. to the Election Commission's molvi returning officers, General Zia,s article 62/63and General Pervaz Musharaf's degree condition to block the way of the haters of the colonial political Jihadi army.
On Monday, an election tribunal rejected former prime minister Raja Pervaiz Ashraf's nomination papers for NA-51 constituency in Gojar Khan. The election tribunal by using General Zia's article 62/63 declared that the former PPP prime minister is not 'Sadiq' and 'Ameen'.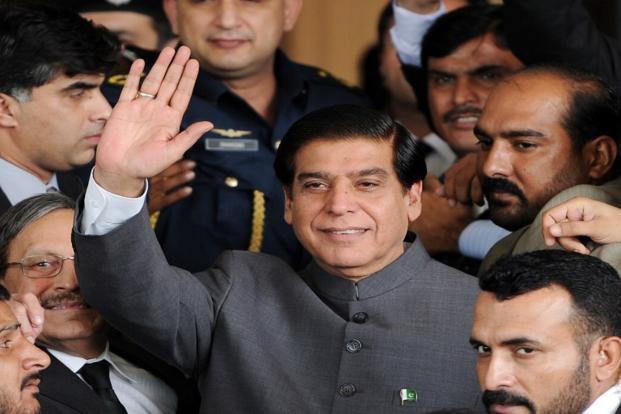 The former Prime Minister Raja Pervez Ashraf awarded the contract of constructing roads to National Logistic Cell (NLC), a government organization. Central Information Secretary PPP Qamar Zaman Kaira expressed surprise that no one raised objections when Punjab government led by former Punjab Chief Minister Shahbaz Sharif awarded number of contracts to NLC and other similar organizations to build roads on single tendering basis.
He urged the Chief Election Commissioner to take stock of the situation and initiate action to stop the downward slide of the electoral process.