ISI-Sethi network at play in Punjab: Sheikh Waqas, Faisal Saleh, Abid Imam disqualified to pave way for Ludhianvi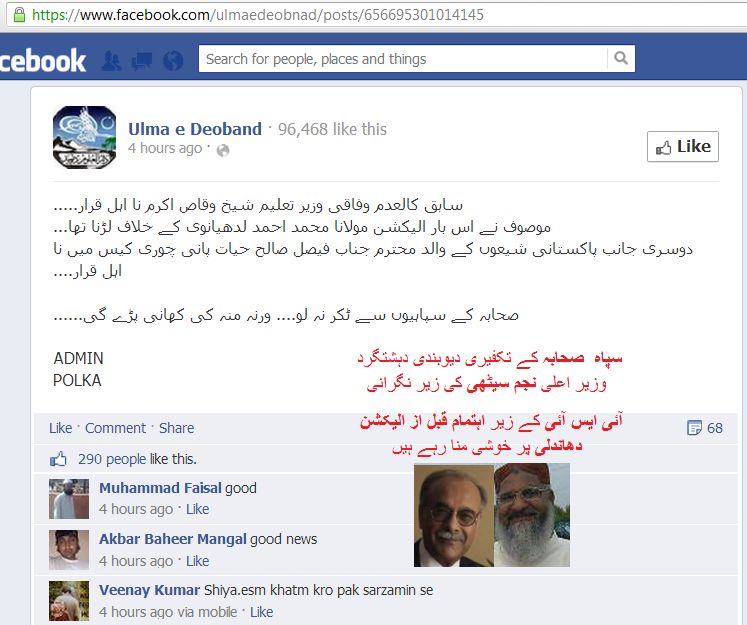 The Election Commission of Pakistan (ECP) Thursday (4 April 2013) rejected nomination papers of Faisal Saleh Hayat and Abid Imam in NA-87, Geo News reported.
According to sources, the erstwhile PML-Q leader Faisal Saleh Hayat, contesting as an independent candidate, and PPP's Abid Imam, a first-timer, could not believe his ears when they heard the Returning Officer in NA-87 disqualifying them to run for the polls. Having won previous polls from the same constituency in 1988, 1990, 1993, 2002 and 2008, the PML-Q leader was considered a strong candidate to win the 2013 polls also.
Abid Imam, who happens to be the son of veteran politicians, Syed Fakhar Imam and Syeda Abida Hussain, was taking his first shot at the elections but ECP did not let him so to speak. However he reserves the right to challenge the decision in one of the ECO tribunals.
The nomination papers of both the candidates were rejected on the flimsy charges of stealing irrigation water, the sources added.
The returning officers in Punjab are under pressure by the ISI and caretaker Chief Minster Najam Sethi to pave way for victory of Ahmed Ludhianvi and other members of banned Deobandi outfit Sipah-e-Sahaba (currently operating as ASWJ).
In a related development, a bureaucratic committee rejected the A-Level certificate of former MNA Sheikh Waqas Akram. Akram used to contest elections from the Jhang city National Assembly seat, NA-89, and had defeated ASWJ's head Ahmed Ludhianvi in the 2008 elections. The NA 89 seat was wrested away from Sipah Sahaba (ASWJ) by PML-Q's Shiekh Waqas who got 51,976 votes. He defeated the new ASWJ (Sipah Sahaba) chief, Ahmed Ludhianvi Deobandi who received 42,216 votes.
While PML-N ostensibly accepted Waqas Akram into its fold recently, it had other secret plans with ASWJ. Amir Mir writes:
according to Dr Khadim Hussain Dhillon, the central secretary general of the ASWJ: "Mian Nawaz Sharif has conveyed to Maulana Ahmed Ludhianvi through inter-mediators that he was not kept in the loop and the decision was taken by Shahbaz Sharif on the insistence of people like Chaudhry Nisar Ali Khan, Sardar Ayyaz Sadiq and Khawaja Saad Rafique". Dhillon said the ASWJ leadership conveyed its extreme displeasure to Nawaz Sharif over his brother's decision to befriend someone who has been accused of having a fake BA degree and who keeps changing his political loyalties for petty interests. "We also expressed our concern over Shahbaz Sharif's giving a clean chit to Sheikh Waqas by declaring him a man of character who has never indulged in corruption".

While responding, Dr Dhillon said, Mian Nawaz Sharif has communicated to Maulana Ludhianvi through his close aides that he has great regard for the ASWJ leadership and recognizes their contribution in the un-opposed election of Shahbaz Sharif from Bhakar.

"Mian Sahib further conveyed his desire to Maulana Ludhianvi that the ASWJ and the PML-N should work together in future also by removing their misunderstandings as had been the case in the past, especially when the general elections are approaching. In return, the ASWJ high command has made it clear to Nawaz Sharif that if his party still wants to enjoy the massive support of the ASWJ in the elections, a clear cut pledge should be given that the PML-N will not award its party ticket to Sheikh Waqas from NA-89 (Jhang) against ASWJ president and rather it will support Maulana Mohammad Ahmed Ludhianvi the way he had supported Shahbaz Sharif. Our cooperation with the PML-N will continue in future as well if we are given the required commitment by no less than Nawaz Sharif because we don't trust Shahbaz anymore". http://www.thenews.com.pk/Todays-News-6-165737-PML-N-moves-to-pacify-ASWJ
Profile of NA 89
NA-89 has long been an ASWJ hub. In 1988, when it was known as Sipah-i-Sahaba, its founder Haq Nawaz Jhangvi won 39,000 votes at NA-89, but lost out to Begum Abida Hussain. However, he vowed that Abida Hussain would quit the constituency. In 1990, Hussain contested the election from elsewhere, though Jhangvi had been killed by then.
Maulana Isarul Qasmi won the NA-89 seat as well as the PP-77 Punjab Assembly seat in 1990, defeating the PML-N's Sheikh Yusuf. Qasmi too was killed, but the party remained in control of the constituency. Sipah-i-Sahaba's Azam Tariq won both seats by a wide margin in 1993, the loser again being Yusuf.
The PPP's Nawab Amanullah Khan Sial won the seat in 1997, while Azam Tariq again won it in 2002. After Tariq was assassinated, Sheikh Waqas Akram won the seat in a by-election as a candidate of the PML-Q and retained it in the 2008 elections. http://tribune.com.pk/story/520938/election-politics-aswj-fumes-as-sheikh-waqas-akram-joins-pml-n/
Violation of national and election laws
Contrary to the repeated claims of Punjab government that it has launched a massive crackdown against banned militant and sectarian groups, especially the Lashkar-e-Jhangvi and Sipah-e-Sahaba, a confidential report prepared by the Counter Terrorism Department (CTD) of Punjab police has cautioned that despite the ban, these outfits operate freely. According to the fortnightly review report (February 16 to Februaty 28, 2013) of the Counter Terrorism Department, "The proscribed outfits operated freely across Punjab with impunity as the SSP/LJ carried out 47 activities in different cities. The activists of these outfits, including those involved in terror activities and placed on the 4th schedule of Anti Terrorism Act (ATA) 1997 flouted the law openly without any corresponding legal action from the concerned police.
Abuse of loud speaker and hate speeches figured prominently in the activities of SSP/ASWJ (Ahle Sunnat Wal Jamaat), especially against the Ahl-e-Tashi (Shias)".
The CTD report states on page 13: "Maulana Mohammad Ludhianvi, the president of the ASWJ, organized an Ameer-e-Azmat Conference at the Jamia Masjid Haq Nawaz Jhang on February 24. Speakers, Masrur Nawaz Jhangvi (4th Schedule), Maulana Abdul Ghafoor Jhangvi (4th Schedule), Maulana Aurengzeb Farooqi (4th Schedule), (Khadim Hussain Dhillon, central secretary general of ASWJ, Maulana Rehman Farooqi from Sumandari, Maulana Ikramullah Mujadadi from Dera Ghazi Khan, Maulana Lutfullah Ludhianvi from Kamalia, condemned Shias, raised slogans against them and declared them "kafirs" (infidels) on the basis of "fatwas" (edicts) given by their Ulemas (scholars). Furthermore, Maulana Mohammad Ahmed Ludhianvi announced to take part in the upcoming general elections. He was determined to defeat Syeda Abida Hussain from NA-89 (Jhang). An FIR No 165/13 dated 26.2.13 u/s 295-A, PPC, 16-MPO was lodged with Kotwali Jhang on February 23, 2013 against the participants of the Conference but no action was taken against them". http://www.thenews.com.pk/Todays-News-2-165632-Police-belie-PML-N-claims,-saying-Lashkar-and-Sipah-operate-freely-in-Punjab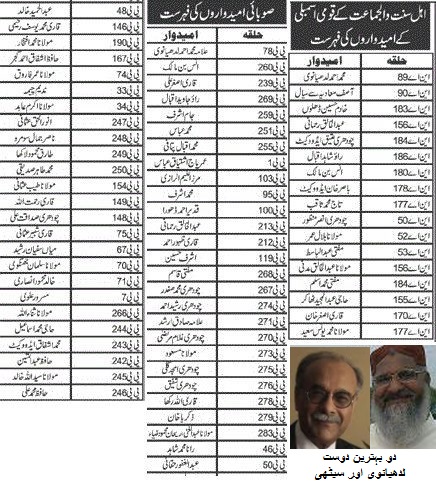 Comments
comments