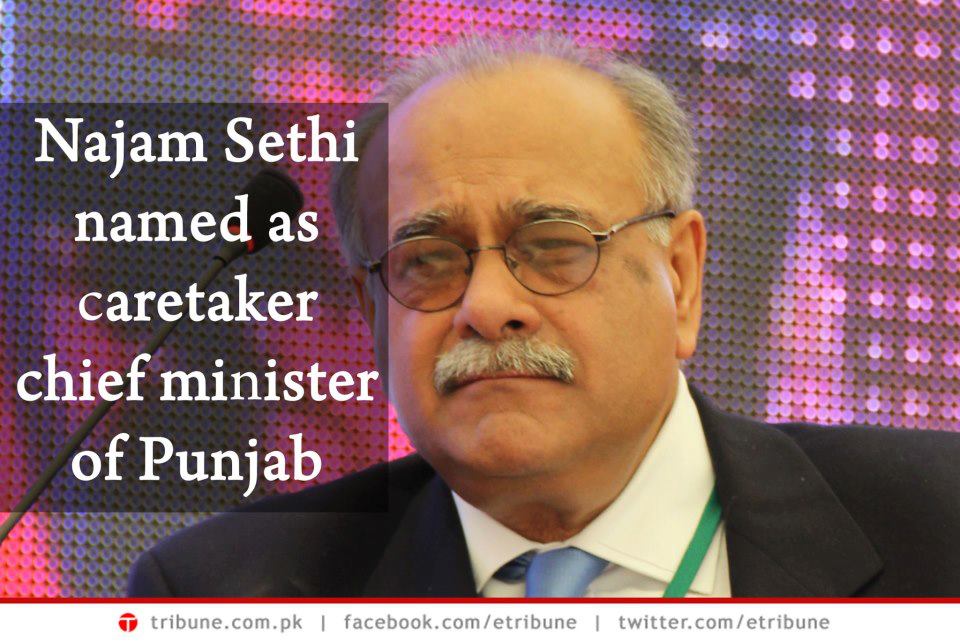 Pretext: Let us not forget : Umar Ibne Saad did not want to kill Imam Hussain (AS), beloved grandson of the Prophet of Allah (PUBH). He sent dozens of emissaries to try and work things out i.e. get Imam Hussain (AS) to accept Yazeed Ibne Mavia as the Caliph. In the end he had to weigh things. On one side was the killing of the family of the Prophet (PUBH),and on the other side was his own life and the governorship of the Raye province of the Omayyad Empire. So Umar ibne Saad chose just like the good liberal Mr. Sethi has: His own life, his own government and money. Let the innocent die.
The WSF condemns the recent appointment of Najam Sethi as caretaker CM of the Punjab through the joint consensus of PPP and PML-N. While PPP has silently presided over massacres of at thousands of Shias in Karachi, Quetta, Peshawar, Gilgit and other parts of Pakistan in the last five years, the PML-N enabled Shia genocide by providing sanctuary and legitimacy to known Takfiri Deobandi terrorists of Sipah-e-Sahaba (ASWJ-LeJ) in the Punjab province.
It's therefore no surprise that both PML-N's Shabaz Sharif/Rana Sanaullah Deobandi and PPP's Zardari/Qamar Zaman Kaira happily agreed on Najam Sethi's name.
We note with concern that as an anchor of a popular talk show on Geo TV, Sethi was the first anchor who provided an uninterrupted opportunity to head of banned terrorist outfit Sipah-e-Sahaba (ASWJ-LeJ) Ahmed Ludhianvi Deobandi to deliver his hate speech through innuendos and circumlocutions against non-Deobandis, especially the Shias. Moreover, as the owner and chief editor of The Friday Times, Sethi and his employee-editor Raza Rumi have published scores of articles in TFT in which Shia genocide at the hands of Pakistan army-sponsored Saudi-funded Deobandi militants has been misrepresented as routine Sunni-Shia sectarian violence or Hazara specific ethnic violence. Most recently, Sethi published an uncritical interview of Ahmed Ludhianvi Deobandi in which the hate slogan "Shias are infidels" was published and promoted like other normal slogan, such as, roti, kapra, makan slogan of PPP. The interview with Ahmed Lidhanvi Deobandi has no news value whatsoever. It does not cross-question any of the claims of a known terrorist. https://lubpak.com/archives/251181 Much criticism was made about the deplorable interview but Najam Sethi has remained defiant and provided no reasonable explanation.https://lubpak.com/archives/251633
We are concerned that Sethi's appointment as Caretaker CM is yet another political move by Pakistan's pro-ASWJ establishment to humanize Deobandi militants and to ensure their trouble-free participation and victory in general elections, particularly in Jhang, Bahawalpur, Bhakkar and other areas of the Punjab.
We fear and predict that during Sethi's term Ahmed Ludhianvi Deobandi, Khadim Dhillon, Ghulam Rasool Shah and other Deobandi terrorist will continue to operate  freely in the Punjab province, spewing hateful venom against Shias, enabling further massacres of Shia and Sunni Barelvi Muslims.
As caretaker CM it is his responsibility to approach the Election Commission to get all terrorists of ASWJ-LeJ disqualified from contesting elections and make sure that they are not allowed to recruit more terrorists in the guise of political lobbying.
Source: http://worldshiaforum.wordpress.com/2013/03/28/world-shia-forum-condemns-the-ctcm-appointment-of-najam-sethi-unashamed-promoter-of-takfiri-deobandi-militant-groups/