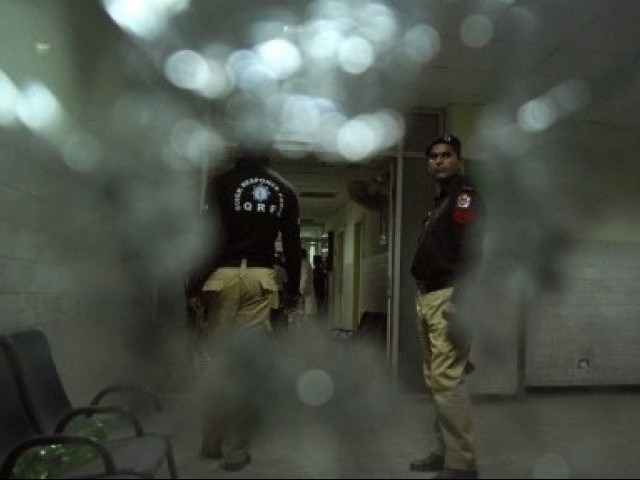 " Again 'sectarian violence'? Why can't they just call it violence against Shia Muslims. Since when have the Shia Muslims been violent." This was a comment by a very disturbed reader of this piece of news in the Express Tribune.
PESHAWAR: In an apparent incident of sectarian violence, a Shia doctor was gunned down in Peshawar on Tuesday afternoon at his clinic in Liaqat Bazaar, Saddar.
Eyewitnesses said that they heard several gunshots minutes after three men entered Dr Shahnawaz Ali's clinic. When they rushed to the clinic, they found him dead with a bullet wound to his head.

The attackers managed to flee after the incident.

"Our team has reached the clinic and they are inspecting the crime scene. No FIR has been registered so far," an official of the West Cantt police station told The Express Tribune.

Dr Shah Nawaz belonged to a prominent Shia family of the walled city of Peshawar and was said to be a relative of SP Hilal Haider who was killed in a suicide attack in the Qisakhwani Bazaar last year.

In the past few months, several Shia Muslims have been targeted including Dr Riaz Hussain, a prominent Shia leader from Para Chinar Kurram Agency who was also the president of Pakistan Peoples Party (PPP) Kurram Agency chapter.

Additional Session Judge Ihtisham Ali was also attacked but was lucky enough to escape the assassination attempt in Hayatabad, only sustaining minor injuries.

Are the people at Express Tribune doing justice to the new born orphan twins by portraying this killing as a two way street? This is the implication in the use of the word 'sectarian".  We urge the Express Tribune Editorial board to issue a joint statement with the family of the victims, include the new born twins that have been orphaned and thus scarred for life with their mother as their proxy, retract their story and correctly identify this tragedy as Shia Genocide. This is clearly a Genocide and it is time to stop the intellectual dishonesty of the word 'sectarian'.

We must begin by identifying the victims as  Victims as Shia Muslims being targeted as a religious national group regardless of their ethnic background. The clear intent is to destroy the whole group. The surviving members of the group must be viewed as co-victims in accordance with genocide's definition. Following the enactment of CPPCG, most of the UN's member states have incorporated its provisions into their respective legal architecture and all states are bound to identify and prevent a 'Genocide' from shaping up in their country. Hence, whether a government is accomplice, connives at Genocide, or is merely helpless to stop it does not matter.
We must implore the reasonable Deobandi Wahhabi and Salfis, as many of them are to take the lead in calling this a Genocide and condemning what is being done in their name.