We condemn Sipah Sahaba Taliban's attack on MQM workers and Dr. Tahir ul Qadri's supporters in Karachi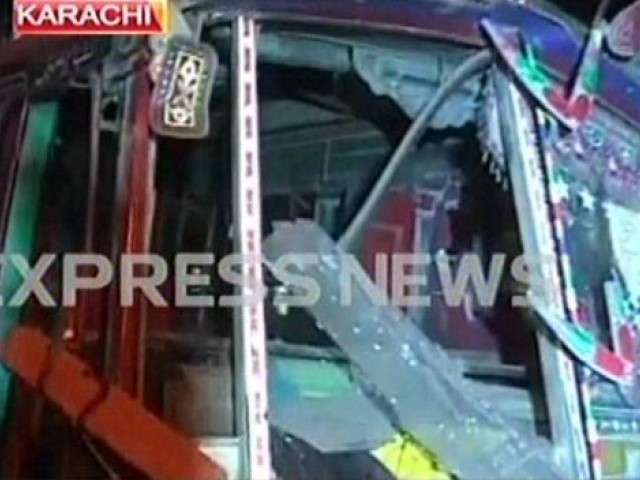 We condemn attack on supporters of Altaf Hussain (MQM) and Dr. Tahir ul Qadri (Minhajul Quran) in Karachi by Deobandi militants of Sipah Sahaba Taliban (SST).
This post explains why Takfiri Deobandi militants of Sipah Sahaba attacked MQM workers in Karachi https://lubpak.com/archives/228816
This post explains why they equally hate Dr. Tahir ul Qadri:
https://lubpak.com/archives/2334
At least four buses carrying participants of Muttahida Qaumi Movement's (MQM) rally in Karachi were targeted in the Ayesha Manzil area on Tuesday 1 January 2013. According to media reports, a motorcycle laden with explosives targeted the buses, one of them has bee completely destroyed. According to media reports, four persons were killed and 50 were injured in the blast. Two of the injured are in a critical condition.
The blast carries special significance, as it occurred very close to Jinnah Ground area, where a very large rally ended just before the blast. This rally was arranged by the MQM; Dr. Tahir-ul-Qadri and Altaf Hussain addressed a large gathering in Jinnah Ground.
The attack resembles a recent attack by Deobandi militatns (Sipah Sahaba Taliban) on Shia Muslims in Mastung two day ago in which 40 innocent people were killed. Previously, Deobandi militants have butchered buses carrying Pakistan army, navy and air force officials, Sunni Barelvi Muslims and Shia Muslims in similar attacks ob buses and vans by bomb laden motor bikes. The attack also resembles October 2007 attack by Deobandi militants on Benazir Bhutto's grand reception in Karachi.
The attack today followed a huge rally by the MQM Quaid Altaf Hussain in reception of Dr. Tahir ul Qadri of Minhajul Quran International / Pakistan Awami Tehreek. Both Altaf Hussain (MQM) and Dr. Tahir-ul-Qadri (MQI/PAT) are known for clear, bold stance against Takfiri Deobandi (Khariji) militants of Sipah Sahaba Taliban (SST) who are killing innocent Sunni, Shia, Ahmadi, Christian and other communities in all parts of Pakistan.
MQM chief Altaf Hussain condemned the terrorist attack by the Sipah Sahaba Taliban militants and said the people targeting the nation are open enemies of Pakistan.
https://lubpak.com/archives/224579
Several buses were severely affected by the blast, while the windows of at least 6-7 buses shattered. The injured and dead have been shifted to Abbasi Shaheed Hospital. The explosion near Ayesha Manzil was heard in KDA, Gulshan-e-Iqbal and the Quaid's Mausoleum. The site of the blast is 500 metres away from the site of MQM's rally Jinnah ground.
Only 10 hours before the attack, Deobandi militants in Pakistan had declared Dr. Tahir ul Qadri as Gustakh-e-Rasool:
http://www.facebook.com/ulmaedeobnad/posts/466098876781071
4 incidents in one day: 7 Pashtun teachers killed in Swabi, 1 Shia killed in Chiniot, 4 Muhajirs killed in Karachi, 1 Shia killed in Machh – all by #Deobandi militants. In a span of a few hours, Deobandi militants have killed at least 12 persons of diverse ethnic/sect backgrounds in various parts of Pakistan
Sipah Sahaba Taliban militants remain unchallenged from Karachi to Swabi, Machh to Swat. Killers at large in Pakistan.
According to BBC Urdu and Dawn newspaper, Taliban (TTP) has claimed the responsibility for the attack on MQM workers.
Deobandi militants of SipahSahaba Taliban killed 4 MQM workers in Karachi. Their apologists are blaming the CIA and Blackwater. Old tactic.
We ask media persons and bloggers to be fair in their reporting. Must mention that MQM workers have been killed by Deobandi militants of SipahSahaba Taliban.
Do NOT hide the identity of the killed (MQM) and the killers (Deobandi militants of #SipahSahaba Taliban)
Carefully look around; many (not all) of those condemning Qadri and Altaf are apologists and affiliates of SipahSahaba Taliban.
Dr Tahir ul Qadri and MQM's long march is a bad news for Deobandi militants of Sipah Sahaba Taliban. That's how it should be seen and managed.
Those (DPC, Sipah Sahaba thugs) who can't gather a few thousand Deobandis and Wahhabis are jealous of millions of Qadri's and Altaf's supporters.
Anyone, repeat anyone, who can put a stop to genocide of Shias, Sunni Barelvis etc by Deobandi militants is not a bad news for Pakistan.
Our criticism of Dr. Tahir ul Qadri's political agenda should remain completely different from Deobandi-Salafist criticism of him.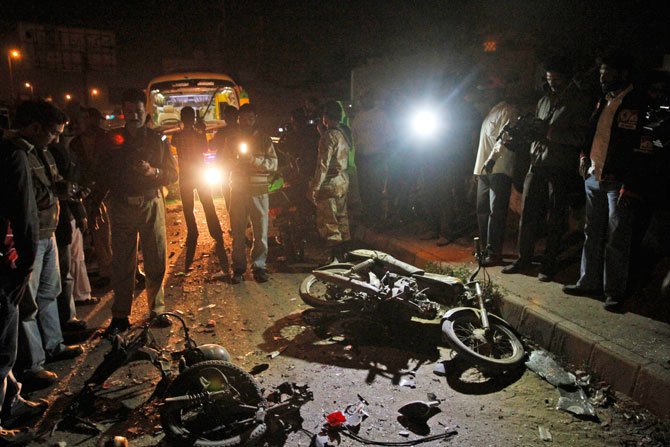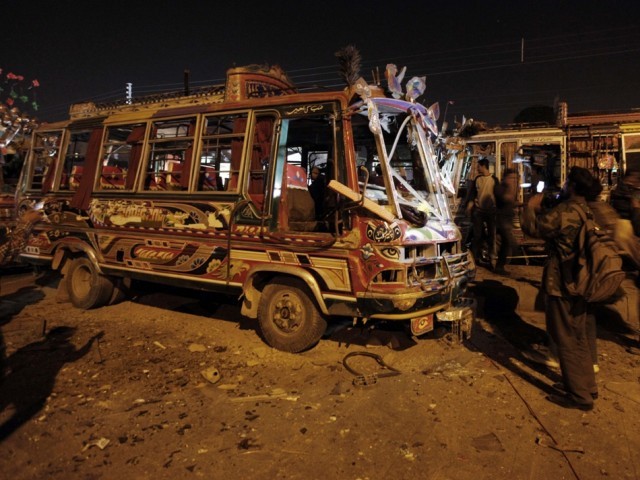 Pakistani Taliban claim responsibility of attack near MQM gathering
By Nasir Khan

Jan 1st, 2013

Peshawar: Banned outfit Tehrik-i-Taliban Pakistan (TTP) on Tuesday claimed responsibility for the deadly attack on Muttahida Qaumi Movement (MQM) gathering, which killed at least four people and injured more than 40 others.

At-least four people were killed and more than 40 others injured as a powerful blast rocked Federal B. Area of the largest city of Pakistan, Karachi and resulted in great panic in the area.

The incident happened on Tuesday night near Aisha Manzil when a bomb that was reportedly planted on a bike blew with a loud sound. Three to four of the injured, who are being shifted to Abbasi Shaheed and other hospitals, are said to be in a critical condition.

Speaking from undisclosed location, the TTP spokesman said that they would continue to target secular forces in the country.

On December 11, Ehsan said that his group would target the country's "secular parties" like the Awami national Party, which rules Khyber-Pakhtunkhwa province, and the Muttahida Qaumi Movement that is part of the ruling coalition at the centre.

"The attack on the ANP gathering was just the beginning. The attacks will intensify on the political gatherings of the secular ANP and MQM," Ihsan was quoted as saying by the media.

Ehsan warned people not to attend the rallies organised by these parties. http://www.thenewstribe.com/2013/01/01/pakistani-taliban-claim-responsibily-of-attack-on-mqm-activists/
Appendix: Only one month ago, in November 2012, Taliban had threatened MQM with violent reprisal.
Pakistani Taliban threaten to target MQM
Zahir Shah Sherazi and DAWN.COM | 2nd November, 2012 116
—File Photo
PESHAWAR: The Tehrik-i-Taliban Pakistan (TTP) on Friday threatened to target the Muttahida Qaumi Movement (MQM), vowing to 'deal' with the largest political party in Karachi, a spokesman for the banned extremist militant organisation said Friday.
Pakistani Taliban spokesman Ehsanullah Ehsan, in a statement issued Friday, said that they had decided to the MQM, vowing "not to show any mercy to the apostate tyrants of Karachi".
MQM chief Altaf Hussain has been a vocal critic of peace talks with militants and his party has taken a visible anti-Taliban stance in the wake of the assassination attempt on 15-year-old schoolgirl Malala Yousufzai by TTP gunmen.
"How can we hold talks with those who fired shots on Malala Yousufzai, Shazia and Kainat? How can we talk about peace with those who beheaded personnel and officers of the army, police and FC?" the MQM chief said in a speech to party workers on Oct 20. Hussain has also urged the Army to take the 'bold decision of acting against the terrorists'.
The Pakistani Taliban spokesman also called out to Pakistan's judges to work for an Islamic system.
"I call out to all the judges who are part of Pakistan's secular laws and courts: You will also be held accountable in front of God some day. Therefore, you should also work for an Islamic system rather than this godless system," said Ehsan in the two-page statement.
Moreover, the Taliban spokesman also called out to separatist armed movements in Balochistan and Sindh provinces, urging them to "continue their fight in an Islamic way".
"I urge the leaders of the nationalist parties in Balochistan and Sindh, like the Baloch Liberation Army (BLA) and the Sindh Liberation Army (SLA), to fight for their rights in an Islamic way," said the statement.
The Pakistani Taliban also said that they were in the process of forming a strategy with regard to the upcoming general elections.
"We are in the process of forming a policy and will make it public it as soon as a final announcement for elections is made. All current political parties in Pakistan will be divided into three categories in that strategy," it added.
However, the statement failed to specify what categories these would be.
MQM response
While speaking to Dawn.Com, MQM leader Faisal Sabzwari said that threats against the MQM were not new, but they in turn have never threatened anyone.
He said that MQM wants to make Pakistan the country that the founding fathers, in particular Quaid-e-Azam Mohammad Ali Jinnah, envisioned it to be.
Faisal Sabzwari said that Pakistan belongs to all Pakistani's regardless of their color, creed, race or views.
He also said that the MQM will continue to raise its voice for the rights of women, children, education and minorities.
The MQM leader also said that to advocate the spread of Islam through violence and force only maligns the faith, and they will continue to speak out against it.
ANP condemnation
Speaking to Dawn.Com, ANP Sindh leader Bashir Jan said that his party strongly condemns the statement made by the TTP.
Bashir Jan said that they will never condone the actions of the TTP and condemn the statement in the strongest terms possible.
"We will continue to fight these people and will never allow the rule of terrorists and extremists in this country," he said.
Bashir Jan said that they are the followers of Bacha Khan and will never support unprincipled and undemocratic acts. He also said that they will always support those who are being oppressed.
"Our political differences with the MQM are over small issues, we will support any political party that is being oppressed," he said.
http://dawn.com/2012/11/02/pakistani-taliban-threaten-to-target-mqm/
http://tribune.com.pk/story/460103/warning-taliban-threaten-action-against-mqm/
Comments
comments