Don't kill Quaid-e-Azam: MQM chief Altaf Hussain's commendable statement on Shia genocide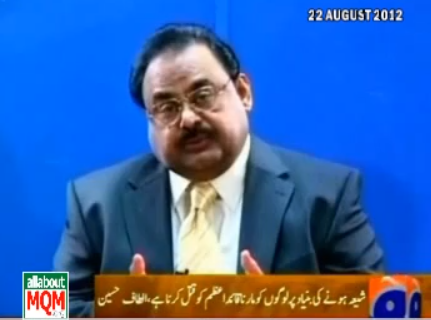 Editor's note: LUBP appreciates Muttahida Qaumi Movement (MQM) chief Altaf Hussain's unambiguous condemnation of Shia genocide in Pakistan at the hands of Taliban and ASWJ-SSP. We also appreciate the fact that in departure from false propaganda by the Ziaist and Jamaatia researchers such as Dr. Safdar Mehmood and sectarian preachers such as Dr. Israr Ahmed and Shabbir Ahmed Usmani, Altaf Hussain clearly acknowledged that the founder of Pakistan Quaid-e-Azam Muhammad Ali Jinnah himself was a Shia Muslim and that his first private funeral was held as per Shia fiqh at the insistence of Mohtarma Fatima Jinnah.
Elements killing Shias conspiring against Pakistan: Altaf

LONDON: Muttahida Qaumi Movement (MQM) chief Altaf Hussain says elements killing Shia Muslims, after taking them out of buses and verifying their identity, are in fact conspiring to disintegrate Pakistan.

All patriotic Pakistanis must boycott such ruthless elements, he said while speaking to Prime Minister Raja Pervez Ashraf and Federal Interior Minister Rehman Malik on telephone, a MQM press release said on Wednesday.

Hussain said Pakistan was being encircled by threats from all sides and people belonging to Shia community were being killed. He said it was gross injustice and termed it as act of enmity against the country.

He said it was a historical reality that founder of Pakistan Quaid-i-Azam Muhammad Ali Jinnah belonged to Khoja Twelver Shia sect and when he died, two separate funeral prayers were offered.

One funeral prayers was offered by Allama Shabbir Ahmed Usmani, and other funeral prayer offered by a Shia cleric. No one could possibly deny these historical facts. Anyone challenging this would be lying, he stated.

The MQM chief said Shias are also Pakistanis. Even Hindus, Sikhs and Christians living in Pakistan were citizens of equal stature. Elements compelling Hindus, Sikhs or other non-Muslims to leave Pakistan were, in fact, doing injustice to Pakistan, and brushing aside teachings of Quaid-i-Azam with contempt.

He said country would be lost in darkness if patriotic Pakistanis did not come forward to put an end to this injustice. All educated, enlightened, moderate Pakistanis should boycott heartless elements killing innocent people.

The press release said agreeing to assertions of Hussain, Prime Minister Ashraf said killing of innocent people on basis of their religious beliefs, whether Shia or any other sect or religion, was height of injustice, utter bestiality.

http://dawn.com/2012/08/22/elements-killing-shias-conspiring-against-pakistan-altaf/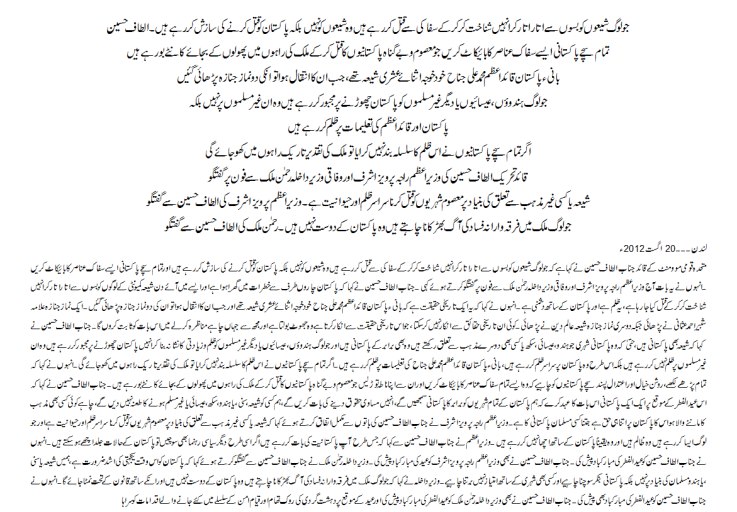 Sources: Dawn, Geo News, Dunya News, MQM Media, Shia Killing Media
Update: MQM central leader Dr. Farooq Sattar condemns Shia genocide in clear terms. Will the "silent club" in ANP & PPP leadership learn from MQM's clear stance on #ShiaGenocide?
Certificate by Khoja Shia Jamaat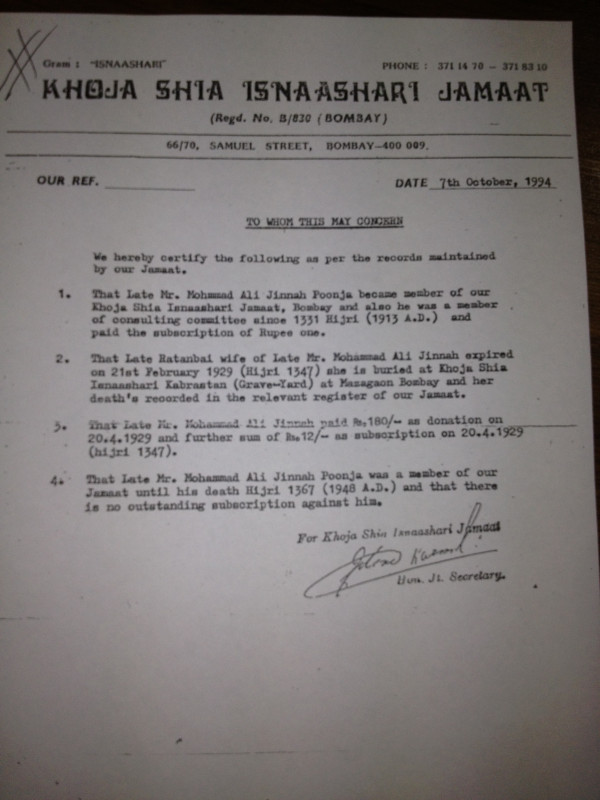 Comments
comments