Iran's Fars News Agency misrepresents anti-Taliban rally in New York as anti-drone rally
On Friday 7 December 2012, thousands of Shia and Sunni Muslims staged a peaceful protest in New York against Shia genocide in Pakistan by Saudi-sponsored Takfiri Deobandi terrorists namely Sipah Sahaba Taliban. The anti-Shia genocide rally was given prominent coverage by various media outlets and news agencies e.g., AFP, Press TV, Express Tribune etc. Iran's Press TV published at least two reports giving reasonable coverage to the rally. A comprehensive summary of the news reports is provided here: https://lubpak.com/archives/232523
However, Iran's Fars News Agency, aligned with the country's ruling clergy, completely misrepresented the anti-Shia genocide rally in its report and instead dishonestly presented it as a rally in opposition to the US drone attacks on Taliban and Sipah Sahaba.
Here's an exact copy of the Fars News Agency's news report along with a screen shot:
Muslims Stage Rally in New York to Condemn US Massacre of People in Pakistan

TEHRAN (FNA)- Thousands of Muslims in the US gathered outside the UN Headquarters and the premise of Pakistan's embassy in New York to show their anger at the massacre of over 10,000 Muslim Shiites by the US attacks on Pakistan.

According to FNA dispatches, over four thousands Muslims staged a protest rally in front of the UN office and the Pakistani embassy in New York to show their wrath at the US indiscriminate killings in Pakistan, specially against the country's Shiite population.

The demonstrators, who were furious at the US continued drone attacks in Pakistan, chanted "There is no Taliban", "Stop Massacring the Shiites in Pakistan".

They also voiced anger at the Pakistani government's inaction vis-à-vis the killings.

The rally was supported by some well-known American elites and academic figures such as Noam Chomsky, Reza Aslan and Juan Cole.

Despite repeated protests by Islamabad, the United States has never halted its drone strikes in Pakistan, which has caused a strong anti-American sentiment among the local people. In the latest US drone strike on Thursday, at least four people were killed in Pakistan's Northwest tribal area of North Waziristan. Thursday's US drone strike was the 37th of its kind (counted on daily basis) in Pakistan in 2012. In similar move last month, a number of human rights organizations lashed out at the US for its vast drone attacks in Afghanistan and Pakistan which have led to the massacre of a large number of civilians in the two countries. The US has violated the international human rights laws by using drones in military operations which have claimed the lives of large numbers of civilians, a report by the human rights organization said in November.

US human rights violations are not limited to the indiscriminate killing of civilians and paramilitaries in Afghanistan and Pakistan. The US troops have actually done much more horrendous crimes against the regional nations, including the Afghans, during the last decade.

As the world has apparently turned a blind eye to the United States' continued crimes in the Middle-East, innocent people in Afghanistan are suffering from the horrifying consequences of the depleted uranium munitions used by the American and British soldiers in the two countries.

A comprehensive report released recently unveiled the realities of the US-led invasion of Afghanistan, and warned that the depleted uranium bullets and munitions used by the US forces in the country have left horrifying and disastrous impacts on the Afghan children.

http://english.farsnews.com/newstext.php?nn=9107125222
If one carefully reads the above report, it would appear that it has been written by a pro-Taliban activist of Jamaat-e-Islami, Pakistan Tehreek-e-Insaf, Sipah Sahaba or Pakistan Army's ISPR. It misrepresents the main aims of the anti-Shia genocide rally in New York, exonerates the Taliban and Sipah Sahaba, and opposes the US drone attacks on Sipah Sahaba Taliban.
Iran's Fars News Agency has a history of twisting and misrepresenting news items to promote Iranian clerical regime's policy goals. While the Agency describes itself as "Iran's leading independent news agency", news organizations describe it as a "semi-official" news agency with ties to the government. The Wall Street Journal has stated the agency is affiliated with the Revolutionary Guard Corps. Its managing director Saeid Noubari is a former head of the public relations office of the Tehran Justice Department (notorious for its ties with Iran's Supreme Leader).
In May 2012, Human Rights Watch sent out a press release regarding the United Nations' scrutiny of Bahrain. In part, it said: "The voice of the international community has been subdued regarding Bahrain's manifold violations, especially compared with the international response to abuses in Syria, Libya, Iran, and other Middle Eastern countries."[1] Fars News Agency chose to publish it with this wording: "The voice of the international community has been subdued regarding Bahrain's manifold violations, especially compared with the international response to abuses in Israel, Saudi Arabia and other Middle Eastern countries."[2]
The present case of misrepresentation of Shia genocide and misidentification of actual killers of Shias is consistent with the agendas and aims of the clerical regime in Iran. Iran has always treated Shias of Pakistan and other countries as disposable items to promote its specific foreign policy agendas, e.g., unnecessary and counter-productive Xenophobia against the U.S., Israel and other Western countries. Iran continues to flirt with Deobandi-Salafist groups in Pakistan (Jamaat Islami), Palestine (Hamas), Egypt (Muslim Brotherhood), and is also alleged to have contacts with the Taliban and Hekmatyar, therefore, its paid puppets in Pakistan (Shia mullahs of MWM and TJP) never blame Pakistan army and Takfiri Deobandi militants of Sipah Sahaba for Shia genocide in Pakistan. Instead they blame India, Israel and USA for Shia genocide in Pakistan. For example, review this news item in which Iran-paid Shia party MWM's leader Raja Nasir Abbas (alleged to have close ties with Pakistan's military establishment) blames India for Shia genocide in Pakistan. https://lubpak.com/archives/82970
While they routinely blame "Wahhabi" for Shia genocide in Pakistan, they ignore the fact that Sipah Sahaba Taliban is a Deobandi phenomenon, not a Wahhabi outfit. In fact on many instances, Sipah Sahaba Taliban militants have killed Sunni Barelvi, Deobandi and Wahhabi (Ahl-e-Hadith) clerics and ordinary people.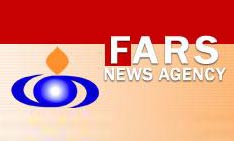 Postscript: Here's an informal response by Mr. Sabah Hasan, an office bearer of the Shia religio-political party MWM, which he posted on a facebook group. We trust our readers to use their discretion in assessing this response:
Sabah Hasan: There is no misrepresentation. LeJ/ASS are US/Saudi-sponsored. The drone strikes are directly carried out by the American CIA.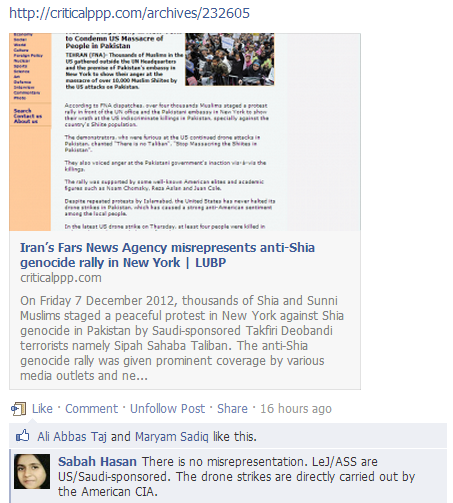 Comments
comments