Souls March: Thousands of Shia and Sunni Muslims march in New York against Shia genocide in Pakistan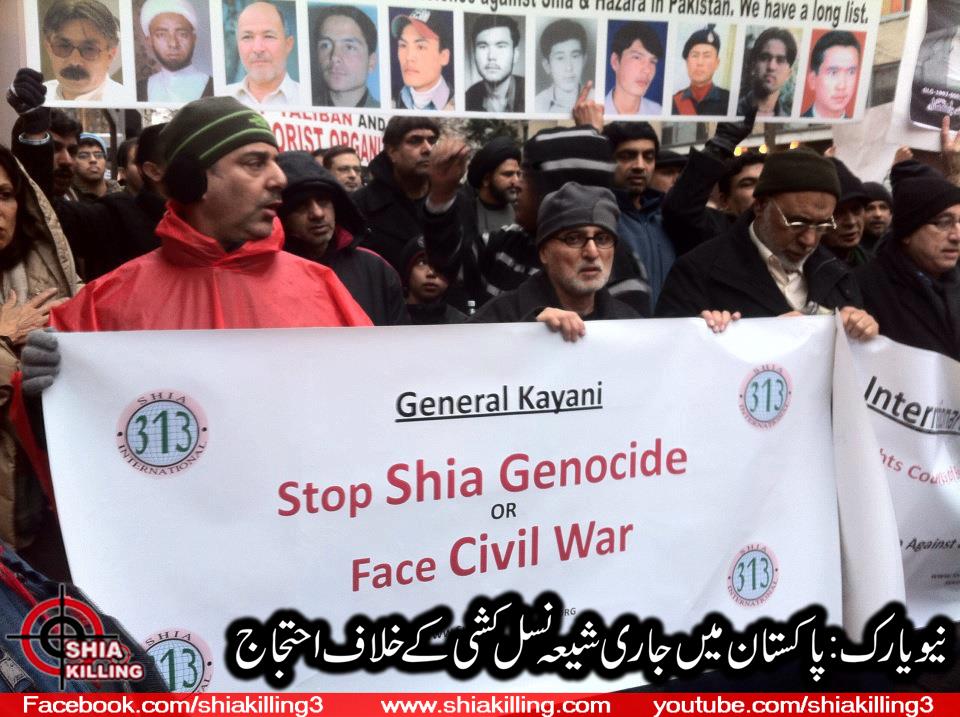 Related post: Iran's Fars News Agency misrepresents anti-genocide, anti-Taliban rally in New York as anti-drone rally
NEW YORK — More than 2,000 Shiite and Sunni Muslims along with Christians, Jews and other communities marched in the streets of New York to voice their anger at the Pakistani government and the military for what they called a "genocide" of Shia Muslims in Pakistan. The demonstration was named "Souls March" to pay homage to an estimated 20,000 Shia Muslims killed in Pakistan by Takfiri Deobandi militants of Sipah Sahaba Taliban (SST). https://lubpak.com/archives/132675
It may be noted that in addition to 20,00 Shia Muslims, thousands of moderate Sunnis and hundreds of Ahmadis, Christians and other individuals have been killed by Takfiri Deobandi militants of Sipah Sahaba Taliban, some of who are alleged to enjoy the support of Pakistan army for Jihadist operations in Afghanistan and Kashmir. https://lubpak.com/archives/74672
"This demonstration is to condemn the violence of the Sipah Sahaba Taliban and all these extremists in Islam," said one 21-year-old US protester of Pakistani descent. "They are killing both Shia and Sunni; they are not considered Muslims, because they are doing what the Koran is against," he said.
The march — in which a large number of women and children participated — started outside the UN headquarters and wrapped up at the Pakistani consulate, on Friday (7 Dec 2012).
Protesters carried signs remembering loved ones who are victims of the slaughter — victims that organizers say are the cream of Pakistani society — including doctors, engineers, teachers, musicians, businesspersons and clergy.
The protest has been endorsed by over a hundred academics and scholars, South Asian and Muslim organizations, including notable scholars Noam Chomsky, Reza Aslan, Juan Cole and Omid Safi, as well as the Muslim Public Affairs Council, Muslim Consultative Network and Pakistan Solidarity Network. http://soulsmarch.wordpress.com/2012/12/05/press-release-noam-chomsky-reza-aslan-juan-cole-and-over-100-other-academics-scholars-and-organizations-endorse-10000-souls-march/
Demonstrators carried signs bearing slogans such as "Stop the violence. We are people of peace", "Enemies of Pakistan, Sipah Sahaba Taliban", "Down with Takfiri Deobandi terrorists", "Sunni Shia Unity against Sipah Sahaba Taliban", "Stop Shia Genocide", "General Kayani, Stop your Jihadist proxies", "We support rights of all minority and persecuted gruops", and "Pakistani Shia have the right to live."
Protest organizers also stated that they are looking for signatures on petitions, which will be handed over to Permanent Pakistani Representative to the UN Masood Khan to demand direct action from Islamabad. "Hopefully, the Pakistani government will hear us. We have not got the response that we should have. That is why all of us have gathered… to protest," a female protester said. "We are hoping to get as many signatures as we can. We want the awareness to be out. We want people to know what we are out for," said another demonstrator.
Shiites, a minority in Sunni-dominated Pakistan, account for around 20 percent of the country's 167-million-strong population. Majority of Sunni Muslims in Pakistan belong to Sunni Barelvi sub-sect. Deobandis, the more intolerant sub-sect of Sunni Muslims, constitute a minority sub-sect in Pakistan and are responsible for at least 90% of all terrorist activities in Pakistan. Sipah Sahaba and Taliban are two main groups, with overlapping membership, responsible for Shia genocide and Sunni Barelvi killings in Pakistan. Given that Taliban in the main comprise student and ex-students of Deobandi madrassahs and given that Sipah Sahaba treats Mullah Umar as its Ameer-ul-Momineen, its legitimate title is Sipah Sahaba Taliban (SST). Sipah Sahaba Taliban is an almost entirely Deobandi phenomenon. https://lubpak.com/archives/231552
One protester stated that "we don't want to use vague words: TTP, Takfiri, Taliban. The real killers of Shia and Sunni are Sipah Sahaba Taliban (SST). Sipah Sahaba Taliban (SST) are the real culprits. Two names for one organization. Down with Takfiri Deobandi enemies of Pakistan and Islam.".
Popular chants:

One two three four / Shia killing no more

Injustice unjustified / Stop Shia Genocide

Evil, Devil and Shaitan / Sipah Sahaba Taliban

Killers of every Insaan / Sipah Sahaba Taliban

Enemies of Pakistan / Sipah Sahaba Taliban

Soorat Gundi Seerat Gundi / Takfiri Deobandi

Lanat Lanat Ber Shaitan / Sipah Sahaba Taliban

Bud ter bud ter az haiwan / Sipah Sahaba Taliban

سپاہ صحابہ اور طالبان ایک ہی تنظیم کے دو نام ہیں اس لیے ان کو سپاہ صحابہ طالبان (ایس ایس ٹی ) کہا جائے

وہابی اہلحدیث ہمارے بھائی ہیں دیوبندی و بریلوی ہمارے بھائی ہیں یہ تکفیری دیوبندی ہیں جو سنی شیعہ دونوں کے دشمن ہیں

سپاہ صحابہ طالبان کےتکفیری دیوبندی کسی فرقے کے نمائندہ نہیں انہوں نے سنی شیعہ دیوبندی وہابی احمدی سب کا قتل کیا ہے

معروف امریکی دانشور نوم چومسکی نے سعودی حمایت یافتہ تکفیری دیوبندی دہشت گردوں کے ہاتھوں شیعہ نسل کشی کی مذمت کی ہے

نیو یارک میں اقوام متحدہ کے سامنے ہزاروں لوگ پاکستان میں تکفیری دیوبندی کے ہاتھوں شیعہ نسل کشی کے خلاف احتجاج کر رہے ہیں

#SoulsMarch NOW in front of the UN building where, one day, General Kayani, Mullah Umar & Ludhianvi will be tried for #ShiaGenocide

Thousands of Shia, Sunni, Jew, Christian, Hindu united in New York to condemn #ShiaGenocide by Sipah Sahaba Taliban (SST)

This is the power of reverse lobbying. Noam Chomsky is often used by Saudi lobby for propaganda purposes. Now he condemns #ShiaGenocide!

It's not the US which is enemy of Shia & Sunni. It's the Saudi lobbyists in US who are vicious. US and West are not our enemies.

#SoulsMarch is a clear message that U.S. and West belong to all human beings. Down with Saudi lobbyists in Washington D.C.

#SoulsMarch is a referendum by thousands of people against Sipah Sahaba Taliban. Say No to #TakfiriDeobandi terrorists.
Nationwide, death toll due to anti-Shia and anti-Sufi Barelvi attacks by Takfiri Deobandi militants is estimated to have killed tens of thousands of people since the late 1990s. Shias living in Kurram tribal region have been facing a humanitarian crisis since November 2007, when the pro-Taliban Deobandi groups cut off the area from the rest of the country. Shias of Karachi, Quetta, D.I.Khan and Gilgit Baltistan too are facing a genocide like situation. Shias of all ethnic backgrounds have been killed, however, the murder rate of non-Hazara Shias of Quetta is the highest in all Shia groups in Pakistan. https://lubpak.com/archives/64797
Last month, a bomb attack claimed by the Sipah Sahaba Taliban (SST) on a Shiite Muslim procession killed eight and wounded 30 others in northwest Pakistan (D.I.Khan), as the community marked their holiest day of Ashura. The blast followed another suicide attack — also claimed by the Pakistani Taliban — that killed 23 people at a Shiite procession in the garrison city of Rawalpindi, the country's deadliest bombing for five months. In 2012 alone, at least 450 Shia Muslims of all ethnic backgrounds (Punjabi, Muhajir, Hazara, Pashtun, Saraiki etc) have been killed by Sipah Sahaba Taliban.
The protesters referred to Human Rights Watch and HRCP's statements and demanded an investigation into charges of collusion between Deobandi militant groups and paramilitary groups in Pakistan. One protester was careful to note — however — that the conflict is not one between Sunni and Shia Muslims — and that the two groups have far more in common than not. He noted that Takfiri Deobandi militants of Sipah Sahaba Taliban were killing both Shia and Sunni in Pakistan.
A press release issued by the Consulate of Pakistan expressed solidarity with the Shia community and said that protecting and promoting the fundamental rights of all citizens of Pakistan regardless of their religion or ethnicity was a sacred mission of the democratically elected Government of Pakistan. The embassy also assured the protesters that the petition of the "10,000 Souls March" would be transmitted to the concerned authorities in the country.
Videos and pictures
http://twitter.yfrog.com/j1hd1lcnnqgkycxadwgbgunfz
http://twitter.yfrog.com/0qlhoycysjjmjprzlpqfmcbtz
http://twitter.yfrog.com/f2gezywoyoiszhnxupcyhxadz
http://twitter.yfrog.com/camnuntdsiekzjsmxatmrgldz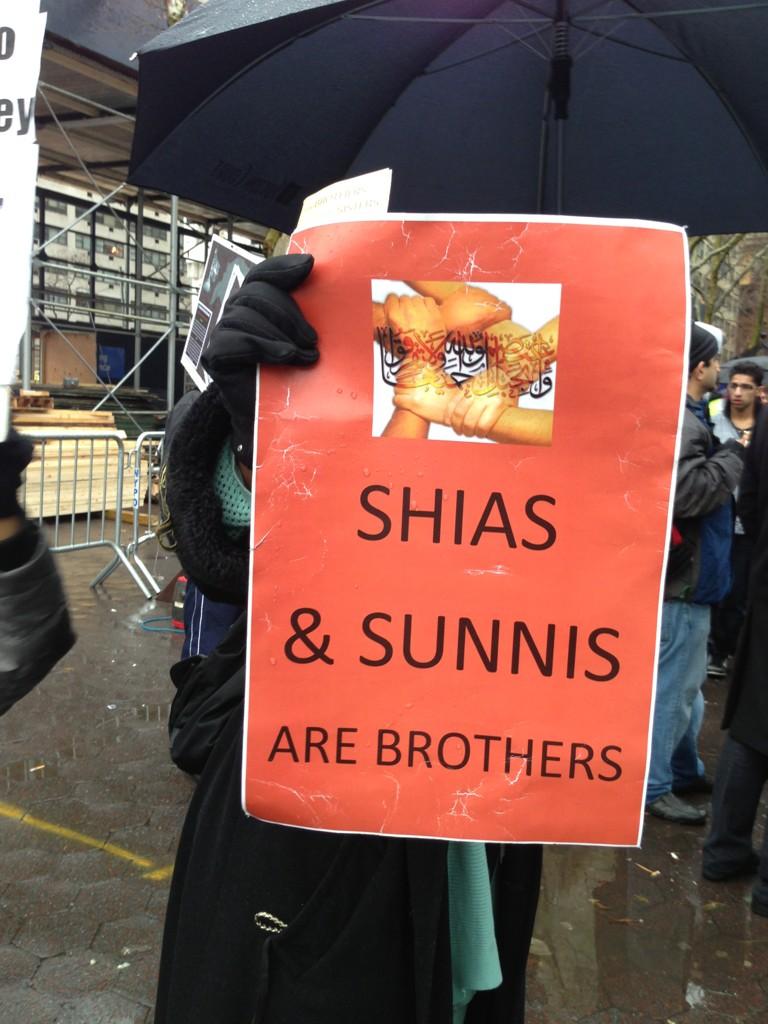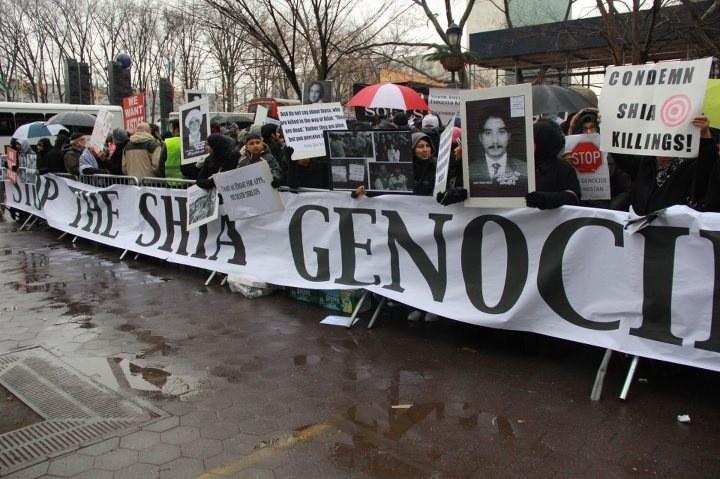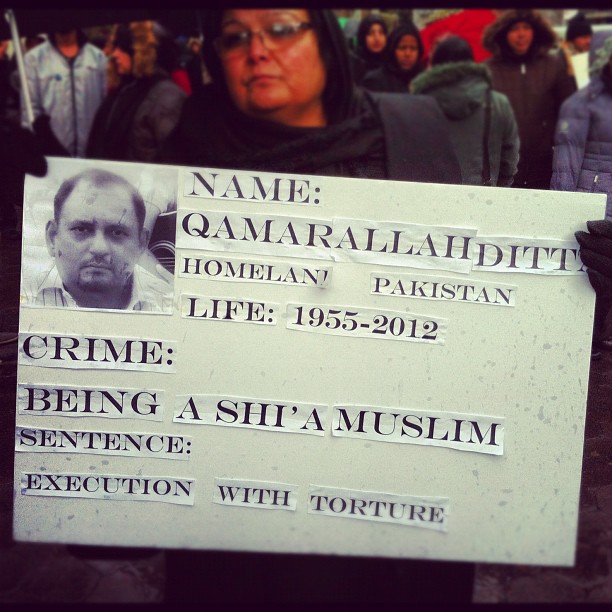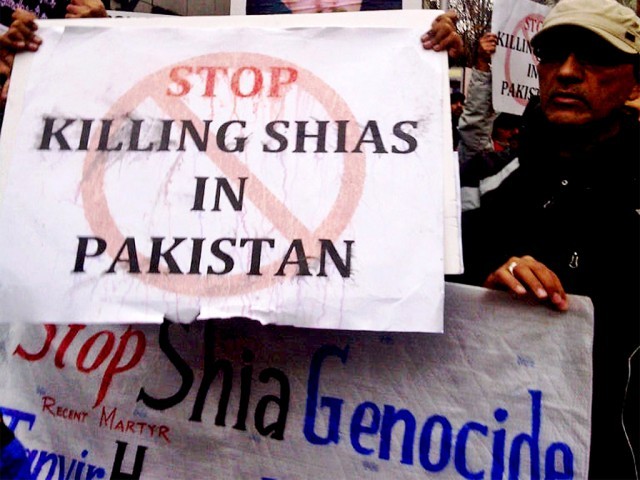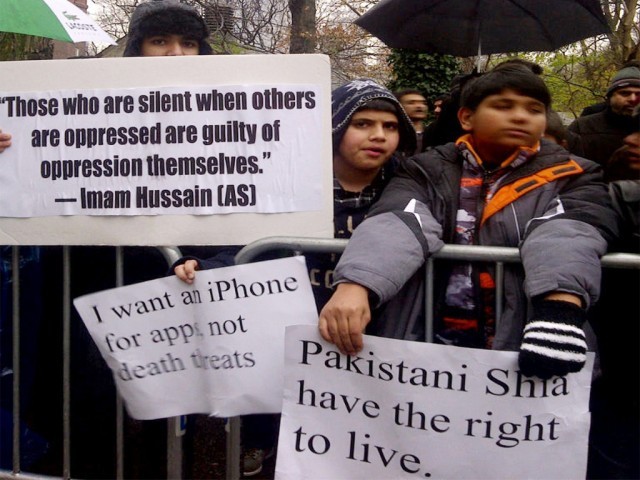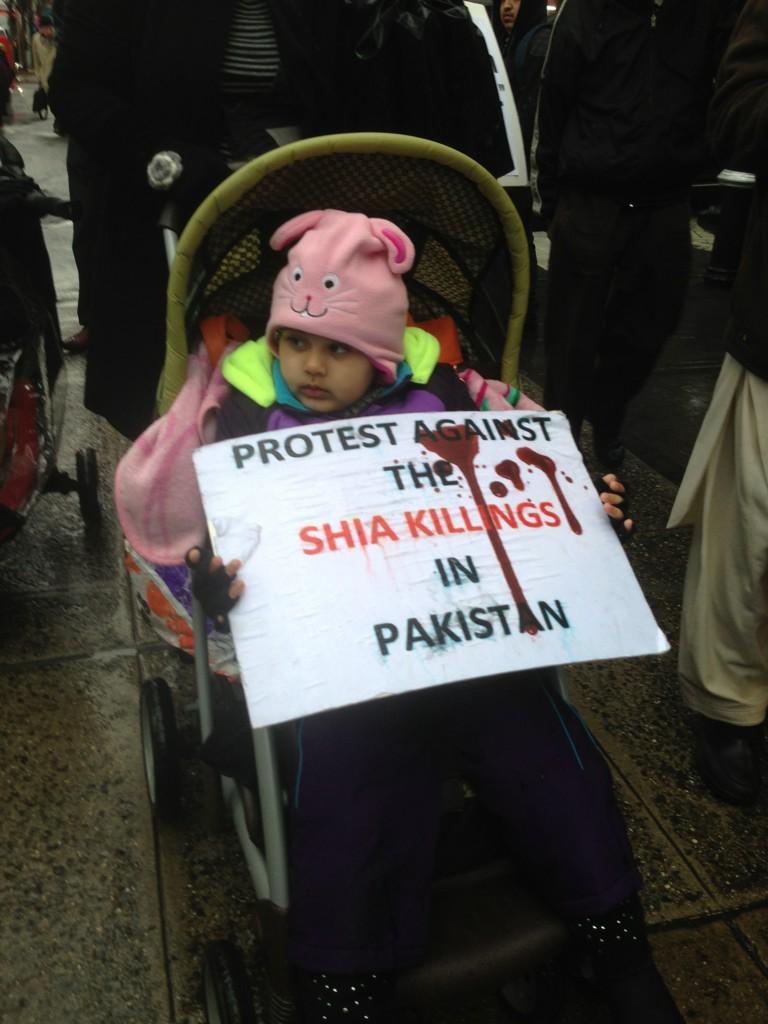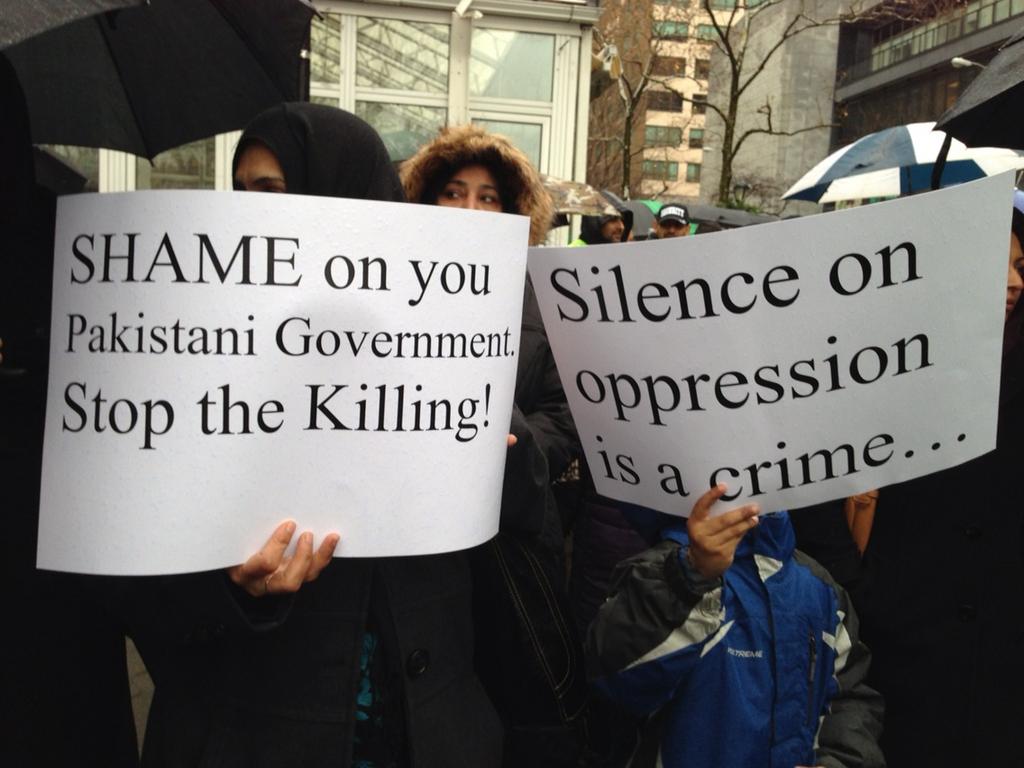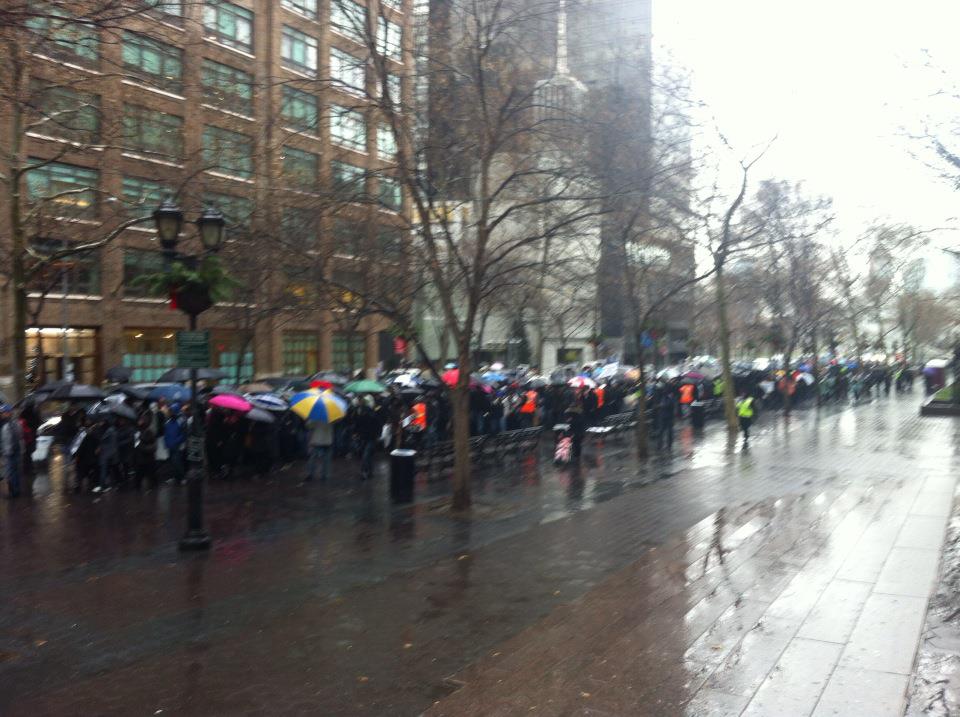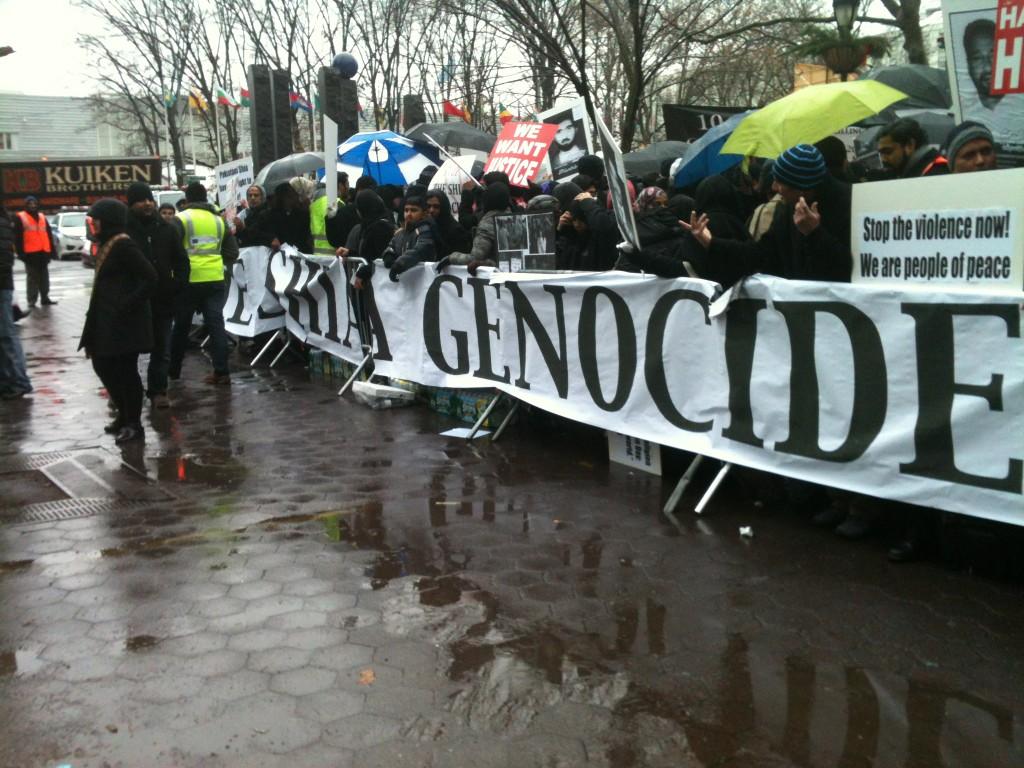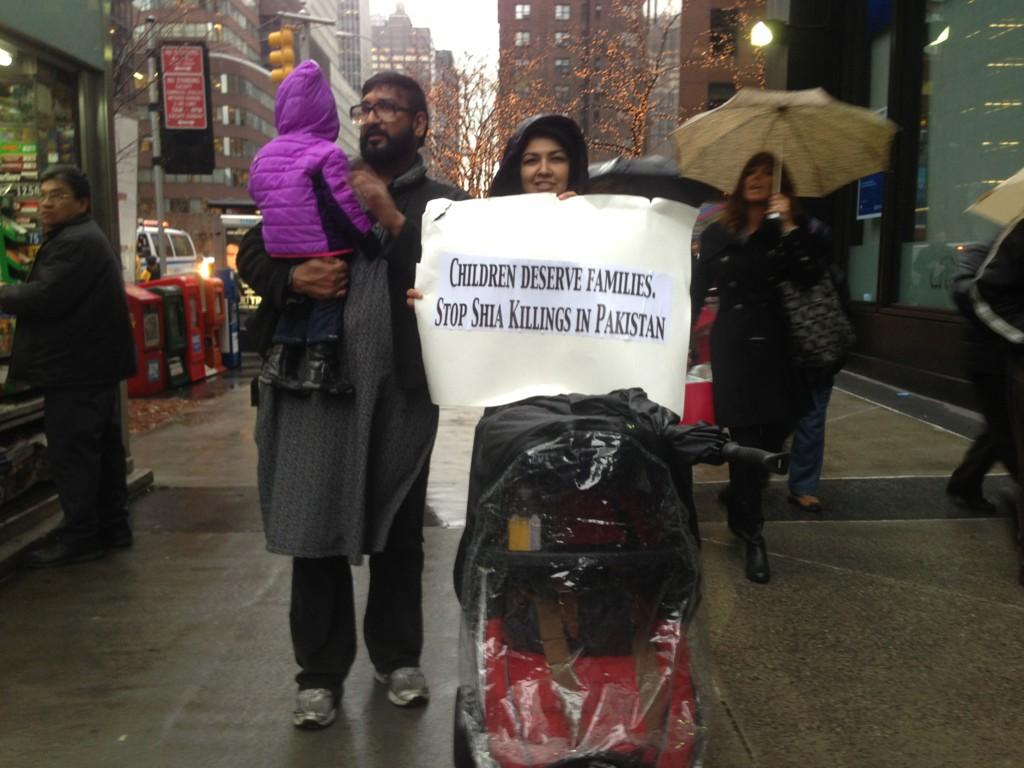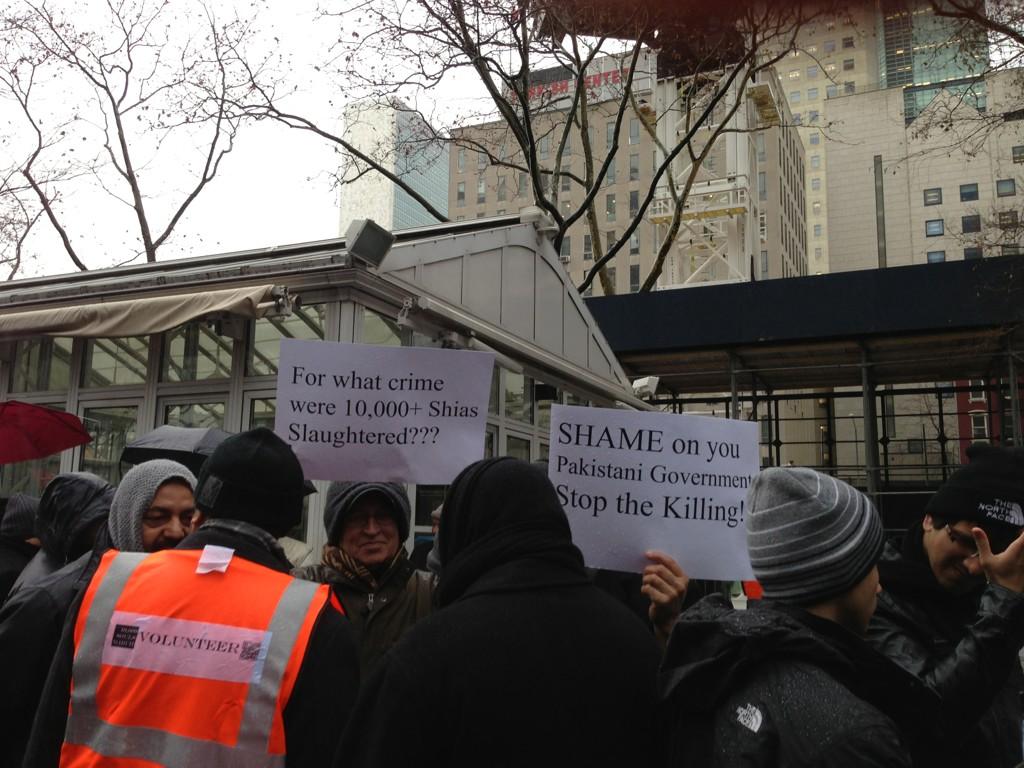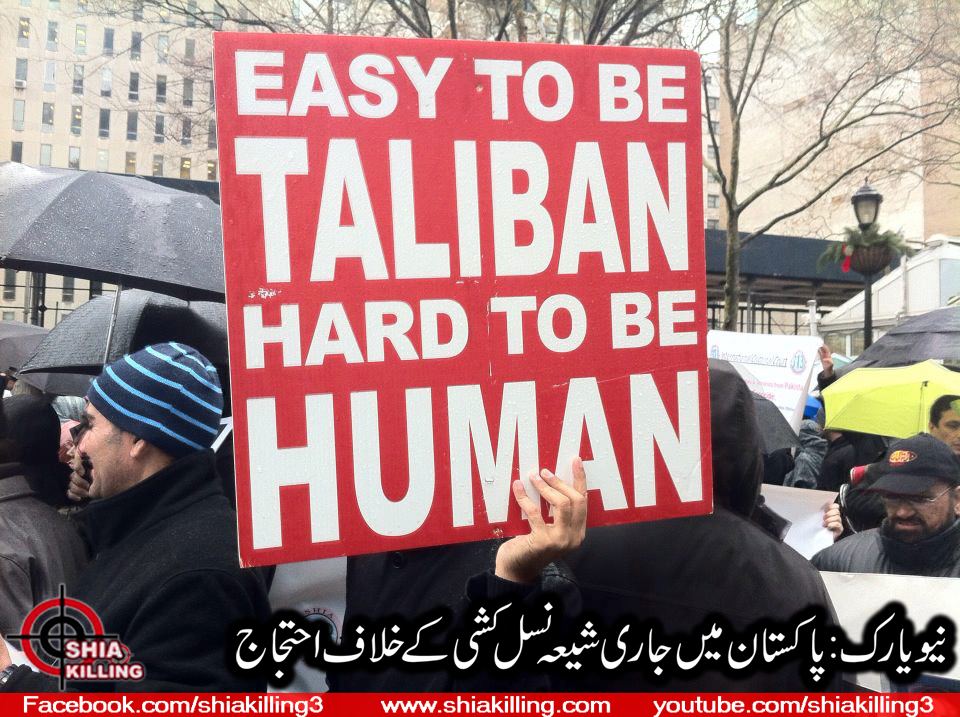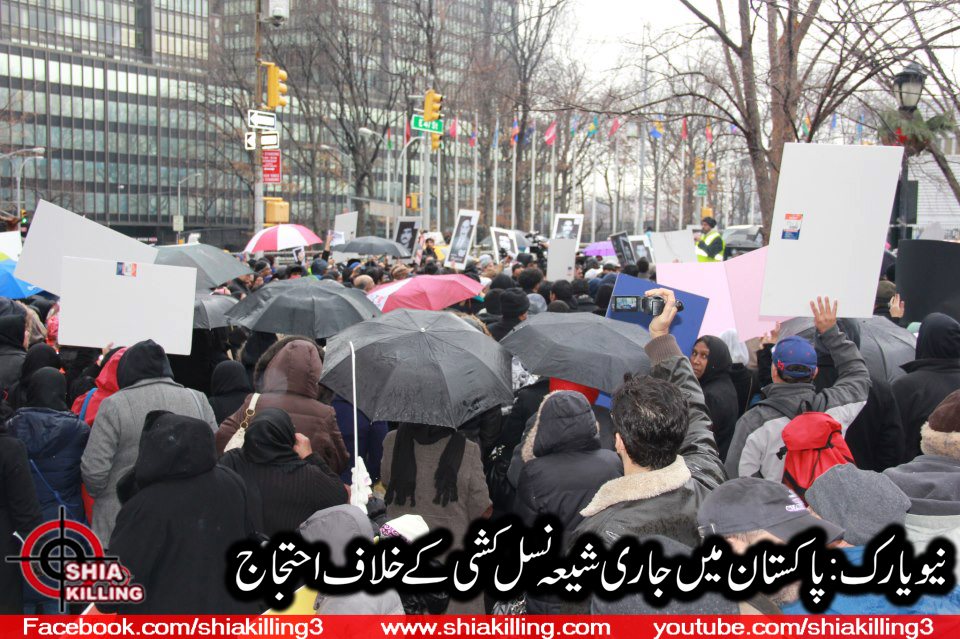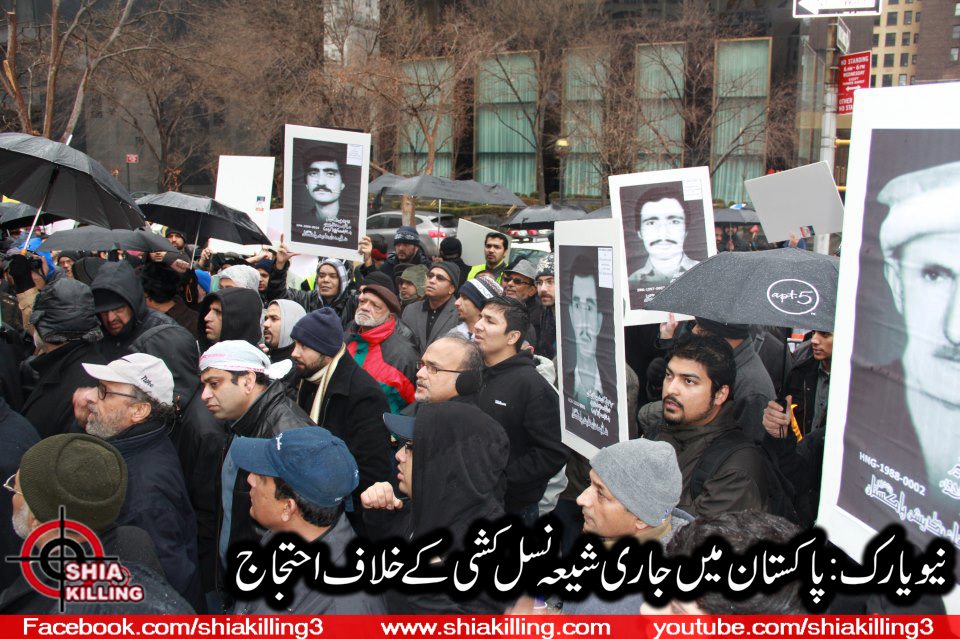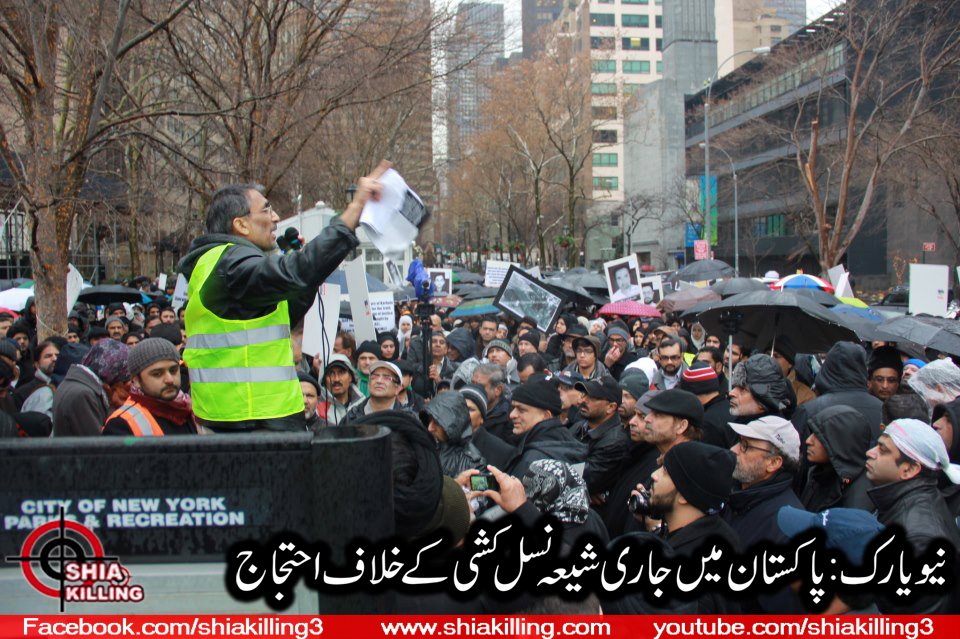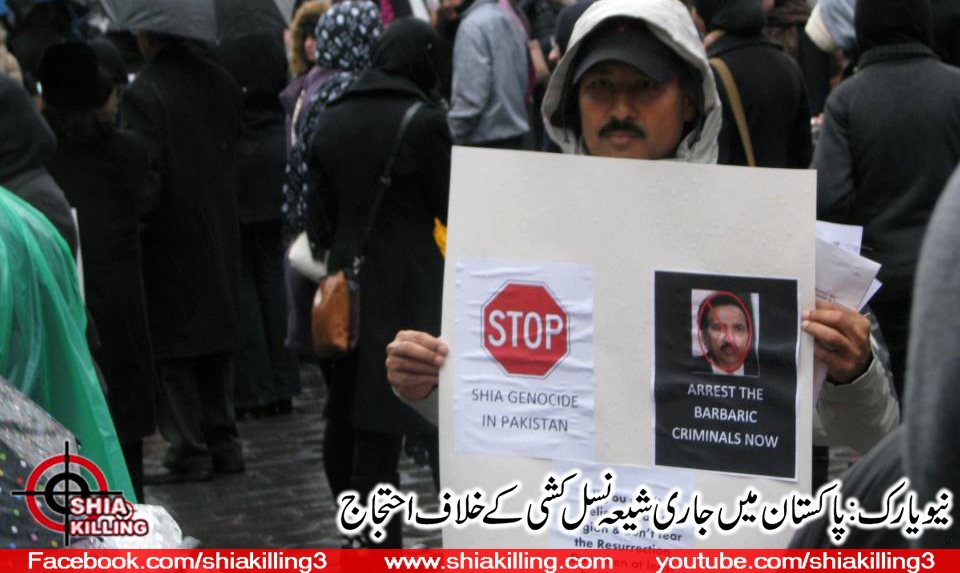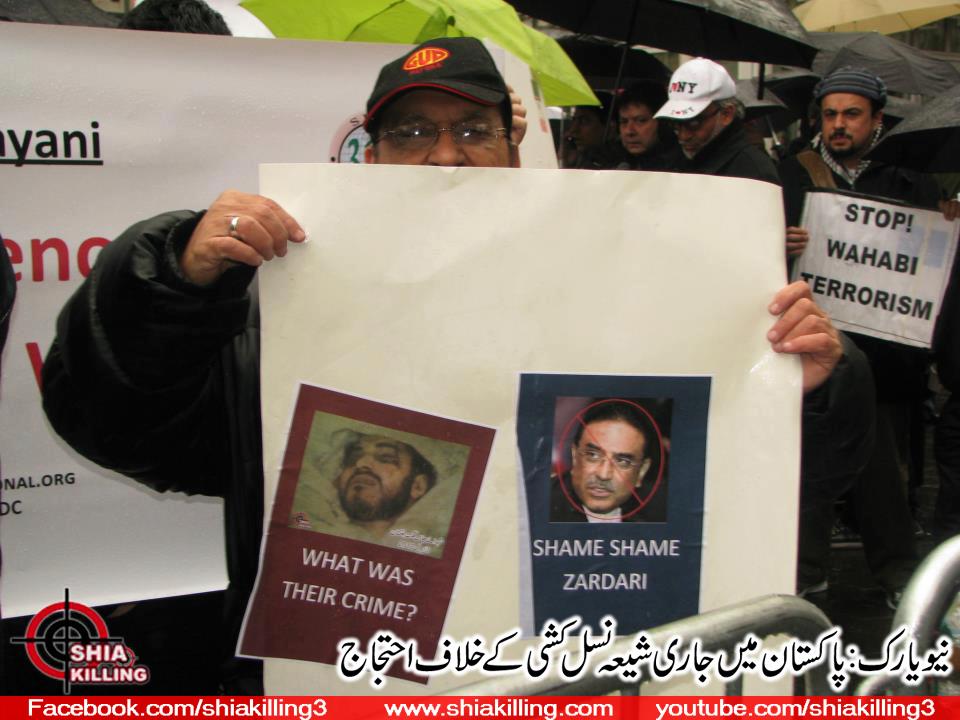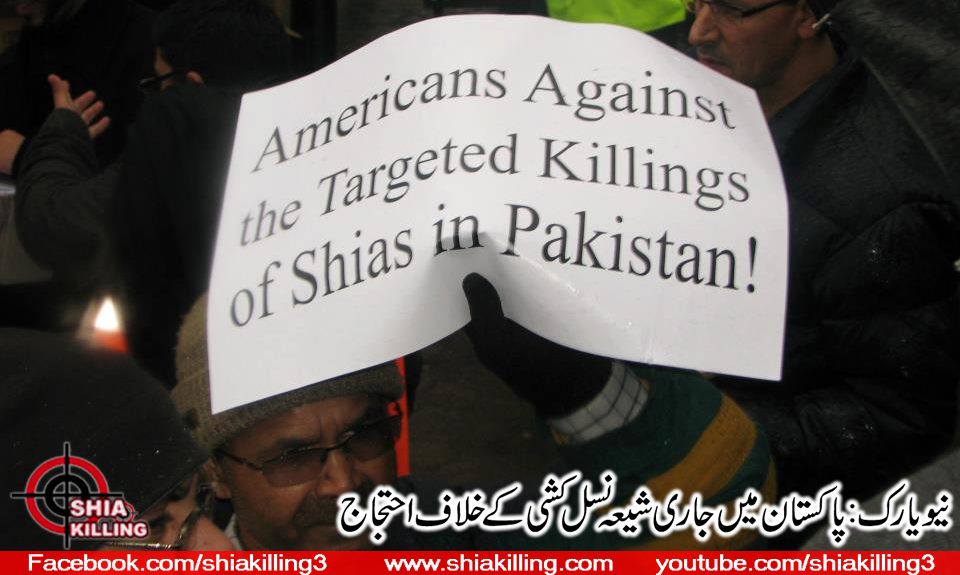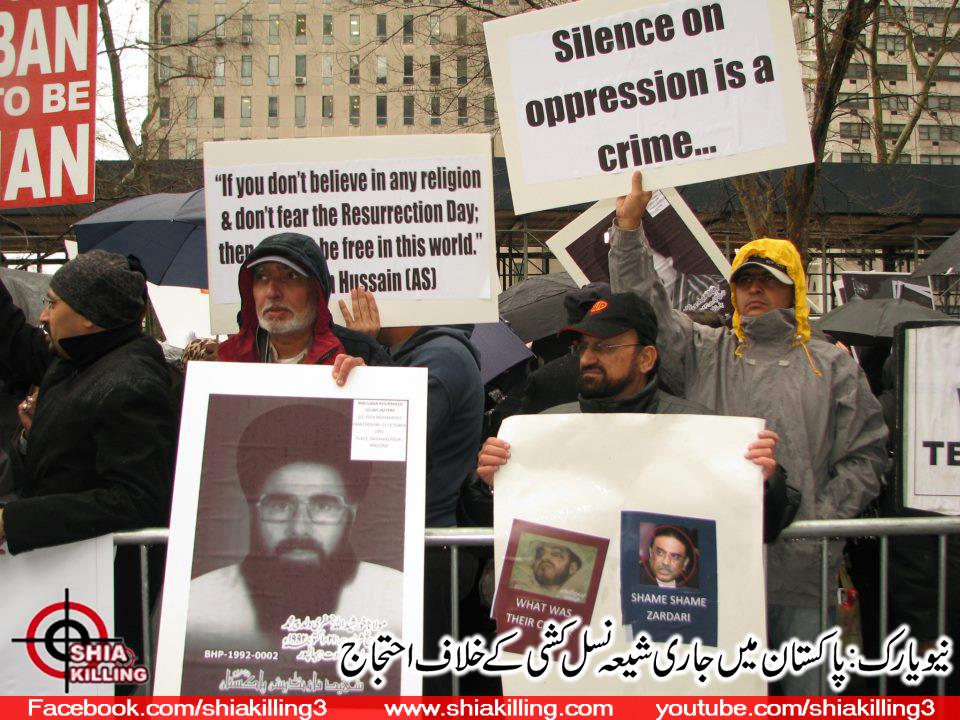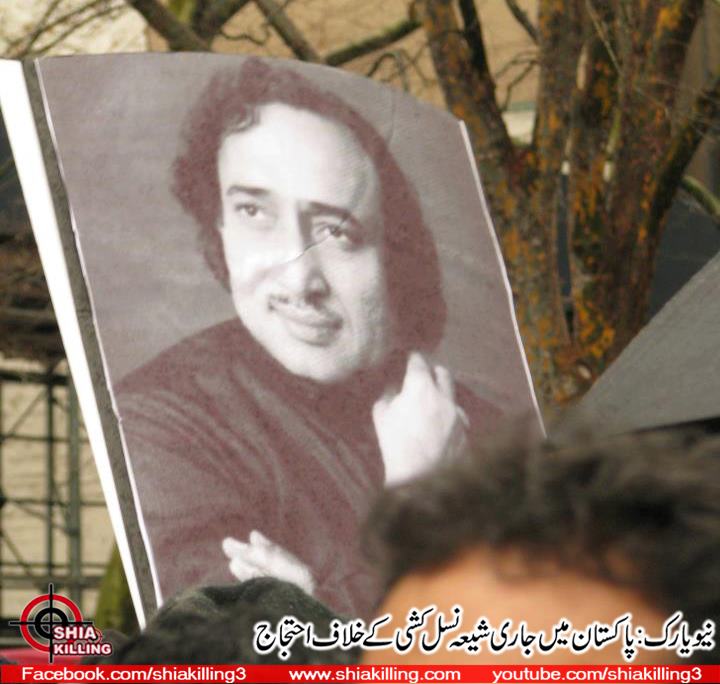 Sources:
Twitter (various Shia and Sunni activists, Yasmeen Fatima in particular)
http://www.timesofoman.com/News/Article-3116.aspx
http://presstv.com/detail/2012/12/08/276803/people-stage-ten-thousand-souls-march-in-new-york/
http://www.presstv.com/detail/2012/12/08/276830/demo-condemns-shia-killings-in-pakistan/
http://in.news.yahoo.com/shia-muslims-york-launch-protest-against-genocide-pakistan-102215037.html
——
LUBP appreciates Ambassador Sherry Rehman's condemnation of Shia genocide in Pakistan and her assurance that she will transmit the concerns of the participants of the Souls March to the Government of Pakistan. We believe is utmost important to clearly acknowledge Pakistan's most target killed faith group (Shia Muslims) and their killers (Takfiri Deobandi militants of the Sipah Sahaba Taliban). It is the responsibility of the Pakistan government to protect all citizens including Shia Muslims and arrest and punish the Takfiri militants of Sipah Sahaba Taliban (SST).
Embassy assures Pakistani-Americans of commitment to protection of all citizens back home
WASHINGTON, Dec 8 (APP): The Pakistani embassy in Washington has assured the Pakistani-Americans of the government's commitment to protect fundamental rights of all citizens regardless of their religion or ethnicity and that the government shared the grief of Shia brothers and sisters over recent acts of violence. Protecting rights of all citizens is a sacred mission of the democratically elected Government of Pakistan, the embassy said in a statement.The embassy pledged to transmit the petition of the "10,000 Souls March"held recently in New York, to the concerned authorities in Pakistan for appropriate and expeditious action and assured the petitioners that the government will make all efforts to protect lives, liberty, and property of all citizens.

"The Government views with deep concern, incidents of violence directed against various segments of the Pakistani population, including the targeting of Pakistani Shias. The Government is determined to prevent such incidents and took unprecedented security measures during the last Ashura. That some elements did succeed in their nefarious designs to cause mayhem and take innocent lives clearly shows that all peace loving Pakistanis must join hands in assisting the Government in defeating them." "We will not allow the perpetrators of these crimes or other acts of violence against Shias, including target killings, to go unpunished." The Government of Pakistan is determined to follow the Quaid-e-Azam's precepts to create a modern, progressive, and pluralist Pakistan in which all citizens enjoy equal rights and protections, added the statement. Source: APP
A dose of reality
Finally, do NOT watch the following two videos if you cannot stand graphic content. But these are real and everyone is always telling us how important it is to face reality. These show the slaughter of Shia Muslims in Pakistan at the hands of Takfiri Deobandi militants of Sipah Sahaba Taliban (SST):
http://youtu.be/9Irg8bsIhMA
http://youtu.be/26FlB_XfqAw
Comments
comments