A comment on PML-N's electoral alliance with Takfiri militants of Sipah-e-Sahaba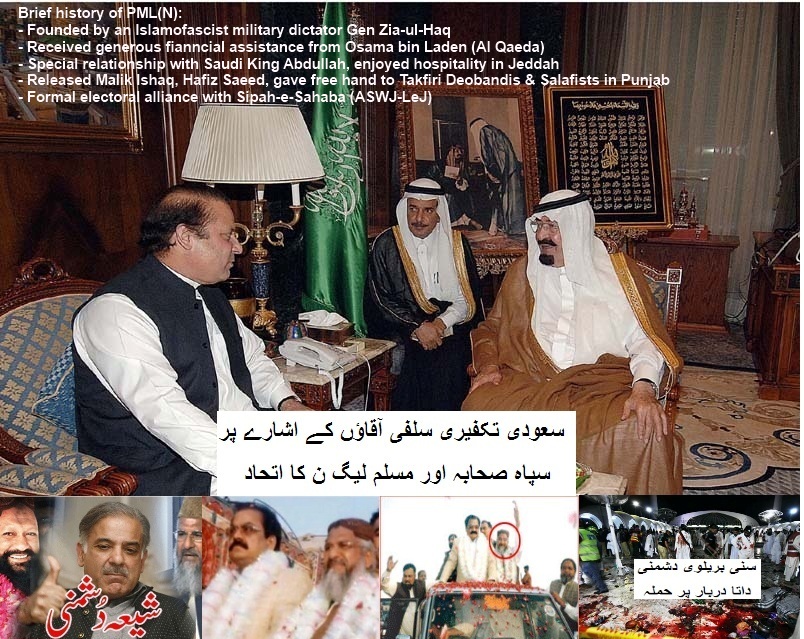 Author: Zohaib Malik
The news of Pakistan Muslim League Nawaz (PML-N) entering into an alliance with Takfiri Deobandi group ASWJ (Ahle Sunnat Wal Jamaat), previously known as Sipah-e Sahaba Pakistan (SSP) which is the mother organization of Lashkar-e Jhangvi (LeJ – an Al Qaeda affiliate group), in Punjab should be an eye-opener for all those who tout PMLN as a democratic force in the country. The news item cross-posted on LUBP can be read here: The cat is finally out of the bag: PML-N in formal alliance with Sipah-e-Sahaba (LeJ-ASWJ)
According to various reports (published in Express Tribune and also on Twitter), among those who will benefit from this alliance is Malik Ishaq (founder of LeJ and currently vice president of ASWJ), involved in more than 100 murders of Shias and Sunni Barelvis but released by Supreme Court, who will contest in the coming elections.
This alliance is an endorsement of the violence ASWJ-SSP-LEJ has been committing against the Shias, Barelvi, Ahmadis, Christians and Hindus all around Pakistan.
Last Friday when cinemas in Peshawar and Karachi were burnt, FIRs were lodged against SSP-ASWJ militants. ET (Express Tribune) reported today that the Hindu temple which was looted in Karachi on the same day had ASWJ-SSP's (http://tribune.com.pk/story/444669/attackers-of-hindu-temple-charged-with-blasphemy/)hand for which police has registered FIR against their activists.
These are not isolated incidents. ASWJ-SSP-LEJ has been actively involved in all kinds of violence from Balochistan to Gilgit-Baltistan, and from Punjab to Sindh along with Khyber-Pakhtunkhwa and FATA. Thousands of Shias, hundreds of Sunni Barelvis, moderate Deobandis, dozens of Ahmadis, Christians, Hindus etc have been killed so far by the group.
In Punjab, however, Chief Minister Shahbaz Sharif had famously requested both Taliban and Punjabi Taliban (ASWJ-LEJ-SSP) not to attack Punjab as his government shared the ideology of Taliban. That PML-N is now making election seat adjustments in more than 12 constituencies validate that announcement of sharing the same ideology. This is also well in line with the PMLN's agenda of bringing a system where Nawaz Sharif could be the Ameer Ul Momineen, an attempt that he unsuccessfully made in his second stint of the government.
Since Nawaz Sharif enjoys Saudi Arab's patronage, and ASWJ-SSP-LEJ is Saudi sponsored violent group, there is nothing surprising in the alliance as one famous commentator Yousuf Nazar remarked. All the analysts, and especially the liberal ones, who were speaking highly of Nawaz Sharif will now have to explain this seat adjustment.
Malik Ishaq, the founder of LeJ and vice president of ASWJ, is roaming around Punjab under the Muslim League government and making hate speeches against the Shia community. He also vows to continue it along with every form of violence.
Here's a video clip of Malik Ishaq's hate speech on 9 August 2012 in Jhang, Punjab. He asserts he will always say Shia Kafir (Shias are infidels). It may be recalled that Malik Ishaq and Ludhianvi gifted a provincial assembly seat from Bhakkar to PML-N on which Shahbaz Sharif was elected.
http://youtu.be/milmwgYOc9Y?t=15m
Analysts who support Nawaz Sharif and PML-N's politics must also explain how come a violent group, ASWJ-SSP-LEJ, with a clear agenda of ridding the country of the sects it hates, be made part of parliament where the group's leaders intend to engage in official hate speeches? Will it not lead to reign of fear and terror?
Bringing them in mainstream politics in an attempt to give them legitimacy to speak on all forums, from parliament, provincial assemblies and media. It is a part of systematically turning Pakistan into a Wahabi-Deobandi state, a manifesto of ASWJ-SSP-LEJ. And this manifesto suits PML-N too since he subscribes to the same ideology, and is aspiring to become Ameer ul Momineen, like Mullah Umar of Taliban in Afghanistan.
Update: Threatened or bribed? Express Tribune removes report on PML-N's alliance with Sipah-e-Sahaba
Comments
comments