The cat is finally out of the bag: PML-N in formal alliance with Sipah-e-Sahaba (LeJ-ASWJ)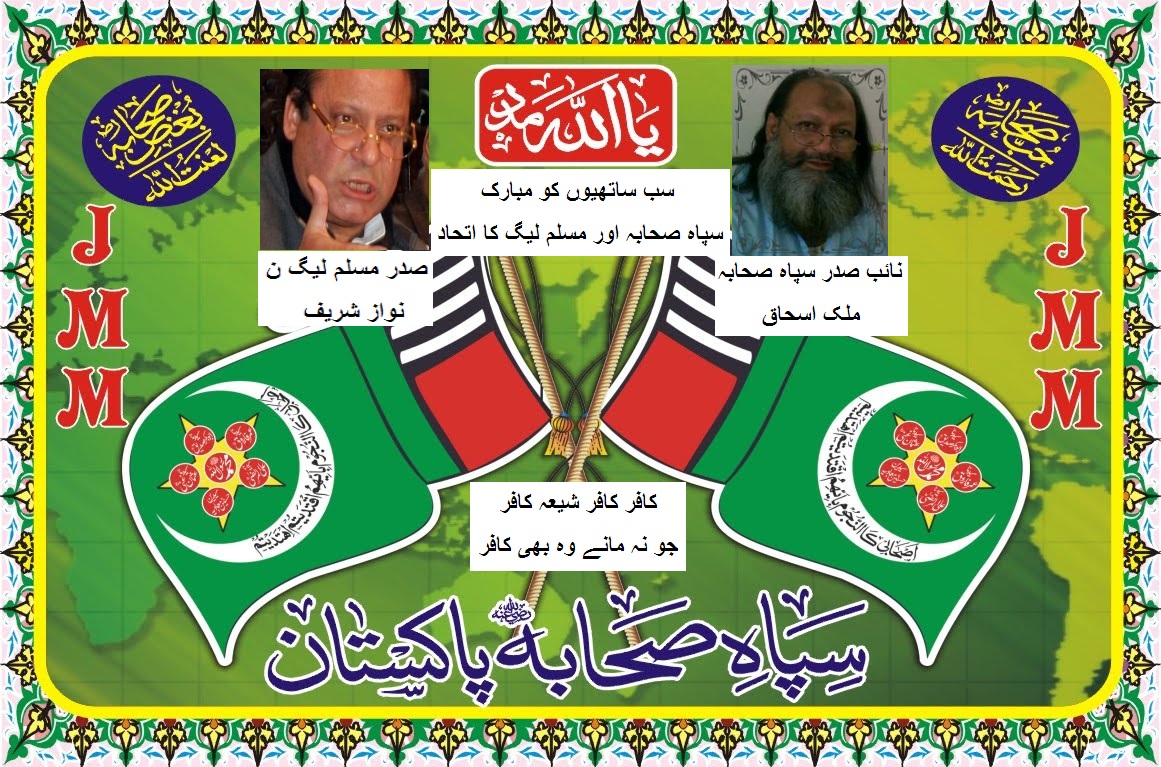 Update: Threatened or bribed? Express Tribune removes report on PML-N's alliance with Sipah-e-Sahaba
Finally, the cat is out of the bag. Since his patronage by General Zia-ul-Haq, Nawaz Sharif has acted as a poodle of Saudi Salafists and was also in romance with Osama bin Laden. In the last few years, PML-N and its various leaders (Shahbaz Sharif, Rana Sanullah) have clandestinely supported Takfiri Salafist-Deobandi terrorist outfits like ASWJ/LeJ and JuD/LeT. Now they are showing their true ugly face to everyone. For a detailed comment on PMLN's alliance with Sipah-e-Sahaba, refer to Zohaoib Malik's article: A comment on PML-N's electoral alliance with Takfiri Deobandis of Sipah-e-Sahaba.
ن لیگ اور کالعدم سپاہ صحابہ کے مابین قومی اسمبلی کی 12 نشستوں پر انتخابی اتحاد
اسلام ٹائمز۔ پاکستان مسلم لیگ ن اور کالعدم فرقہ پرست جماعت سپاہ صحابہ کے مابین آئندہ انتخابات کیلئے 12 نشستوں پر سیٹ ایڈجسٹمنٹ پر اتفاق ہو گیا ہے۔ باوثوق ذرائع کا کہنا ہے کہ وزیر قانون پنجاب رانا ثناء اللہ خان نے کالعدم سپاہ صحابہ کے سربراہ مولانا محمد احمد لدھیانوی کے ساتھ ایک اہم ملاقات کی ہے، اس ملاقات میں آئندہ انتخابات کے حوالے سے مذاکرات ہوئے، اور قومی اسمبلی کی 12 نشستوں پر سیٹ ایڈ جسٹمنٹ کرنے پر اتفاق رائے ہوگیا ہے، جس کے تحت (ن) لیگ کو این اے 89، این اے 184، این اے 187، این اے 186، این اے 188، این اے 177 اور این اے 156 پر کالعدم سپاہ صحابہ کی سپورٹ حاصل ہوگی جبکہ اس کے بدلے میں 5 نشستوں پر (ن) لیگ کالعدم سپاہ صحابہ کے امیدواروں کو سپورٹ کریگی۔ واضح رہے کہ اس سے قبل بھی مسلم لیگ ن اور کالعدم سپاہ صحابہ کے مابین انتخابی معاملات پر مذاکرات ہوتے رہے ہیں، جس میں وزیر قانون پنجاب کا کردار اہم رہا، جس کے نتیجے میں وزیراعلٰی پنجاب میاں شہباز شریف کا بھکر سے پنجاب اسبملی کی نشست پر بلامقابلہ کامیاب ہونا بھی شامل ہے۔
According to Express Tribune:
A secret understanding between the Pakistan Muslim League Nawaz (PML-N) and Ahle Sunnat wal Jamaat (ASWJ) is said to have reached a consensus on seat adjustments in the Punjab and National Assembly in the upcoming general elections, well placed sources told The Express Tribune.

According to the sources, PML-N's Punjab Law Minister Rana Sanaullah Khan met with ASWJ chief Maulana Mohammad Ahmed Ludhianvi to discuss the seat adjustments, particularly in South Punjab.

ASWJ, which formerly operated as the Sipah-e-Sahaba Pakistan, has a strong vote bank in many constituencies of Punjab, particularly in South Punjab, which forced the PML-N's think tank to strike a deal with it over seat adjustments.

According to the deal, the PML-N will give the go-ahead to ASWJ to contest the election for three NA seats with the PML-N's support, while in exchange the ASWJ will withdraw its candidates from contesting around 12 NA seats across Punjab whose votes often play a vital role in helping candidates win.

The sources also said that the head of the banned Lashkar-e-Jhangvi (LeJ) Malik Ishaq, who recently joined the ASWJ, could possibly be one of the candidates fielded by the ASWJ to contest the election for any NA seat that could be vacated in South Punjab.

However they added that if Malik Ishaq was not allowed to contest the election, then his son Malik Usman will be fielded as a candidate for either the provincial assembly or the NA.

Expected seat adjustments

Sources said the PML-N will not field its candidate from the NA-89 constituency of Jhang as Ludhyanvi will contest that seat, which is currently occupied by PML-Q's Sheikh Waqar Akram. It will not field its candidate for the NA-184 constituency which will be contested by ASWJ's Rao Javeed. Currently PPP's Khadija Aamir Yar Malik occupies the seat.

In exchange, in Bahawalpur division, ASWJ will support PML-N's Mian Imtiaz from the NA-196 constituency which is occupied by Javed Iqbal Warraich of the PPP. ASWJ will not field a candidate for the NA-186 constituency, which will be contested by PML-N's Riaz Hussain Pirzada, who recently switched allegiances from the PML-Q. ASWJ will also try its best to convince Maulana Moeen Wattoo to let MNA Mian Khadim Hussain contest the NA-188 constituency.

Sources said that if PPP MNA Jamshed Dasti decides to contest the NA-177 constituency, then ASWJ might field Malik Ishaq or his son Malik Usman for the seat. ASWJ will support PML-N's candidate for the NA-156 constituency. ASWJ will also support PML-N candidates for all seats of Faisalabad, Sheikhupura, Gujranawala, Sheikhupura divisions and some areas of Sargodha.

Speaking to The Express Tribune, Ludhyanvi confirmed the talks between PNL-N and ASWJ and said the recent support and cooperation between the two would continue. "Both parties could not do without each other and history shows that our voters are willing to see us united," he added.

Malik Usman told The Express Tribune the decision on which constituencies the ASWJ will contest will be taken by the party itself.

PML-N's Central Information Secretary Mushahidullah Khan said that although the party was in talks with religious parties, he could not share details of the talks with ASWJ as its discussions were still ongoing.

Source: Express Tribune
PS: Thanks to PML-N's government in the Punjab province,  Malik Ishaq and other Sipah-e-Sahaba leaders are free to deliver hate speeches and incite violence against Shia Muslims. Here are a few examples
Source:
Thanks to Shahbaz Sharif and Iftikhar Chaudhry: LeJ chief Malik Ishaq continues to spit venom
PML-N, Judiciary, ISI and LeJ gang-up in Punjab; 100 Shias arrested
This is how Punjab government ensured release of Malik Ishaq
Here is a video clip of Malik Ishaq spreading hatred against Shia Muslims in Kabirwala, Punjab (19 June 2012) using the same arguments as offered by Tarek Fatah and Ahmed Ludhianvi (i.e., Shias insult the Sahaba (Companions of the Prophet), therefore, they get killed). Ironically he refers to some insults against certain Sahaba published on internet. It is now commonly known particularly in the light of recent anti-USA attacks in Libya, Egypt, Sudan and elsewhere how Takfiri Salafist-Deobandi militants themselves translate and propagate objectionable material in order to incite hatred and violence to gain political mileage and strength.
http://youtu.be/8ZXuWocTPB4
Further evidence of PML-N's support to SSP-ASWJ-LeJ revealed in Najam Sethi's talk show:
ASWJ-LeJ leader Ludhianvi admits his support to PML-N:
http://youtu.be/A4NOJfvuG64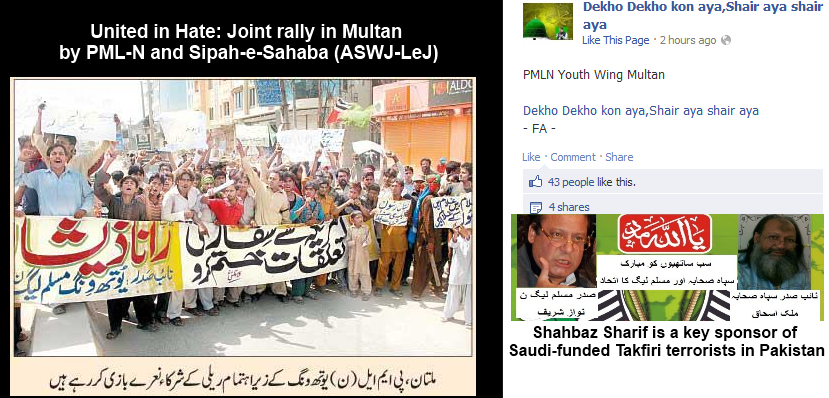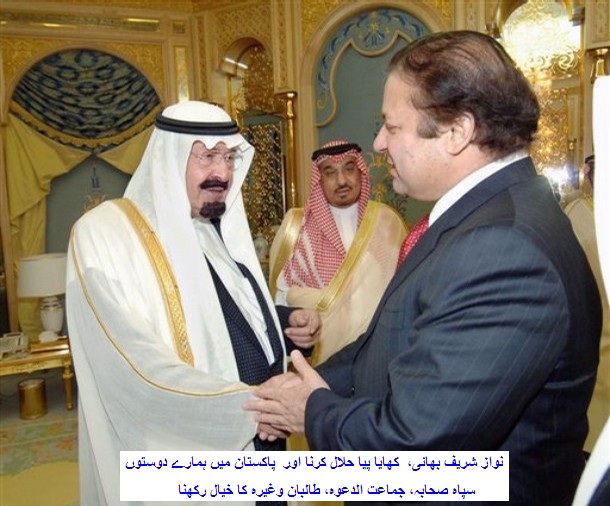 Update 7 January 2013: Dunay News and Dunya newspaper report about an electoral alliance between PML-N and ASWJ (Sipah Sahaba). In the dialogue team, Rana Sanullah, Malik ishaq, Ahmed Ludhianvi, Khadim Dhillon and additional IG Mushtaq Sukhera participated.
Source: http://e.dunya.com.pk/detail.php?date=2013-01-06&edition=ISL&id=104220_15123128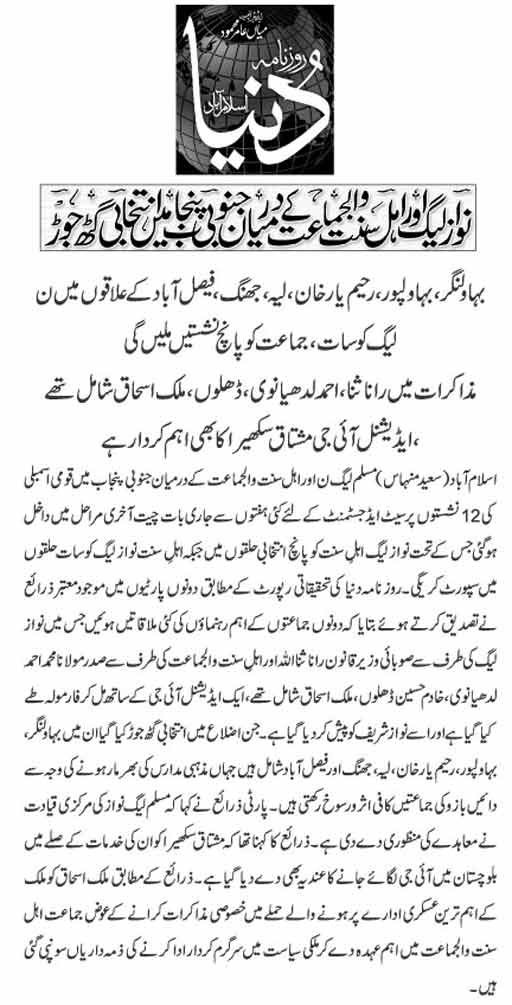 Comments
comments