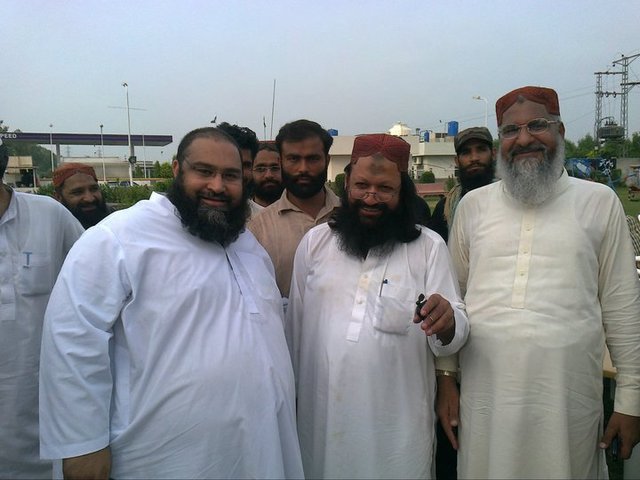 Related post: Discourse of Shia genocide in Pakistan: A Sipah Sahaba leader speaks – by Omar Ali
Apologists of Pakistani judiciary often blame the prosecution for presenting a weak legal case and evidence in courts which results in acquittal of known terrorists and militants. In contrast, apologists of Pakistan Peoples Party and PML-N keep blaming the judiciary for the acquittal of terrorists.
One common excuse often presented by Pakistani leaders, government ministers, even by army chief General Kayani, is the lack of adequate laws to get militants convicted and punished.
In our assessment, the blaming the law argument is a diversion tactic because: (a) it is never explained what exactly is wrong with the current laws and what specifically needs to be revised or improved; (b) more than the lack of the law, it is the lack of law enforcement which is resulting in acquittal of terrorists; (c) there is evidence of secret deals between Pakistan Army and Takfiri terrorists; similar deals are in place between leading political parties PML-N, PPP and the Takfiri terrorists; (d) while some elements in the judiciary are visibly sympathetic or biased towards right wing militants, the element of threat and fear against a few honest judges cannot be ignored. Several judges and lawyers have been killed by Takfiri Deobandi terrorists in the last few years.
As a result, dozens of Takfiri Deobandi and Takfiri Salafi militants have been released by Pakistani judiciary in the last few years including but not limited to Malik Ishaq of Lashkar-e-Jhangvi (Sipah-e-Sahaba), Hafiz Saeed of Jamaat-ud-Dawa (Lashkar-e-Taiba) and Maulana Abdul Aziz of Islamabad's Red Mosque. In the meanwhile, blood of thousands of innocent Shias, dozens of moderate Sunni leaders, Ahmadis and other persecuted groups continues to be shed in the land of the pure.
As a matter of fact, there is no lack of evidence, there is lack of will to enforce law. All the three parties, government, judiciary and army, are responsible in this lack of will – due to different reasons.
The lack of evidence argument was ably crushed by Harris bin Munawar in his article in daily Dawn (19 July 2011); here is an excerpt:
Malik Ishaq had told an Urdu daily in October 1997 that he was involved in the killing of 102 people. He was arrested the same year, and eventually charged with 70 of those murders in 44 different cases, including the attack on the Sri Lankan cricket team in March 2009. Last week, the Supreme Court released him because of "lack of evidence".

The influential co-founder of a Sipah-e-Sahaba breakaway group now linked with al Qaeda and the Taliban received a stipend from the Punjab government while he was in jail, and like other key terror suspects, was allowed to use a mobile phone.

Among those who fear the consequences of Malik Ishaq's release is Fida Hussain Ghalvi, a key witness in a case in which Ishaq was accused of killing 12 members of a Shia family during a Majlis in 1997. When Ghalvi and three other men identified Ishaq, he told them in front of a judge that "dead men can't talk". Five witnesses and three of their relatives were killed during the trial. Ishaq was acquitted because of "lack of evidence".

But that is just the tip of the iceberg. A more remarkable case involving the anti-Shia leader from southern Punjab was the bombing of an Iranian culture centre in Multan, also in 1997. Eight people were killed. When investigating officer Ijaz Shafi persuaded two witnesses to appear in court, his car was sprayed with 13 bullets. Anti-Terrorism Court judge Bashir Ahmed Bhatti convicted Ishaq but the Supreme Court overturned the conviction in 2006 because of "lack of evidence".

In March 2007, the same judge, scheduled to hear another case against Malik Ishaq, was on his way to the court when a remote-controlled bicycle bomb exploded near his car, killing his driver and two policemen. Ishaq was charged with planning the bombing. Two years later, the prosecution's witnesses suddenly turned hostile. Ishaq was acquitted in April 2009, because of "lack of evidence".

In that context, it is very surprising that one of the Supreme Court judges who released Malik Ishaq on bail last week scolded the prosecution and said the case was weak. The same judge, Justice Asif Saeed Khosa, was part of a Lahore Hight Court bench that had asked the police to close down cases of hate speech and incitement to violence, against Jamaatud Dawa chief Hafiz Saeed. The bench would simply not accept that Jamaatud Dawa was another name for Lashkar-e-Taiba, because the new name was not present on a certain list.

Malik Ishaq praised the Supreme Court after his release and said justice had been done.
There is ample evidence of crimes and terrorist activities by Takfiri Deobandis of Lashkar-e-Jhangvi (aka Sipah-e-Sahaba or Ahle Sunnat Wal Jamaat) archive on LUBP. Yousaf Nazar too has compiled a list of crimes committed by the LeJ-SSP, which can be read at this link: https://lubpak.com/archives/82292
In the present post, we offer yet another evidence to explain that the law is not to be blamed, it is the will of the government and the judiciary which is lacking in punishing the Takfiri Deobandi-Salafi terrorists.
Here's an excerpt from Pakistan Penal Code:
295-A. Deliberate and malicious acts intended to outrage religious feelings of any class by insulting its religion or religious beliefs:
Whoever, with deliberate and malicious intention of outraging the 'religious feelings of any class of the citizens of Pakistan, by words, either spoken or written, or by visible representations insults the religion or the religious beliefs of that class, shall be punished with imprisonment of either description for a term which may extend to ten years, or with fine, or with both.
Here is a video clip of Malik Ishaq spreading hatred against Shia Muslims in Kabirwala, Pakistan (19 June 2012) using the same arguments as offered by Tarek Fatah and Ahmed Ludhianvi (i.e., Shias insult the Sahaba (Companions of the Prophet), therefore, they get killed). Ironically he refers to some insults against certain Sahaba published on internet. It is now commonly known particularly in the light of recent anti-USA attacks in Libya, Egypt, Sudan and elsewhere how Takfiri Salafist-Deobandi militants themselves translate and propagate objectionable material in order to incite hatred and violence to gain political mileage and strength.
http://youtu.be/8ZXuWocTPB4
Here's another video clip of Malik Ishaq's hate speech on 9 August 2012. He asserts he will always say Shia Kafir (Shias are infidels).
http://youtu.be/milmwgYOc9Y?t=15m
As noted by Dr. Taqi in a recent column in Daily Times:
Pakistan remains a country where the India-oriented Punjabi jihadists rule the roost and religious minorities continue to be hounded and eliminated physically. Just as the Pakistani ambassador to the U.S. (Sherry Rehman) was speaking via video link to the audience in the resort town of Aspen in the Rocky Mountains, a video featuring another kind of mountain was circulated on the Internet. The 16 minute-long clip is a speech delivered on June 19, 2012 at Kabirwala, Punjab, by the leader of the terrorist outfit, Lashkar-e-Jhangvi (LeJ), Malik Muhammad Ishaq, who is introduced therein as the jabl-e-istiqamat (the mountain of perseverance). Anyone who has any illusions about the 'new Pakistan' or how the 250 top al Qaeda leaders were able to hang out in the 'old' Pakistan must watch Ishaq's venomous tirade at http://www.youtube.com/watch?v=8ZXuWocTPB4&feature=player_embedded, also archived by the bloggers at https://lubpak.com/archives/81574

http://youtu.be/8ZXuWocTPB4

Malik Ishaq starts by brushing aside Mr Muhammad Ali Jinnah and virtually dismisses his role as the founding father. He swiftly moves on to eulogise the banned extremist outfit Sipah-e-Sahaba Pakistan (SSP) for everything it has done — and continues to do — against the Shia, whom he consistently labels Kafir (infidels). The chief of the SSP, rechristened as Ahle Sunnat wal Jamat (ASWJ), Maulana Muhammad Ahmed Ludhianvi is seen presiding over the rally. Ishaq instigates the frenzied mob to take action against the Shia and their religious rituals. He then pulls out what he claims are the caricatures of the Companions (May the Lord be pleased with them) of the Holy Prophet Muhammad (PBUH), which he alleges were distributed by the Shia on the 'web'. The nastiest drivel accompanies this display and the mob's frenzy rises exponentially. At no point does Ishaq directly call for killing the Shia but the props and ploys used in the context of Takfir accompanied by the innuendo about the SSP's achievements, i.e. slaughter of the Shia, leave no need to order a direct hit. The sordid video gives an insight into understanding how Shia killing is incited and the killers programmed. It would not be a surprise if at rallies like this the zealots volunteer their services to take out the 'infidels'. All this is happening in broad daylight in the 'new Pakistan'.

The Punjab-based jihadists, and especially the SSP that spawned virtually all anti-India terrorists, is where the Pakistani strategic depth, India-centric jingoism and the religion-tethered state ideology converge. One does not know if Malik Ishaq is the mountain of perseverance or not but he most certainly is the volcano of hate.
In the light of the above, the Punjab police, therefore, did the right thing when it arrested Malik Ishaq on 30 August 2012 because of violation of 295-A.
Leader of banned outfit Lashkar-e-Jhangvi (LeJ), Malik Ishaq has been sent on 14-day judicial remand to Kot Lakhpat jail. He had earlier been arrested by law enforcement agencies from Lahore airport on his return from Saudi Arabia. Ishaq had been released from Kot Lakhpat jail on July 14, 2011 after 14 years of imprisonment when the Supreme Court (SC) granted him bail in the case involving a terrorist attack on the Sri Lankan cricket team.
Superintendent of Police (SP) Model Town Malik Awais confirmed that he had been sent on remand. A case had been registered against Ishaq on August 9 after he had given a "provocative speech to spread hatred" during a Khatm-e-Nabuwwat rally near Lahore. The case had been registered under Article 295-A of the Pakistan Penal Code and Section 3 of the Amplifier Act. Prisoners on remand are normally sent to the Camp jail, but Ishaq was sent to Kot Lakhpat as he is a high profile prisoner. According to the Punjab police and Punjab public prosecution department's record, Ishaq is involved in more than 40 cases in which 70 people had been killed with a majority of the deceased belonging to the Shia community.
However, less than two weeks later, on the anniversary of Quaid-e-Azam's death, 11 September 2012, Malik Ishaq was once again released by Pakistani judiciary. The judiciary found it convenient to release Malik Ishaq because both federal government (led by President Zarari) and provincial government (led by Nawaz Sharif) refused to be a complainant against Malik Ishaq in the violation of 295-A. In other words, the problem is not with the law but with its enforcement.
When section 295-A was introduced in 1927, the British Government acted wisely by making a corresponding change in section 196 of the Code of Criminal Procedure, 1898 which prohibits courts from taking cognisance of certain offences unless complaint is made by the government. It empowered the government alone to become complainant and prosecute cases registered under section 295-A. (Source) Can you believe that this legal fact was hidden from Federal and Punjab governments? Clearly this legal loophole was left in order to facilitate the release of Malik Ishaq as a part of the secret deal between PPP/PML-N, Army and LeJ-ASWJ.
According to news reports:
Malik Ishaq, co-founder of the banned Lashkar-e-Jhangvi (LeJ), was released from Kot Lakhpat jail on Tuesday after an additional district and sessions judge granted him bail a day ago.
LAHORE – Additional District and Sessions Judge Nisar Ahmed on Monday granted bail to Malik Ishaq, the chief of banned outfit Lashkar-e-Jhangvi (LeJ), in a case registered against him for fanning sectarianism.
Earlier, Ishaq was sent to the Kot Lakhpat Jail on a 14 day judicial remand on his return from Saudi Arabia on August 29. Nishtar Colony Police had arrested him on the charges of delivering a provocative speech against Shias during a rally held in Lahore on August 9 after registering a case under section 295-A (deliberate and malicious acts intended to outrage religious feelings of any class by insulting its religion or religious beliefs) of the Pakistan Penal Code (PPC) and Section 3 of the Amplifier Act.
Ishaq's counsel Advocate Arif Mehmood Rana argued on Monday that Section 295-A of the PPC did not apply in this case and it was a mala fide intention on part of the police to register the case. He argued that to nominate his client according to 295-A, a prior permission of the central or provincial government was required.
While quoting Section 196 of the Criminal Procedure Code (CrPC), the counsel added that police did not bother to get this permission and neither the provincial or the federal government was a complainant in the case. He said Malik Ishaq was innocent and was willing to join investigation. He also implored the court to grant bail to his client.
The court heard the arguments and granted bail to Ishaq against surety bonds of Rs500,000.

Ishaq was earlier arrested from Lahore airport for making a "provocative" speech earlier this month. He has been implicated in dozens of cases – mostly murder of Shias and Sunni Barelvis – and was accused of masterminding a 2009 attack on the Sri Lankan cricket team in Lahore, which wounded seven players and an assistant coach and killed eight Pakistanis. "The court has accepted his bail application and later he was freed from jail," Arif Mehmood Rana, his lawyer told AFP. Ijaz Shafi Dogar, a senior police officer confirmed to AFP that he was being freed as he was not wanted in any other case. "He was set free this evening from Kot Lakhpat jail," Dogar said. Ishaq was detained over a speech he made at a religious school on August 19 in the wake of a rise in sectarian violence between Sunni and Shia Muslims. (Source1 ), 2his is the kind of man who would have insulted and sworn at the Quaid, and hated his commitment to tolerance and equality. Now he is free and Pakistan's minorities are in the prison of fear.
Links with Army:
Previously on his release in July 2011, Malik Ishaq was received outside Kot Lakhpat prison by leaders of Sipah-e-Sahaba Pakistan, banned in 2001 as a terrorist organization but now—after being renamed harmlessly to Ahle Sunnat wal Jamaat—resting in a legal grey area because of an appeal lying with the higher judiciary. The Sahaba leader heading the welcome party was Maulana Muhammad Ahmad Ludhianvi—recalling an anti-Shia 1980s polemicist who was assassinated in Karachi—who came in handy when the current Army chief, Gen. Ashfaq Kayani, called on Ishaq to talk to the terrorists who had attacked Army General Headquarters in Rawalpindi in 2009. The Army chief's personal plane had carried Ishaq to Rawalpindi, while another plane belonging to the ISI chief, Gen. Shuja Pasha, carried Ludhianvi. (Source)
Links with PML-N:
The Punjab government has made a deal with Sipah-e-Sahaba after seeing its growing clout in South Punjab. One well-known episode was recorded by jihadist newspaper Islam: "Punjab Law Minister Rana Sanaullah visited Jhang and paid his respects at the tomb of the founder of the greatest banned sectarian-terrorist Deobandi organization, Sipah-e-Sahaba, Maulana Haq Nawaz Jhangvi. He led a delegation of the [Pakistan Muslim League (Nawaz)] which also included parliamentary secretary Iftikhar Baloch and party M.P.A. from Jhang, Sheikh Yaqub. He also visited the tombs of other Sipah-e-Sahaba martyr-leaders like Maulana Isarul Qasimi and Allama Azam Tariq." (Source)
In a not so unrelated news, on 11 September 2012, the very day when Malik Ishaq was released from a prison in Lahore due to complicity of PPP, PML-N, Army and Judiciary, a car bomb exploded in Parachinar, a far off town in North West of Pakistan killing at least 15 Shiite Muslims injuring another 60. And we already know who is to be blamed, the law!