In Kashmir, Indian security forces use pellet guns that often blind protesters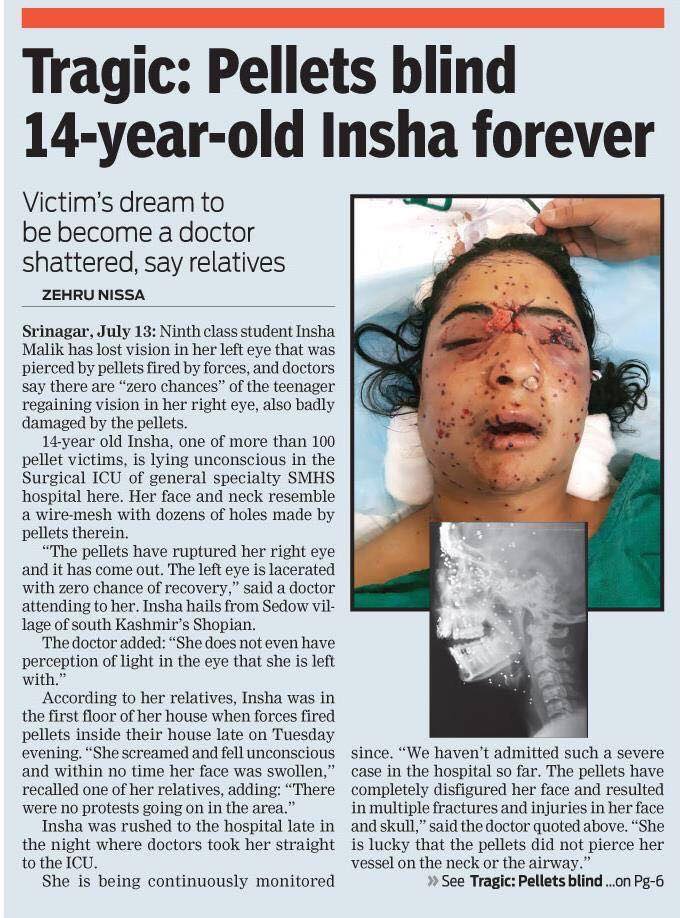 These are pallet gun wounds and nearly 300 cases admitted in various hospitals and about 150 surgeries performed so far and doctors are not hopeful on majority of these cases that they will gain their eyesight and 14 year old Insha is one of the unfortunate ones.
What are pellets?
Pellets are loaded with led and once fired they disperse in huge numbers. They don't follow a definite path. Pellets penetrate the skin's soft tissues, and eye being the delicate structure is the most vulnerable to damage. Once the pellet goes inside an eye it shatters tissues and causes multiple damages to all parts of the eye.
How many people have lost sight in Kashmir because of the pellet guns during the last five days?
The administration has not provided an exact number. Out of 117 cases at SMHS, 106 surgeries were performed in which five people lost one eye completely.
Have doctors been able to bring vision back to victims?
Doctors say they remove pellets from some patients and in most of the cases doctors say they are not able to remove it from the eye. Some patients make a good recovery, but in most of the cases the patients fail to regain vision. No case has been reported so far in which the doctors successfully restored full vision.
The Indian-controlled Kashmir has been the scene of clashes between pro-independence protesters and Indian forces over the past several days. The unrest left 33 people dead. Many more have been wounded, including those with eye injuries caused by the Indian forces' use of pellet guns.
1) The civilian death toll arising as a consequence of unrestrained firing by Indian Security Forces on unarmed protesters stands at 36 and continues to mount as beleaguered hospitals and doctors struggle to cope with the hundreds that have been injured and maimed as a result of indiscriminate targeting of the protesters in the aftermath of the funeral of a popular resistance leader.
 Over 1500 lie injured, a significant percentage critically, in hospitals across the province which have declared a state of emergency in the wake of a crumbling infrastructure exacerbated by the sheer magnitude of injured patients , exhausted medical staff and an acute shortage of medicines and life saving medical supplies.
Additionally, 250 risk losing sight permanently as a consequence of indiscriminate firing of pellet guns by the security forces into the faces and upper body parts of the protestors.

Paramilitary troops continue to run amok and are guilty of wanton war crimes including damaging ambulances ferrying the injured, attacking attendants and medical staff inside hospital premises and using tear gas inside hospital emergency rooms.

Due to a prolonged curfew and consequent government restrictions on the movement of goods and people, essential supplies are dwindling fast and food shortage is fast becoming a significant threat to the civilian population.

Draconian laws like the Armed Forces Special Powers Act (AFSPA) continue to absolve the Indian Armed Forces of all crimes and ensure that they cannot be prosecuted in civilian courts for any crimes committed against the citizens of Kashmir. AFSPA greatly contributes to the ongoing instability within Indian administered Kashmir since it eliminates the legal checks and balances imperative in stipulating and monitoring the rules of engagement of Indian troops towards the locals, who in turn greatly begrudge this miscarriage of justice.

The Chief Minister of the state publicly admitted to the use of disproportionate force by the Armed forces against the protesting civilians and has made a hollow promise of action against the erring forces .
Pity the nation that has to silence its writers: Arundhati Roy
I write this from Srinagar, Kashmir. This morning's papers say that I may be arrested on charges of sedition for what I have said at recent public meetings on Kashmir. I said what millions of people here say every day. I said what I, as well as other commentators have written and said for years. Anybody who cares to read the transcripts of my speeches will see that they were fundamentally a call for justice. I spoke about justice for the people of Kashmir who live under one of the most brutal military occupations in the world; for Kashmiri Pandits who live out the tragedy of having been driven out of their homeland; for Dalit soldiers killed in Kashmir whose graves I visited on garbage heaps in their villages in Cuddalore; for the Indian poor who pay the price of this occupation in material ways and who are now learning to live in the terror of what is becoming a police state.
Yesterday I travelled to Shopian, the apple-town in South Kashmir which had remained closed for 47 days last year in protest against the brutal rape and murder of Asiya and Nilofer, the young women whose bodies were found in a shallow stream near their homes and whose murderers have still not been brought to justice.
I met Shakeel, who is Nilofer's husband and Asiya's brother. We sat in a circle of people crazed with grief and anger who had lost hope that they would ever get 'insaf' — justice — from India, and now believed that Azadi — freedom — was their only hope. I met young stone pelters who had been shot through their eyes. I travelled with a young man who told me how three of his friends, teenagers in Anantnag district, had been taken into custody and had their finger-nails pulled out as punishment for throwing stones.
In the papers some have accused me of giving 'hate-speeches,' of wanting India to break up. On the contrary, what I say comes from love and pride. It comes from not wanting people to be killed, raped, imprisoned or have their finger-nails pulled out in order to force them to say they are Indians. It comes from wanting to live in a society that is striving to be a just one. Pity the nation that has to silence its writers for speaking their minds. Pity the nation that needs to jail those who ask for justice, while communal killers, mass murderers, corporate scamsters, looters, rapists, and those who prey on the poorest of the poor, roam free.
Source:
http://m.thehindu.com/opinion/op-ed/pity-the-nation-that-has-to-silence-its-writers-arundhati-roy/article850893.ece
Comments
comments