This is in reference to "Kill the sectarian killers: Will Pakistan follow the Iranian example?" published by a fellow editor, Sarah Khan, on December 20, 2010.  In her post, Sarah was giving the example of how Iran executed 11 members of Jundullah in response to the horrific suicide bombing that killed 39 Shia mourners and wounded another 100 in Chabahar, Iran.
While I am completely opposed to the State sponsored militias that have killed thousands of Pakistanis, I don't think we should be following the Iranian example in this particular instance. That being said, Sarah Khan is spot on in her assessment:
"the ISI is known for its support to jihadi-sectarian groups and the judiciary remains infested with the pro-Jamaat-e-Islami (pro-Taliban) judges."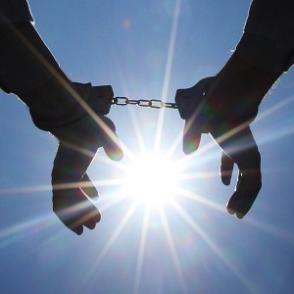 While our media is infested with jihadi sympathizers like Hamid Mir, Shahid Masood, Ansar Abbasi, Javed Chaudhry etc and our judiciary is increasingly being viewed as a B-Team for the jihadis, Iran has a pathetic human rights record for its treatment of all those who are against the hardliners and the theocrats whose victims include women, minorities, Bahais, Baluchis, Kurds, secular Shias (the vast majority of the population) and all the senior Ayatullahs who do not agree with the theocratic construct of Vilayat-e-Faqih.
In this regard, the Balochs and Kurds are persecuted in Iran on the basis of ethnicity and not sect and those who were executed in Chabahar were arrested before the horrible and equally condemnable suicide bombing of Shias.  The sequence of events that is being played out in Iran and Pakistan with regard to the Baloch is a dirty game that seeks to delegitimize the nationalist aspirations of the Baloch.
Since the annexation and division of the former State of Qalat by Pakistan and Iran, the Balochs have maintained their genuine nationalist concerns that range from provincial autonomy and a dignified existence to full independence from both countries.
In Pakistan, they have faced several military actions and the last one is still ongoing even if it does not have the attention of our chic urban types. Of course, we all know how the judiciary has backtracked on the issue of missing persons that include thousands of illegally detained Baloch youth along with a dozen or less shadowy Islamist types; the latter 2-3 like Aafia Siddiqi and Masood Janjua are the only ones that matter to the consciousness of our Jamaat-e-Islami influenced urban types.
In order to delegitimize the Baloch struggle, our establishment has, in typical fashion, added a toxic blend of sectarian fanaticism to the mix. It has continued the laboratory experiment that it started in District Jhang and used the same formula to create the Jundullah: a Wahabi/Deobandi militia comprised of a few brainwashed Baloch youth.  This allows the establishment to kill two birds with one stone. On the one hand, the Jundullah have been indoctrinated with a virulent anti-Shia ideology that makes them the perfect foot soldiers to kill Shias in Pakistan and Iran. Furthermore, their fanatical acts of violence also damage the Baloch nationalist struggle.
The Baloch struggle is secular in nature and rooted in a rich and diverse cultural tradition. Until the Saudi-financed and establishment facilitated radicalization of some Baloch children, the Zikri (a mystical Sufi sect) school of thought formed the cornerstone of Baloch religious sentiment.  The radicalization and subsequent acts of senseless violence by Jundullah allows the establishment to malign and de-legitimize the largely nationalist Baloch struggle.  This is a tactic that is similar to the one used to drown out the moderate and nationalist sentiment in Kashmir and replace it with sectarian Jihadis from Punjab.
In prosecuting our jihadi sectarian murderers, we should never be emulating Iran.  In this regard, the aims of those who want a just and peaceful society are up against an Islamofascist judiciary that clearly has the interests of jihadis like Hafiz Saeed, Mullah Abdul Aziz, Masood Azhar and sectarian murderers like Malik Ishaq of Sipah-e-Sahaba and Lashkar-e-Jhangvi. That this judiciary is entrenched and dictating its regressive agenda to elected representatives of Pakistan should be a lesson to those who supported the movement to restore compromised and shadowy bureaucrats; those who have a solid tradition of backing military coups and committing judicial murder.
While the Taliban have been given a free hand to slaughter Pushtuns, Shias, Ahmadis and Barelvis and while their affiliates such as Jamaat-e-Islami and Sipah-e-Sahaba are allowed to lynch Christains, our "educated" bourgeoisie and elites are continuing to live in denial and the la-la land of conspiracy theory.  They lack the moral and intellectual clarity to admit that an increasing number of fellow Muslims (extremist Deobandis and Wahhabis) are committing violence on Pakistan's diverse ethnic, sectarian and religious minority groups.  They have a tendency to continually blame Jews, Hindus and Blackwater, even as the various jihadi groups proudly own up to the latest act of terrorism.  In this they are abetted by a media that mostly takes its cues from the establishment and therefore completely dishonest.
We need no cues from Iran or Saudi Arabia to bring murderers to justice. What we need is support for democracy and the will to protest and call out the proxies of the establishment which are the judiciary and the media – the Teen Jeem coalition!