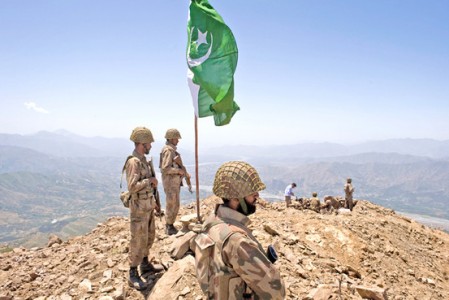 On 14th August, 2015 Pakistan finally seems to be putting its troubles behind. The forward impetus for the country has come in the sustained army action, Zarb-e-Azab that has been undertaken by COAS Gen. Raheel Sharif.

Contrary to the naysayers, this operation has been expanded into Sindh and Punjab against ISIL-affiliated Takfiri Deobandi terrorist groups like ASWJ-LeJ resulting in major crackdowns against terrorist units like the one lead by Saad Aziz Deobandi.

The operation needs to be further expanded into KP and Baluchistan against Takfiri terrorists. However, no one can deny that this operation has not resulted in bringing some much needed security to Pakistan.

The lack of security – primarily from Takfiri Deobandi terrorists of interconnected groups like the Taliban/ASWJ-LeJ/Jundullah/Ahraar – is the prime reason that was holding back Pakistan from achieving a better economic performance.

Sadly, the credit for Zarb-e-Azab CANNOT be given to the Pro Taliban government of PM Nawaz Sharif and his Judicial cronies and media proxies in the Right Wing Urdu press or the Pseudo Liberal English elites.

This lobby continues to thwart the struggle against terrorism with its selective and hypocritical posturing for the rights of boasting mass murderers like Malik Ishaq while simultaneously obfuscating Sunni, Sufi and Shia genocide at the hands of Takfiri Deobandi terrorists of ASWJ.