The killing of ASWJ Vice President, Malik Ishaq Deobandi, must not exonerate his enablers in PML-N, Supreme Court, Jang Group and Deobandi lobby – by Ali Abbas Taj
The killing of Malik Ishaq does not even qualify as a token gesture in light of the tens of thousands of Pakistani citizens and even foreign guests who have been targeted by his organization – the ISIS-affiliated Deobandi militants of the Sipah-e-Sahaba Pakistan (SSP aka ASWJ aka LeJ).
Malik Ishaq, Vice President of ASWJ, had long become irrelevant due to his power struggle with Ahmed Ludhyanvi, President of ASWJ, over issues of distribution of power and Saudi funding. In the power struggle, Ludhyanvi enjoys the support of PML-N leaders such as PM Nawaz Sharif and his brother, Shahbaz Sharif, CM of Punjab province, who want to ensure that Deobandi hate clerics such as Ludhyanvi, Ashrafi and Hanif Jalandhri remain relevant and functional.
One must not ignore the fact that while Malik Ishaq has been eliminated, his real sponsor and enabler Tahir Ashrafi, the notorious Deobandi hate cleric is still allowed to freely spew venom against Sunni Barelvis, Sufis, Shias, Ahmadis and other communities. Tahir Ashrafi played a key role in the release of Malik Ishaq, only a few years ago, and also incited ASWJ-LeJ terrorists to violence against Pakistan's federal minister Shahbaz Bhatti who was slain a few months after Ashrafi's hateful speech.
Over the last few decades since the ASWJ or LeJ came into being under the blessings of former military dictator, General Zia ul Haq, it has been involved in the murder and pogroms of tens of thousands of Sunnis (Sufis and Barelvis), Shias, Christians, Ahmadis and other communities. Malik Ishaq's terrorist group has even targeted foreign guests and tourists such as the 2009 Sri Lankan cricket team – an act that effectively destroyed International cricket in Pakistan and cost us the right to host the 2011 World Cup.
It was the job of the courts to punish and hang boastful mass murderers like Malik Ishaq.
Instead Pakistan's Supreme Court, led by PMLN-loyalist Chief Justice Iftikhar M Chaudhry:
– overturned existing convictions against Malik Ishaq
– allowed the judiciary to be used for issuing further threats to the embattled Sunni and Shia communities who are facing genocidal violence at the hands of Deobandi terrorist groups like ASWJ
– Judges stood up in reverence to greet this killer and offered him tea and biscuits
For its role in enabling and facilitating Malik Ishaq, the Supreme Court of Pakistan has forever besmirched its already pathetic reputation.
"In that context, it is very surprising that one of the Supreme Court judges who released Malik Ishaq on bail last week scolded the prosecution and said the case was weak. The same judge, Justice Asif Saeed Khosa, was part of a Lahore Hight Court bench that had asked the police to close down cases of hate speech and incitement to violence, against Jamaatud Dawa chief Hafiz Saeed. The bench would simply not accept that Jamaatud Dawa was another name for Lashkar-e-Taiba, because the new name was not present on a certain list. Malik Ishaq praised the Supreme Court after his release and said justice had been done. And that is ironic" Lashkar-e-Jhangvi and the "lack of evidence"

It was the duty of the Federal and Provincial governments to bring this killer to justice many years ago!
Unfortunately from PM Nawaz Sharif to his brother CM Shahbaz Sharif and including their select crony ministers like Interior Minister Chaudhary Nisar, Caretaker CM Najam Sethi and Law Minister, Rana Sanaullah – all actions were taken to the contrary. A banned organization like ASWJ is allowed to operate scot-free and its leaders and militants are not only given immunity from prison but also routinely hosted by PMLN leaders, ministers and loyalists.
Sadly, the provincial governments of PTI in KP, BNP in Balochistan and PPP in Sindh are also failures in this regard as their senior leaders also facilitate ASWJ. ASWJ also enjoys immunity from a sympathetic section within the Rangers and FC in Sindh and Balochistan.
As for the so-called human rights "activists" and elitist or Ashrafi brand (fake) liberals, their role in this matter has been equally despicable. From obfuscating Shia Genocide and Sunni Sufi Genocide by ASWJ in ethnic terms (Hazara) or using false sectarian binaries (Sunni vs Shia) to actively promoting ASWJ via the Friday Times, their record leaves much to be desired. Pakistan's leading human rights "champion" Asma Jahangir actively opposes the death penalty against boastful and self-confessing mass murderers like Malik Ishaq. Her record of failing to explicitly condemn ASWJ in clear terms is equally problematic.
Currently the Ashrafi (elitist) brand liberals are using two tactics: (1) generate sympathies for Malik Ishaq and other ASWJ terrorists by baselessly and dishonestly describing his death as extra-judicial murder; (2) take credit away from General Raheel Sharif and Pakistan army by praising either PMLN or Punjab police for something that couldn't have been possible without the support and approval of Pakistan's security establishment. Of course, the Ashrafi-IftikharChaudhry-Kayani-Sethi-Beena lobby is upset with General Raheel Sharif because under his command, Pakistan army and other security agencies are eliminating at least some of the dangerous Takfiri assets cultivated by the likes of Generals Zia, Hameed Gul and Kayani.
Refer to this disgusting tweet by Beena Sarwar where she is creating sympathy for Malik Ishaq and his ASWJ.
In fact, many of Pakistan's fake Liberal elites actively promote and collaborate with Deobandi hate clerics like Tahir Ashrafi. It was Tahir Ashrafi who facilitated the release of Malik Ishaq with former COAS General Kayani. Refer to Carlotta Gall's "The Wrong Enemy" on how Tahir Ashrafi of the Deobandi Ulema Council secures the release of dangerous militants like Malik Ishaq (refer to Page 114)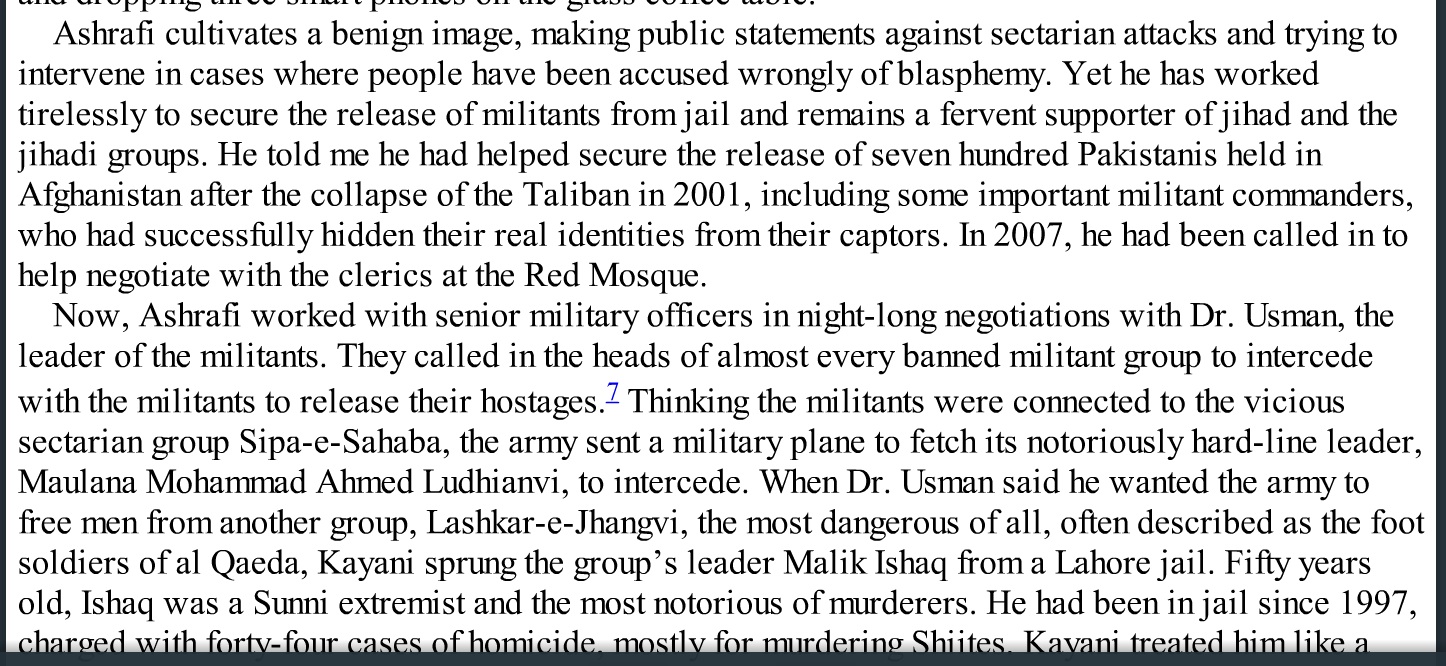 In the media, the Jang group and Friday Times have taken the lead in promoting and acting as apologists for ASWJ, providing public and uncritical platform to hate clerics such as Tahir Ashrafi, Mufti Naeem, Ahmed Ludhyanvi and Aurangzeb Farooqi. Anti-Ahmadi bigots like Hamid Mir and fake liberal blowhards like Najam Sethi have been the leading media figures who provided an unchallenged platform to banned ASWJ terrorist hatemongers like Ahmed Ludhyanvi.
Najam Sethi has also provided ASWJ-LeJ leaders with uncontested space in his Friday Times blog where ASWJ-LeJ hate slogans that incite for genocidal violence were allowed to be passed off as "political slogans"!
The killing of Malik Ishaq is meaningless as long as ASWJ-LeJ leaders like Ludhyanvi, Aurangzeb Farooqi and Ramzan Mengal are allowed to freely incite for more genocidal violence and terrorism in Pakistan and as long as his real patrons such as Tahir Ashrafi and Mufti Naeem are allowed to spread sectarian hate speech against Sunni Barelvis, Shias, Sufis, Ahmadis etc. Malik Ishaq had long become irrelevant and was currently a part of the power struggle with the Ludhyanvi-Rana Sanaullah duo due to issues of distribution of power and the Saudi Riyals. His killing is meaningless as long as other Deobandi leaders like Tahir Ashrafi, Mufti Naeem, Hanif Jalandhri are allowed to openly support and facilitate the genocidal violence of ASWJ-LeJ
The blood of innocents will continue to flow freely in Pakistan as long as the facilitators and promoters of ASWJ are not brought to justice. As long as the law continues to provide a free pass to mass murderers and their enablers, there will be no respite in the genocide of Sunni Sufis and Shias of Pakistan.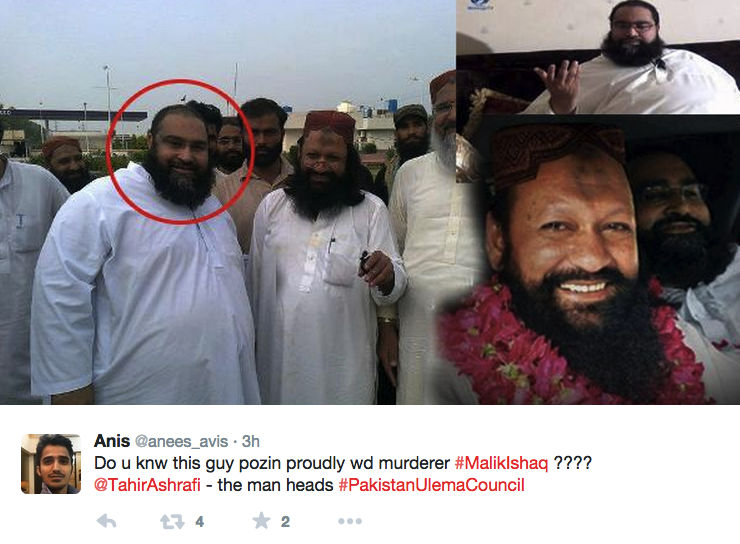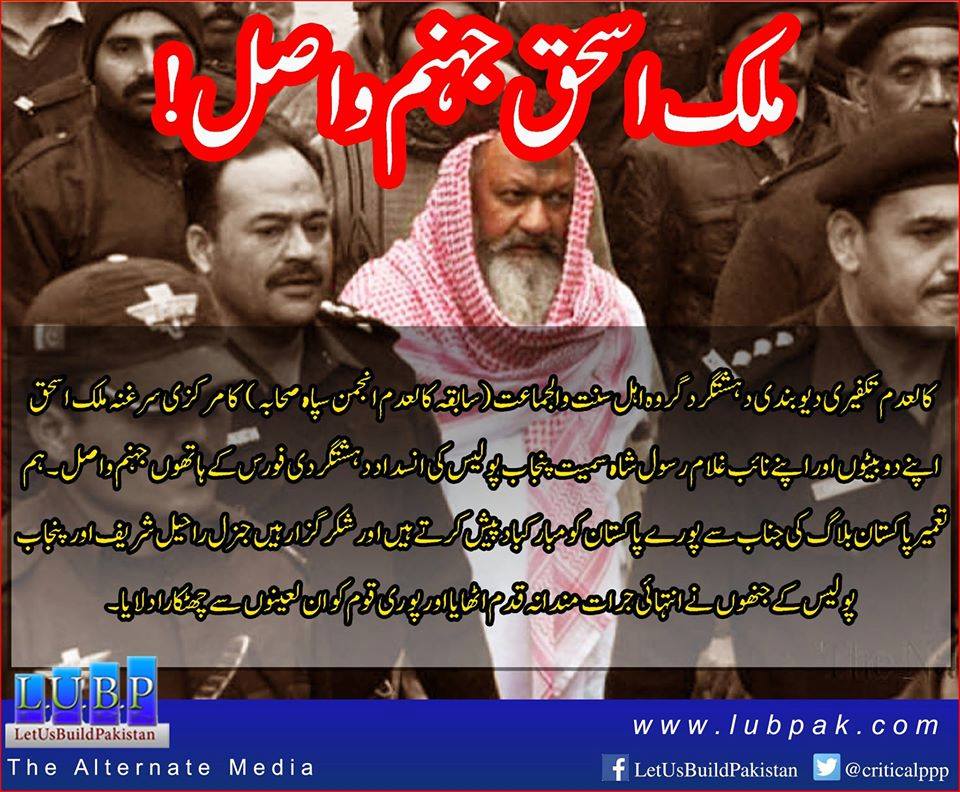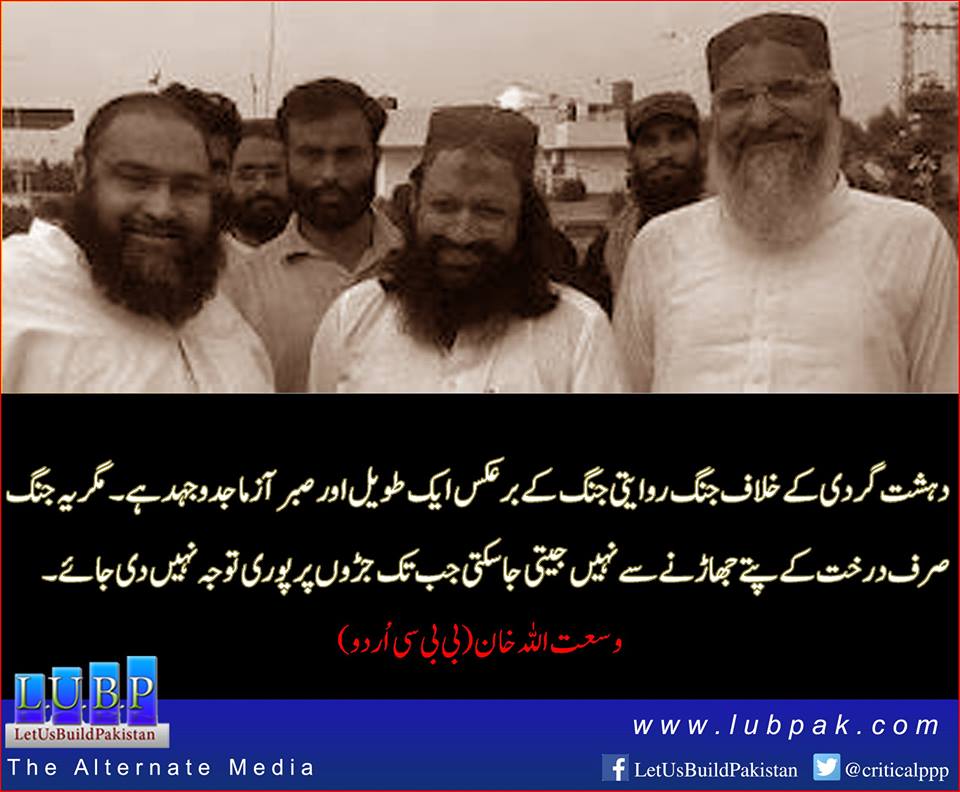 Comments
comments