Salmaan Taseer's interview about PML-N's links with banned terror outfit ASWJ – by Abdul Nishapuri
Editor's note: We are publishing an important extract from an interview given by late Governor Salmaan Taseer to The Newsweek magazine before his murder. Taseer's was a strong voice against the Takfiri Deobandi terrorism against Sunni Sufis, Shias, Christians, Ahmadis, liberals and other persecuted communities. It may be noted that a few weeks before Governor Taseer's murder, a Sipah-e-Sahaba (ASWJ) leader Sardar Ebaad Dogar Deobandi of Muzaffagarh announced a Rs20 million-bounty to assassinate Salman Taseer. Ebaad Dogar was later given PML-N ticket to contest the National Assembly elections from NA-178. (end note)
**************
Interview
Newsweek: What is your biggest concern?
Taseer: I worry about terrorism. The Pakistan Muslim League (Nawaz), which is in government in the Punjab, has old linkages with and a natural affinity for extremist organizations like Sipah-e-Sahaba Pakistan (SSP aka ASWJ), Lashkar-e-Jhangvi (LeJ), Khatm-e-Nubuwwat, and so many others. Let's face it: terrorists need logistical support from within—somebody funds them, somebody guides them, and somebody looks after them—and that support is coming from the Punjab. Some 48 terrorists have been released by an antiterrorism court recently because they could not be prosecuted, or rather, there was a failure to prosecute them. This is disgraceful. If the Punjab government was solidly against the militants, this would not have happened. You can't have your law minister [Rana Sanaullah] going around in police jeeps with Ahmed Ludhianvi [of the outlawed Sipah-e-Sahaba], whose agenda is to declare Shias infidels and close down their places of worship, and then say you want harmony in this province. You can't have the chief minister, who is also the home minister, standing at [Lahore mosque] Jamia Naeemia pleading with the Taliban to please not launch attacks in the Punjab because he shares the same thinking against the U.S. as they do. What message does this send out to the local magistrate and police officer? There has to be zero tolerance toward militants, and the only way you can have this is if the government is totally committed … Dealing with the militants has to be no holds barred. Their lives should be made hell; they should be prosecuted, and sent to hell where they belong.
Newsweek: How widespread is the terrorist problem in Punjab?
Taseer: There are no training camps in the Punjab, but you can't allow Sipah-e-Sahaba and Lashkar-e-Jhangvi to run riot, to go around unimpeded recruiting men to their cause. We had never heard of the Punjabi Taliban before, but now we hear it so often. We need to prosecute these people through the special courts that are working directly under the chief minister and law minister of the province. Here's the strange thing: the five Americans who were caught in Sargodha, they were prosecuted and sentenced for intent to kill. Why were these men prosecuted successfully? It was because they had no links here. [The American students had traveled to Pakistan after allegedly making contact with an Islamic extremist on the Internet.] This case shows that when the government really want to prosecute someone, they can.
Source: The Newsweek, 4 January 2011.
http://www.newsweek.com/key-pakistani-governor-killed-own-bodyguard-66815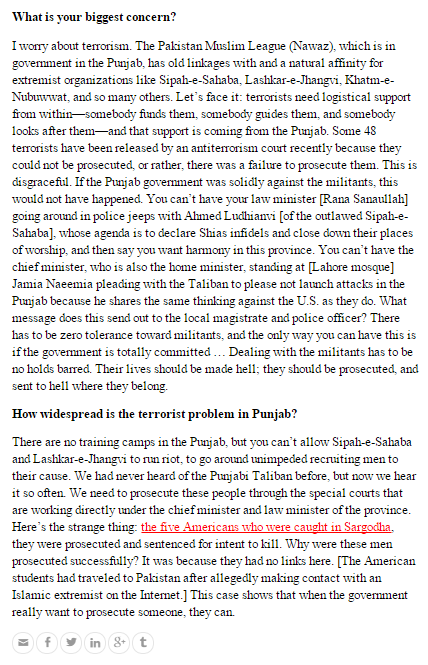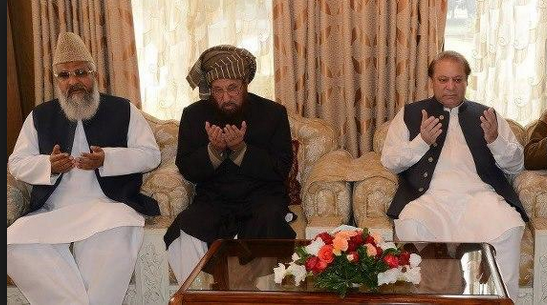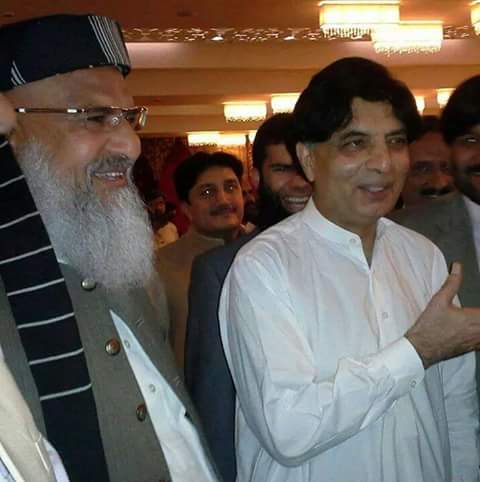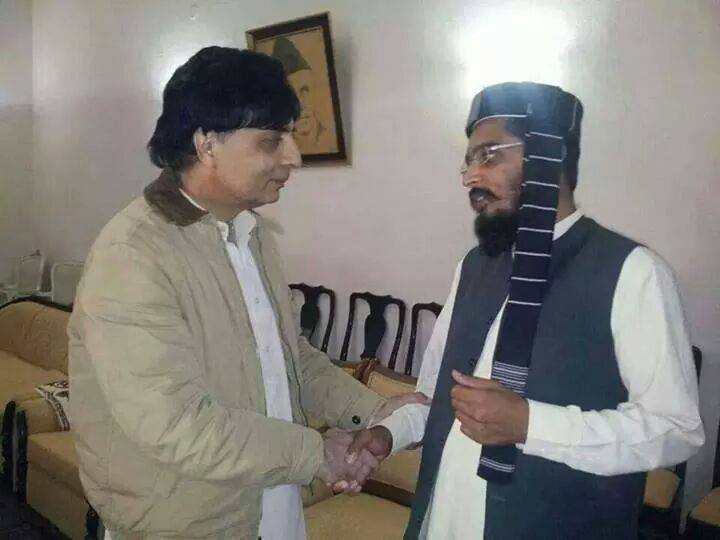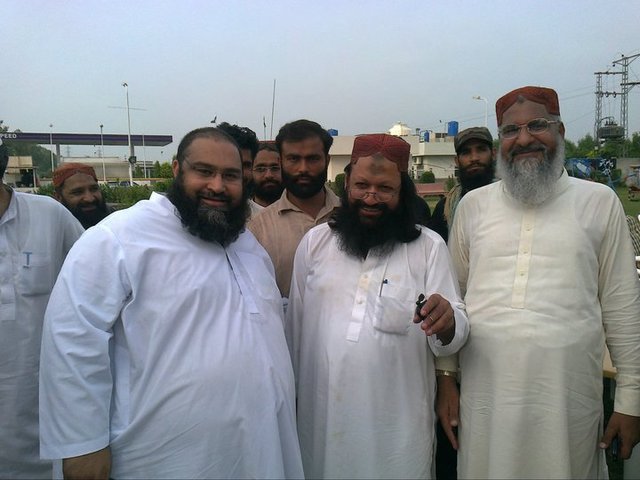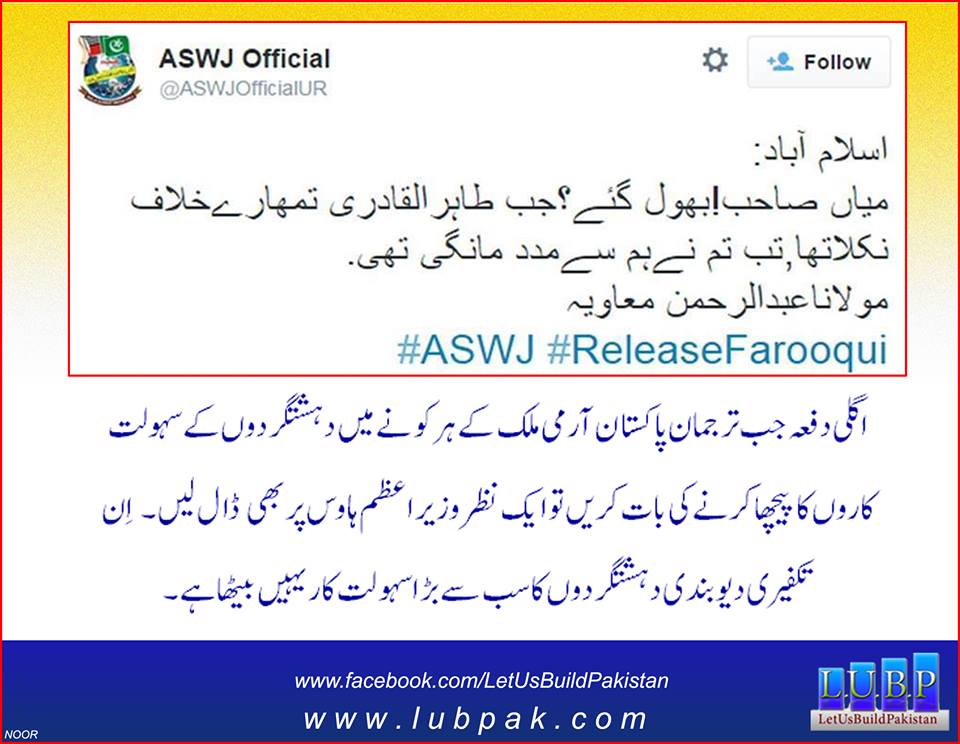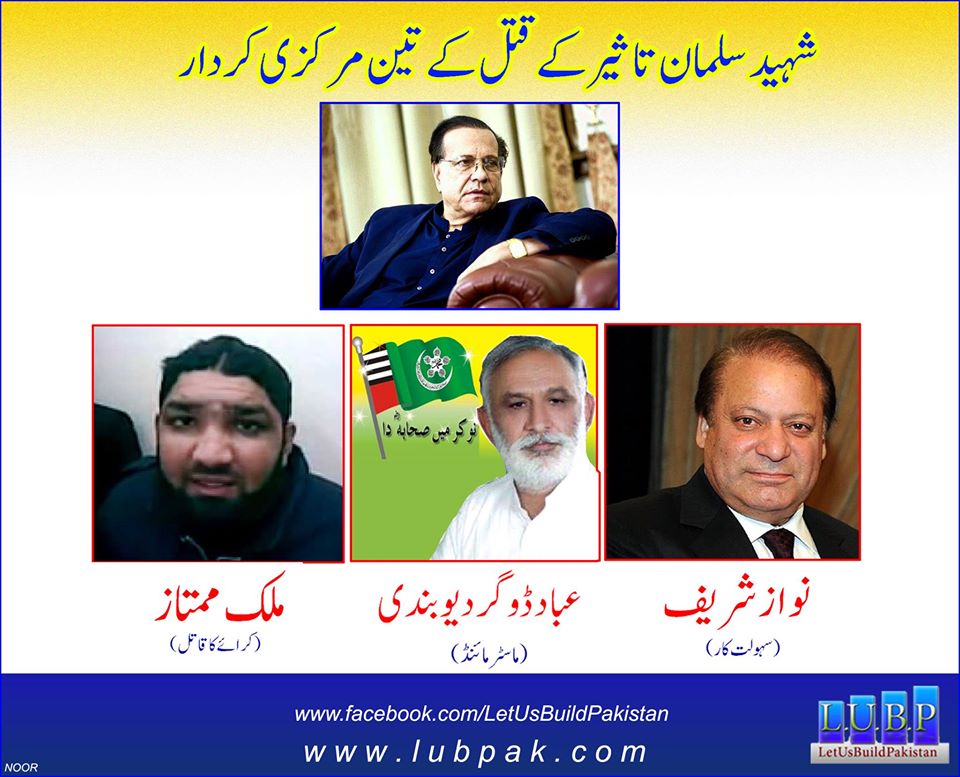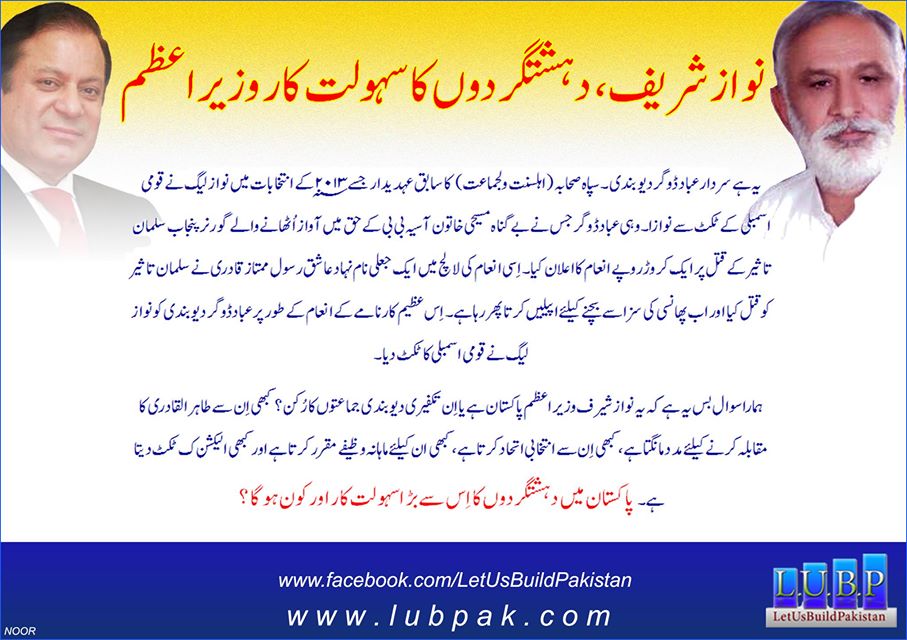 Comments
comments