Related post: Salmaan Taseer's interview about PML-N's links with banned terror outfit Sipah-e-Sahaba aka ASWJ https://lubpak.com/archives/337859
Introduction: Allama Abu Bakr Chishti is a senior cleric of Sunni Sufi / Barelvi denomination, Pakistan's largest Sunni sect. During his student days, he was a leader of the Anjuman-e-Talba-e-Islam and then joined the JUP (Jamiat-e-Ulma-e-Pakistan) led by Allama Shah Ahmed Noorani. He is currently secretary general of the Khuddam-e-Sufia-o-Aulia and is working for the unity of Muslim ummah against the takfiri kharijite terrorists. In the following interview, Allama Chishti has exposed some important aspects of the assassination of Punjab Governor Salmaan Taseer.
For the original Urdu interview click here
Q: Taseer's murder is often attributed to Sunni Barelvis. Some Barelvi clerics have reportedly supported Taseer's killer Mumtaz Qadri. What are your thoughts?
Abu Bakr Chishti: The word 'Qadri' in one's name is not a certificate that one is a Sunni Sufi or Barelvi. Just as every resident of Jhang city is not a supporter or member of Lashkar-e-Jhangvi, not every Qadri is a Sunni Barelvi. Mumaz belongs to a Deobandi family of Bhara Kahu, Rawalpindi. He was a member of Deobandi terror outfit Sipah-e-Sahaba (ASWJ). In the meanwhile he also participated in Ilyas Qadri's Dawat-e-Islami and added Qadri to his name. However, he maintained contacts with takfiri Deobandi khawarij who found him a recruit who could be used to murder Salmaan Taseer while shifting the blame on peaceful Sunni Barelvi community. As a matter of fact, a few days before Taseer's murder, a pro-Taliban Deobandi cleric of of Peshawar's historic Masjid Mohabbat Khan, Maulana Yusuf Qureshi issued a fatwa to kill Asia Bibi, and announced a reward of five million. He also spoke and incited to violence against Taseer.
In Muzaffargarh (NA-178), a leader of PML-N and Sipah-e-Sahaba (ASWJ), Abad Dogar Deobandi announced that any one who will kill Taseer will be given a reward of Rs. 10 million. Such violent rhetoric against Taseer was also repeated by other Deobandi takfiri leaders of ASWJ-LeJ and Taliban. According to our investigation, Mumtaz Deobandi developed contacts with Mufti Amanullah and other Deobandi clerics of the Ghulamullah Mosque of Raja Bazar Rawalpindi. He also used to visit Islamabad's Red Mosque.
While at the elite/Punjab poilce, he was in touch with Deobandi LeJ sympthizers, recruited in Punjab police by Rana Sanaullah and Shahbaz Sharif, who further radicalized him and convinced him to murder Salmaan Taseer.
The PMLN-N and the SSP were against Salman Taseer anyway. Pro-Deobandi elements in the media, eg Orya Maqbool Jan Ansar Abbasi etc and also a few liberals eg Mehr Bukhari twisted Taseer's statements falsely accusing him of blasphemy. Mumtaz Qadri by then had dissociated from the Barelvi Dawat-e-Islami and became a Takfiri Deobandi.
He has nothing to do with Sunni Sufi or Barelvi sect. To avoid misattribution, it is preferable to call him Mumtaz Deobandi. Bear in mind that Salman Taseer was killed by the same group, the Sipah-e-Sahaba Taliban that later kidnapped his son and offered to release him in exchange for the release of Mumtaz Qadri Deobandi.
http://tribune.com.pk/story/85412/blasphemy-case-masjid-imam-offers-reward-to-kill-aasia
http://www.christiansinpakistan.com/pakistan-tehreek-e-taliban-demands-release-of-mumtaz-qadri
http://www.thefridaytimes.com/14012011/page7.shtml
Q: Why were the Takfiri Deobandi Khawarij gunning for Salman Taseer?
A: After Taseer exposed the deep and unholy nexus between the Deobandi Khawarij and the highest levels of PML-N including Nawaz Sharif, Shahbaz Sharif and Rana Sannaullah in his various media statements (also reported in the Newsweek interview), it was only a matter of time. The takfiri Deobandi Khawarij had no choice but to eliminate Salman Taseer. So they launched their foot soldier Mumtaz Deobandi.
http://www.newsweek.com/key-pakistani-governor-killed-own-bodyguard-66815
The Newsweek: What is your biggest concern?

Salmaan Taseer: I worry about terrorism. The Pakistan Muslim League (Nawaz), which is in government in the Punjab, has old linkages with and a natural affinity for extremist organizations like Sipah-e-Sahaba, Lashkar-e-Jhangvi, Khatm-e-Nubuwwat, and so many others. Let's face it: terrorists need logistical support from within—somebody funds them, somebody guides them, and somebody looks after them—and that support is coming from the Punjab. Some 48 terrorists have been released by an antiterrorism court recently because they could not be prosecuted, or rather, there was a failure to prosecute them. This is disgraceful. If the Punjab government was solidly against the militants, this would not have happened. You can't have your law minister [Rana Sanaullah] going around in police jeeps with Ahmed Ludhianvi [of the outlawed Sipah-e-Sahaba], whose agenda is to declare Shias infidels and close down their places of worship, and then say you want harmony in this province. You can't have the chief minister, who is also the home minister, standing at [Lahore mosque] Jamia Naeemia pleading with the Taliban to please not launch attacks in the Punjab because he shares the same thinking against the U.S. as they do. What message does this send out to the local magistrate and police officer? There has to be zero tolerance toward militants, and the only way you can have this is if the government is totally committed … Dealing with the militants has to be no holds barred. Their lives should be made hell; they should be prosecuted, and sent to hell where they belong."
Q: It is widely believed that Barelvi clergy supported Mumtaz Qadri. What is your view?
A: This is baseless propaganda. Two of the most preeminent Sufi Sunni and Brelvi cleric, Dr. Tahir ul Qadri and Molana Ilyas Qadri vehemently condemned the brutal murder of Salman Taseer and went further to declare Mumtaz Qadri a murderer and a criminal.
Let us not forget it was the same Deobandi Khawarij that killed PPP leaders like Benazir Bhutto and Shabaz Bhatti, ANP leaders like Bashir Bilour and MQM leaders like Manzar Imam and Raza Haider.
The Deobandi Khawarij cleverly trapped the peaceful Sufi Sunni and Brelvis, indeed the some simple minded folk took the bait. However, the senior leaders like Dr. Tahir ul Qadri and Molana Ilyas Qadri clarified the stance of the Brelvi and Sufi Sunnis of Pakistan and foiled evil plans of the Deobandi takfiri khawarij.
http://www.downvids.net/salman-taseer-gustakh-nahi-or-mumtaz-qadri-qatil-hai-by-ameer-e-a-528558.html
Q: What was the role of the Brelvis after Salaman Taseer's brutal murder?
Abu Bakr Chishti: Taseer's funeral prayers were boycotted by the all Salafis and Deobandis including Tahir Ashrafi. The Khawarij (Deobandi Taliban and Sipah Sahaba) had threatened anyone who attended the funeral prayer. At this testing time, a leading Brelvi cleric, Molana Afzal Chishti conducted the funeral prayer. The funeral was largely attended by Sunni Sufis, Barelvis and Shias.
Q: Can you deny that several Brelvi scholars condemned the remarks by Salman Taseer?
A: Let us not equate condemning or disagreeing with Salaman Taseer's point of view with murder. There is no doubt that some clerics had serious difference of opinion with Salman Taseer. This does not mean that they supported his murder.
Please understand that Nawaz Sharif and Shahbaz Sharif have saturated Punjab Police with hundreds of members and loyalists of the Sipah Sahaba Laskhar e Jhangvi aka Deobandi Khawarij. They brainwashed Mumtaz Qadri and showed him how to carry out the murder. This is evidenced by the fact that Mumtaz Qadri Deobandi reloaded twice and none of this fellow police officers tried to stop him.
According to media reports, Salman Taseer was shot 26 times, one wonders why the other guards did not try to stop Mumtaz Qadri. None of the Police guard tried to shoot at or stop Mumtaz Qadri even after Governor Salman Taseer had fallen.
Qadri was born in a Deobandi family in Rawalpindi in 1985. He joined the police in 2003. In 2008 he was trained for the "elite force". Shortly thereafter he was assigned to protect VIP's like Salman Taseer.
Prior to holding this sensitive assignment he had shaved off his bead. Which interestingly grew back shortly after the new assignment. No one paid any attention to the fact that such a person was being assigned to someone who was very vocal against the Takfiri Deobandi Khawarij.
All of these facts raise many legitimate questions. In Mumtaz Qadri Deobandi's own confession, he states that he had planned to kill the Governor three days ago and taken the other guards into confidence that they should not try to stop him from carrying out the assassination. This would indicate that Mumtaz had prior information on the schedule and movements of the Governor. This would mean that Mumtaz did not act alone.
Mumtaz's immediate supervisor Nasir Durrani revealed in a newspaper interview that he was cognisant of the extremist views that Mumtaz harbored and had requested the Punjab Government relieve Mumtaz from sensitive security details. However the Shahbaz Sharif government ignored this request. Nasir Durrani also spearheaded the Punjab Government's investigation team on Salman Taseer.
Deobandi Khawarij (terrorists) and their sympathizers in Punjab Police such as Mushtaq Sukhera were not questioned or faced any disciplinary action by Shahbaz Sharif. After Salman Taseer's murder some naive or simple minded Sunni Brelvis fell into the trap and followed Deobandi processions in support of Mumtaz Qadri Deobandi. After the clear statements of Molana Ilyas and Dr. Tahir ul Qadri, the vast majority of Sunni Brelvis condemned the acts of Mumtaz.
Let me share some news bites on subject:
JUI(F) leader Mufti Mohammed Usman Yar Khan Deobandi said "the blasphemer of the Prophet pbuhp will be punished directly by Allah as per the Quran, so there is no need for any legislation on this matter". Usman further added" This is a black law and Murder of Salman Taseer fulfilled the promise Allah (swt) of punishing the blasphemer.
Afzal Sardar of Ahle Hadeeth Allah took revenge on Salaman Taseer's blasphemy. This is not religious extremism, it is love of Prophet Pbuhp. The courts punished Asia bibi, this is  a matter for the entire Muslim Ummah not just the religious parties. The government should stop trying to alter Blasphemy Laws.
Mufti Naeem of Deobandi Jamia Binooria Karachi compared Aasia bibi (victim of blasphemy laws) with (convicted terrorist) Aafia Siddique and expressed his shock that Salman Taseer spoke up for Asia and not Afia . Mufti Naeem said that by siding with the minority victim Asia, Salamaan Taseer had invited his own death.
According to the daily Express tribune more than forty Deoabandi and Wahhabi organiganizations participated in rallies to show solidarity with Mumtaz Qadri:
LAHORE: Deobandi and Ahl-i-Hadith (Wahhabi) parties have jumped on the blasphemy bandwagon, with 40 religious parties resolving to start a countrywide protest movement against the death sentence handed to Mumtaz Qadri, assassin of Punjab governor Salmaan Taseer, at an "all parties conference" on Wednesday.

Barelvi parties such as the Sunni Tehreek and Jamiat Ahl-i-Sunnat had been protesting against the anti-terrorism court's verdict since it was announced on October 1.

On Wednesday, more than 40 parties including representatives of Deobandi groups   Jamaat-i-Islami, Jamiat Ulema-i-Islam (Fazl and Sami groups), Aalmi Majlis Tahaffuz Khatam-i-Nabuwat, Tanzeem-i-Islami, Tehreek-i-Islami, Ittehadul Ulema Pakistan and Jamia Ashrafia – as well as Wahhabi groups   Jamaatud Dawa, Tehreek Hurmat-i-Rasool, and Muttahida Jamiat Ahl-i-Hadith – met to discuss a coordinated response to the sentence. Tehreek Namoos-i-Risalat and Tanzimul Madaris, both Barelvi groups, also attended.

The speakers criticised the court's decision to sentence Qadri to death as against Islamic injunctions and the ideology of Pakistan.

JI Ameer Syed Munawwar Hassan said that the court's verdict reflected an "unfortunate secularist atmosphere" in Pakistan. He urged the participants to unite against the judgement. He said there would be protests all over the country on Friday.

Tahaffuz Namoos-i-Risalat Mahaz, an alliance of Sunni Barelvi parties, has already called a strike on Friday.

Jamaatud Dawa Ameer Hafiz Saeed said the court's decision was part of "the conspiracy against Islam" and an attack on Pakistan's ideology. He said Muslims should stand up and tell the world that they are ready to die but not ready to allow blasphemy. He said all Muslims felt just like Mumtaz Hussain Qadri about the issue.

Published in The Express Tribune, October 6th, 2011. http://tribune.com.pk/story/267875/deobandis-wahhabis-to-join-qadri-protests
Q: What is the role of PML-N is this murder?
Abu Bakr Chishti: Clearly the Sharif brothers hated Governer Taseer, because Taseer was exposing the deep links between Takfiri Deobandi Taliban and related terror groups. Recently during the 2013 elections, LJ leaders Chaudhry Abid Raza and Sardar Abad Dogar Deobandi from Muzaffar Garh were awarded PML-N tickets to contest elections for the national Parliament. Sardar Abad Dogar was formerly a member of JUI and Sipah e Sahaba.  Sardar Abad had falsely declared that Salmaan Taseer was a blasphemer and announced ren million Rupee reward for his killer.
The pro Taliban media proxies of PML-N created mass hysteria and the simple minded stopped distinguishing right from wrong. This gave the opportunity to Sipah Sahaba to produce killers like Mumtaz Qadri Deobandi.
Mumtaz Qadri was connected with extremist Deobandis within Punjab Police. The Punjab Government refused to reprimand or take action against the collaborators (within the Police) of the murder of Salman Taseer.
Chief Justice Khawaja Sharif of Lahore High Court ( who has been on the Sharif payroll) openly supported and defended Mumtaz Qadri, while supporting Ludhanvi and Malik Ishaq by quashing the court cases against them. At the same time Khawaja Sharif court rejected the bail for Asia Bibi.
These matters need to be thoroughly investigated. Recently the Sharif brothers and Laskar e Jhanvi Police attacked and killed fourteen Sufi Sunni Muslims at the office of Minhaj ul Quran.
The same Punjab government provides stipends or cash financial support to (Takfiri Deobandi Killers) Malik Ishaq, Ghulam Rasool Shah and Ahmad Ludhanvi.
ے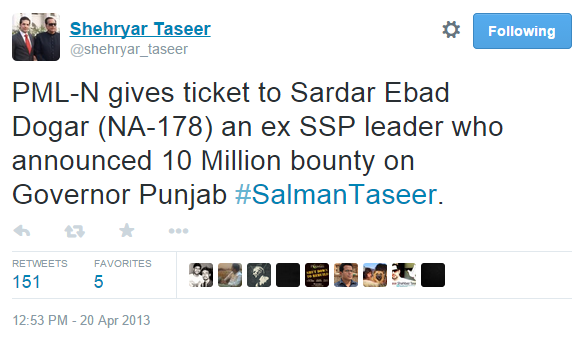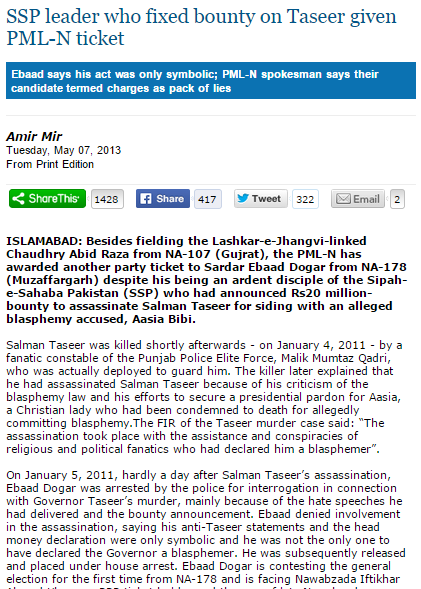 http://www.thenews.com.pk/Todays-News-2-175873-SSP-leader-who-fixed-bounty-on-Taseer-given-PML-N-ticket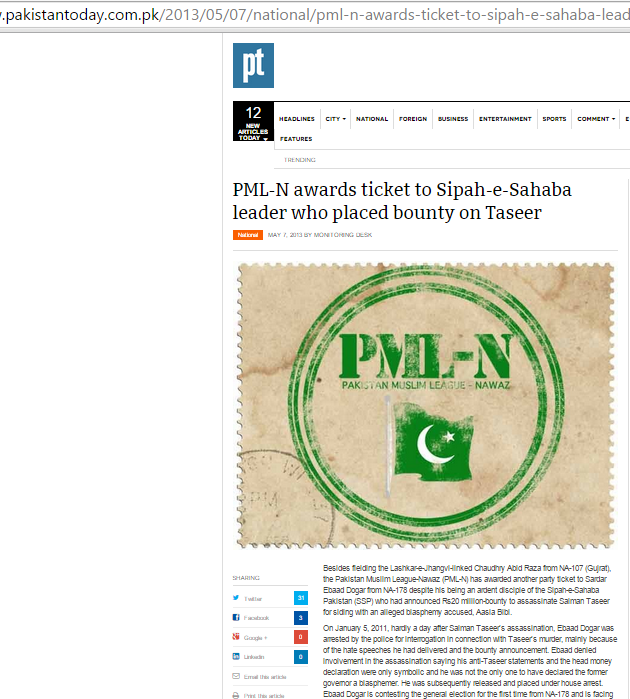 Q: Some liberals on social media used Mumtaz Qadri to prove that Deobandis and Sunni Brelvis are equally extremists. What do you say about this?
A: We should ask these liberals about the liberal and free thinking anchor Mehr Bokhari who spread hateful rumours about Salmaan Taseer and created the environment for his murder. We do not blame all liberals for the acts of Mehr Bokhari as a liberal act. Is it justified for these liberals to taint the peaceful Brelvi sect for a unique action. While the same liberals portray Takfiri Deobandi Tahir Ashrafi is presented as ambassador of peace. The same Tahir Ashrafi who welcomed Malik Ishaq with rose petals, at his release from jail and made hateful speeches against Shahbaz Bhatti leading to his murder.
We are aware of the nexus between these commercial liberals and their Terrorist Takfiri Deobandi allies. They had Taseer killed by Deobandis and then went on to blame the peaceful Brelvis.
We should ask these commercial liberals: Was it not a Sunni Brelvi judge (Pervez Ali Shah) who sentenced Mumtaz Qadri to death? Was this judge not constantly threatened by Deobandi Khawariji organizations like Sipah Sahaba and Laskar-e-Jhangvi?
It is a fact that more than eighty thousand Pakistanis, which include forty-five thousand Sufi Sunni, twenty two thousand Shia and thousands of law enforcement (Army and Police) have been killed by Deobandi suicide bombers.  No suicide bomber has been Shia or Sunni Brelvi, it is always been from the Deobandi sect. This is the reality that the commercial liberals wish to hide from the general public. Many of these pro Deobandi liberals are on the payroll of the American CIA. They criticise the Pakistan Army but they give a free pass to America and the West for their support of the Wahhabi and Deobandi Khawarij in Iraq, Syria, North Africa and many other parts of the world. According to our information American CIA think tank Hudson institute runs the pro Deobandi liberal media in Pakistan through the likes of Geo group, Najam Sethi, Saleem Saafi and Hamid Mir among others. All busy doing anti Brelvi propaganda.
Those hiding behind Mumtaz Qadri Deobandi need to answer how many of the killers of eighty thousand Pakistanis were killed by Sunni Sufis, Brelvis or Shias. Has a Brelvi or Shia ever attacked Pakistan, the people of Pakistan or its armed forces? Is there even one Sufi Sunni Suicide bomber?
Taliban in Pakistan, Boko Haram in Nigeria, Al Nusrah and ISIS (Daesh) in Iraq or Syria, Al Qaeda in Yemen, Al Shahab in Somalia are all Deobandi Wahabi Salafi Khawarij. These are all supported by Saudi Arabia both financially and ideologically. Do Americans really not know about this?
The brainwashing of Mumtaz Hussain Deobandi was carefully planned and orchestrated by Deobandi colleagues in the Police Elite force. The media agents of Deobandi establishment like Ansar Abbasi, Orya Maqbool Jan and Mehr Bokhari used to drum up the notion that Sunni Brelvis are equally as extremists as Deobandis. This would be like Anders Behring Breivik's murder of seventy people in Norway should lead to condemnation of all Norwegians or even worse all Christians and then compare them to Al Qaeda.
Let us not forget that at the time of the Data Darbar attack of 2010, Salman Taseer stood with Sunni Brelvis and accused Rana Sanaullah and PML-N's nexus with Takfiri Deobandi Khawarij. In response Rana Sanaullah (with Nawaz Sharif's consent and support) proceeded to make cheap and personal attacks against the Taseer family. Personal pictures of Taseer's family were paraded and lampooned on Social Media by Rana Sanaullah.
Taseer was in fact a Sunni Sufi and spiritual person. He despised the takfiri Khawarij attacking the Sunni Sufi and tolerant fabric of Pakistan and spoke out against them. After Taseer's murder his son was also kidnapped by Taliban and wanted to exchange him for Mumtaz Qadri Deobandi.
The Takfiri Deobandis and PML-N tried to kill two birds with one stone by murdering Taseer and blaming the Sunni Brelvis. Allah has made better plans and now General Raheel Sharif is killing their leadership one by one.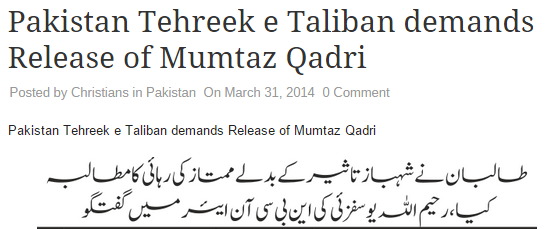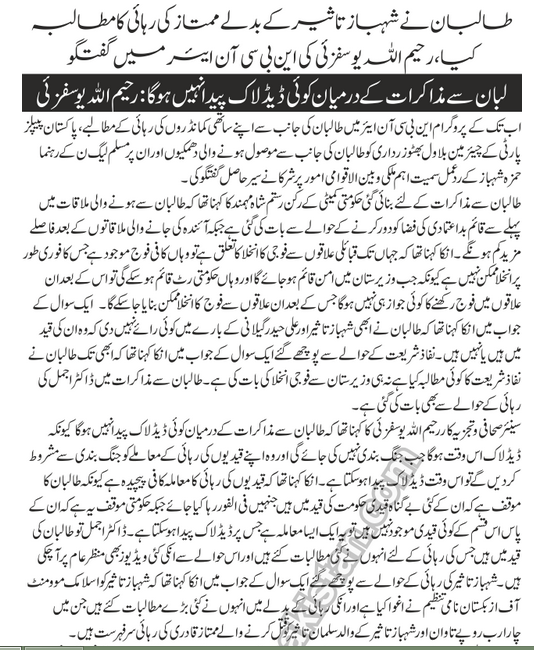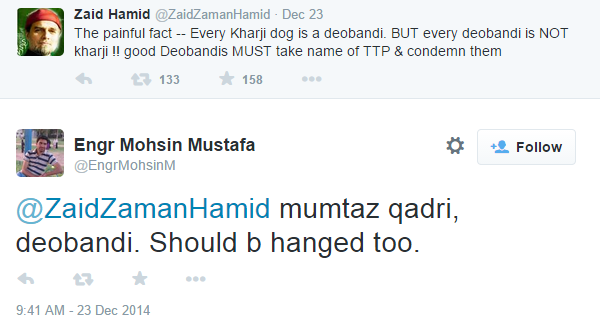 "One may disagree with Slamaan Taseer's opinion but he did not commit blasphmey. Mumtaz Qadri is a murderer and a takfiri criminal." – Dr Tahir ul Qadri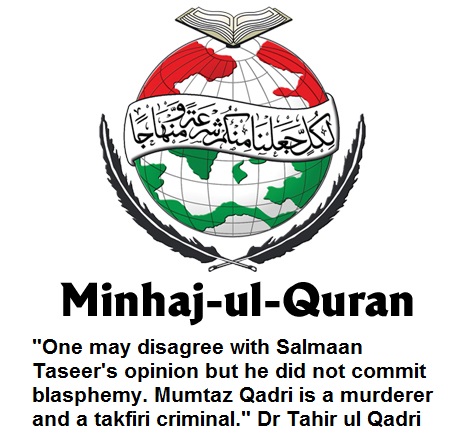 بہار شریعت اور فتاویٰ رضویہ کی تعلیمات کے مطابق ممتاز قادری قاتل اور مجرم ہے، وہ کالعدم دیوبندی تکفیری تنظیم کا رکن تھا جس نے اسے اہلسنت بریلوی اور دعوت اسلامی کو بدنام کرنے کے لئے استعمال کیا

https://www.facebook.com/LetUsBuildPakistan/videos/10153373201184561/