Beware of pseudo Jiyalas who are apologists of Benazir Bhutto's killers – by Abdul Nishapuri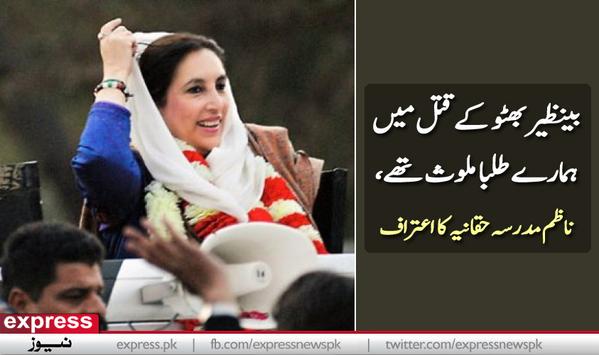 According to media and police reports, it is now confirmed that the terrorists who murdered Benazir Bhutto and were also invovled in the terror attacks on Pakistan Navy HQs in Karsaz, Karachi, were students of notorious pro-Taliban 'D' seminary, Jamia Haqqania, Akora Khattak, of Maulana Sami-ul-Haq, a staunch ally of TTP and ASWJ. A representative of Darul Uloom Haqqania, Akora Khattak, recently admitted before an anti-terrorism court (ATC) that the suicide bomber, who killed Benazir Bhutto in December 2007, and his abettor had remained students of the seminary. (Source: Dawn)
There is no doubt that certain sections within security establishments of Pakistan, USA and KSA have used and continue to galvanize the inherently violent 'D' and 'W' cults for Jihadist purposes in Afghanistan, Pakistan and elsewhere. However, it seems that those who killed BB are not different from those who tried to kill General Musharraf and now want to kill General Raheel Sharif. In contrast, no such hatred/attempts are/were evident against Generla Kayani, Hamid Gul and Zia. More interesingly, recently Taliban terrorists released a hate song against General Raheel Sharif (bara general bana phirta hai) in which all threats were reserved for General Raheel Sharif and Pakistan army with no mention at all of PM Nawaz Sharif who is apparently seen as an ally and sympathiser by 'D' terrorists.
The terrorists who killed Benazir Bhutto are exactly the same thugs who killed Brigadier Haroon in Lal Masjid, General Sanaullah Niazi in Dir, tried to murder General Musharraf at least thrice and are currently sending threatening messages to General Raheel Sharif. They are the same terrorists who killed ANP's Bashir Bilour, MQM's Raza Haider, PPP's Shahbaz Bhatti, Sunni Sufi cleric Dr Sarfraz Naeemi and famous poet Mohsin Naqvi.
Many 'D' clerics and their apologist Jiyalas, Noonies, Bacha Khanis and fake liberals are brave enough to criticize ISI and Pakistan army but cat takes their tongue away when it comes to exposing the common 'D' identity of terrorists who killed no only Benazir Bhutto but also military officers and soldiers, politicians, slaughtered our children in Army Public School Peshawar, massacred our Sunni Sufi, Shia, Ahmadi and Christian communities. Instead some of them use generic bashing of all religions and sects or all Mullahs in an attempt to deflect attention from 'D' terrorists. 'D' is clearly a dirty word!
Of course, the 'D' terrorists of the Taliban (TTP) and Sipah-e-Sahaba Pakistan (SSP aka ASWJ aka LeJ) have some sympathisers within army just as they have some sympathisers within political parties, media and judiciary in addition to a large number of ever-willing recruits in JUI, JI and Tablighi Jamaat. But singling out one institution and treating entire army and agencies as one homogenous entity that supports terrorism is blatant dishonesty. Yes, there are 'D' loyalists in Pakistani establishment but there are also natoinalist, patriotic officers and soldiers who are sacrificing their lives to eliminate the Takfiri Khariji terrorism from Pakistan.
As long as we are in denial about 'D' terrrorism against PPP, ANP, MQM, army, police, Sunni, Shia, Ahmadi, Christian, Hindu etc, as long as we do not acknowledge that 'D' terrorism in Pakistan cannot and must not be seen in isolation from the transnational 'W' and 'D' terrorism, more Benazirs will continue to die and more apologists will continue to deflect attention from the identity of those who killed her. To save Pakistan and the entire world from terrorism and extremism, it is important to correctly identify, isolate and eliminate or reform the violent ideological roots of D-ism and W-ism.
Comments
comments