The Civil Society that selectively condemns Aamir Liaquat but stays silent, obfuscate the role of the Hamid Mir, Najam Sethi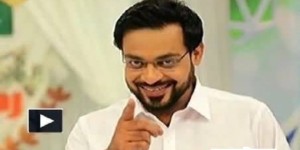 Very selective outrage. While Aamir Liaquat's role in tolerating and promoting anti-Ahmadi hate speech is utterly condemnable, what about his employers who have provided him with the actual platform? What about fellow GEO stars like Hamid Mir's whose hate speech against Ahmadis in on record.
What about the anti-Ahmadi hate speech of another Deobandi cleric promoted by our liberals as "progressive"? What about ISIS-affiliated Deobandi organisations like ASWJ-LeJ that were found responsible in the massacre of Ahmadi muslims in Mandi Bahauddin in 2005 and Lahore in 2010??
What about the consistent hate speech against Barelvi Sunnis by Takfiri Deobandis when the term the former as "Mushrikeen" due to their Sufi inclinations. What about the consistent hate speech against Shias, Christians and Hindus which have lead to repeated massacres by Deobandi terrorist groups.
This is a typical Civil Society tactic. Go after easy targets but stay clear of the big players in extremism. These Civil society will never, ever talk about the Friday Times interview which utterly failed to challenge Hate speech against Shias in an unchallenged interview of ASWJ-LeJ chief Ludhyanvi that was published by the TFT.
Both Aamir Liaquat and the TFT editorial board did not challenge hate speech against Ahmadis and Shias from their respective platforms. Hamid Mir's hate speech against Ahmadis was in 2010 – the same year in which close to a hundred Ahmadi muslims were massacred. Shouldn't he be held to the same standards as Aamir Liaquat.
We all know that ASWJ-LeJ takes out hate rallies all across the country where they are given Official Protection by ALL the political parties including those who claim to be secular. Sunni Barelvis, Shias and Christains are being killed consistently due to the public hate speech and incitement to violence by ASWJ-LeJ leaders like Ludhianvi and Aurangzeb Farooqi but hardly a word from Civil Society against this obvious cause-effect relationship. And Never a word about the common Deobandi identity of the killers.
Why don't our liberals, some of whom are public sycophants of the PML N regime whom they promote as "anti-establishment" ever mention that Abad Dogar Deobandi, the PMLN MNA candidate announced Rs 10 million reward for Taseer's murder. Why no reference is made to Yusuf Qureshi Deobandi of Peshawar who made a similar announcement. Or that Mumtaz Qadri's actual name is Mumtaz Hussain (Taseer's murderer) and he belongs to a Deobandi family of Rawalpindi? Answer anyone??
Unfortunately, we all know the answers to these questions. Civil society's bias and selective outrage exposes their hypocrisy, sectarian bias and opportunistic agenda. The Civil Society that selectively condemns Aamir Liaquat but stays silent or worse, obfuscate the role of the Hamid Mirs, Najam Sethis, Ludhainvis, Aurangzeb Farooqis, GEO, TFT, Wafaq ul Madaris is culpable in the anti-Sunni, Anti-Shia, Anti-Ahmadi and anti-Christian hate that is being spewed and/or tolerated by these persons and platforms.
http://fiverupees.com/2015/01/02/words-that-kill/
Comments
comments