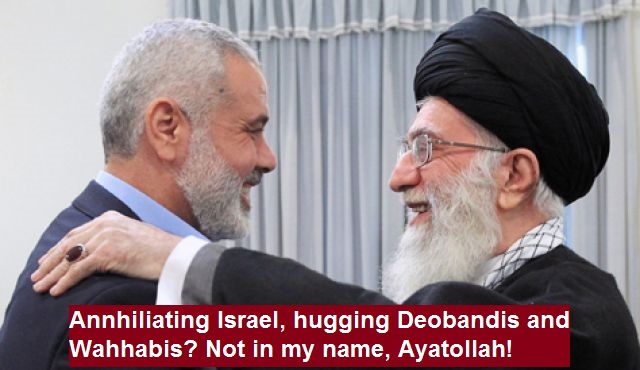 Iran's Supreme Leader Ayatollah Khamenei wants to annihiliate and eliminate Israel. On 9 November 2014, he issued a detailed inforgraphic on Twitter on how and why to annihiliate Israel. There is only one beneficiary of such genocidal rhetoric against the Jewish State: Saudi Arabia and its transnational proxy army of Wahhabi and Deobandi takfiri terrorists.
This man claims to safeguard the interests of Shia and all other Muslims worldwide? Why doesn't he call for the annnihilation of the Saudi-Wahhabi monarchy and the transnational Deobandi-Wahhabi nexus of takfiri terrorists?
The State of Israel comprises millions of Jews, Muslims and other communities. One can criticize it, condemn its policy of illegal occupation and disproportionate violence against Palestinians, but the talk of annihiliation is counterproductive and genocidal!
As a Pakistani Shia Muslim, I cannot ignore that Khemenei has not said a word for more than 45,000 Sunni Sufis, 22,000 Shia Muslims and hundreds of Christians brutally massacred in Pakistan by Deobandi terrorists.
In the past, this Ayatollah and his government have issued numerous statements against Israel and a few statements against Wahhabis but there is complete, read COMPLETE, silence on Deobandi terrorism in Pakistan and elsewhere. Why? Because Khamenei and his appointed and assumed representatives in Pakistan are the best friends of Deobandis. In fact, Sami-ul-Haq Deobandi, the spiritual father of the Taliban and Sipah-e-Sahaba (ASWJ-LeJ), is treated as a State guest in Iran by none else than Khamenei himself. Apparently for the sake of political expediencey, Iranian theocrats care about a few thousand Palestinians who join hands with Salafi Wahhabi and Deobandi terrorists (ISIS, Al-Nusra, ASWJ) to masscre Sunni Sufis, Shias and Christians not only in Syria, Lebanon, Iraq but also in Pakistan and elsewhere. As a progressive Shia activist Ale Natiq said, Khamenei's statement is a joke with Shia blood in the name of cheap politics wrapped under fake anti-Imperialism.
With Saudi Arabia and its transnational takfiri Wahhabi and takfiri Deobandi proxies massacring Sunni Sufis, Shias, Christians across the globe, what exactly does Ayatollah Khamenei hope to achieve by antagonizing the West against Iran and, by stereotypical assocaiton, Shias? The Saudi-West alliance is the last thing that the genocide facing communities need at this moment!
Only yesterday, Iran's Press TV distorted Pakistan's Shia cleric Ghulam Raza Naqvi's statement- he said in Urdu "It's not Sunni vs Shia, it is Deobandis who are responsible for terrorism". Press TV voice over in English: "Others are responsible for terrorism". This is a disgraceful and dishonest obfuscation of Deobandi identity of terrorists in Pakistan.
At times I think that a Saudi intelligence officer is operating Khamenei's Twitter acount. Then I saw his picture with Samiul Haq Deobandi, the mastermind of Shia genocide and Sunni Sufi genocide in Pakistan.
This very word annihiliation (meaning: complete destruction) shows that the Ayatollah (or his assistant on Twitter) should practice 'think before you tweet'.
This Deobandi-embracing Ayatollah is Wahhabi-izing and radicalizing not only Shia Islam but also Sunni Islam by issuing such populist, hateful statements. Acting as an agent provocateur of the Saudi Wahhabis? What a great pity!
We are followers of Imam Ali; our Imam told us to stand by human rights and equality of all people irrespective of their faith and creed. We can't allow anyone issue genocidal statements against any community or country. Not least against a community that suffered Holocaust only a few decades ago!