Deobandi cleric Tahir Ashrafi explains his position in response to Yasser Latif Hamdani's allegations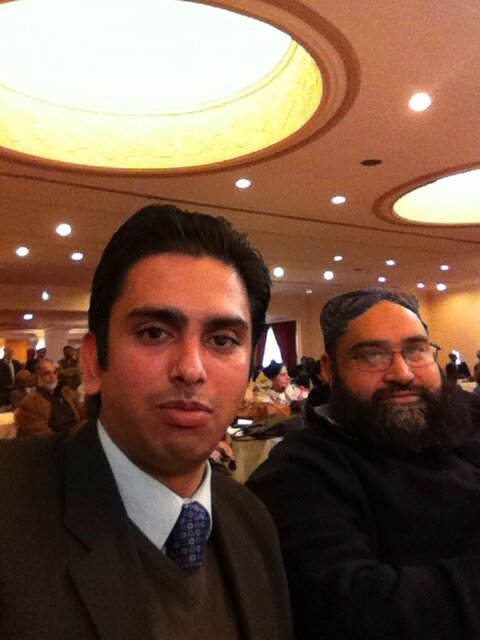 Editor's note: We are cross posting the article by Daily Times which explains the position of Allama Tahir Ashrafi about Ahmadiyya activist Yasir Latif Hamdani. The article uses terms like "Qadiyani" for Ahmadiyya Muslims which is a derogatory term frequently used in the hate narrative against the Ahmadiyya community. Similarly other such terms may also be used in the article. LUBP rejects this othering of the Ahmaddiya community and his concerned that a selective standard for Free Speech (as progressive voices are frequently drowned out) is being abused.  
The following newspaper article is also contradictory to the public stance taken by Tahir Ashrafi earlier which was captured here
Yasser Latif Hamdani's article, "Religious doublespeak" (August 4, 2014, Daily Times) in which he has lambasted Allama Tahir Ashrafi for supporting the annihilation of Qadiyanis in Pakistan is a fabricated story of facts and reality. The writer has charged sheet Allama Ashrafi for not only his support to kill and maim the Qadiyania community but to dissipate people belonging to any sect but Deobandi. The writer, without any proof and evidence, has raised the allegation against Allama Tahir for receiving foreign funding in the name of religion, especially from the European Union (EU). He has questioned the donor countries for their blind pursuit of a religious leader who is essentially a bigot and has masked his intentions to gain donors' windfall.
The Gujranwala incident, where four innocent Qadiyanis have been killed, the writer has indirectly indicted Allama Ashrafi as the instigator of the crisis. According to Yasser Latif Hamdani, a day before the incident Allama Ashrafi had been on a local TV channel where he talked against the Ahmadiyya community while condemning the civil society for supporting these blasphemers. Some of the most serious cases against Qadiyanis, according to the writer, have been filed by Allama Ashrafi. Summing up his argument the writer condemns Allama Ashrafi for supporting militant organizations such as the banned Sipah-e-Sahaba Pakistan and for being a hypocrite in condemning Salmaan Taseer's murder. According to Mr Yasser, Allama Ashrafi spoke in favour of Salmaan Taseer because he was killed by a Barelvi bigot. The same goes for Rimsha whose culprits were Barelvis as well.
Linking up Allama Ashrafi's religious linage with Majlis-e-Ahrar, Yasser and many of his likes believe Allama Tahir Ashrafi the continuation of threat to the Ahmadiyya community harking back to pre-partition era. To Allama Ashrafi, any reference of his allegiance to Attaullah Shah Bokhari is a matter of pride for him. Raising finger at a scholar like Attaullah Shah Bokhari has only exposed the writer's shallow understanding of religious discourse that emanated in the aftermath of a religion innovated by Ghulam Ahmad Qadiani, a self-appointed messenger of Allah while being both the incarnation of Jesus and Imam Mehdi, the saviour of Muslims in the time of crisis.
Not only Muslims but Christians and Jews have serious reservations against the claims made by Ghulam Ahmad Qadiani. Pakistan Ulema Council (PUC) has been accused of staging a sham inter-faith and inter-sect harmony conference in Islamabad on May 5 where the Ahmadiyya community had not been invited. In what capacity the Qadiyanis could have been invited? A majority present in the conference did not take them as Muslims while the Qadiyanis had never been ready to acquiesce to the demand of the majority and insist on being called Muslims. This disconnect has been the underlying cause of all the issues besetting Qadiyanis and for creating further rift between them and other sects and denomination in Islam all over the Muslim world. Before raising allegations, the intellectuals like Yasser Latif Hamdani, can do a great service by looking deeper into the real cause behind the bigotry he so often refers to as the ailment inflicting Allama Ashrafi and his followers.
One thing is very clear in the mind of Allama Ashrafi that the Qadiyanis are non-Muslims. But this is one part of his belief system.  He has been continuously arguing in favour of giving the minorities their rights as enshrined in the Constitution of Pakistan. Never did Allama or his followers within PUC and otherwise had made a case against the Qadiyanis or have tried to prove them blasphemers unless they themselves did something admonishable. One fails to understand that why people like Yasser believe that the Qadiyanis are innocent and have not been involved in any mischief against the Muslims in Pakistan. Hate mongering done by the Qadiyanis is camouflaged but anything against them is multiplied and exaggerated.
If Allama Ashrafi is a bigot, then the like of Yasser are fascist in their religious views. If Allama Ashrafi is accused of getting donation from EU and other western countries then, Yasser could not be considered a clean soul either, promoting Qadiyanis for no other reason than to serve humanity. Can he prove his humanitarian intentions just like he believes Tahir Ashrafi cannot and is hence culpable in getting the Qadiyanis killed while taking dough in the name of inter-faith harmony?   Can Yasser bring about the cases filed against the Qadiyanis by Allama Ashrafi? Being a lawyer he should be wary of accusing others unless proven guilty. If he is poking Allama Ashrafi for having a mala fide intention, then isn't it for the court to decide and not for some writer in a column, which smacks bigotry against a religious leader who had been supporting peace in Pakistan.
As far as Salmaan Taseer is concerned he was being hated and condemned by Ulemas of all stripes and shades for his alleged blasphemy. For the kind information of Yasser Latif the prayer leader who refused to offer Salmaan's last rites was a Deobandi. Where does the argument arise that Allama Ashrafi sided Salmaan Taseer's case because it was triggered and taken forward by the Barelvis.  Such fabrication can only mean that either Yasser is a naive with no flare to separate facts from opinion or he is a deliberate supporter of farce.
Allama Ashrafi not only supported Rimsha but has been instrumental in getting her out of the country for a safer pasture abroad. If, according to Yasser, Allama Ashrafi can get the Qadiyanis persecuted, why had it been difficult for him to get the Barelvies under the axe? Why could not he stop the release of the perpetrators of crime against Rimsha, who had been released by the same court that Yasser serve day in and day out to earn his living? If he is so concerned for the right of minorities the courts should be the first line of action pitted against by Yasser and not some Allama considered an easy target to vent the pent-up feeling sans emotions and worth.
Framing Allama Ashrafi to serve Qadiyanis cause has exposed Yasser's fascist tendency harboured by the so called Pakistan's elite and the extremists alike: one pitches the Qadiyanis' cause while the other lay a battle for them.
Allama Ashrafi had been the sole voice in favour of polio vaccination. He condemned his own institution, the Council of Islamic Ideology, on its controversial statements on allowing men to contract second marriage without the ability to do justice between both the wives and on the issue of the marriageable age of a girl without considering her maturity level. He was the very first person who condemned the Gujranwala incident and if Mr Yasser could get his facts right would know that it were the member of PUC who took control of the situation when even the police had stood helpless.
It is easy to support a fake cause and even easier to target a religious scholars, but it is difficult to analyse facts without prejudice, something my friend Yasser lacks tremendously.
Source:
http://www.dailytimes.com.pk/national/15-Aug-2014/religious-foul-speak
Related Urdu post: https://lubpak.com/archives/319992
Related Satire:
Yasser Latif Hamdani should ask comrade RR to grant him an NRO. YLH also claims that he is from a Ahmadi and Shia background. I thought that YLH hatred against LUBP and Shias had made him subservient to Allama Tahir "the stud" Ashrafi, head of Pakistan Deobandi Council and Marja of Good Jinnah Liberals of Pakistan. RR promotes Ashrafi as "Progressive" and RR is Sahaba -e- Liberaleen against whom any criticism is Blasphemy. https://lubpak.com/archives/308903

I request LUBP to stop doing Tabara of RR, Ashrafi, Syedna Yazeed (RA), Syedna Zia ul Haq Shaheed, Syedna Hitler Germanvi etc. Hajjaji Da Ghulam Da Liberals Da. YLH must renounce Rafidi, Qadiani and gain 200 lbs and grow pubic hair beard and assist Aasim Saeed Deobandi in threatening Sunni Barelvi and Shia activists in Social Media who are doing Gustakhi of Sahaba RR.

– See more at: https://lubpak.com/archives/319348
Comments
comments