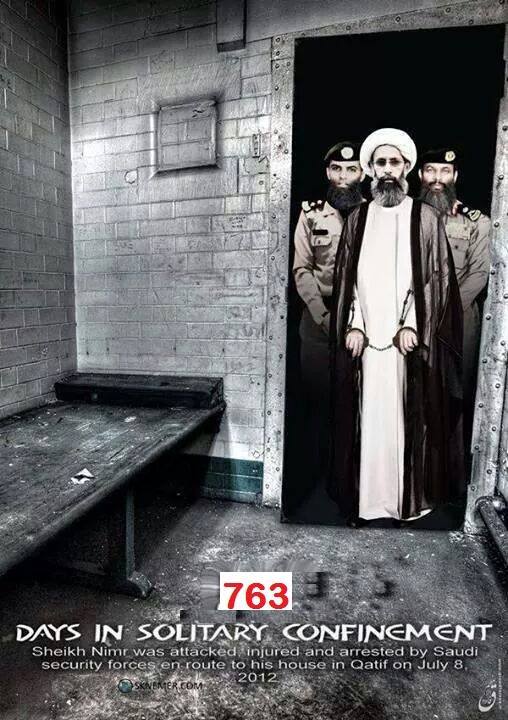 An outspoken dissident against the oppressive Saudi regime, Sheikh Nimr Baqir Al-Nimr is facing imminent execution.  The Saudi prosecutor wants to literally crucify him for speaking against the regime.
All those who support the Right to Free Speech should support Sheikh Nimr's immediate release.
A charismatic speaker, Sheikh Nimr has courageously stood up to the Saudi regime and has exposed their double standards.  In particular, he has exposed the ingrained Salafist bigotry of deflecting any criticism of Saudi Arabia as an Iranian/Persian/Safavi conspiracy.
This is the typical tactic of Deobandi and Salafi bigots and if often used by Tarek Fatah types of selective activists, who hide their anti-Shia bigotry under a thinly disguised pseudo liberal veneer.
This youtube clip is probably one of the main reasons why a dissident activist is facing execution in a repressive State like Saudi Arabia.  In a moving account, Sheikh Nimr speaks of a life of constant, daily oppression faced by him and countless others in Saudi Arabia.
That Saudi Arabia is an ally of the United States in Europe is something that needs to be revised.
We request our readers to update this change.org petition that calls for Sheikh Nimr's immediate release and launch a another one.
(Excerpt from the older petition which now stands closed after 7,000+ signatories)
We are shocked very much observing the silence and lack of action from the international community regarding the situation in Saudi Arabia. These people who are from regions like Qatif in Saudi Arabia are barred from their inalienable right to religious and political dissent. There are thousands of political prisoners in the Saudi dungeons who expect people like yourself to react and stand up for the one thing which all of us share, the unbreakable bond of humanity.

To this religious and political discrimination came a man who wanted to help, represent and give a voice to his people. Ayatollah Nimr Al-Nimr was shot and arrested and is currently in prison and being denied medical care since last year. Prosecutors are now pushing for the execution of this man on these political and religious grounds.
There is also a Free Sheikh Nimr Facebook page
By taking a stand against one of the most repressive and hate mongering regime on the planet, Sheikh Nimr faces death. No person of conscience can choose to ignore this.  Please start using the #FreeSheikhNimr tag and get the word out.
Our worst enemy is our own apathy.