Asif , Amir and Butt – these cheats should not be trusted again – by AZ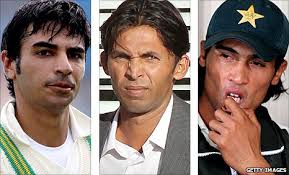 For some reason, I cannot reconcile with the fear that these cheats will again don the colours of Pakistan. They are an epitome of the people who are very interested in the dubious and unethical ways to make money and cheat the system to get ahead. In collusion with his captain, Amir pulled together a new thread of dirty tricks to cheat and make money. Butt, Asif, and Amir – all three of them were uniformly unethical and given to fraud. They shared feelings of entitlement and inattention to the consequences of one's actions on others that played into their moral decisions.
Yes, this resonates with a lot of current Pakistan these days, but it still does not mean that Amir should be given the opportunity to go on and take 300 or more wickets to set an example of impunity for the posterity. Many people think Amir deserves a second chance and Butt and Asif don't. That is somewhat reasonable but the problem here is that is there is no moral or ethical basis to select Amir and deny the chance for selection to Butt and Asif.
Murmur this in my ear, please! Oh I hear what you are saying. That they confessed to their wrongdoing. Now, go and fool someone else. Even Amir's confession occurred, when the truth was incontrovertibly out and there was no other hope left, as an act of hypocrisy to seek public sympathy. That too he confessed to only part of his transgression as if, after having played 47 international matches, he was a newborn baby misled by his captain.
Although confessions are traditionally viewed as categorical —one either comes clean or not— Amir's confession may seem attractive, because it offers an opportunity to relieve his guilt without having to own up to the full consequences of the transgression. Partial confessions after cheating to the full extent possible reek of hypocrisy. That's what all three of them have done in varying degrees.
http://www.espncricinfo.com/pakistan/content/current/story/766591.html
Comments
comments