Majid Nizami: The Satanic Verses of the dark Prophet of Pakistani journalism – by Dr. Abbas Zaidi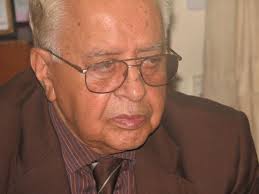 The octogenarian Majid Nizami has died of old age. Newspapers are brimming with laudatory, almost sycophantic, obituaries. Even liberal journalists have cast him into the image of a hero. From "a true Muslim" to "a man of peace" to "a brave man who stood up to dictators," Majid Nizami has stopped short of being crowned as a prophet of Islam. This is so because those writing sycophantic journalese are as morally bankrupt as Majid Nizami himself was. I take a personal responsibility for calling Majid Nizami "a morally bankrupt man". As an employer, he was a heartless exploiter. You can find many Nawa-e-Waqt/The Nation journalists who were paid as if they were beggars but made to work as if they were beasts of burden. In this article, however, I will limit myself to what I have personally observed of Majid Nizami dark empire.
After completing an MA in English literature, I had been looking for a job when I saw an advertisement for sub-editors in a "forthcoming English language daily". I applied for a position and in a few days, I was asked to appear for an interview. The "forthcoming" newspaper turned out to be The Nation to be launched by the Nawa-e-Waqt Group.
The late John Player, the news editor, gave me English language and editing tests. A Punjabi Christian himself, he only spoke in English to his junior colleagues. After reading my answers, he took me to the executive editor Mr Ahmed Aziz Zia—referred to as Zia Sahib—and told him that he wanted to hire me. After that, he left me with Zia Sahib. Poring over my tests, which John Player had handed him, he smiled and said, "You must be a Shia, Zaidi Sahib." I said yes. He nodded absent-mindedly and asked me to return the following day and start work as an apprentice sub-editor. He also told me that as an apprentice sub-editor my salary would be Rs.1500 per month.

I began to work along with a dozen other males and females under the able supervision of Mr Qamaruzzam. At the end of the month, we all lined up in the accounts office of the Nawa-e-Waqt. We were given Rs.600 each, and not Rs.1500. We were told that our daily wages were Rs.20 only. Those days, even laborers would get more than Rs.20 a day. That was my first experience working in Majid Nizami's organization.
I must say here that no one, myself included, protested against such a low payment.
I left The Nation one month before it was officially launched on 14 August 1986. I taught in a university for a couple of years. During summer vacation, I went to Lahore and met Zia Sahib. I told him that I wanted to quit my university job because living away from Lahore was very difficult. Besides, my mother had been sick and need my attention. At that time, the late Professor Khalid Mehmud was the Joint Editor of The Nation and headed the editorial section. Zia Sahib took me to him. After interviewing me, the professor told me that an assistant editor in the editorial section was set to leave because he had passed the Pakistan Civil Services examination. Zia Sahib and Professor Khalid Mehmud took me to Arif Nizami, the Editor of The Nation and a nephew of Majid Nizami. Arif Nizami spoke to me briefly and was happy to welcome me.
I began to work in the editorial section. After a few days, I asked for a letter of appointment so that I could send a letter of resignation to my university. Professor Khalid Mehmud, my immediate boss, took me to Zia Sahib. He promised to talk to Majid Sahib and get me the letter in a couple of days.
The following day, Zia Sahib came over to the editorial section and said aloud for everyone's benefit, "Majid Sahib is not willing to issue you a letter of appointment because you are a Shia".
"But I need him," said Professor Khalid Mehmud.
Zia Sahib promised to speak to Majid Nizami "again".
The following morning, Zia Sahib came and repeated the same words. He came back in the evening and said the same thing. He said that he and Arif Sahib were in favor of hiring me, but Majid Nizami was not willing to issue the letter of appointment. Significantly, Majid Nizami did not issue an order to kick me out. He was tolerant of me and my work, but did not want to issue me a letter of appointment.
Professor Khalid Mehmud wanted me to stay on because he was confident that Majid Nizami would have to issue me the letter. But my summer vacation was coming to an end. I left Lahore and sent a letter of regret to both Zia Sahib and Professor Khalid Mehmud.
Soon, I quit my university job in order to study linguistics in Scotland. On my return, I called Zia Sahib to find out if there was a job for me at The Nation. "Come now!" he said. I did not know any journalist outside The Nation. Since Zia Sahib had been exceedingly kind and supportive, I called him up, and he asked me to come over. Certainly, many people will object to my joining The nation despite the fact that I was not issued a letter of appointment for being Shia. I guess that at that moment, I did not have any choice. I wanted to stay in Lahore. Besides, I believed that my work would be my best defense. Having said that, all my colleagues and superiors like Zia Sahib and Arif Nizami were good, clean people. The focus of my article is Majid Nizami only
In a few minutes, I was in his office. He told me that an assistant editor in the magazine section had gone on leave. "She is unhappy that we have hired someone as the deputy magazine editor, and not promoted her. It appears she is not coming back, so you can take her place right away." Then he smiled, "She is also a Shia like you!"
Zia Sahib took me to Arif Nizami who was again welcoming.
I began to work as an assistant magazine editor under Syed Ghulam Sarwar Shah. Shah Sahib was a Sufi Sunni and a man of titanic proportions. I will write about him some other time. It was during my work at The Nation as an assistant editor that I found out what a diseased mind Majid Nizami was.
Again, he refused to issue me a letter of appointment. I had no official status at The Nation, though I wrote most of the cover stories and even wrote the prestigious "Cultural notes" column. Arif Nizami was kind enough to issue me a "feature writer" card, but that was all he could do under Majid Nizami. My output at The Nation was more than that of any other colleague. One reason for such an output was that all of my colleagues were exceedingly kind and supportive. They realized that I loved to write and did not particularly enjoy editing, so they let me have all the idiosyncratic independence I wanted. In no way were they less capable than I was. My point is that despite my considerably high output, Majid Nizami refused to give me a status only because I was a Shia.
One afternoon, there was some commotion on our floor. I found some Nawa-e-Waqt reporters and administrative office people chaperoning a few bearded, fat men. They came to the magazine section too. At that time, only Shah Sahib and I were there. One of the mullahs shook our hands and was introduced by a Nawa-e-Waqt reporter as, "This is Allama Farooqi Sahib, head of the Sipap-e-Sahaba Pakistan!" Yes, he was the head of the banned terrorist outfit which now operates as Ahle Sunnat Wal Jamat and Lashkar-e-Jhangvi. I was shocked that the head of Shia killers in Pakistan would be taken around as an honorable divine and introduced to all the journalists present at The Nation. But that was the first of countless visits by the terrorists. Every now and then, a Shia or Ahmadi hater would makes rounds shaking men's hands and bowing to females. If there were any Ahmadis working at The Nation, we did not now because it is easy to hide the Ahmadi identity. But Shias' names easily give them away. In Majid Nizami's Eden, Shias were tolerated only because their replacements were not available. Everyone knew that Majid Nizami was a Shia and Ahmadi hater. The only redeeming feature was that he did not visit the fourth floor where The Nation was based. His permanent hideout was the third floor where the Nawa-e-Waqt was located.
Majid Nizami, the Prophet of Pakistan's right wing journalism, had his angles too. There was one Mian Abdur Rashid who was Majid Nizami's lapdog and angel rolled into one. He would visit him every day, stay on for hours, and make new revelations about how dangerous the Shias and Ahmadis were. But mostly it was the Shias who would be the target of those evil musings of the Mian. True to his angel, Majid Nizami gave a daily religious column—Basirat-e-Islam—to Mian Rashid in the Nawa-e-Waqt in which he would denounce the Shias. The same column would be translated in English and published on the editorial page of The Nation as "the Light of Islam". One day, Mian Rashid would reveal to Majid Nizami, "The Shias are Kafir!" Another day, "The Shias of Lebanon are worse than Jews!" Yet another day, "The Pakistan Shias are the agents of Iran!"
Another angel revealing anti-Shia verses to Majid Nizami was the late Takfiri Dr Israr Ahmed. One day, we were asked to go down to the second floor and interview Dr Israr. Arif Nizami was also with us. During the interview, a Nawa-e-Waqt reported suddenly asked Dr Israr about the killing of the Shias by Sipa-e-Sahaba. "They are doing a good job!" replied Dr Israr. I remember, Arif Nizami became upset over the question which was not relevant to the issues had been discussing.
After having worked for over a year at The Nation, I got an opportunity to go to Hungary to teach Academic English (For some very personal reasons I could not go to Hungary.). of of those days, a woman, daughter-in-law of a well-known politician-friend of Majid Nizami, walked into the magazine section and announced she had been hired an assistant editor. In two or three days, she was given a letter of appointment. She was kind enough to show me the letter. At that, I went to Zia Sahib and told him either to get me a letter of appointment or I would quit. After one week, I was given a letter of appointment. But by then I had decided to leave Pakistan. I stayed on a few weeks, then met Zia Sahib and Arif Nizami, and thanked them for their generosity.
There were other incidents of anti-Shia rants coming from Majid Nizami and his lapdog of an angel. But I would like to conclude this article by saying that those who have been calling Majid Nizami "a man who stood up to dictators" should know that he supported General Zia throughout his brutal martial law. Those who call him "a man of peace" should know that he was one of the greatest campaigners for nuclear-arming of Pakistan and even demanded that Pakistan and India should wage a nuclear war so that the evil, i.e., India, would come to an end once for all. And those who call him "a good Muslim" should know he was an unabashed Shia hater whose legacy continues.
Comments
comments