A comment on NYT's article on creeping Deobandi extremism in Pakistan' Sindh province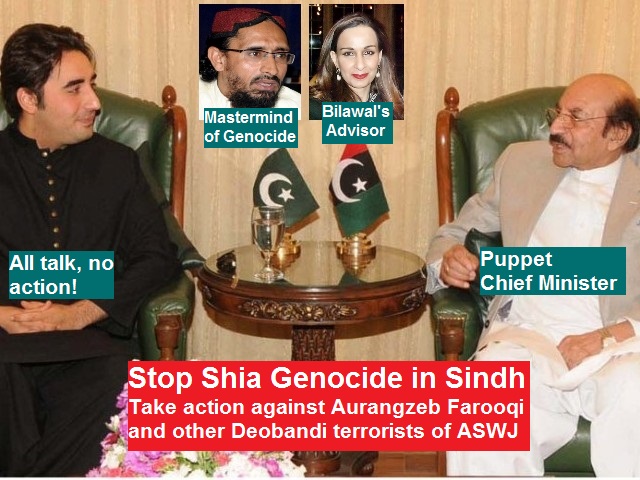 Saba Imtiaz and Declan Walsh recently wrote an article in the New York Times with title Extremists Make Inroads in Pakistan's diverse South. In this article, the authors present the expansion of religious militancy in Pakistan's Sindh province by constructing false Shia-Sunni binary, they ignore the Sunni Sufis/Barelvis and Maulaees, the majority of population in Sind, who are suffering as much as Shias in Sind and likewise in the rest of Pakistan.
The authors also ignore the role of so called secular liberals political parties like PPP, ANP and some others in enabling the expansion of this religious militancy (Deobandi militancy to be exact) while doing nothing to muzzle fascist, terrorist and extremist Deobandi organizations like ASWJ and to arrest its leadership like Muhammad Ahmad Ludihanvi, Aurangzeb Farooqi and others.
At some point in time, should not the PPP government led by Qaim Ali Shah also be blamed for this? What is Bilawal Bhutto Zardari doing when is PPP is doing nothing to stop ASWJ leader Aurangzeb Farooqi from roaming freely all over Sindh and giving hate speeches against Shias and Sunni Barelvis, Sufis and Hindus.
Despite holding power in central and provincial governments for five years at federal and maintaining Sindh for seven years running, PPP has managed not to arrest key leadership of AWSJ living in Karachi and roaming all over Sindh freely. ASWJ Deobandi's leaders have been given a freehand to propogate hate against Shia, Sufi Sunnis , Christian , Hindus and Ahmadiyya.  Unchecked growth of the Saudi funded Deobandi and Salafi Wahhabi madrassas which simply teach hate and religious doctrine while providing stipends to the students are having their impact.
Mohammad Askari Chandio raised an important question on his Facebook wall in reference to the New York Times article.
https://www.facebook.com/askari007/posts/10100953259472540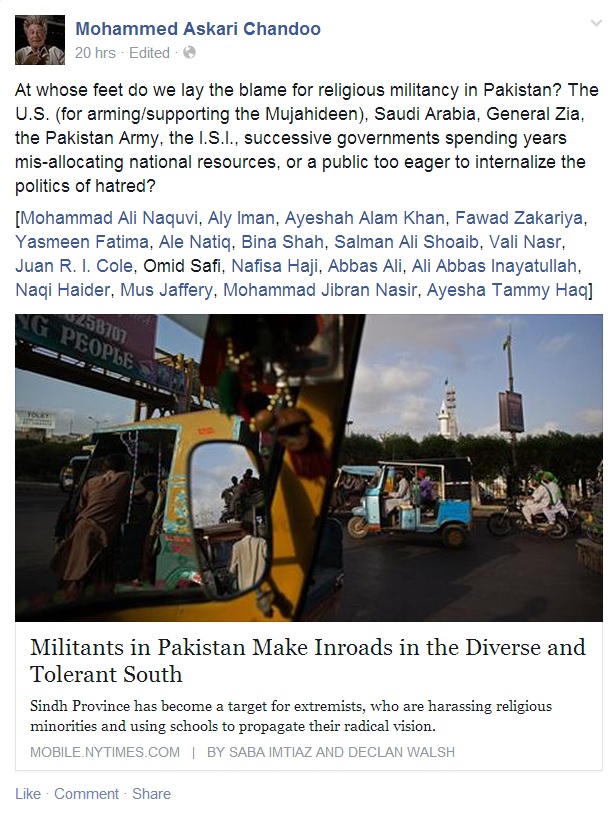 Ale Natiq, london based human right activist, commented: Perhaps, the "new PPP" thinks they have given enough blood and have found a safer place in the arena of Pakistani politics where they do not disturb the holy (or unholy) cows.
Compromise, taking steps back for survival, safety and cover but the question is for how long?
It goes beyond just the PPP. They are not the only ones along with the army. The judiciary, especially under the corrupt CJP Iftikhar Chaudhary freed scores of ASWJ-LeJ activists including Malik Ishaq who was even offered tea and biscuit by the Supreme Court judges http://www.dawn.com/…/lashkar-e-jhangvi-and-the-lack-of….
This is the same judiciary that is the darling of Pakistan's (fake) liberal "intelligensia".  The NYT article did not mention the Deobandi identity of not just ASWJ-LeJ nor that of JUIF. ASWJ-LeJ which has targeted various Sufi shrines all over Pakistan which are dominated in attendance by Sunnis (Barelvi sect). It is indeed shameful to talking of "Sunni Supremacist Ideology" when the majority peaceful Sufi Sunnis are being targeted by the fascist Deobandis.
It is shameful that these authors did not mention that Sunni Sufi groups like SIC also oppose ASWJ-TTP. The same authors also conviniently forgot to mention that many media hotshots including Najam Sethi, Hamid Mir and the Friday Times have provided uncontested space to ASWJ terrorist leaders like Ludhainvi.
When it comes to squashing the religious freedom of Sunni Barelvis on Milad un Nabi, it is difficult to see the difference between ASWJ Ludhianvi and Pakistan's fake liberals. It is the same fake liberals who first denied Shia Genocide before some grudgingly admitted it. These are the same fake liberals who continue to obfuscate by placing the victims (Sunni Barelvi) and the chief perpetrators of terrorism in Pakistan (Deobandis) in the same broad and sweeping category, and resort to false Sunni-Shia binary.
These fake liberals create false binaries and often equate Shia victims with the "Shia-Sunni sectarian war" rubbish. These same Fake Liberals, some allegedly on the payroll of the PML N often absolve Nawaz Sharif of his role when in fact, PML N and ASWJ contested the last elections as coalition partners. The PPP and army and Saudis and Qataris are culpable as are the Pro Taliban media and judges and PML N and the fake liberals who provide some token criticism but who in the main continue to obfuscate the main characters in this horror.
Comments
comments
Tags: Bilawal Bhutto Zardari, Chief Justice Iftikhar Chaudhry, Commercial Liberals & Fake Liberals, declan walsh, Hamid Mir, Military Establishment, Mubashir Lucman, Najam Sethi, Nawaz Sharif, New York Times, PMLN, PMLN-paid-Judiciary, Sipah-e-Sahaba Pakistan (SSP) & Lashkar-e-Jhangvi (LeJ) & Ahle Sunnat Wal Jamaat (ASWJ), Sunni Sufi & Barelvi, Takfiri Deobandis & Wahhabi Salafis & Khawarij, The Friday Times