Najam Sethi, a champion of democracy – Riaz Malik Al Hajjaji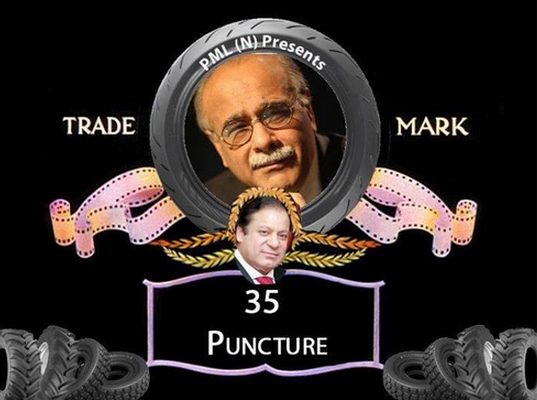 Is it not conflict of interest? A TV anchor, alleged of rigging in 2013 elections as caretaker CM of the Punjab province, is using his talkshow to attack his political critic, Imran Khan!
http://www.zemtv.com/2014/07/05/najam-sethi-blasts-on-pti-chairman-imran-khan-and-proved-how-he-is-a-u-turn-khan/

Najam Sethi Blasts on PTI Chairman Imran Khan… by amanasif737
Sheikh ul Liberaleen, Mufti Najam the Shady is such a master deflector, and clearly does not appreciate irony. Isn't Mufti Shady the same person who was part of the ISI-sponsored systematic campaign to topple elected government of Benazir Bhutto in 1996. In fact he was part of the caretaker government of Farigh Lota Leghari who used same presidential powers created by Military Dictator General Zia-ul-Haq to topple an elected government.
https://lubpak.com/archives/285927
https://lubpak.com/archives/40420
Sethi was awarded for his services in 1996 (media campaign against Benazir Bhutto and Asif Zardari to provide unfair advantage to Nawaz Sharif and his PMLN) with a spot in the turncoat Caretaker set up that followed. As caretaker minister in Farigh Leghari government, Sethi was fully involved in rigging national electiosn in favour of Nawaz Sharif and his PMLN.
In 2013, Sethi the caretaker CM of the Punjab offered a repeat of same services in favour of PMLN.
It is the same Sethi who abandoned his London Circle collegues who were fighting for the Baloch nationalist cause while Sethi himself was flying around in a helicopter of the same Pakistani army that was crushing the Baloch movement. It is the same Sethi who sometimes supports the army and sometimes the judiciary and most times, his current benefactors, the PMLN who gifted him the prestigious cricket ministry for helping them fix the last elections in Punjab. Ever heard of 35 punctures, when Sethi was the caretaker Chief Minister of Punjab? Read all about it here https://lubpak.com/archives/313686
Comments
comments