London: Iraq's Sunni and Shia Muslims demonstrate against BBC's sectarian coverage of Iraq crisis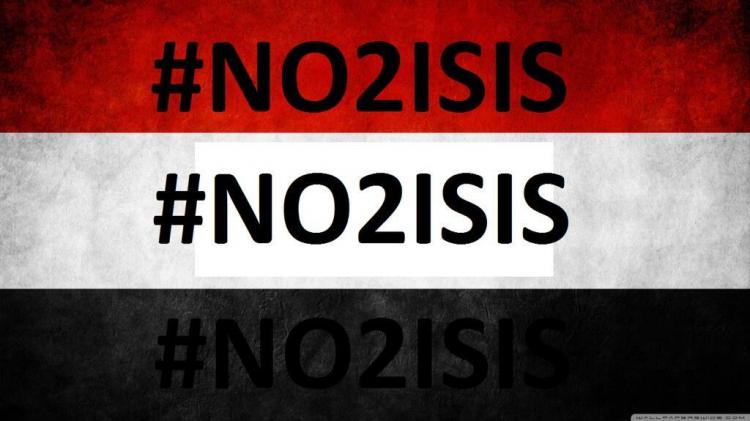 A group of Iraqis have staged a demonstration in the British capital, London, to express their anger at the inflammatory and sectarian reporting of events in the Arab country by the state-run British Broadcasting Corporation (BBC), Press TV reports.
Hundreds of British Iraqis gathered outside the BBC headquarters on Wednesday to protest against the corporation's coverage of the country's recent plunge into crisis by Takfiri terrorism.
The demonstrators said the BBC is giving legitimacy to militants from the al-Qaeda-linked Islamic State of Iraq and the Levant (ISIL) by terming them Sunni rebels while in reality they are primarily made up of (Salafi and Deobandi) foreign fighters from across Europe and the Arab world.
They also called on the broadcaster to reflect the realities on the ground, which include Sunni tribesman in their thousands from the western province of Anbar to the southern Iraqi city of Basra joining in the fight against the ISIL Takfiri militants.
The protesters were holding placards reading, "BBC… Get your facts right," "Iraqis are united against terrorism" and "My license-fee – propaganda for al-Qaeda".
"Unfortunately, the BBC have turned this into a (false) Sunni-Shia (binary) thing, when it's clearly far from the truth. What we are here for is to clarify the issue that the whole of Iraq is united against these external forces that are coming to Iraq from Syria and other places," one protester told Press TV.
Several leaders of the protest handed a letter to the BBC, outlining their concerns and demanding that the corporation be more responsible for its coverage of the violence in Iraq.
"We are British people; we are taxpayers; we read the BBC and they actually do talk about Shia and Sunnis which is wrong. We want them to correct the misleading information that they keep on putting to the British public and to the world. This is not a sectarian war … This is a Muslim versus extremist war," said Ali Hilli, a protest organizer.
On June 10, the ISIL militants captured Mosul, the capital city of Nineveh Province, which was followed by the capture of Tikrit, located 140 kilometers (87 miles) northwest of the capital Baghdad. Iraqi forces continue their battle against the ISIL (Saudi Salafi inspired) Takfiri group.
http://www.presstv.ir/detail/2014/06/19/367619/bbcs-sectarian-iraq-coverage-slammed/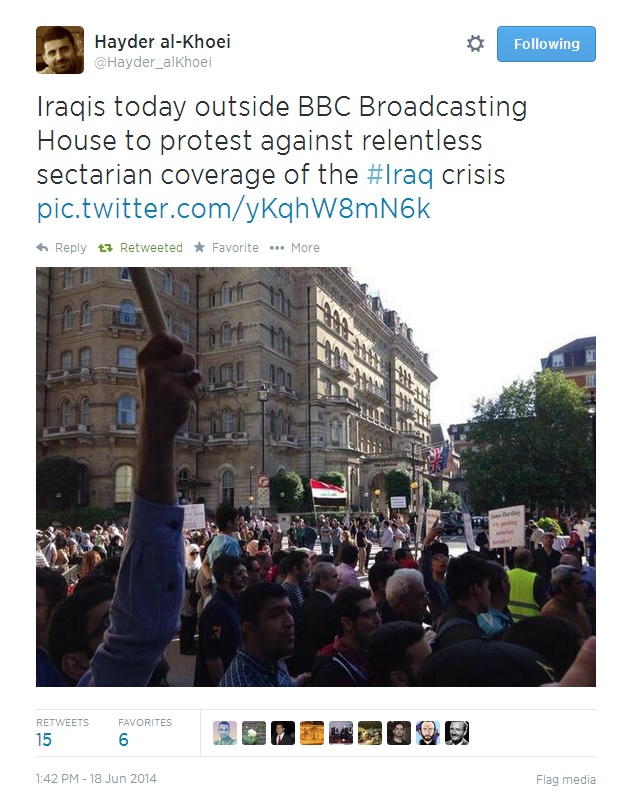 Today we have broken all cultural barriers to have a united voice to say #NO2ISIS

— Ali Sachoo (@sachooali) June 18, 2014
Let's all join hands with our brothers & sisters in Iraq and say #NO2ISIS. This is not a Shia vs. Sunni war; it's a fight against terrorism. — Ring of Knowledge (@ringofknowledge) June 17, 2014
i know my iraq drawing and handwriting are deformed but oh well #NO2ISIS pic.twitter.com/LKtWa6biRB

— زهراء (@AnaZahraaa) June 18, 2014
ISIS do not represent Islam or the Sunni sect within Islam. Let that be known. #No2ISIS pic.twitter.com/HQYzgP8ZrX — Digital Resistance (@dgtlresistance) June 17, 2014
Save Iraq from bloodshed. #NO2ISIS pic.twitter.com/ihgNSiQbAR

— Siddika (@siddikag) June 17, 2014
This has nothing to do with religion & everything to do with #humanity. #No2ISIS #Iraq #IraqisAreUnitedAgainstTerror pic.twitter.com/3gsZ6ocDip

— Dr Thuha Jabbar (@DrTJabbar) June 17, 2014
#PrayForIraq Reports are coming left right and centre, but we don't know what's true and what's not. So just #PrayForIraq — #PrayForIraq (@FatemaMAli) June 18, 2014
#PrayforIraq no matter what your religious background, your beliefs are, or you're non-religious. It's not about faith. It's about HUMANITY

— Patricia (@AdherentOf14) June 12, 2014
Iraq is a nation. The land of martyrs. A beautiful child of ancient soil. And it will never bow to your will. #PrayForIraq #NO2ISIS — Aqeela (@AqeelaNaqvi) June 18, 2014
Picket by concerned Iraqi citizens protesting against the BBC news coverage which uses sectarian language #NO2ISIS pic.twitter.com/DLZxWut4RK

— Sajad Jiyad (@SajadJiyad) June 18, 2014
Why does Media always try to portray as if "sectarian conflict" is going on?? whether #Bahrain #Pakistan or #Iraq #NO2ISIS ponder ponder..! — زھرا (@Xahra__) June 18, 2014
Don't be fooled by the media into believing this is a Sunni vs Shia war. That is their agenda, to fuel a civil war in #Iraq #no2isis

— Zelfa Madhloum (@ZelfaMadhloum) June 18, 2014
So for hummus sake, can we put our sect aside and don't fall to the mainstream media's agenda!? #No2ISIS #No2IsraeliAgenda — بتول عذراء (@batoolAzra) June 18, 2014
Don't let them disunite Iraq. Shia and Sunni have been living peacefully for centuries #NO2ISIS #PrayForIraq

— Mustafa Ali Masood (@MustafaNajafi) June 17, 2014
http://stream.aljazeera.com/story/201406182053-0023852
Comments
comments