Karachi Airport terror and Taftan shia genocide: same day same deobandi Taliban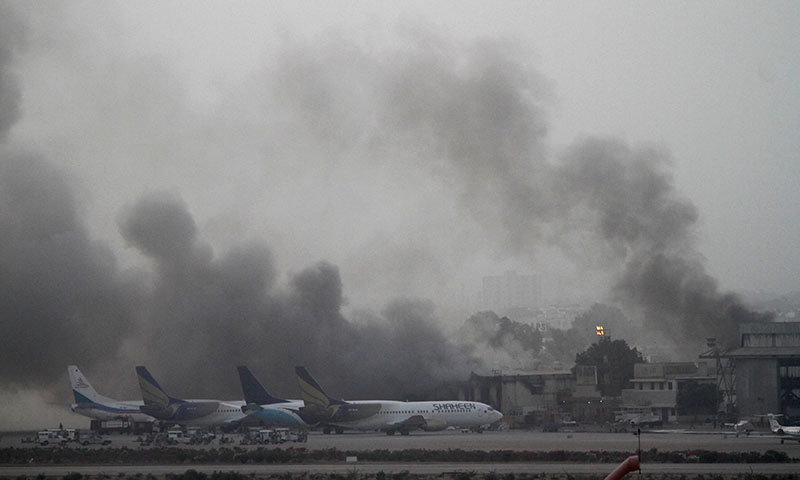 24 Shia pilgrims bombed again in Balochistan by Deobandi ASWJ-LeJ. Parts of Karachi airport captured most probably by the Deobandi Taliban. Time for Right wing Jamaatis and Good Liberals to get busy ……. In obfuscating the details. For attack on Shia pilgrims, its best to misrepresent it as an ethnic issue – even if the ASWJ-LeJ boasts consist of faith-based "Rationale" for their continued Genocide.
So replace the "Shia" faith identity of the victims with their "Hazara" ethnicity. Make sure to remove the crucial detail that the Shias were returning from a Sufi pilgrimage from Iran. Better yet, get prominent Good "European" liberal Ejaz Haider to write a dense, verbose article whose main focus is to denigrate the Shia victims and paint them as Fifth Columnists ala Aurangzeb Farooqi LeJ style. He has done it before and then too Good Liberals rallied behind him to shout down and abuse differing opinions.
For the Karachi airport attack, make sure to obscure the obvious links between the Deobandi terror groups operating under various combinations and permutations of the English and Urdu alphabets. Makes sure there is no talk about the connections between ASWJ-LeJ, TTP, PML N, Judiciary, media and the Deobandi madrasahs and mosques. If you really have to, mock Imran Khan – But NEVER the actual Governing Party, the original Taliban Romantics- which is the PML N and their Pro Taliban "anti establishment" leader Nawaz Sharif. Nawaz Sharif is said to be "generous" to the media. DO NOT mention the Army's continual policy of supporting the Taliban.
If anything, get that "progressive" cleric to WEIGH in and barter another deal between the Army and its Taliban children. The Capitulation policy worked well with General Kiyani. While you are it at, get the same "progressive" cleric to chide Shias for being critical of Caliph Yazid Bin Muawiya- blaming the Shia victims a time honored tactic of Pakistan's Good Liberals.
Make sure all dissenting opinions are squashed – dissent is against the Pakistani Good Liberal Ethos. Once this is done, go back to showing your concern for human rights in India, Burma and Burkina Faso
Comments
comments