Chaudhary Nisar cuddling up to the Taliban – by Bi-Ghairat supportor of PML N & PTI
This is a picture of Pakistan's current Interior Minister, Chaudhary Nisar Ali Khan's friendly handshake with Muawiya Tariq, a high ranking leader of the banned ASWJ-LeJ.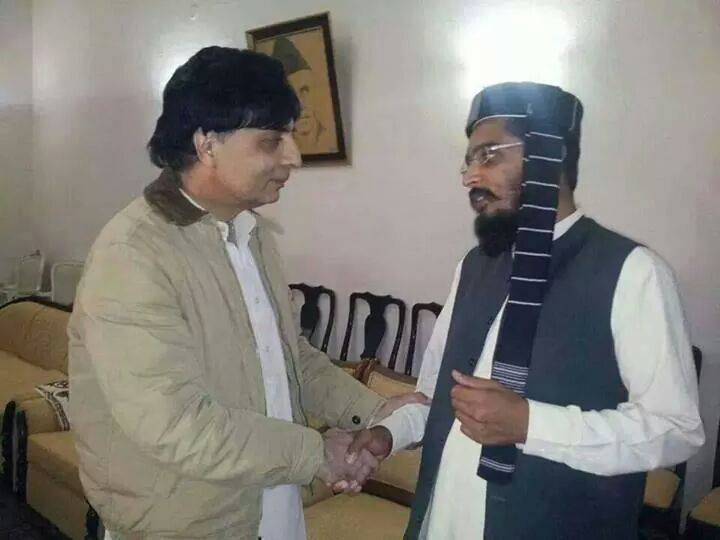 ASWJ-LeJ is the main partner of the Deobandi Taliban in Pakistan. The Wigged Chaudhary Nisar, whose other claim to fame is being Pakistan's answer to Mr. Bean, is also one of the main "leaders" of the Ruling Pro Taliban "anti establishment" (as per some Good Liberals) party, the PML N. Chaudhary Nisar and Comrade Shahbaz Sharif of the PML N have also proven their "anti establishment" credentials with their regular midnight soirées with the former ISI and Army chief, General Kiyani, when the latter was still serving as COAS. Comrade Shahbaz Sharif gives new meaning to the term "anti establishment" by singing Faiz in the morning and meeting Army chiefs at night and cuddling up to the Taliban, TTP,ASWJ-LeJ, LeT 24/7.
LUBP had repeatedly exposed Chaudhary Nisar's support for takfiri deobandi genocidal maniacs:
On the evening of 13 August, just a few hours from the 66th anniversary of Pakistan, Chaudhry Nisar held a nationally televised press conference in which he explained his government's plans on how to tackle "militancy" in Pakistan. Yes, "militancy" is the word. Since Taliban do not like to be characterized in terms "terrorism," Nisar was careful not to use the word. The press conference was full of clichés and inanities such as asking the media men to guide the government to formulate the so-called anti-militancy policy. These clichés etc., are not the focus of this article. What is the focus of attention is that once again a PML-N leader obfuscated the ongoing Shia genocide in Pakistan.

"It hurts me,' said Nisar, "when Shias, Wahabis, or Deobandis are killed."

Really?

No journalist present at the press conference asked Chaudhry Nisar to name a single Wahabi or Deobandi killed as a result of terrorism in Pakistan. On the contrary, the number of the Shias and Sufi Sunnis (brelvi) killed at the hands of the Takfiri Deobandis—allies of the PML-N—has so far killed twenty -two thousand Shias and about the same number of non Shia (mostly Sunni Sufi or Brelvis) in Pakistan. Hardly a day passes when a Shia is not killed somewhere in Pakistan. Being the interior minister of Pakistan, it is Nisar's legal and constitutional responsibility to protect Pakistanis, Shias included. But he has spectacularly failed in his duty.

– See more at: https://lubpak.com/archives/281373

Related:

https://lubpak.com/archives/313338
Comments
comments