Can General Musharraf salvage MQM? – by Laleen Ahmed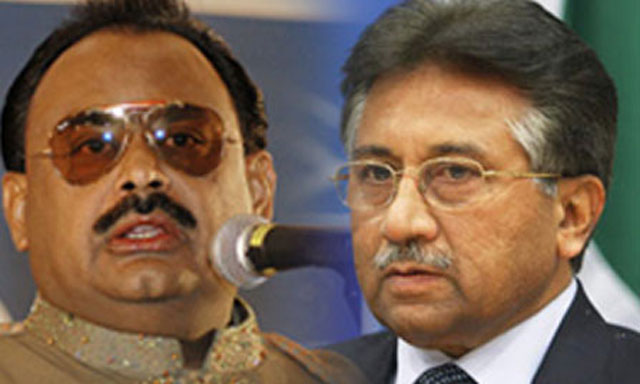 Editor's note: LUBP wishes the best to the passionate supporters of Altaf Bhai. As usual this article is independent alternative opinion and analysis presented in a candid style.
Altaf Hussain's unraveling started around two years ago when his former lieutenant Dr Imran Farooq was killed. Consequent to the muted allegation (never proven) that he was behind the killing, Altaf Hussain's behaviour changed drastically, and in his various telephonic and Sype addresses to his supporters in Pakistan, he looked like someone under great duress and distracted. At times he was no more than a clown cracking lewd jokes and singing bawdy songs.
The unraveling peaked on 4 June when he was arrested for money laundering. Whatever happens to him now, one thing is clear: He has no moral grounds to stand on. Now onwards he will be a lame duck. It will be a miracle if the MQM does not break up into factions. This is what the Army had been trying to do for the last few years. It is only now that the breaking up of the MQM seems possible.
Whether the MQM breaks up or not is another issue. One thing, however, is clear: The weakening of the MQM is a matter of time only. The weakening of the MQM will have very serious repercussions for Karachi. Altaf Hussain's unraveling will create a political vacuum which, it appears, only Deobandi-Taliban parties in their various garbs will fill. This means life for the minorities will become even harder. The secular space will be muzzled as per the wishes of the military establishment.
The only hope for minorities is that the core of the MQM remains intact. Since there is hardly a credible Karachi-based leader who can replace Altaf Hussain, General Musharraf seems to be the only choice who can be instrumental in keeping things under control. There are a few things which go in his favour. First, he is on excellent terms with the Army. Second, he is an international figure and will be acceptable to the likes of Saudi Arabia, the UK, and the United States. Third, himself a Mohajir, he can credibly speak for the Mohajirs. And, last, the MQM leadership will accept him because he has been on excellent terms with them.
General Musharraf has worked as a general and a politician. He understands Pakistan and Karachi as few do. Given his experience with the Taliban, he should be in a good position to deal with this menace.  It is hoped that Pakistani and foreign power-brokers and the MQM leadership will seriously think about bringing General Musharraf in the loop. Musharraf has the potential to make MQM a truly national political party.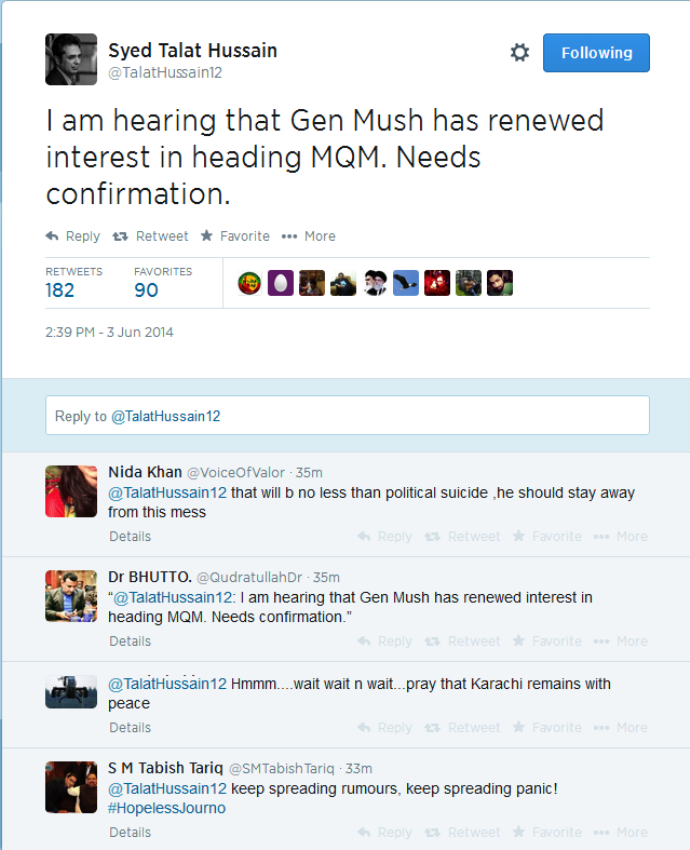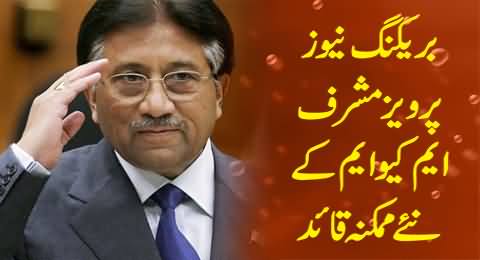 Comments
comments