Martyrdom of Gohar Ali Abidi by Sipah Sahaba and Karachi police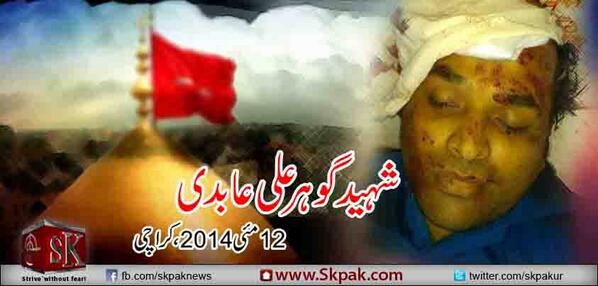 As Martyrdom of Gohar Ali Abidi and injuries of Khursheed Rizvi unveils the barbaric face of Deobandi terror outfit Sipah-e-Sahaba, Lashkar-e-Jhangvi and Ahle-Sunnat-wal-jamat; the criminal alliance of district administration with these militants is also exposed. Law has refused to give any security to Shia Muslims in the area and kneeled in front of the militants. Masjid and Imam Bargah Mustafvi located on verge of Sector 11A & 11B of North Karachi has been on target of Sipah-e-Sahaba from a long time.
Last year cracker bomb attack in month of Muharram was part of this heinous episode. When Takfiri Deoband attacked Masjid. Police guards had to hide in order to save their lives. But this incident clearly highlighted this peaceful area will soon be under heat of these sectarian terrorists. Harassment of Shia Muslim living in the area started with threats along with "Kafir Kafir Shia Kafir" chalking on their house front walls.
Gohar was among the young men who were receiving threats from these militants. Gohar was a nobel young man and heartthrob of the area, he was linked with the respectful education profession. As the activities of banned outfit SSP increased in the area; DSP and SHO behaviour with Shia community in area went from contemptuous to cynical. It went to such heights that Police security from the threatened Masjid was revoked by them; so takfiri can attack the sacred place with serenity. Gohar was the only son in family and he lived in a flat adjacent to Masjid.
On May 12 just before Maghrib time approximately at quarter to seven terrorists riding on motor bike opened fire on Gohar who was playing cricket with young men over there. When Khursheed Rizvi retaliated to save Gohar he was also attacked. Khursheed is fighting for his life in Agha Khan Hospital. The political party ruling that area i.e., MQM only marked their attendance at Funeral to show their right on his body. Other than Jaafria Disaster Cell & his leader Zafar Abbas no shia organisation even turned up to show sympathy & solidarity.
When DSP Altaf was inquired for missing police guards from the Masjid; he has no answer to his criminal negligence. He promised FIR will be registered against SHO and department proceeding will be held against him which is still nowhere to be seen. MQM who has mastered in championship of doing politics on dead bodies is also silent against the barbarians of SSP/LEJ. The questions stands on the presence of sectarian militants of SSP in a stronghold of MQM.
From now on we have to make sure if any Shia Killing happens; FIR should be immediately registered against area SHO under article of his criminal negligence and incompetence along with his suspension. Victim of relatives should not compromise on anything less than that.
Comments
comments