Sympathize with Hamid Mir but don't turn him into a hero of human rights or liberal values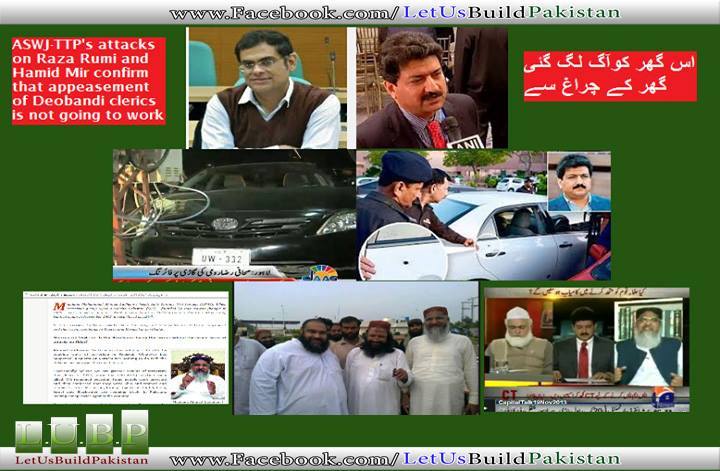 Related posts:
Hamid Mir, the murderer! https://lubpak.com/archives/69530
جیو اور حامد میر بمقابلہ آئی ایس آئی: عاصمہ جہانگیر اور فہمیدہ ریاض کا تبصرہ https://lubpak.com/archives/312687
Hamid Mir, a champion of the Balochs? https://lubpak.com/archives/307659
Munawar Hasan and Hamid Mir's discourse on Hazara genocide in Quetta – See more at: https://lubpak.com/archives/82746
We condemn attack on Hamid Mir and pray for his early recovery. But he never was/is a champion of human rights or liberal values, and should not be presented as such by those who are legitimately supporting his right to free speech.
In fact, Mir's pro-Taliban, pro-ASWJ, pro-AlQaeda views are no secret. His denial of Shia genocide, hatred of Ahmadis and Sunni Barelvis, and his collusion with Punjabi Taliban in the massacre of more than 100 Ahmadis in Lahore is no secret. Mir was directly complicit to the murder of Khalid Khwaja and Colonel Imam at the hands of Punjabi Taliban (aka ASWJ-LeJ). Also it is a fact that he, along with Najam Sethi, played a key role in providing space and legitimacy to Ahmed Ludhyanvi, leader of the banned terrorist outfit ASWJ (urban face of TTP) on Geo TV's platform.
Hamid Mir's voice on Baloch issues was more like a cover to rationalize his apologist stance on TTP-ASWJ and also to equate secular Baloch nationalists with takfiri Khariji Deobandi terrorists. His services to the Balochs should be seen in the context of Najam Sethi's and Malik Siraj Akbar's "services" to the Baloch cause.
ISI or no ISI, the attacks on Raza Rumi and Hamid Mir were a handiwork of the ASWJ-TTP hitmen, and this fact is being shamelessly hidden or diluted by Pakistani media and bloggers.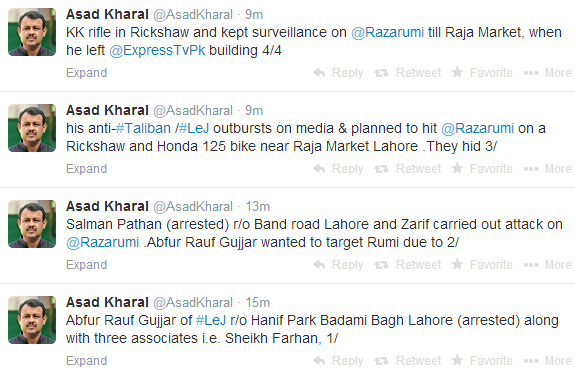 Comments
comments