Protection of geographic and ideological frontiers of Pakistan: Pakistan army (FC) in Balochistan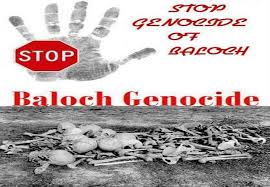 Baloch friends and activists from Gawader and Turbat are reporting about a new phase of oppression started by the Frontier Corps (F.C.). In Gawader city F.C. raided on a book shop named Al-Badar book shop and confiscated many books of poetry and fiction and history. They arrested an employee and city police has registered a trumped up F.I.R . The missing employee is F.C. custody, a Baloch in F.C. custody may safely be assumed a dead Baloch.
In Turbat city F.C. raided a music Shop and confiscated dozens of CDs and arrested owner and transferred him to unknown location. Another mission person and another cold case.
Nussarullah Baloch Chairman of the voice of missing Baloch has been repeatedly threatened by the military establishment. While the NaPak Army continues is tradition of massacring minorities such as Baloch under the guise of protecting the geographic and ideological borders of Pakistan, the media is forced to look the other way. Pakistan is the most dangerous country in the world for journalists.
Please raise your voice and spread the message of hope and peace on social media and tear down the media iron curtain. All of us that sit idly are responsible for the oppression. Just like those who watched the oppression on Jesus a.s. or those that watched the oppression on the grandson of Muhammad (pubhp). The silent majority is just as much to blame are those actually pulling the trigger.
Beware of fake pics and fake news stories on social media and main stream media about alleged ties of Baloch activists and leaders with MOSSAD, RAW, C.I.A, Afghan RAMA.
The Pakistani police have raided some books and CDs shops in different area of Balochistan and arrested bookshop owners for keeping different books including 'Waae Watan Hoshken Daar' by Balochi language writer and poet Major Majeed Baloch.

According to SHO Gwadar, Mr Gul Hasan, a case has been registered against one bookseller, Khoda Bakhsh Baloch for buying and selling 'Waae Watan Hoshken Daar'

A local journalist Behram Baloch told BBC Urdu that the authorities did not issue any notification to ban this book.

According BBC an effected bookseller from Gwadar said that he did not have Major Majeed Baloch's book in his shop, however, the police confiscated books about history of Baloch and Balochistan and. The seized books include a famous book 'The History of Balochistan' by Lala Hatto and 'Baloch' by Dr Shah Mohammad Marri Baloch.

Police sources said the FIR against the book vendors only Waae Watan Hoshken Daar' and the writer of this book Major Majid has been living in Muscat since 40 years.

He said, "Waae Watan Hoshken Daar ' mean 'a wood of my country [Balochistan] is more than anything for us."

Reacting about the confiscations books he said, "You read this book. It is about Baloch history, Baloch traditions, and it about war in Balochistan. This is a history book and it is beyond my understanding why this book is being banned?"

He expressed astonishment on the behaviour of state [Pakistan] and said, "I certainly wrote about human rights violation in Balochistan in my book but now-a-days every newspaper contains such news. Apart of that the book is about Balochistan's history. Is it a crime to write about Baloch history and geography?"

Gwadar District Police Officer Pervez Khan said, "I still have not seen the whole book but reportedly page 52 and 55 of this book contain some paragraphs which directly incite people against the state and the Army."

He said, "The government has not banned any material but selling and buying anti- Pakistan items are prohibited by law. Under this law action has been taken against CD and booksellers."

The provincial information minister, Abdul Rahim Ziaratwal told the BBC that if a book has been banned by the government and it kept in any shop then the shop owner should know about it, but the if the government do not put any restriction on a book and it kept and sold, then it is not the fault of the bookseller. In which case there is should be no action against them.

Meanwhile sources confirmed that Pakistani security forces raided Al Badar Bookshop and news agency and seized a number of books on Balochistan and the Baloch people. The Pakistani forces also arrested Khuda Bakhsh, a salesman at the bookshop.

District Police Officer Preves Umrani told Dawn, "Police raided the bookshop after receiving information about objectionable books and other material kept there.

On 13 January, the Pakistnai security forces had raided Atta Shad Degree college in Turbat and confiscated books including works by Bertrand Russell, biographies of Mahatma Gandhi, Jawaharlal Nehru, Nelson Mandela and Che Guevara, a history of Balochistan by Meer Gul Khan Naseer, poetry books of famous poets like Ata Shad – whom Turbat's only college is named after – Kareem Dashti and Gholam Hossain Shohaz, literary magazines such as 'Mahtak Balochi', 'Mahtak Sangat', 'Mahtak Sechkan', 'Sangar', 'zrumbish' and much more. Course books on Balochi grammar and literature were also labelled as 'anti-Pakistani' because reading and teaching Balochi is considered anti-Islamic and anti-Pakistani by the forces of occupation in Balochistan.

On January 8, 2014, the FC raided Delta English Language Centre in Turbat and claimed to have recovered anti-Pakistan literature and arrested a large number of students, mostly under 20 years of age, on charges of keeping anti-state material.

Earlier on 17 March Pakistani security forces raided a Karwaan English Language Centre at Kosh Kalat area of Turbat town in Balochistan and abducted at least six teacher and three students.

The abducted teachers were named as Abdul Salam, Jameel, Muheeb, Meeran, Kalamullah and Siraaj whereas the students have been identified as Muqeeb, Waheed and Jameed.

On 2nd April FC and police raided and sealed two bookshops in Turbat and arrested two booksellers.

Similar raids were carried out in on educational institutes in Buleda, Quetta and Khuzdar area of Balochistan where several students were arrested and disappeared.

http://balochwarna.com/xnews/articles.462/Pakistani-security-forces-started-a-crackdown-against-Baloch-bookshop-owners-several-arrested.html
Comments
comments