The ISI-OBL Link: Peter Bergen's article celebrated by the usual suspects in Pakistan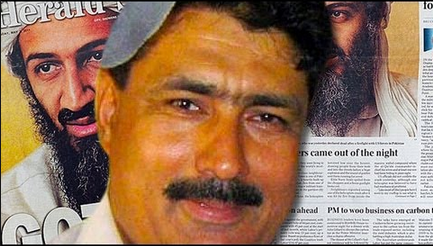 In defending the indefensible, Peter Bergen has once again shown the reach of Pakistan's military establishment and its efforts to consistently influence and compromise the media discourse relating to Pakistan.
In his article published on CNN web site (http://edition.cnn.com/2014/03/21/opinion/bergen-bin-laden-new-york-times/),
Mr. Bergen clearly does not appreciate irony otherwise he would have thought twice about penning the flimsy arguments he uses to attack Carlotta Gall's report.
(NYT: http://www.nytimes.com/2014/03/23/magazine/what-pakistan-knew-about-bin-laden.html)
It was difficult to tell if this article was written by a Pakistan Army Colonel working for the ISI or analyst working for CNN. Then again, it is CNN so not really a surprise to see such a biased and poorly written article.
Starting with a title loaded with irony, the rest of Bergen's arguments need to be countered "Pakistan sheltered Bin Laden? Prove it".
Really!! Osama Bin Laden was found in, Abbottabad, a military cantonment town that has over a dozen sensitive military institutions and bases. OBL's compounds was less than a kilometer away from Kakul; the training school for Pakistan's military officer elite. The circumstantial evidence is more compelling than a smoking gun.
In attacking what Bergen terms as Gall's "astonishing claims", he shows his disregard for some of the fundamental elements of journalistic reporting
"The first claim: An unnamed Pakistani official told her, based on what he had in turn heard from an unnamed senior U.S. official that "the United States had direct evidence that the ISI chief, Lt. Gen. Ahmed Shuja Pasha, knew of bin Laden's presence in Abbottabad." ISI is Pakistan's powerful military intelligence agency.
The second claim: "The ISI actually ran a special desk assigned to handle bin Laden. It was operated independently, led by an officer who made his own decisions and did not report to a superior. He handled only one person: bin Laden…the top military bosses knew about it, I was told."
Does Peter Bergen expect Carlotta Gall to out her sources?
Is he oblivious to the fate of Dr. Shakil Afridi?
Has he forgotten the violent death of Asia Times investigative journalist and ISI critic Saleem Shahzad?
Has he not heard the name of Lt General Alvi who was removed by Ilayas Kashmiri when he tried to expose Deobandi jihadists and two high-ranking generals?
To rebut Carlotta Gall, Peter Bergen throws out the most senior names in the US establishment. But as per Bergen, they were "on the record". On the record, would any high-ranking US army officer or State Department official ever admit that their own ally was harbouring the most sought after terrorist mastermind? As noted by Dr Taqi on Twitter, a US official saying on record that Pakistan army knowingly hid OBL means sanctions or war which they don't want right now. For the US silence on Saudi-Pakistan role in spreading and abetting Deobandi/Salafi militancy, refer to the 5 part-series written by Patrick Cockburn for the Independent.
http://www.independent.co.uk/voices/comment/patrick-cockburn-alqaidas-second-act–the-full-fivepart-series-9208303.html
It is difficult to understand Bergen's logic or lack therof here and at other times during this article.
"Indeed, an early debate between senior national security officials at the White House, once CIA intelligence established that bin Laden could be hiding in Abbottabad, was whether to mount a joint U.S.-Pakistani raid on bin Laden's suspected hideout. This plan was rejected because the officials were concerned that such a joint operation carried the risk that word would leak out about the bin Laden intelligence. This debate would have been moot if the Pakistanis already knew bin Laden was living in Abbottabad."
Look at the leaps of logic and contradictions in this quoted section.
As per Bergen, Pakistan could not be harbouring OBL because they could not be trusted with the information of his location in the first place!!
The same Pakistan military establishment whose "bewildered reactions" to the OBL operation is being used by Bergen to excuse them of harbouring OBL in the first place could not even be trusted to launch a joint operation!
If this is the level of mistrust, then by Bergen's own logic, the official denials by the same powerful entity cannot be relied upon. Apparently, aside from irony, Bergen fails to appreciate the concept of contradictions as well.
The rest of the article confirms to an PTI statement by ISI stooge Imran Khan where the "resentment" of drone attacks and "mistrust" arguments are used to further absolve the ISI of its role fostering and protecting terrorists.
Carlotta Gall's article was literally blanked out from the paper edition of the New York Times delivered to Pakistani subscribers. Clearly, Gall has refreshed some uncomfortable memories that need to be addressed if Pakistan can ever emerge from the Taliban abyss that it has sunk into.
Meanwhile, the usual list of pro-establishment suspects on Pakistan's social media scene were cheering and promoting Bergen's self-contradictary pro-ISI article. The compromised discourse that emerged in this CNN "report" obviously has its origins amongst Pakistan's media dons. The locus of such propaganda is the Najam Sethi network of journalists – the only organized media group in Pakistan whose sophistication and articulation with the English language makes it an ideal group to cultivate foreign journalists and impress the ISI point of view to them.
From Peter Bergen to Declan Walsh to Myra MacDonald, most foreign journalists are sucked into the vortex of lazy journalism that thrives on ISI handouts.
Raza Rumi @Razarumi 13h
A well argued response to @carlottagall 's revelations by @peterbergencnn Pakistan sheltered Bin Laden?Prove it http://edition.cnn.com/…/bergen-bin-laden…/index.html… …

Ali Kamran Chishti @akchishti
friend Peter Bergen ridicules NYT's claim on OBL and makes valid points http://edition.cnn.com/…/bergen-bin-laden…/index.html …

Anjum Kiani @AnjumKiani
Peter Bergen, CNN National Security Analyst : No evidence ‪#‎Pakistan‬ hid OBL : http://edition.cnn.com/…/bergen-bin-laden…/index.html

=====

Tufail Ahmad @tufailelif Mar 22
Peter Bergen displays zero understanding of Pakistan's ISI or its jihadist history @carlottagall @peterbergencnn

Tarek Fatah @TarekFatah Mar 22
So they finally got to @PeterBergen. What a shame. Is there a single American journalist not towing the Islamabad line?

===============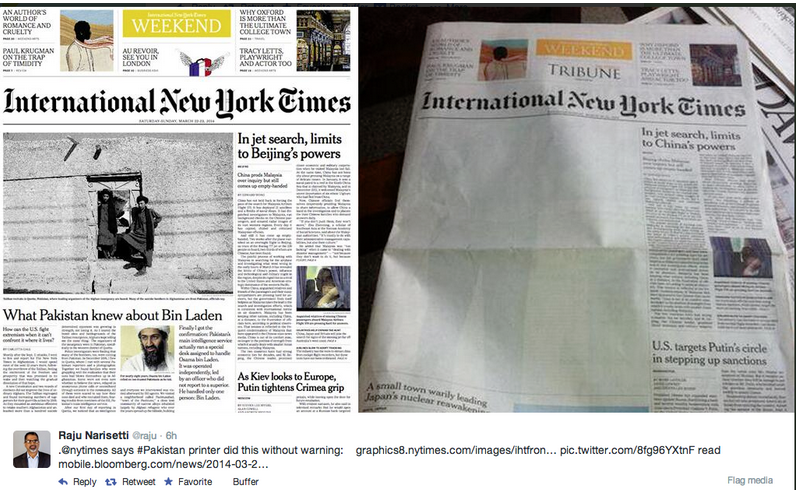 Comments
comments