PPP's leader Sherry Rehman sanitizes TTP-ASWJ terrorists by describing them as rebels – by Siraj Baloch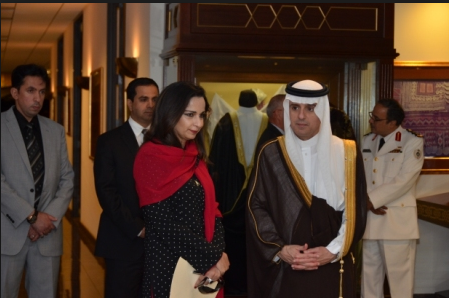 Sherry Rahman's recent obfuscation of the Taliban and its various aliases (eg Jundullah, LeJ, ASWJ, Jaish-ul-Adl etc) by describing them innocuously as "rebels" raises many concerns. On Twitter, Sherry Rehman said:
"So Tehran has warned #Pakistan that Iranian forces may enter Pakistani +Afghan territory to release border guards seized by rebel group."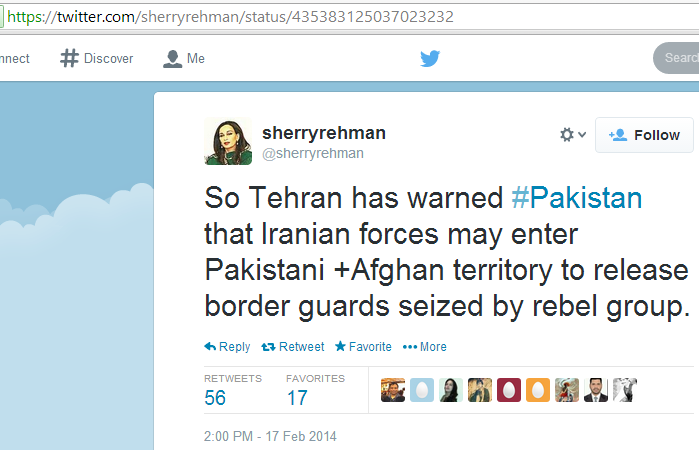 Yesterday, Sherry Rahman's obliquely attempted to place the onus of responsibility on Iran and not the Taliban (TTP) and affiliates (Deobandi militants variously operating as LeJ, ASWJ, SSP, Jaish-ul-Adl, Jundallah etc) that had violated the former's territory and captured its border security guards.  Sherry Rehman described the hardline Deobandi militants and ISI proxies as "rebels".
At a recent mass grave of Baloch activists, anti-Shia slogans were also discovered showing the clear linkage between the Deobandi TTP-ASWJ terrorists who are killing the mostly secular Baloch nationalists and the Shias and Sunni Barelvis in Balochistan.
The ASWJ-LeJ-TTP Deobandi terrorists (eg Ramzan Mengal, Rafiq Mengal, Shafiq Mengal) responsible for Shia genocide and Sunni Barelvi genocide are also responsible for mass graves of Baloch nationalists consistent with the ISI's kill and dump policy in Balochistan. According to Dawn: "A few cardboard shooting targets were also recovered [at the site of mass grave of Baloch nationalists]. 'Shia Kafir' was written on one piece of cardboard with a black marker. A militant organisation's name was written on top of another. A few steps ahead, a packet of instant noodles lay stuck under a stone. A mile ahead from the shooting targets stood a mud house without a ceiling and surrounded by polythene hanging from the sides" http://www.dawn.com/news/1087341
Only two days ago (19 February), a Sunni Barelvi officer of Pakistan army Major Jahanzeb was killed by Deobandi TTP-ASWJ terrorists in Peshawar. His funeral prayer in Multan was led by a senior Sunni Barelvi cleric Allama Hamid Saeed Kazmi. Allama Kazmi himself has survived an assassination attempt by Deobandi terrorists in Islamabad a few years ago.
In the past, the same TTP-ASWJ terrorists have used Balochistan's territory to launch suicide attacks in Iran. The last PPP government cooperated with Iran in trying to curb this terrorism. The current Saudi-proxy PML-N government is doing everything to undermine its relations with not just Iran but China as well with its policy of appeasement of the Taliban.
But Sherry Rehman is still part of PPP.  So why is she buying into the Saudi narrative by describing these Taliban terrorists and affiliates as "rebels"
"Rebels" is precisely the same terminology that is being used by the Saudi Arabian establishment to describe their Al Qaeda Salafi and Deobandi proxies in Syria.  Just earlier this week, the Pakistan Army and PML-N's decision to support Saudi Arabia Al Qaida proxies in Syria tell us exactly why the Taliban and its various offshoots are soon going to be treated as the "rebels" of Syria.
While PPP leader Bilawal Bhutto Zardari has boldly condemned the Taliban, critical PPP supporters are concerned with the narrative being used by Sherry Rehman. Given that Sherry Rehman's Jinnah Institute has in the past published reports on treating Taliban as strategic assets of Pakistani state in Afghanistan and the same think-tank also promoted known Deobandi hate clerics as prophets of peace, Sherry Rehman's recent sanitization of TTP-ASWJ terrorists is directly opposite to Bilawal Bhutto Zardari's bold stance against TTP-ASWJ terrorists and sympathies with Sunni Barelvis, Shias and other victims of Takfiri Deobandi terrorism.
Comments
comments