Why do we insist that liberals must clearly condemn the Deobandi terror? – by Abdul Nishapuri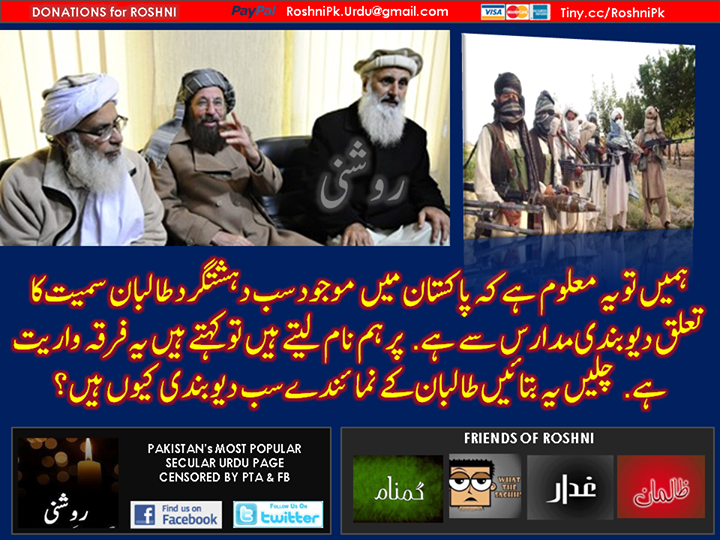 At times, some well-meaning friends, from Shia and Sunni communities, ask us to tone down our "insanely blunt" or "cynical" criticism of those liberals (in Pakistani media and politics) who do not clearly condemn Deobandi terrorists. They present a number of arguments, such as not everyone is aware of common Deobandi idnetity of TTP, ASWJ, LeJ, or that some liberals are too afraid to clearly highlight the Deobandi identity of terrorists etc.
Here's an interesting exchange on this topic that recently took place with a facebook friend. In order to respect the privacy of that friend, his idnentity is not being disclosed.
Abdul Nishapuri:
I dare all liberals: Have Nadeem Paracha or Najam Sethi clearly condemned, ever, Deobandi terror like Zaid Hamid or Ahmed Noorani? – See this post: Public discourse on Deobandi terror: Zaid Hamid vs Nadeem F. Paracha https://lubpak.com/archives/304239
Friend:
True. Zaid Hamid, Amir Liaqat etc. are soft targets , even Imran Khan and General Zia-ul-Haq for that matter are quite easy, the only untouchables in this game are the extremist Deobandi elites like Mufti Naeem, Usmani brothers etc and their attack dogs like Malik Ishaq and co.
Abdul Nishapuri:
Couldn't agree more. I once wrote on how General Zia Deobandi maloon is the convenient scapegoat for fake liberals: https://lubpak.com/archives/224242
Friend:
There are some obvious reasons for this intellectual dishonesty, besides thuggery and the agencies. Deobandis form the most influential and organized segment of our elite and upper middle classes. It would take a great deal of moral courage for one to speak against Deobandi dons knowing that his colleague, his boss, his neighbors etc etc (who in all probability may be good human beings) might get offended. And then there is the under-rated threat to life
Abdul Nishapuri:
Makes sense.
In that case, these cowards or thugs should do one or more of the following:
(1) keep shut, instead of obfuscating the actual fact by constructing false Sunni-Shia or Iran-Saudi binary;
(2) discreetly inform us that they don't have balls so that we have mercy on them;
(3) use a pen name and at least try to keep their conscience alive;
(4) refrain from threatening or/and harassing those who have the integrity and courage to clearly name and condemn the Deobandi terror; and
(5) relocate in order to regain their voice and balls.
Friend:
I totally agree with that, and may be some of them are already doing it. Also like I said, some are closeted anti-shia haramis too, i know some personally, some are simply dumb low iq wannabe intellectuals with a low perceptual capacity and no moral clarity, and some can not relocate their whole lives outside the territory of this jihadi monster
Abdul Nishapuri:
For those who can't relocate, they should choose from the first 4 choices. For the anti-shia or the incompetent lot, they deserve what they are already getting from us.
Friend:
Although I do believe we need some insanely blunt voices like your lot on the social media and the case of the persecuted communities can benefit from such bluntess on mainstream media too, but I personally think, in an urban upper middle class and middle class setting, dealing with this menace is much more effective on a micro level. For example, if I go bashing deobandis using the label too much, that would only distance my deobandi friends whom I love and who love me back (despite me secular views and shia roots). So what I would want to do is for them to see and know the victims of the violence caused because of their mullahs harami pana and their apathy, also instead of raising an anti deobandi slogan, i would want to highlight that there are two kinds of deobandis, like two kinds of all people, and remind them that i consider them the good peace loving kind. I would ask them how would they feel if i get killed becaue some mullah feels i am kafir and the 'good' type didnt try to stop him. I dont need to say every time 'deobandi' mullah, not when they already know what we are talking about. Every one knows deobandi mullahs are the market leaders in the kafir business.
Abdul Nishapuri:
The points I raised above do not pertain to ordinary Deobandi folks in our schools, offices and markets. My concerns are limited to opinion-makers, writers, media persons, politicians, rights activits etc, who remain vague or at times obfuscate massacres of Shias and Sunni Barelvis etc by the Deobandi terror machine. The focus is not limited to Deobandi clerics but also includes their accomplices in liberal intelligentsia.
Comments
comments