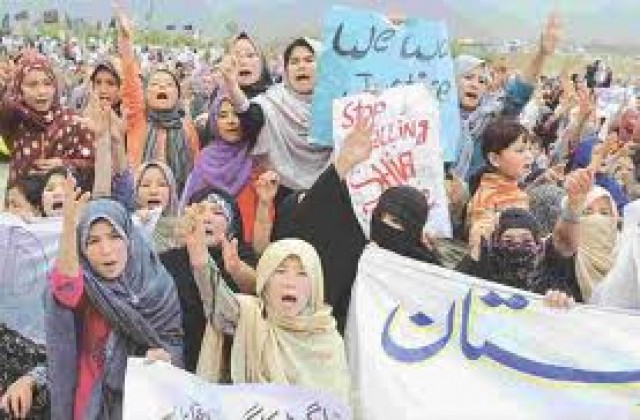 The importance of being historically correct should only matter when the voice is a voice of reason; not that of an apologist. Political differences can be appreciated however, not at the cost of insulting our martyrs.Words have the ability to inflict injuries on all the victims' families and everyone that has a conscience.
However apologists, such as Ahmed Versi has no qualms about dishonoring Hazara Shias with his perfunctory speech, for instance when he claims after looking at the paper that LEJ & SSP are "banned" militant outfits.Did his paper not include the name of the auspicious ASWJ under which SSP continues to work? This is why the only way to refer to these mass murderers is call them Takfiri Deobandi Terrorists.
Behind The Headlines from Universal Peace on Vimeo.
If the intent of the State by banning LEJ & SSP was to trigger name changes of organizations then bravo Pakistan; you accomplished what was intended. However If I may with all my youth, perhaps misguided faith and optimism argue that the State's intent was in paralyzing these organizations so that they were defunct in letter and spirit.Defunct to a point where these conglomerates that house hatred; didnt flourish with Saudi funding, indoctrinating children and putting price tags on body bags- for whoever blew them self up best. Defunct so that they didnt hold rallies;defunct so that Chaudry Nisar didn't have the gall to seek the secret of curbing sectarianism from these terrorists.
"Hazaras happened to be Shia".
Did all those traveling in Mastung just happen to be Shia too? Should we ask Sana Jaffrey who lost 9 family members, including Rida,sister of courageous Ibtehaj about how such comments make her feel?
"For Pakistan -Balochistan their population is very sparse so their focus is on the other states in Pakistan because there are huge challenges for them there".
It perplexes me that people are so callous about the loss of human life and absolutely steadfast in their apathy.
Pakistan's Director for HRW Ali Dayan Hasan says;" The problem remains that the FC is unable to disarm the Lashkar-e-Jhangvi (LEJ) or meaningfully protect the Hazara from attacks. Further, it does not help that a small but significant body of opinion with Pakistan's law enforcement agencies, paramilitary forces and intelligence agencies appear to view the Hazara with suspicion — as "agents of Iran" and "untrustworthy."
And while there is no formal policy of tolerance for extremist elements such as the LEJ at work, it is not possible to say yet with any certainty that there are no extremist sympathisers within lead law enforcement and security agencies. The matter is further complicated because elements from the security apparatus can be complicit in extremist attacks or turn a blind eye to them not out of conviction but also out of fear".
It seems ironic that the loss of hundreds of Shia Hazara lives isn't enough to warrant a "huge challenge", while sitting in a country whose justice system believes in the maxim "one life lost is one too many".
Ahmed Versi demeans the massacre of 28 Shias who died in Mastung on which he was invited to speak, when he says "forget Shia muslims, all muslims" in response to the perpetrators of Shia Genocide roaming free.
Ahmed Versi's negligence and apathy while speaking on such a sensitive topic needs to be addressed;there is no law that states in being inclusive there is a compulsion to disregard the Shia Genocide.Specially for those that have sat in freezing temperatures on the roads with the charred remains of their loved ones,unrecognizable and unidentifiable- protesting -and all those that sat in solidarity with them all across Pakistan. Ahmed Versi, whatever his political views, or morally correct interpretation of history maybe should have treated the martyrs with the modicum of respect they deserve.
On the question of no prosecutions for such atrocities Mr. Ahmed once again masterfully pays tribute to the cleverness of LEJ Leaders who are arrested but not convicted because they "are indirectly involved… I'm quite sure if there was proper evidence, they would have been prosecuted".
It is a pity that "rationale" was the word Ahmed Versi used to justify the abhorrent miscarriage of justice,when the actual word is apologist.
Malik Ishaq after his release,in a video released adamantly called for violence saying that the time for making resolutions in mosques and spinning rosary beads will not have the desired outcome, batons and violence would. He also vowed that he would not change his stance.Those who have committed atrocities against the Shia whether they be in Mastung or in Chilas claim responsibility for the terror attacks then if arrested, unapologetically make the same testaments while in courts.
It isn't lack of evidence, it is the collusion of the courts with these terror groups that lead to their release.
But don't take my word for it, Ali Dayan Hasan said in a recent interview,"It remains the case that Pakistan's federal government, the criminal justice system and the country's military and its intelligence agencies continue to play the role of unconcerned bystanders as Shia across the country are slaughtered. Pakistan's political leaders, law enforcement agencies, administrative authorities, judiciary and military need to prevent these attacks as they would any other threat to the state. Pakistan's authorities must act urgently to end the state of deadly siege the Hazara and other Shia communities find themselves living under".
And again, specifically on the terrorists who repeatedly target the Shia Hazaras, Ali Dayan says:
"There are sporadic crackdowns. Extremists are arrested. Some are even convicted. But often they are released without trial or conviction after a crisis has passed. Several high profile convicts have escaped from police and military custody in inexplicable circumstances in the past. The courts, even when they have been proactive in other areas such as disappearances, have been hesitant to provide protection to the Hazara or hold their attackers accountable. There has been no meaningful accountability".
Ahmed Versai purports the theory accountability is "very difficult" that if a suicide bomber kills himself, he's committed the crime and died, hence there is no one else to hold accountable for the crime.If such "reasoning" is followed by any judicial system in the world it sets precedent for unleashing terror and anarchy in the society. These are not sporadic attacks by individuals.These are organizations with military grade weapons, detailed data on their victims, with calculated long term vision of destruction; lets not forget the pamphlets distributed by LEJ in 2010 marked the exact territories for attacks if the Hazaras didnt vacate those places by the end of 2012. In Jan 2013 those exact places were attacked.
"When there was a massacre last year there was a will by the central government to do something in Balochistan".
That "will" by the central government Mr Ahmed speaks of, was only because they were pressurized by the united protests of millions of Pakistanis and included Shias & Sunnis (and those from other faiths) protesting all over Pakistan over a four day period, which became a global movement highlighting the ongoing unabated Shia Genocide in Pakistan.It was the people who woke up the government from their paralysis; not the government that unprompted decided to respond swiftly.
"If they start campaigning like they did previously they can bring about a change". Allama Nasir Abbas. No change. Shia pilgrim buses attacked twice in Balochistan, twenty-eight killed. Huge protests all over Pakistan. Hollow promises check,Hearts breaking,check check. Change? Nothing changed for the Shias otherwise there wouldn't have been the massacres that have taken place since those protests.
Another astounding statement courtesy of Mr Ahmed Versai on the effort by the Pakistani State to abate Shia genocide;"They are doing the very best they can but are failing miserably". I'm sorry, I wasn't aware that our State's efforts was being equated to a sports team that tried it's best but just lost despite all it's efforts. It is preposterous to say that the State is doing it's best;if it was doing it's best there would have been prosecutions, not continued Shia persecutions. Had the state done it's"very best" there would have been compensation for the injured and the families as promised.More importantly had the State done it's best the Shia youth wouldn't have been so frustrated over the despairing situation they are in now; where no one seems to heed their cry.The youth wouldn't have lost hope in all institutions if it had done it's very best, the narrative of patience wearing thin after picking up countless bodies and digging mass graves after mass graves their pain,anger and contempt is like the furious tide of the sea, swelling and rising.
Words like Ahmed Versai's do nothing to heal, instead it is like designing incisions on an open wound.