Najam Sethi's typical obfuscation of Shia genocide and absolution of PML-N and Pakistan army – by Sukaina Hazara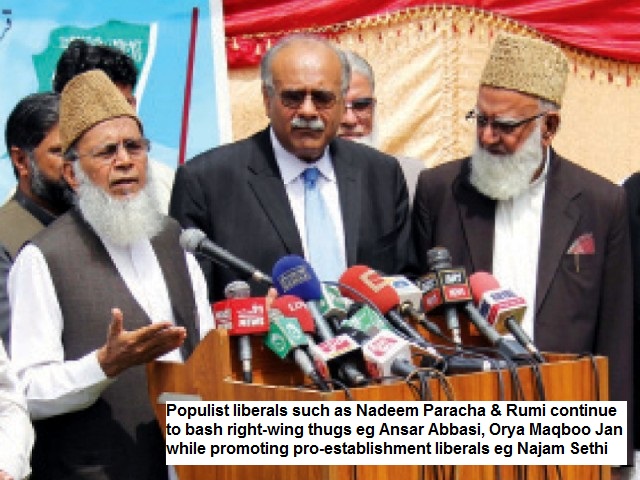 In his ISI gossip show (24 January 2014), Aapas Ki Baat, Najam Sethi reduced the ongoing Shia genocide in Quetta to a minor administrative problem of combining two districts. For him the continuing massacres of Hazara Shias and non-Hazara Shias in Balochistan are taking place because former President Asif Zardari/PPP government combined two areas "A" and "B" for administrative purposes.
Refer to his ISI-induced gossip show from 17:00 minutes onwards where Najam Sethi spends considerable time in obfuscating Shia Genocide.
http://www.dailymotion.com/video/x1a971c_apas-ki-baat-24th-january-2014_news#from=embediframe
Sethi completely absolves the ruling PML-N federal government and provincial government in Balochistan even though they have been in power for nearly a year and for him he shares a consistent bias.
While the former PPP government had a pathetic performance in Balochistan during 2008-2013, culminating in the disgusting and insensitive statements of their Chief Minister Raisani, did they really have any real power there?
If the ongoing Shia genocide in Balochistan is because of an administrative decision by the last government, then what about the Shia massacres in Quetta before 2008. There were atleast two major massacres in the time of General Musharaf during 2003 and 2004. What about the Shia massacres in the rest of the country?
If one is two take the line by Najam Sethi or even Baloch Hal, Shia Genocide in Pakistan is because of lax administrative measures and taxation incentives!
The whole world knows that it is the Frontier Corps which is a part of the Army that effectively controls Balochistan. The whole world knows that Taliban (TTP) and Sipah-e-Sahaba (variously known as ASWJ, LeJ and SSP) – all one and the same militant Deobandi groups – are still viewed as army assets. It is also common knowledge that hardcore Deobandis belonging to these groups and led by Shafiq Mengal, Ramzan Mengal, Rafiq Mengal etc are responsible for not just killing Shias but also secular Baloch nationalists.
Najam Sethi conveniently omits these facts.
There is a pattern to Najam Sethi's dishonesty on Balochistan. Who can forget his flying around in a military helicopter in 1976 at the height of another brutal army operation against Baloch Nationalists. This was probably when Najam Sethi sold out the "London Group" of pro-Baloch activists. Unfortunately, Pakistan's elitist liberal intelligentsia has played an unfortunate role in promoting Najam Sethi with the likes of Nadeem Paracha, Ejaz Haider, Raza Rumi and others acting as cheer leaders for Sethi's propaganda rubbish and spin.
In his obfuscation of Shia genocide, Sethi does not bother to highlight the public links between his PML-N and ASWJ/LeJ and the role of the Punjabi-Deobandi dominated PML-N government in fostering and promoting ASWJ-LeJ in their home bases all over Punjab.
Najam Sethi also does not bother to mention his own role in releasing over a hundred ASWJ-LeJ terrorists during his brief stint as caretaker Chief Minister of Punjab where he ensured that the seat was kept warm for his political allies, the PML-N. At the same time, Sethi and some other Punjabi elite liberals endores Nawaz Sharif's decisions to appoint notorious pro-Taliban pro-ASWJ poice officer Mushtaq Sukhera as IG Balochistan. Mushtaq Sukhera is known for his close links with Deobandi terrorists and is known for his sectarian views against Sunni Barelvis and Shias.
If one wants more evidence of Sethi's intellectual dishonesty, refer to the earlier segments of the show where he absolves the Pakistan Army of their failed, half-hearted and essentially faked battles with the Taliban.
In the earlier segments of the show, he lauds the army for a near successful operation against the Taliban in 2007:
"They had them surrounded but winter came so they were forced to retreat"
Really? Is this the reason why nearly all major Taliban leaders have fallen due to drone attacks and none were killed by the Pakistan Army.
If the 2007 Swat operation was successful, what was the point of the 2009 operation?
But Najam Sethi cannot tolerate even the few minor successes of the former PPP-ANP lead operation against the Taliban in Swat 2009.
Sethi engages in the typical chaunvinist and elitest Punjabi generalization about Pashtuns – exoticizing militancy, showing the Pashtuns as different culturally and always being resistant. Unlike lesser sophisticated talk show hosts, Najam Sethi is a capable mixer of truths and lies. His major skill is in presenting the military establishment point of view and creating just a tiny bit of space between himself and those views. However, he rarely if ever questions these views under an objective journalistic lens!
In the end, like the rest of Pakistan's media – both right wing Jamaati Urdu medium types as well as Pseudo liberal posh English types, Najam Sethi creates yet another obfuscation for Shia Genocide.
As per Sethi, Shia Genocide in Balochistan is simply due to an administrative blunder by the former PPP government and as per Malik Siraj Akber, it is due to Taxation Incentives on Minerals. ASWJ/TTP and its particulars and its public boasts and admissions of Shia Genocide are not deemed worthy of discussion.
For a better understanding of Shia Genocide, refer to our numerous articles as well as Dr. Taqi's latest article for the Daily Times where he makes specific and clear points and names the ASWJ perpetrators of Shia Genocide.
They cannot be unaware that the LeJ and the state-backedjihadists fighting the Baloch nationalists have been consorting for quite some time. Terrorists like Usman 'Saifullah' Kurd, RamzanMengal, DawoodBadini and JaleelAbubakarAbabakki have been the bane of both the Baloch nationalists and the HazaraShias. Some of these men fought alongside Mullah Omar's Taliban in Afghanistan in the 1990s and reportedly spent time in the training camps setup there by the LeJ founder,Riaz Basra. Logistics and manpower sharing between the LeJ and the state-propped death squad, the BalochMusallahDifaeeTanzeem(BMDT),cannot be hidden from the ostensibly nationalist government of Balochistan.
http://www.dailytimes.com.pk/opinion/30-Jan-2014/balochistan-bleeding
Comments
comments