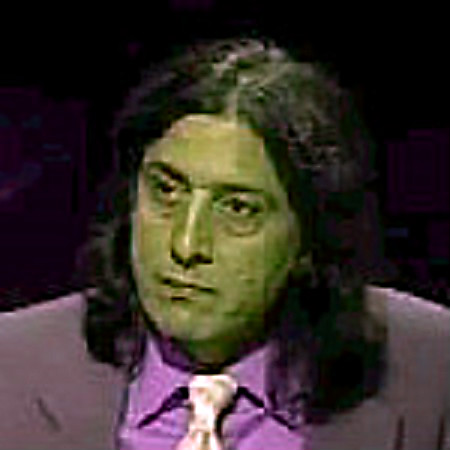 I, Ejaz Helena aka Craterwalah, am a much demonized person. Whenever I write about terrorism in my beloved Pakistan, the affected parties blame me for being a weird or psycho, or even an agencies' man. But do I care? Like my friend General Musharraf, I am proud to declare that I am not afraid of anyone. The only person I am afraid of is my pen. Yes, whenever I look at my pen, I am terrified and stunned: "This is my weapon!" I say to myself. With this weapon, I can do anything. But the pen is not extraneous to me (See my impeccable English! See how deep I am!).
Yes, this pen of mine is a mighty organ of mine. I mean, my mighty organ. With this pen, I have proved that the Shias of Pakistan are themselves to blame for their own killings. Shia genocide? Bullshit! As my fellow journalist Nasim Zahra says, yes some Shias are killed in Pakistan, but this is anything but genocide (And we both come from Shia parentage! Ha ha. But she is not my sister. You know!)
I want you to consult these archives to familiarize yourselves with my exploits:
Blaming the victim: Ejaz Haider blames Shias of Abbas Town for mistreatment of Ahmadis – by Sabah Hasan
You SoB, get out of your anonymity and be a man! – by Ejaz Haider
Why was Ejaz Haider removed from editorship of Newsweek Pakistan?
and much more:
https://lubpak.com/archives/tag/ejaz-haider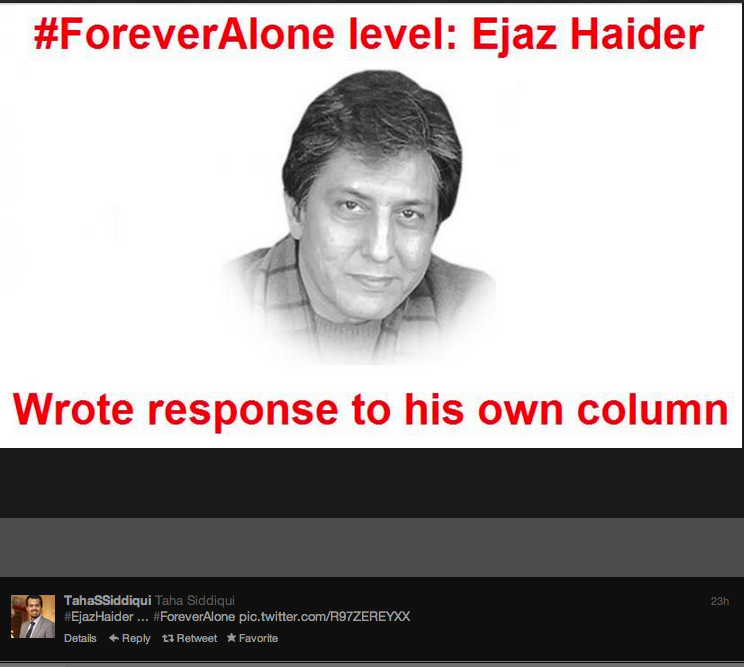 Why am I writing today when only a few hours before I wrote in Newsweek Pakistan about a fat Shia boy who saved so many Shia boys by stopping a Lashkar-e-Jhangvi suicide bomber. Enjoy it here:
http://newsweekpakistan.com/aitzaz-hasan-and-the-bomber/
That Shia boy deserved to die because he was ugly, fact, and most ignobly, a son of a poor labourer. He was a bad student. Had he been a good student, he would have been in school and thus would have died along with other Shia boys. But he was a useless person as he was a useless student; unlike elitist liberals like me who have used our scholarships to become a shill for the military establishment. Thus, Aitezaz was loitering around the school when he saw the suicide bomber. He tried to stop him and died. He made a hero of himself. This useless boy! You can read the article and see how I have destroyed that fat boy's reputation.
The real reason why I hate that Shia boy was that he made a fool of my sugar daddies in the military establishment. You see, my bosses have empowered the Taliban to teach the Shias a lesson for their resistance and defiance – two values which I find even more despicable that being overweight and a below average student. When this "fat" Shia boy stood up to the Taliban, he made a mockery of military establishment stooges like me and some of my comrades, ahem, fellow country club liberals.
So let me say a word or two about myself :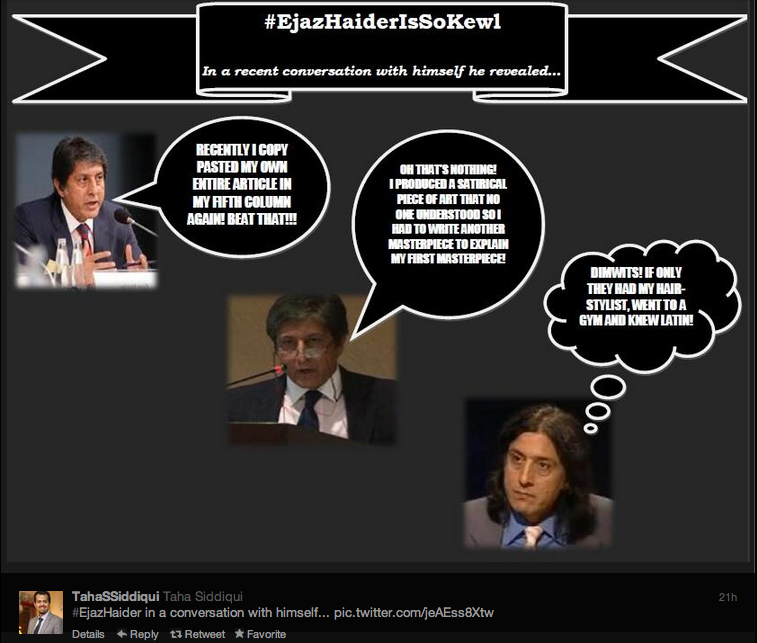 Why do I provoke innocent people? Why do I tow to the likes of the ISI, Takfiri Deobandis, and Maulana Ludhianvi? Here is the archaeology of my deeds and exploits:
In my childhood, I was a butt of people's jokes. I was a sickly kid. I was a shortie (I still am). But times changed.  I was now on my own. I decided to take on the world. I wanted to avenge myself on those who had been making fun of me by calling me shortie and sissy and some other censor able stuff. The anger in me had become a volcano and I was ready to explode. But the volcano exploded before I could. But it did so with a tragic twist. It exploded through my face and when the larva subsided, my face was left with millions of craters. It is at that point that my classmates and playmates began calling me Ejaz Craterwalah. People would terrify me by saying that the Americans planned to use my face for their moon lander and various space shuttle dry runs. I knew they were joking, but in my position a joke could be a fear. Etc.
After finishing my high school, I decided to take on the entire Pakistani society. I joined the Army. My plan was to stage a coup and rule the country and find out all those mullahs and Pathans of yore. I was all set, but for one problem. I could not finish the Kakul Academy. I was kicked out for reasons which we need not discuss here. Kicked out I certainly was, but I had learned a secret. A very BIG secret. I learned that even if you were a bloody civilian, you could be powerful by playing second fiddle to the Pak Army officers. I decided to pass the CSS exam, become a bureaucrat, and with the help of my Army benefactors, become a Gohar Ayub or Qudratuulah Shehab. I enrolled at the Punjab University, did an MA in English lit, and found the love of my life (on this, later).
But something happened. I failed all the three attempts one is entitled to. I could not pass the CSS exam. But the trick I had learned did not deter me. I volunteered my sieves to the Army. I was assigned to an ISI major who groomed me. When you see that sometimes I have long hair, sometimes, short, sometimes I twist my face as I speak English, and sometimes I pose as if I was T S Eliot All this has roots in those groovy grooming sessions. After the initial grooming, I told Major Sahib that I was ready to wipe even a petty solder's bottoms with my own hand as long as the Army would protect me from the bloody civilians. My offer was accepted. Since then, I have been working for the only organized institution in Pakistan.
From my education and grooming, I learnt a very important life lesson. I already knew that I was destined for life of intellectual dishonesty. Therefore, in order to live up to my delusions of grandeur as a military establishment whore, I learnt how to pad my incoherent babble with extensive quotes and paraphrases from others. In nearly all my columns, I borrow and paraphrase entire passages from writers whose integrity or merit I can never match up to. I also learnt that if I am not good enough to rise upto the ranks of a captain in the army, I can at least aspire to wipe their boots and asses with my incoherent rubbish garnished with big words and bigger quotes.
When the ISI-backed Deobandis kill Shias, I blame the Shias for their own murders. In this respect, my article on the Hazaras of Quetta left the entire Shias of Pakistan huffing and puffing and barking and wailing. But who cares! I glorified Hafiz Saeed only in the service of the Army.
Blaming the victim: Ejaz Haider blames Shias of Abbas Town for mistreatment of Ahmadis – by Sabah Hasan
The Shias call me various names. Do I care? I often call myself names. When I married a rich man's daughter, people made fun of me. Some said that I had become proud as if I had married Helen of Troy. I avenged myself on those people by adding "Helena" to my name, which is a Latin version of "Helen". People stopped making fun of me just like in the past when I added Craterwalah to my name.
And now about this 14-year old Shia boy. He saved hundreds of school kids and became a  hero. I do not mind his saving people. But I do resent that a fat and ugly boy should become a hero because it reminds me of time when I was 14 years of age.  And at that very time, the craters had started to come out. . . . Why would I let a fat boy, a Shia, be made into a hero while I at 14 was just a pimply faced looser.
I know the likes of the Shias have never harmed me. This is because they are powerless. I know where power lies and I am all for power. This is why, Hafiz Saeed and Malik Ishaq will always smile at me just like Hamid Gul and other exalted generals of Pak Fauj. I do not care what people call me. But do not call me a supporter of terrorism even when I support terrorists and terrorism. I support them because from their power and almightiness I vicariously live a almighty life. Thus, I am not a terrorist. Call me a Son of a Bitch (This is what I actually called Rabia Shakoor, Ex-LUBP editor, in one of my tweets).
You SoB, get out of your anonymity and be a man! – by Ejaz Haider
Call me anything, but not a terrorist because I am Ejaz Helena aka Craterwalah, but I am not a terrorist! Like Henry Kissinger said about the dictator Pinochet that at least he is our son of a bitch, some retired ISI major is probably saying the same about me. The only difference between Pinochet and me is that I got kicked out so unceremoniously, but see how relentless and shameless I am that I stand my ground like as if I am my own SOB.
Thanks for your attention and now with my mighty pen I must exonerate a Jihadi terrorist or two!