Media alert: Banned Deobandi terrorist outfit planning to attack the Chehlum procession in Rawalpindi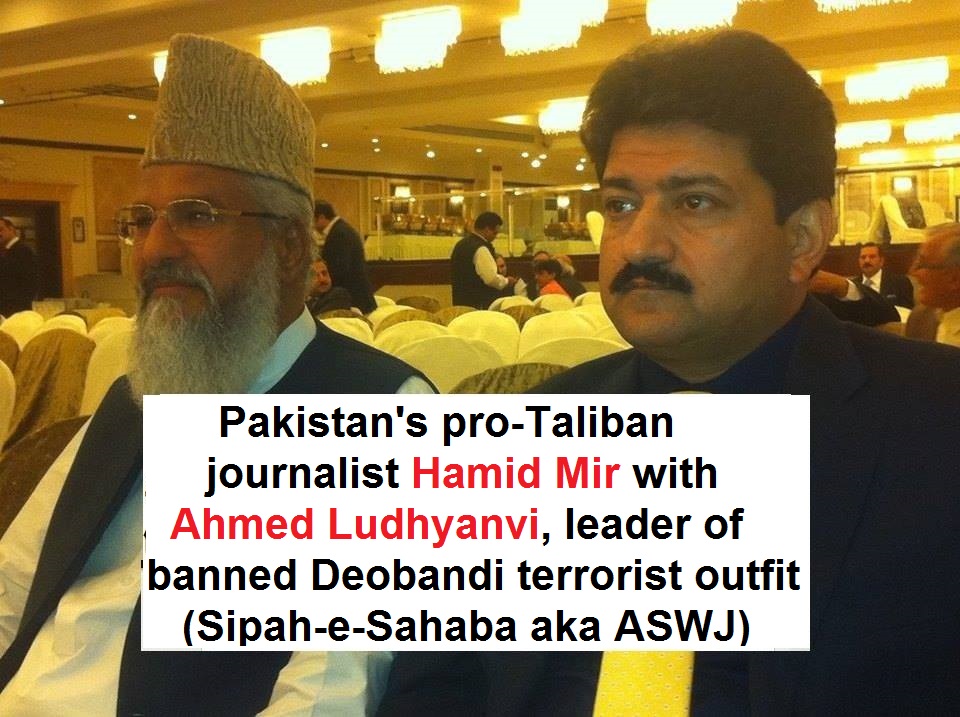 There is credible evidence that terrorists of banned Deobandi outfit Sipah-e-Sahaba Pakistan (SSP, currently working as Ahle Sunn Wal Jamaat ASWJ) are planning a major massacre of Sunni Barelvi and Shia Muslim participants of Imam Hussain's chechlum (arbaeen) procession in Rawalpindi, on 24 Dec 2013.
Local Deobandi seminar, Taleem-ul-Quran, led by Deobandi clerics Molvi Ashraf Ali, Molvi Amanullah and central leaders of SSP-ASWJ Ahmed Ludhyanvi and Dr Khadim Dhillon have announced to stop the Shia-Sunni procession on 24 December in the guise of holding a Deobandi conference on the main road. In this endeavour, Deobandi terrorists have full support of Punjab CM Shahbaz Sharif and Law Minister Rana Sanaullah. Certain pro-Taliban journalists like Hamid Mir have been hired by the SSP-ASWJ to implement this plan.
Only a few days ago, Hamid Mir, a key supporter and backer of the banned Deobandi terrorits outfit Sipah Sahaba Pakistan asked the Sunni Barelvi and Shia Muslims to change the route of their over a hundred year ritual procession to avoid confrontation. The Jamia Taleem -ul- Quran was responsible for a well planned terrorist attack at the peaceful Sunni and Shia mourners at the Ashura procession a few weeks ago. Let us get this straight: Hamid Mir wants to change the route of the legally registered traditional procession for over a hundred years to reward his friends that were responsible for the violence at the last procession.
If we accept Hamid Mir's logic and subsequently new attacks are made on the the new route, should there be another back up route planned to please the terrorists of Sipah Sahaba Taliban that Hamid Mir is lobbying for. Hamid Mir and other like him are the true enablers of Taliban Sipah Sahaba mass murderers.
Once a wolf entered a village an created havoc. The village elders ordered preparation of a very, very large cage. When the cage was ready, all the villagers were invited to attend its inauguration. Expecting that now attempts will be made to to entrap and cage the wolf, they were somewhat surprised when the elders asked all of them to enter the cage, so that they could be locked in and protected from the wolf. But they chanted "Pakistan Zindabad" any way. You see, the name of their village was Pakistan.

Ib fact the argument can be taken further to encompass the following:

* The GHQ has been attacked. So let us keep our brave armed forces indoors.
* FIA and police establishments have been attacked. Let us protect our law enforcers by not making them go out on streets and roads.
* Five-star hotels have been bombed. Let us close down all hotels and restaurants.
* Girls' schools have been torched. Let the girl child sit it out at home instead of following the instruction to even go to China for education.
* Universities have been targeted. Let us close down all institutions of higher learning.
* Jinnah Hospital was bombed. Do I have to even say what we need to do here?
* Juma congregations have been attacked, and so have churches. Let us stop all religious activity not approved by terrorists.
* Sunni Barelvi Milad un Nabi gathering at Nishtar Park was bombed. Let's restrict them to a less open space.
* Raiwind ijtema and the likes have never been attacked. That's one area that is not problematic. Let it continue freely.
What other processions of Eid Milad un Nabi and Muharrum have Rana Sannaullah and Hamid Mir scoped out to attack and put pressure on innocent worshipers to change course or stay home?
The following pictures and mini blogs from social media provide supporting information: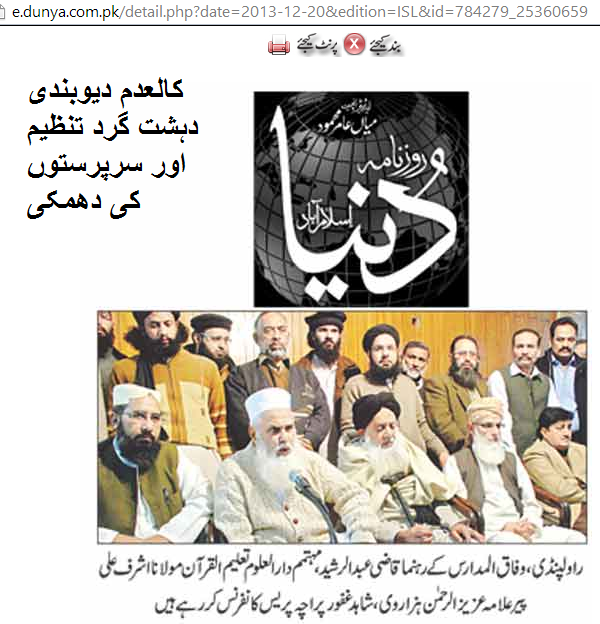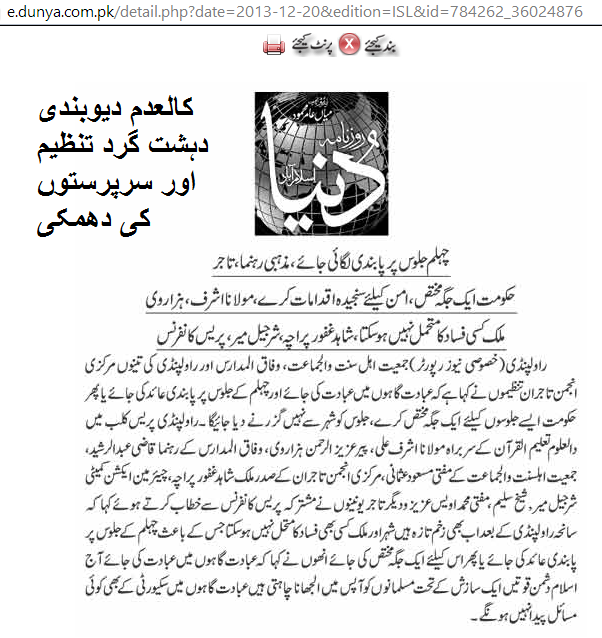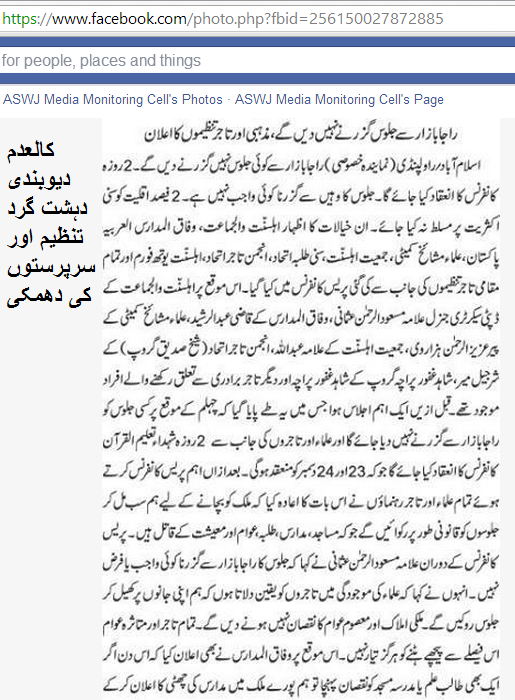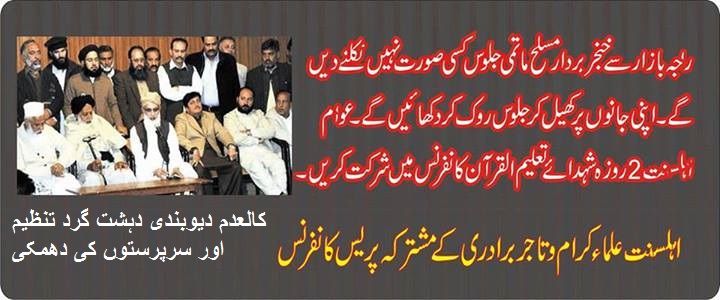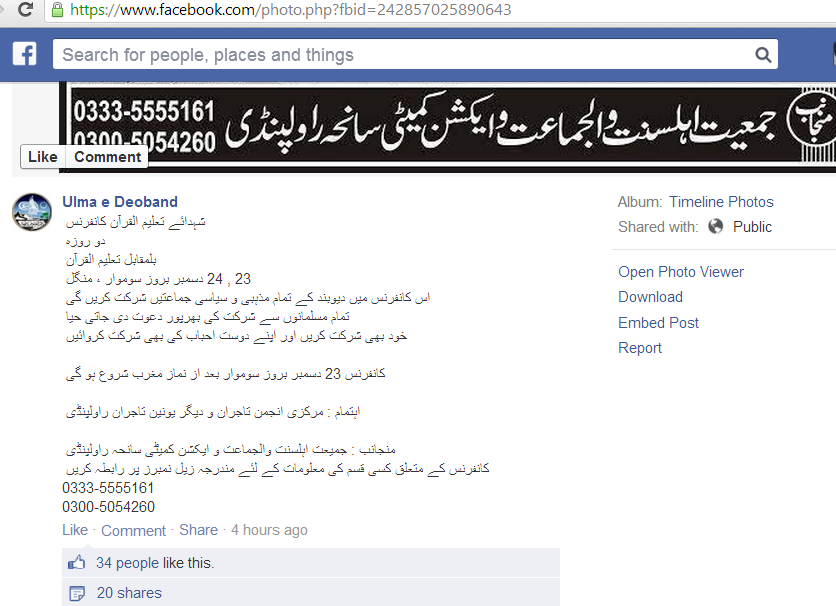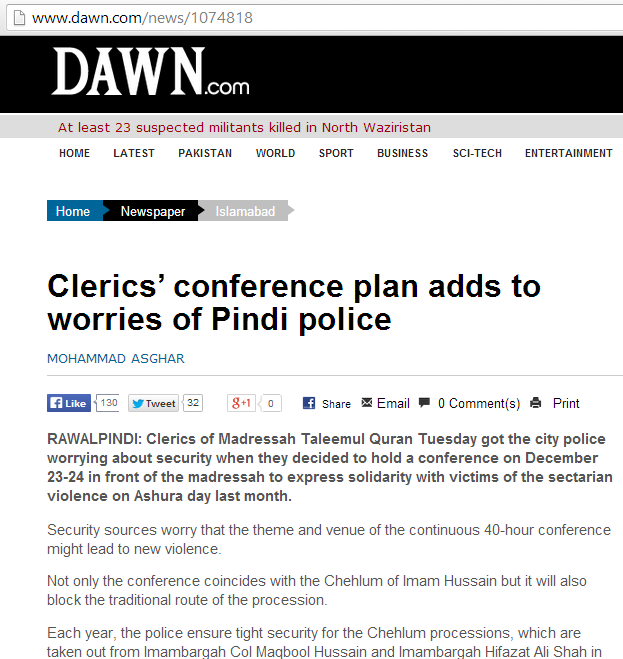 http://www.dawn.com/news/1074818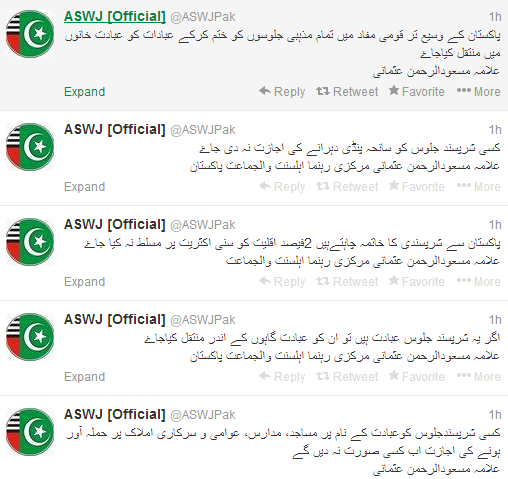 ؟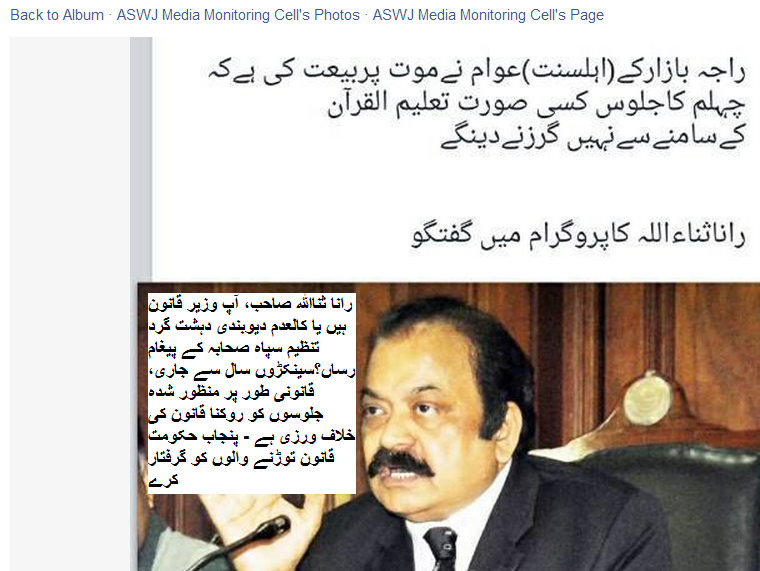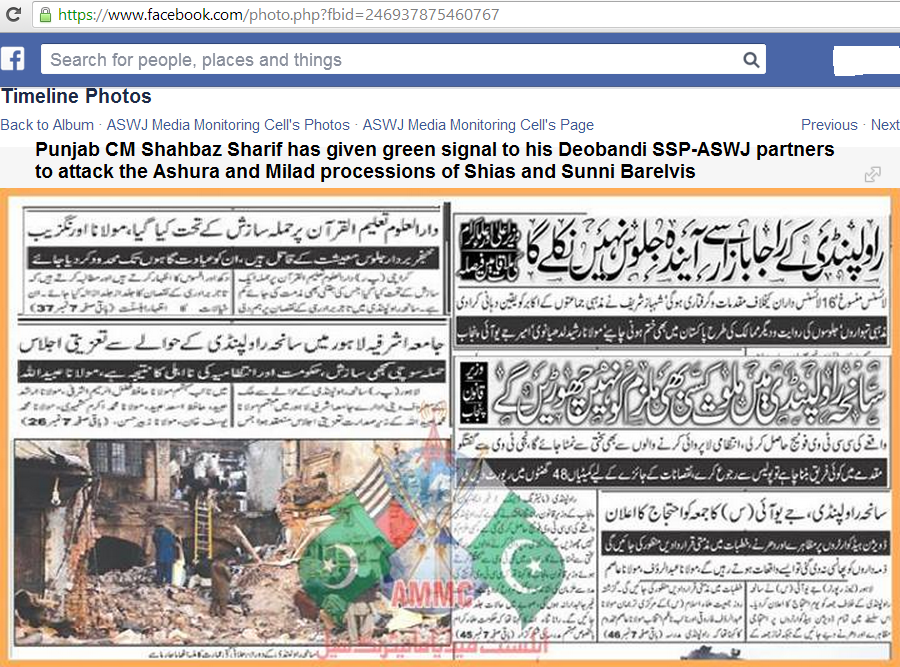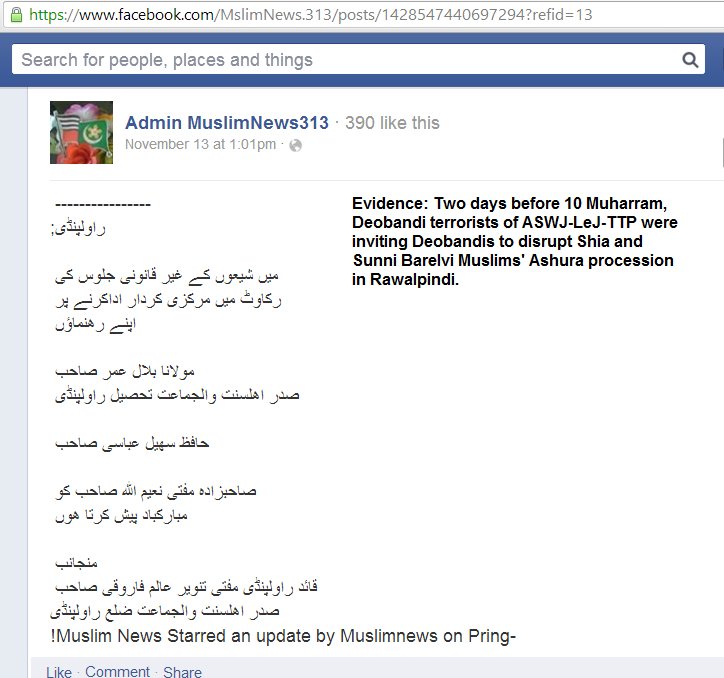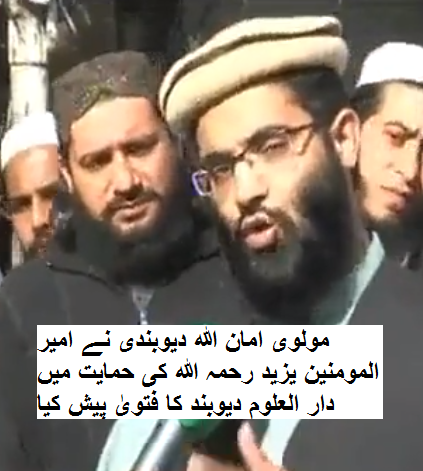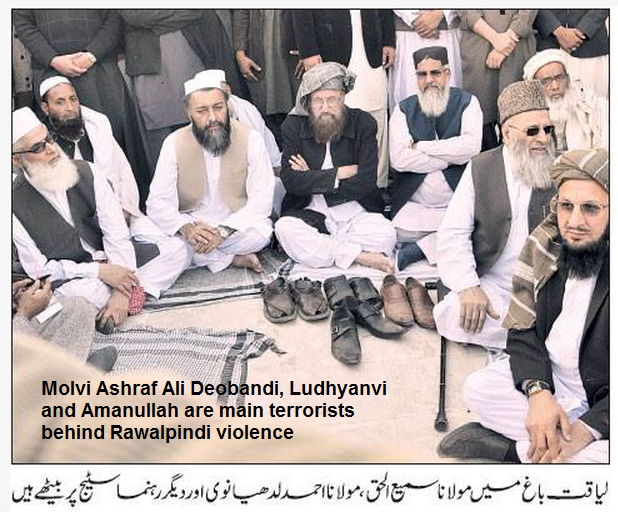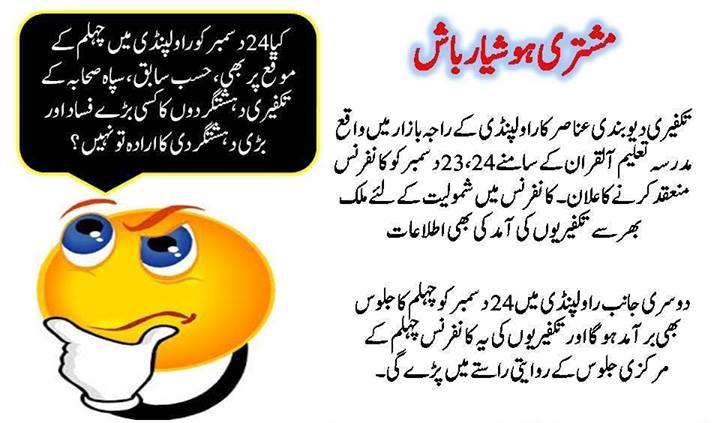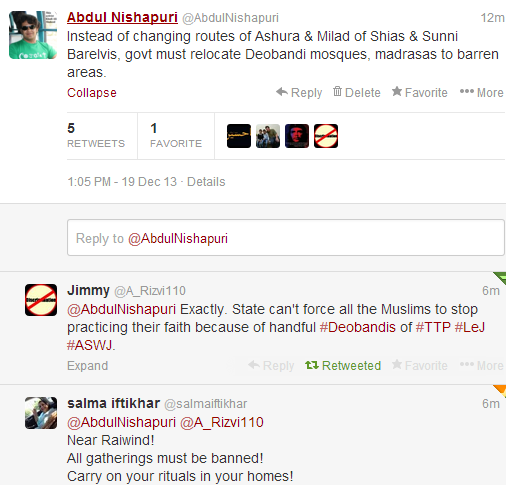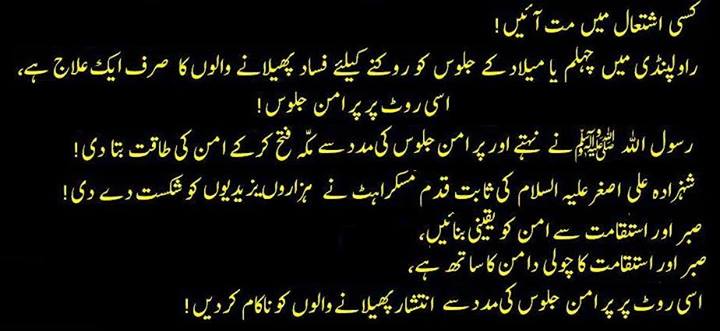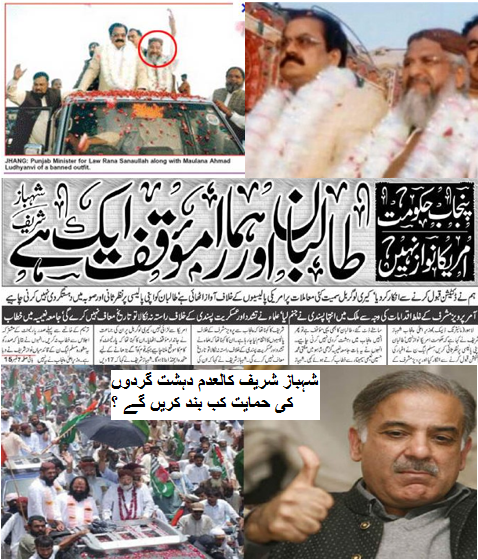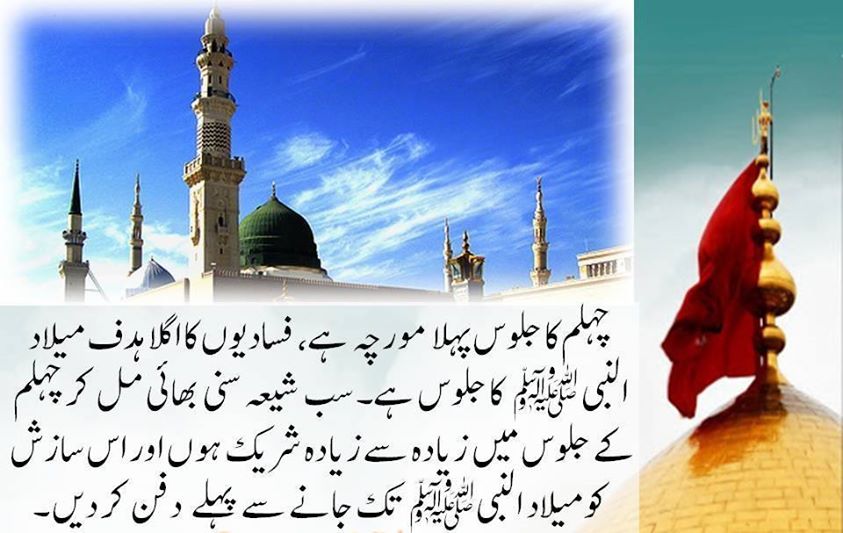 Comments
comments