Deobandi ASWJ terrorists massacre Shia and Sunni Barelvis in Ancholi, Karachi
Two high intensity bomb blasts in Karachi have so far claimed the lives of 9 people including a child and wounded dozens.This happened just hours after the anti-Shia hate rallies that were lead by an umbrella of Deobandi organizations that includes the banned Sipah Sahaba operating under the ASWJ name.
According to news reports, at least 4 Shias and 2 Sunni Barelvis have been killed in Deobandi terrorists attack at Incholi. Among the deceased is the associate producer of Geo TV Salik Jaffery.
The hate rallies taken out by the umbrella of Deobandi organizations (ASWJ-LeJ, JUI, Difa-e-Pakistan Council , Deobandi Wafaq-ul-Madaris etc) openly chanted "Shia Kafir" (Shias are apostates) slogans as they brought the entire country to a grinding halt for their day of incitement.
Schools, shops and workplaces remained closed for the day – ironically so that hate spewing banned organizations like ASWJ can demand an end to multi-faith processions to commemorate the love of Holy Prophet and his family by muslims and non muslims!
The Federal Government of PML N has given freedom to its Deobandi allies like ASWJ to increase its violent activities on the rest of Pakistan with senior PML N minister, Rana Sanaullah openly and publically siding with ASWJ.
PML N's continued support to ASWJ and the spinelessness of PPP and MQM have further emboldened the Takfiri terrorists of Deobandi organizations like the ASWJ to continue with their attacks on Shias, Christains, Ahmadis and Sunnis.
Judging by the twitter feeds of Pakistan's fake liberal elites, a short duration cricket match is a matter of greater importance than the continuing #ShiaGenocide in Pakistan.
Pakistan's (Fake) civil society and Pseudo-Liberal elites in general and with few exceptions have also shown their true colours by mirroring the demands of ASWJ for a selective ban on some public gatherings. The outrage of Pakistan's (Fake) civil society, as always, is against the victimized groups like the majority Sunni Barelvi for their Eid e Milad un Nabi procession.  It is even more pronounced against the Shia, Sunni and Hindu processions for Imam Hussain – events that have been the most heavily targeted by the Sipah Sahaba/ASWJ and their Taliban partners.
Barelvi Sunnis have been attacked inside the premises of Pakistan's ancient Sufi shrines with hundreds of casualties while Shias have also been targeted inside their mosques and imambargahs but even in their homes and workplaces and in transit.
However, for Pakistan's civil society and their ASWJ mirror, blaming the victim is now the official shameless tactic.  ASWJ/Sipah Sahaba are also the chief suspects in the 2009 attack on the Sri Lankan cricket team that has since shifted all cricket matches that were originally shifted in Pakistan to the Gulf Emirates – ironically the chief funders of Takfiri Deobandi terrorist groups.  Perhaps if Pakistan's pro-Taliban media were to emphasize this fact a little more, then Pakistan's fake civil society might feel a lit bit more sympathy for Pakistan's Shias.
Better yet, ban all restaurants in light of the bomb blasts that took place in a restaurant/café in Karachi. Perhaps that might make Pakistan's shameless and insensitive fake civil society activists feel some sympathy for the heavily targeted Shias.  Currently, most of the shameless (fake) civil society opportunists have done their best to obfuscate the dangers posed by urban Taliban groups like Sipah Sahaba/ASWJ by presenting them and their Shia/Sunni/Christain/Ahmadi victims as two warring factions and themselves as the enlightened minority that rises above both.
If these Fake Civil Society types were in Poland during the Second World War, they would have also termed the Polish Resistance as "Jewish-Nazi Proxy War".
As Shias mourn more deaths, its time they realized that it cannot depend on these Fake opportunists that also include Uncle Tom Shias.
Sunni Barelvi umbrella groups like Sunni Ittehad Council stayed away from these hate rallies and made their point of view clear in this news clip.
https://www.facebook.com/photo.php?v=557176277691451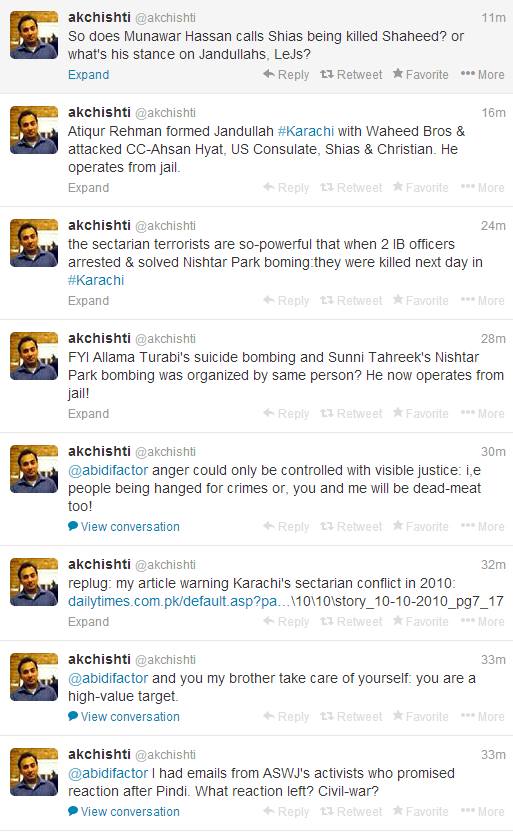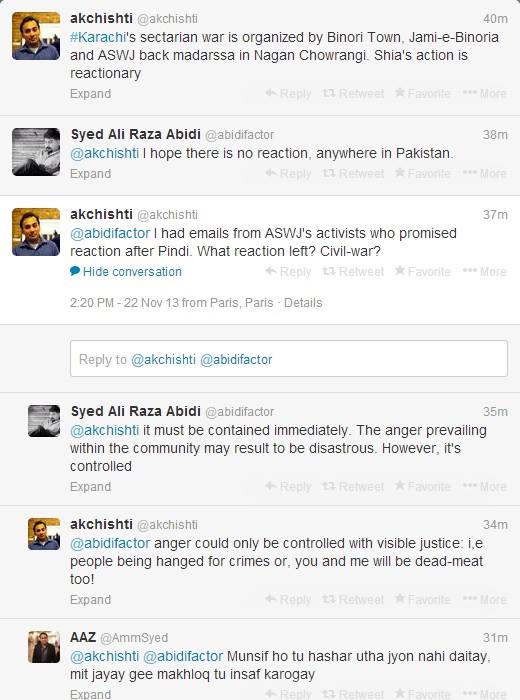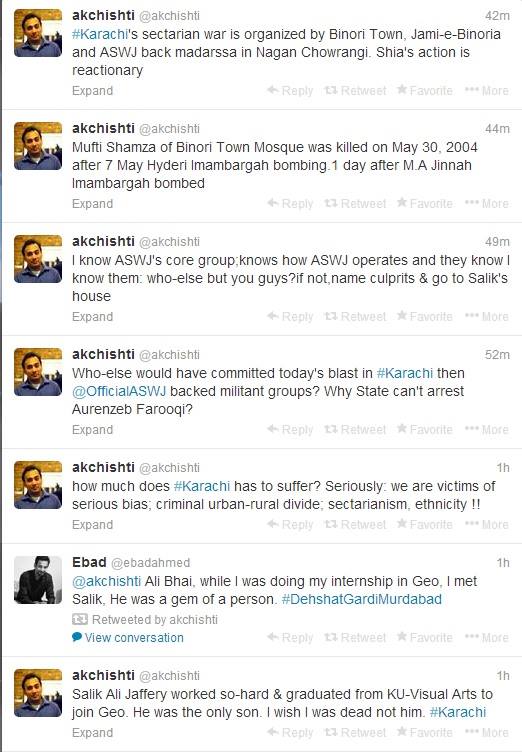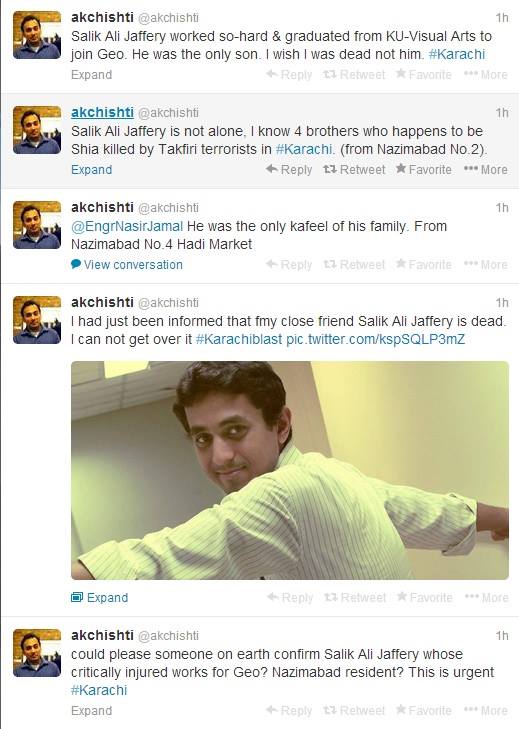 Comments
comments