Rawalpindi Ashura violence: ASWJ militants are threatening Jang's investigative journalist Ahmad Noorani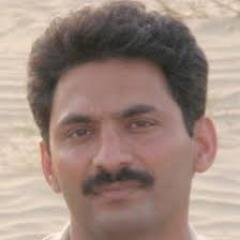 Related post: Ahmad Noorani's report on ASWJ's pre-planned attack on Ashura procession in Rawalpindi https://lubpak.com/archives/290705
Breaking: Investigators (of Punjab government) so far hav not probed any ASWJ (reincarnation of banned terrorist outfit Sipah-e-Sahaba) people who ran big campaign before 10 Muharram to gather (Deobandi) people at (the Rawlapindi Deobandi) Madrassah on Aashura day
While conspiracy to create unrest in Pakistan by ASWJ is getting succeessful by exaggerating of facts, here is the latest from me:
@ASWJPak & @ASWJNews are ASWJ's official Twitter accounts. Both @ASWJPak & @MAhmadLudhyanvi (chief of ASWJ) follow official @ASWJNews
@ASWJNews as part of its campaign to give different colour to Rawalpindi incident and to spread violence in Pakistan tweeted this picture: twitter.com/aAtYE4yBvb
While Rawalpindi admin confirmed that no one was slaughtered, ASWJ and Taliban commander Kharasani (falsely) insisted that Madrassah people (or children) were slaughtered and beheaded (by Shias)
This false rumour caused to spread anger among followers of pro-Taliban sect (i.e. Deobandi sect) across the country and people discussed that 'procession people' (i.e. Shia and Sunni Barelvi) slaughtered (Deobandi) "Madrassah kids"
This was the only picture among many fake picturess circulated which shows slaughtering. It was clearly a fake picture but ASWJ succeeded in fooling people.
In fact this fake picture was circulated on internet many times in past as well and one June 2013 tweet also shows it https://twitter.com/amjkuwait/status/346336261134487552
Carefully note the tweet time and date and expose ASWJ conspiracy against Pakistan and Islam
pic.twitter.com/aAtYE4yBvb
Vs
https://twitter.com/amjkuwait/status/346336261134487552
May Allah save Pakistan. All Pakistanis please take print screen of these tweets along with timings & of accounts showing following etc. These wil be deleted
Pleaes note these people (ASWJ Sipah-e-Sahaba) are like animals now. I m reporting since 1st moment that procession ppl killed Madrassah people after clashes start. But they (Deobandi militants of ASWJ) are threatening me to take back my other two points of information tht Madrassah people planned attack in advance, and riots started after the Deobani maulvi's (hateful) speech.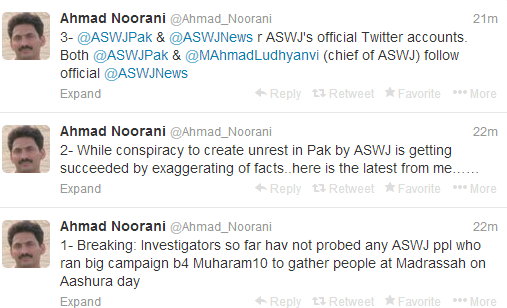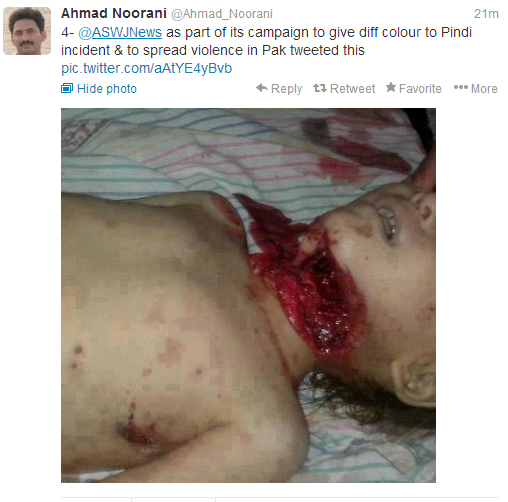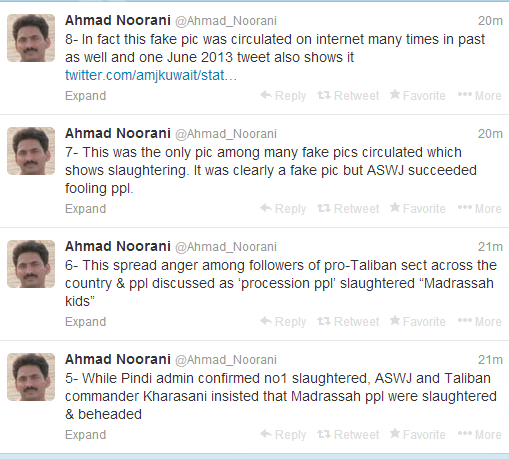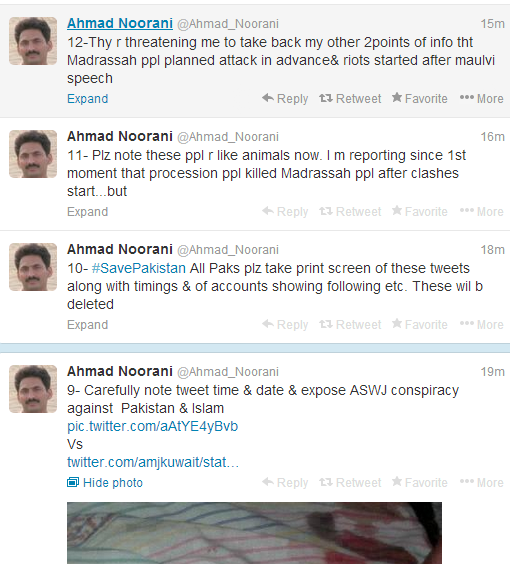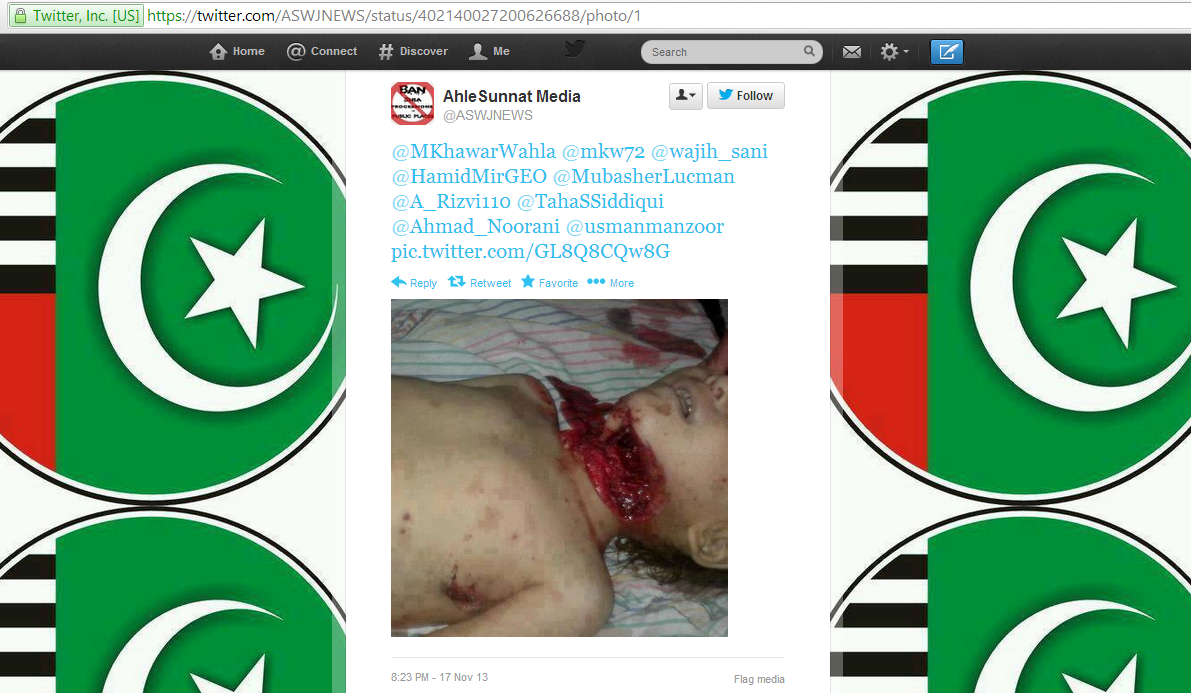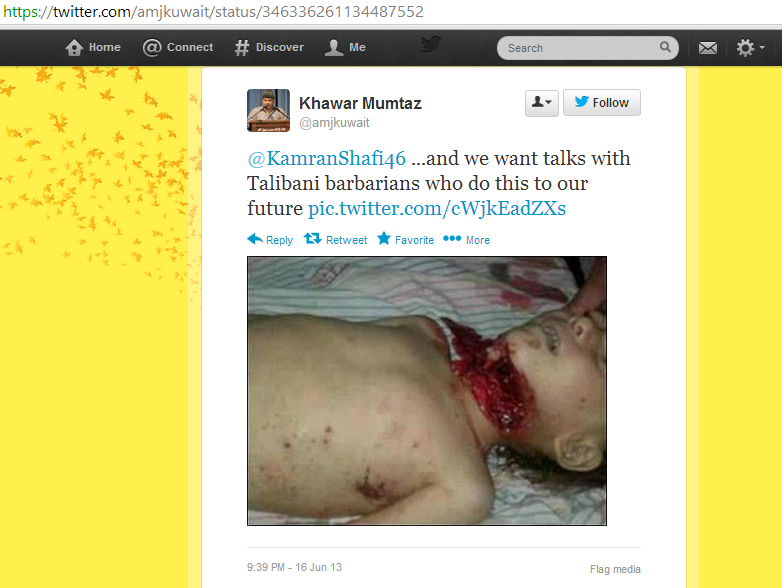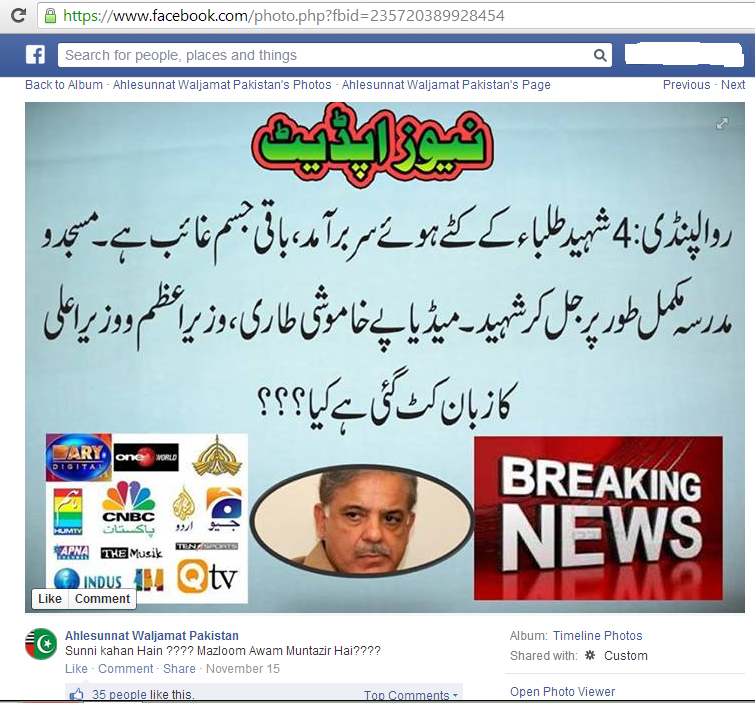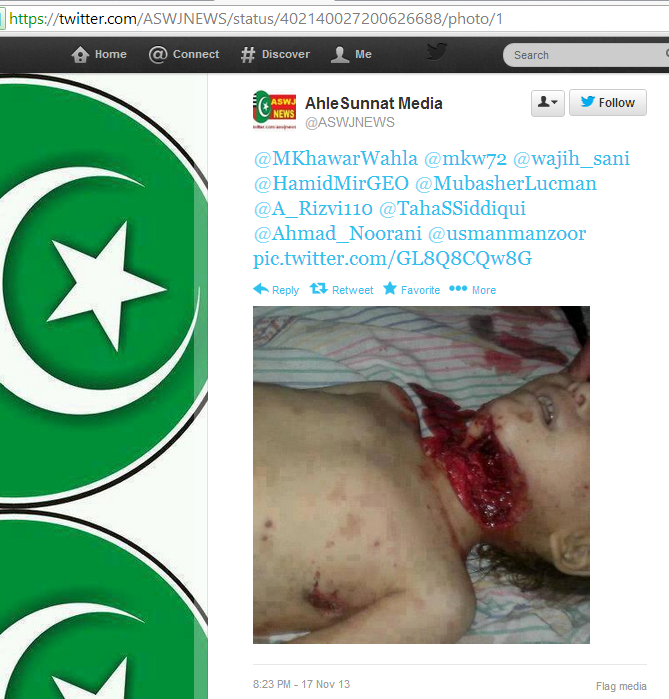 Comments
comments